Ski Touring in Avalanche Terrain Can Really Bring Your Life Into Focus
The unpredictable terrain around interior B.C.'s Hilda Hut is just the catalyst one writer needs to find the greater meaning in a lifetime of adventures.
Heading out the door? Read this article on the new Outside+ app available now on iOS devices for members! Download the app.
This article—and many more like it—is available exclusively to Active Pass members, along with a host of others benefits such as access to the Warren Miller Entertainment film archive (that's 50-some films), ski-instruction and fitness video tutorials, pro deals and members-only industry discounts, and a print subscription to SKI. Learn more about Active Pass or join here.
I see my mark, an innocuous little knuckle of snow hanging between two gnarled pine trees above a beautiful open powder field descending another 800 vertical feet below me. Under normal circumstances, say while riding the lifts back at my home hill, this little nugget would be a picture-perfect opportunity to get rad. But on this slope, deep in the Valkyr Range of Interior British Columbia, it gives me pause. A good long one.
"What's everyone's status?" I chirp on the radio. "I've got a spot here that looks a little touchy."
"I've got four with me, we're already down at the lake," Doug says across the 2-Ways.
"We have five, we're picking our way down skier's right of you," adds Jonny.
"Alright I'm gonna put a cut in," I say as I fumble with my radio, ski gear, and some newly developed nerves. With my immediate ski partners tucked into trees above me, I drop in, knifing a clean left turn on the crest of the outcropping. Snow peels away from my bases as cracks shoot horizontally in both directions across the small snow-covered rock band. I watch as the fracture envelops the snowfield below me and a mass of avalanche debris gains speed down the slide path, the tops of small exposed trees rattling violently as the snow lumbers by.
Related: 5 Wild Ski Adventures to Make Your Stomach Drop
Spotting from across the valley, Martin, mountain sage of the Valkyrs and half of the husband and wife duo that runs the Hilda Hut, our basecamp for the week, would call it a R1.5D2 slide. Not inconsequential, but nothing out of the ordinary on the slopes of Interior B.C., or anywhere in the backcountry, really.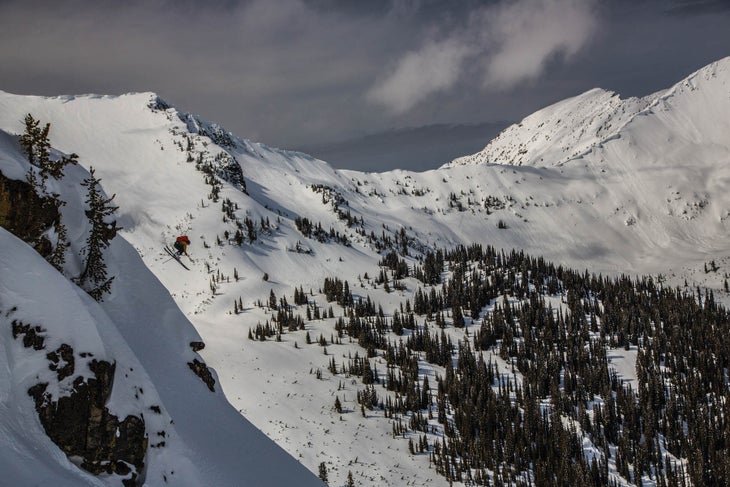 For me though, the "little" slide stirs something deep and unknown in my core. A lifetime of skiing comes into focus, from the edge I learned to set as a Mighty Mites ski racer to the winter I slummed through the Alps to my first avalanche class and the last nine years exploring the nooks and crannies of Colorado's Front Range. The lessons learned from countless turns and hundreds of days on snow collide with a healthy dose of respect, gratitude, and honest-to-god fear.
Read more: How Steep is Steep?
The feeling only intensifies as I skitter over the avalanche bed surface into the untouched Selkirk powder just beyond the reach of the slide I'd triggered. My limbs tremble as I arc super-G turns down the seemingly endless slide path of supportive powder, howling like a lunatic as I straightline the runout onto the frozen lake.
I stay locked in this heightened state until the soft, clicking cadence of my touring gear returns me to Earth while ascending back to the Hilda Hut and the warmth, calm, and après beverages that await.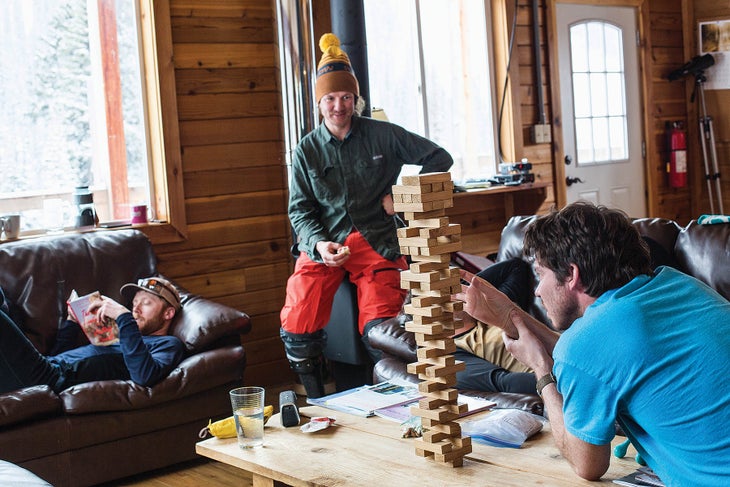 I can't be certain, but I'd wager that just about everyone in our group experienced some version of this intense personal moment during our week in the Never Never Land around the Hilda Hut. For Mark, it was probably the countless lofty cliffs he teed up throughout the trip. For Povec, I'm pretty sure it was an off-camber turn on a steep nose in the Rampart Zone that completely and effortlessly immersed the entirety of his 6'3" frame. A dude that tall normally has to do some work for a face shot. For Danielle, my money would be on the run down the immaculate north face of Hilda Peak. The stunning old-growth forests, towering peaks, and mind-melting ski touring terrain of the Valkyr Range set the stage perfectly.
I think the Hilda Hut had such a transformative effect on us because it asked everything of us as skiers. Deep in the B.C. backcountry and completely cut off from civilization, we woke each morning knowing we had to earn every turn, assess every slope, plan our own routes, trust each other, trust our decision making, and keep each other motivated. We followed the weather, read trip reports from previous guests, dug avalanche pits, and executed ski cuts. These mountains tested every tool in the collective toolbox, but they also offered incomparable rewards of deep, steep, pillowy goodness when everything lined up. Everything you've ever heard about British Columbia is true.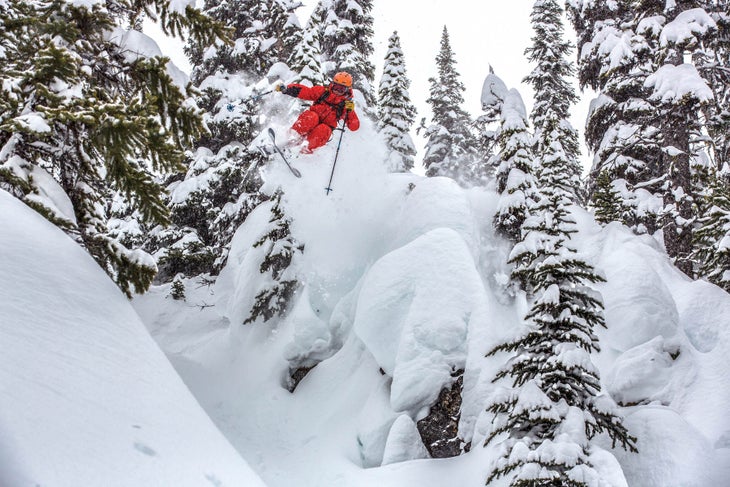 Our hosts at Hilda, Martin and Shelly Glasheen, settled in the foothills of the Valkyr Range as homesteaders in the '70s. Living, in large part, off the land, the peaks along the east bank of Arrow Lake provided both a livelihood and unlimited opportunities for recreation.
Sometime in the late '90s, the couple began to explore the possibility of an alpine hut system in their beloved mountains. After a lengthy permitting process and two years of construction, the Valkyr Lodge opened for business in 2005. The Hilda Hut, the Glasheen's second lodge, opened in 2012 in a new zone with spectacular advanced ski touring terrain.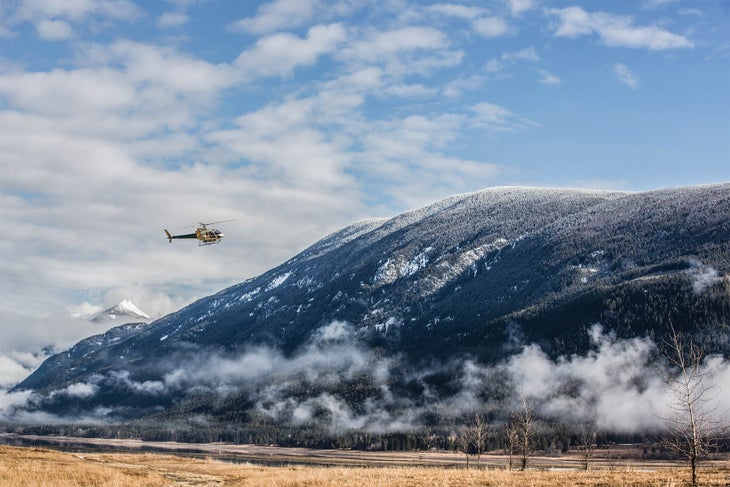 Like with the Valkyr, the Glasheens constructed Hilda from local timbers milled by their own hands. Every nail was either carried on foot or flown in by helicopter. The clean, comfortable finishes belie the incredible sweat equity that the family and close friends put into building such an impressive structure so deep in backcountry. From the warm, spacious boot room to the massive rough-hewn communal table and open main floor plan to the private bedrooms, everything about the lodge is constructed with large groups of motivated skiers in mind.
Read more: Backcountry Bliss
During our trip, Hilda Hut provided safe harbor after long days in the skin track. Martin would always have the sauna up to temp. Shelly would be ready with hot coffee, cold beer, and homemade lasagna, or lamb shanks, or prime rib. Outside the hut, our ski experiences were in our own hands; at the hut, the Glasheens took more than good care of us. We lived like a big happy family adrift in our private super yacht amongst a sea of powder skiing, undisturbed by the larger world around us.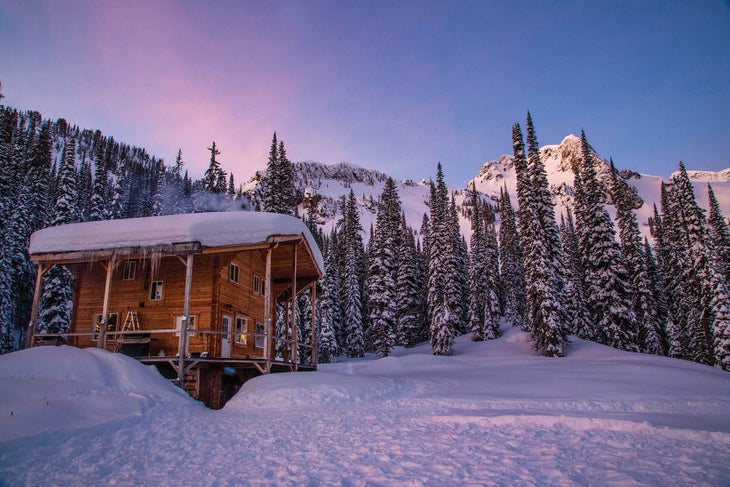 Four days into our trip, unsettled spring weather keeps the Valkyr Range locked in low-hanging clouds and snow squalls. Our group platoons the best terrain in direct proximity to the hut. Our daily avalanche mitigation and skier compaction allow us to rage the steeper shots with confidence even as the powder piles up. No one sheds a tear over days of free-refills in perfectly spaced old growth forests, but brief weather windows offered tantalizing glimpses of the 3,000 feet of fun towering above us on Hilda Peak.
Each night, we scheme over maps while gulping down pints of locally brewed pale ale from the keg we'd flown into the hut. Should the sun ever decide to pop out, we want to have the fastest ascent routes and best ski options off the Peak dialed in. Finally, on Wednesday morning, the sun made her debut.
Standing on the precipitous ridgeline jutting off the north shoulder of Hilda Peak atop a run appropriately named "Ski Line of the Gods," Mark Lesh and I attempt to cut off a small cornice to test the slope's stability. For many of us, it has become the unofficial king line of the trip. But the crisp, sunny morning that allows us to tour into the alpine also poses the biggest threat.
"You guys see any roller balls coming off the rock wall?" I radio to the other half of our group lapping an area with a view of the line. "I'm not super worried about us triggering a slide, but I don't like the potential for a cornice to fall as it warms up."
"There's some little stuff coming down for sure. That sun is definitely getting hotter," Doug responds.
We sit there hemming and hawing over everything, neither of us willing to click in and commit.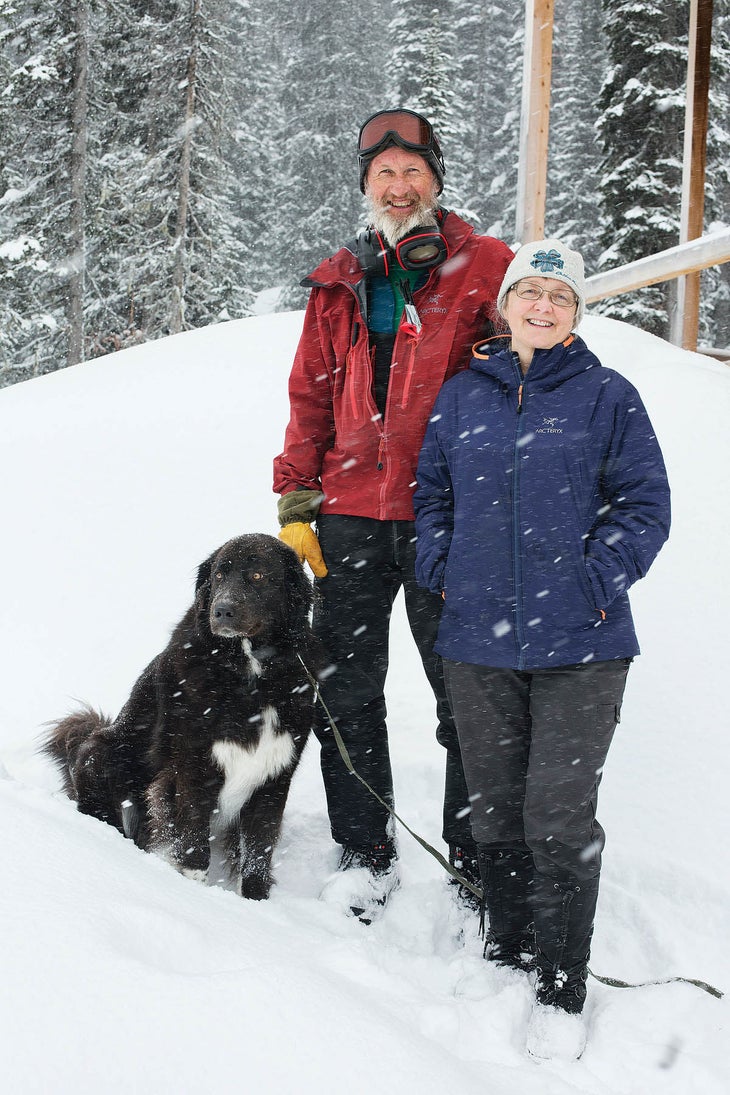 Slowly, that same feeling that I'd unleashed a few days prior comes bubbling back up. This time however, it takes a decidedly different tone, almost physically pulling me back from the edge of the Ski Line of the Gods.
I fight it at first, working clever rationalizations in an effort to outsmart my gut. I watch Lesh wrestle with a similar narrative in his own head. Ultimately, instinct prevails, and we rejoin our group preparing to drop into the sweeping north face of Hilda Peak. The last few days of snow have buffed this 1,500-vertical-foot ramp into a fresh canvas of boot-top powder. All-in-all, not a bad Plan B. Hell, there isn't a bad Plan B in this entire mountain range.
Back at the hut that afternoon, I stare intently at the Ski Line of the Gods, conflicted with my decision. The line never slid. I totally could have skied it. And honestly, it would probably have been fine. Beers and a sauna session seem to loosen up any soreness from my armchair quarterbacking. Hoofing it back from the sauna on the icy trail we'd dug out of the deep snow, I watch a few errant flakes flutter in the darkness. Our one-day weather window for the alpine seems to be closing, taking the Ski Line of the Gods off the table. Another powder day tomorrow? Not a half-bad Plan B.
Make the Hilda Hut Happen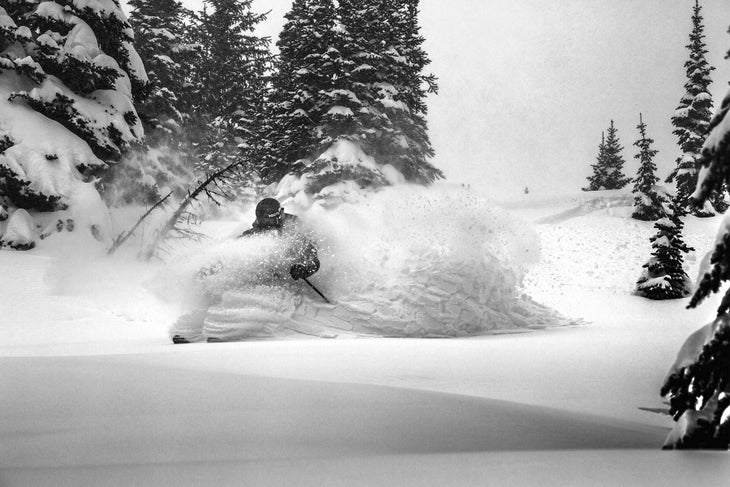 Stay
Hilda Hut is one of three backcountry lodges operated by Valkyr Mountain Adventures south of Nakusp, B.C., in the Valkyr Range. Hilda has arguably the best terrain of the three and has become extremely popular amongst those in the know.
When to Go
The winter hut season runs from early December through the end of April, though weeks in February and March are in highest demand.
Eat and Drink
Catering is optional with Valkyr Adventures, but highly recommended. You'll wake up every morning to the smell of fresh coffee and go to bed every night with a full belly. All you'll have to do is ski (and some dinner dishes).
Guides
Unless you're highly proficient in the backcountry, a guide is recommended for any B.C. hut trip. Not just for safety, but to ensure you ski the best snow. Valkyr Adventures has several with intimate knowledge of the terrain.
Make It Happen
Book early! B.C. hut operations, including Valkyr Adventures, have become extremely popular with the growth of backcountry skiing. Group trips and full-hut reservations are booked several years in advance. Valkyr does offer trips for individuals or smaller groups. Visit valkyradventures.com for more info.
Kevin Luby is a former editor at our now-shuttered sister mag Skiing. He lives outside of Denver, Colo., where he's founding partner at Craft52, a digital marketing agency.
This article—and many more like it—is available exclusively to Active Pass members, along with a host of others benefits such as access to the Warren Miller Entertainment film archive (that's 50-some films), ski-instruction and fitness video tutorials, pro deals and members-only industry discounts, and a print subscription to SKI. Learn more about Active Pass or join here.