Black Diamond Stands Firm Against Recall of Popular Avalanche Transceiver
A popular Pieps beacon is facing an internet boycott after a professional skier's device turned off in an avalanche.
Heading out the door? Read this article on the new Outside+ app available now on iOS devices for members! Download the app.
Update April 12, 2021: Black Diamond has officially set up a voluntary recall for some Pieps DSP avalanche transceivers. Learn more here.
Nick McNutt was told pretty quickly after being pulled out of the snow that his avalanche transceiver had been turned off.
"I thought it was weird," says the professional big mountain skier, but he didn't think much of it at the time. Reeling from a shattered forearm and some chest trauma after being sucked into an avalanche while filming outside Pemberton, British Columbia on March 9 of this year, McNutt was all but oblivious to the seriousness of the situation that unfolded above him while he was buried.
Christina Lustenberger, another athlete and guide, was watching as McNutt was swept into an avalanche and was on-scene seconds later when the rescue turned even more serious.
"From the moment I heard Ian [McIntosh] yell out that he couldn't find a signal…I'll never forget that feeling," she says. McNutt's avalanche transceiver, a Pieps DSP Pro which he had been using for four to five seasons and held in high regard, was mysteriously silent, not putting out the steady ping that his partners could use to locate him under the snow. Through sheer luck and thanks to the relatively small size of the avalanche, another of McNutt's partners was able to simply guess and strike him with a probe. He was dug out after being under the surface for roughly five minutes.
Days later in the hospital, when his injuries were brought under control, McNutt started going over the decisions and equipment that made his experience so harrowing. Both McNutt and Lustenberger knew the team had performed a by-the-book beacon check earlier before heading out. "That morning I turned it on as I usually do and it was checked and sending a signal," McNutt says. But by the time he was buried, the transceiver was off. After the accident, according to McNutt, the device had no visible damage. "On paper, it was good to go again."
So both McNutt and Lustenberger started asking around to find out if anyone else they knew had experienced a similar Pieps DSP model changing modes unintentionally. Both started hearing from others with similar unexplained switches, though with far less consequence. The skiers reached out to Black Diamond, the company that owns the Pieps brand, shortly after the accident. They shared their story and a collection of DSP transceivers McNutt had collected from friends, all of which he says he was able to override.
McNutt also sent his transceiver to the manufacturer at the beginning of the COVID pandemic, but his beacon was lost in the mail and was never able to be tested directly by Black Diamond.
The problem, though, didn't become public—either through the skiers or Black Diamond—until last week when Lustenberger, fed up with Black Diamond's lack of action between March and now, posted a series of photos and videos on Instagram explaining what happened and calling for skiers to abandon the devices. "Our main goal is to get this device off users in the ski industry so this doesn't happen again and again," she wrote.
Post not displaying correctly? Watch it here.
Related: Backcountry Rescue Devices Explained
"It could have been worse."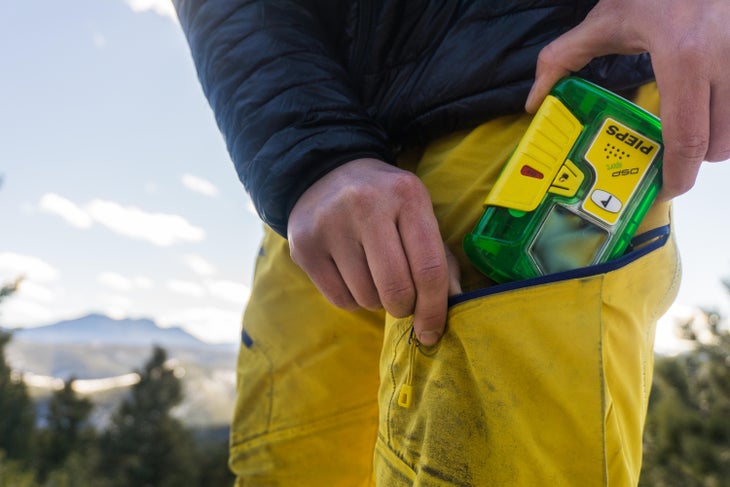 According to Black Diamond, McNutt's experience wasn't the first accident blamed on a Pieps DSP model. In 2017 with the help of a lawyer, Bri Howard wrote a letter to the company warning of the possibility that these devices could unintentionally be turned off. Howard's husband, Corey Lynam, had been killed in March of that year after being buried by an avalanche in the Hanging Lake area near Whistler. Lynam was buried for roughly four hours before he was found by an avalanche dog. His Pieps DSP Sport—which uses an identical switch and lock mechanism to the Pro model—was found pristine and in search mode rather than sending out a signal.
According to Howard, the transceiver had to have changed modes during the avalanche, otherwise, it would have been beeping loudly, picking up his companion's transmitting beacons at the top of their ski run. "It was obvious to everyone," she says.
According to Howard and Black Diamond, Lynam's transceiver was inspected by a third-party firm (because it was considered evidence in a Royal Canadian Mountain Police investigation) and found to be functional. Black Diamond isn't fully aware of the specific tests that were performed.
When Howard heard about McNutt's accident, she immediately reached out, connecting with him before he even left the hospital and sharing her story. "I think Nick was pretty shocked because he hadn't heard anything about it," says Howard.
The Plastic Button
Video not displaying correctly? Watch it here.
According to McNutt, the problem seems to stem from the design of the transceiver. In both Pieps DSP models, a slider along one edge moves up and down to three different settings: Off, Send, and Search. The switch is locked when the transceiver is in the Off or Send modes, indicated by a plastic lock button below the screen. The "lock" relies on the user bending the plastic slightly to unlock it, then the plastic rebounding to its original position to lock.
For some users, this lock button can crack or wear. Two people I spoke to for this story who experienced this problem say their transceivers were replaced under warranty by Black Diamond. The brand acknowledges that from testing the collection of transceivers McNutt sent, they see a 50- to 100-percent reduction in the lock's ability to hold the function slider when the button is cracked or weakened, even if the damage isn't visible.
According to McNutt, it's the combination of that design, the button's position on the front of the device, and the switch's interface with the harness that makes it easy to be depressed despite the lock.
Since Lustenberger's Instagram post, numerous other skiers have joined in with similar anecdotes of DSP models changing modes unintentionally. While the exact issues and the circumstances around them vary, they all pointed back to the lock button and slider. I spoke with at least four backcountry skiers who experienced issues ranging from the lock button cracking, to the transceiver changing modes when in the harness, to it changing modes out of the harness.
For one person, a world-renowned IFMGA mountain guide who asked to remain nameless for legal concerns, their Pieps DSP Pro was switched from send to search modes when they fell while skiing. "When I caught back up to my partner, my beacon was beeping and I didn't know why," the guide says, noting that the beacon was placed with the button facing their leg in a pocket. "It wouldn't have changed otherwise." Black Diamond replaced his transceivers under warranty.
For this story, I tested two DSP Sport beacons I had ready access to by placing them in the harness on my chest as I normally would, with the screen and button facing in, and attempting to move the mode slider along its plane of movement. On one transceiver—roughly two years old—it moved instantly and easily, either down into Search mode or up into the Off position. This was easily replicable in two different harnesses. In the second test, the older (roughly five-year-old) transceiver, the slider did not move out of position. Black Diamond has requested that the younger beacon is sent to them for analysis.
Beacon Standards
Post not displaying correctly? Watch it here.
After Lustenberger's Instagram post about the accident, Black Diamond released a video explaining proper maintenance of the lock and slider devices on these beacons. According to the company, users should use "moderate force" to check the security of the function slider, but note that intentionally overriding the lock—forcing the slider to move without depressing it—can damage the lock and lead to a drastically reduced locking ability, even if cracking isn't evident.
After hearing about McNutt's accident, Black Diamond launched into a few rounds of tests, first examining older transceivers for degradation in the lock switch's effectiveness. According to Rick Vance, Black Diamond's Vice President of Quality, the company found that the transceivers "showed no significant decrease in performance" relative to a new device. Standards for what that baseline strength should be are vague, Vance admitted in an interview.
"The standard is relatively open-ended," he says, explaining that a transceiver needs some mechanism to maintain the switch in the proper mode. "One of the criteria for a recall is that it poses a hazard compared to the state of the art," noting that most other beacons from other manufacturers use a similar mechanical lock. "The crux of this situation is how easily those mechanical features can be interfered with. What we're saying is that this mechanism is no more easily interfered with than other mechanisms on the market."
For McNutt, Black Diamond's testing fell short of the real-world stories he was gathering. "Nothing that they were doing was really convincing us that they were really trying to override this thing in a user-based way," he says. "There's a lot of value in customers' feedback and they've got a lot of it pouring in right now and they're brushing it off as one-offs. But how many times can it be a one-off?"
Black Diamond does not currently plan to recall or stop selling the Pieps DSP Sport model. The Pro model was discontinued previously in favor of the brand's new Black Diamond Guide BT and Recon BT, as well as the Pieps Powder BT and Pro BT transceivers. The new models use a different locking mechanism: A spring-loaded switch on the front of the beacon that slides to the side, rather than pushes in. According to McNutt, this seems like a much better design.
On October 19, 2020, a Canadian law firm announced a potential class-action lawsuit against Pieps, Black Diamond, and their parent companies. "The potential class-action involves a claim of defective design and manufacture because the Avalanche Beacons in question have a propensity to turn off involuntarily while being used," the firm claims on its website. Neither McNutt, Lustenberger, or any other skiers from the March incident are involved in this lawsuit.
The following day, Pieps announced through an Instagram post that those with concerns about their DSP transceiver should contact them at dsp@pieps.com. "We will offer you an upgrade to the latest version of our avalanche transceivers," the post says. But when asked for details and specifics about that program, Black Diamond could not yet elaborate.
"I think for all of us, the main concern is that we're heading into what will probably be the busiest backcountry season ever," says Howard. She is concerned that more skiers could end up victims of the beacons, especially as awareness of the problem prods those in-the-know to move on from their DSP models. "People are trying to get rid of these things and trying to recoup some of the money they lost, and I don't want someone who's just getting into the sport using it and then having a similar accident."
McNutt agrees, adding that this only enhances the need for a recall. "If you're not privy to the Instagram chatter, this is a modern device," he says. "Instead of remedying the problem, it's just moving it to an even less-informed user."
Still, the skiers believe their call-out of Black Diamond was warranted. For Lustenberger, a summer of back and forth with the brand with what was, in her mind little to show for it, was enough. "We gave them all the chance to get ahead of it and do the right thing and they didn't. How could we go into another season knowing the issues and not sharing or saying anything?"
Post not displaying correctly? See it here.
Editor's Note: If you have a Pieps DSP Sport or Pro transceiver, it is encouraged that you contact dsp@pieps.com.
More from SKI's Backcountry Channel
Avalanche Education during a pandemic: What does online Avy School look like?

Staying Stoked During Uncertain Times: An Interview with Adrian Ballinger