This Lesser-Known Zone is One of the Quietest in the Colorado Backcountry
Almost developed into a ski resort in the '90s, the terrain around Seven Utes Yurt is now a beloved backcountry spot.
Heading out the door? Read this article on the new Outside+ app available now on iOS devices for members! Download the app.
I wake to the smell of French press coffee steeping on the counter beside me while snow flutters down outside our windows.
The last few licks of flames have petered out from the wood-fired stove, and I sink a little deeper into the cozy depths of my down sleeping bag before committing to the day. When you're skiing from the front door, it's okay to snooze for a few extra minutes.
Our group of 12 is on a three-day trip to Colorado's new Seven Utes Yurt, a spacious and fully-stocked mountain dwelling nestled along the quiet banks of the Michigan River on Cameron Pass. Owned and operated by Colorado Mountain School (CMS), the 40-foot yurt is a few miles west of the Cameron Pass summit on Highway 14, which splits the Medicine Bow and Never Summer Mountains. The sub-five minute approach means that we don't have to skimp on luxury items the way we do on more remote trips, so I pour myself a big mug of coffee and cream and settle back into my cot, which has got to be the most comfortable bed I've slept on in the backcountry.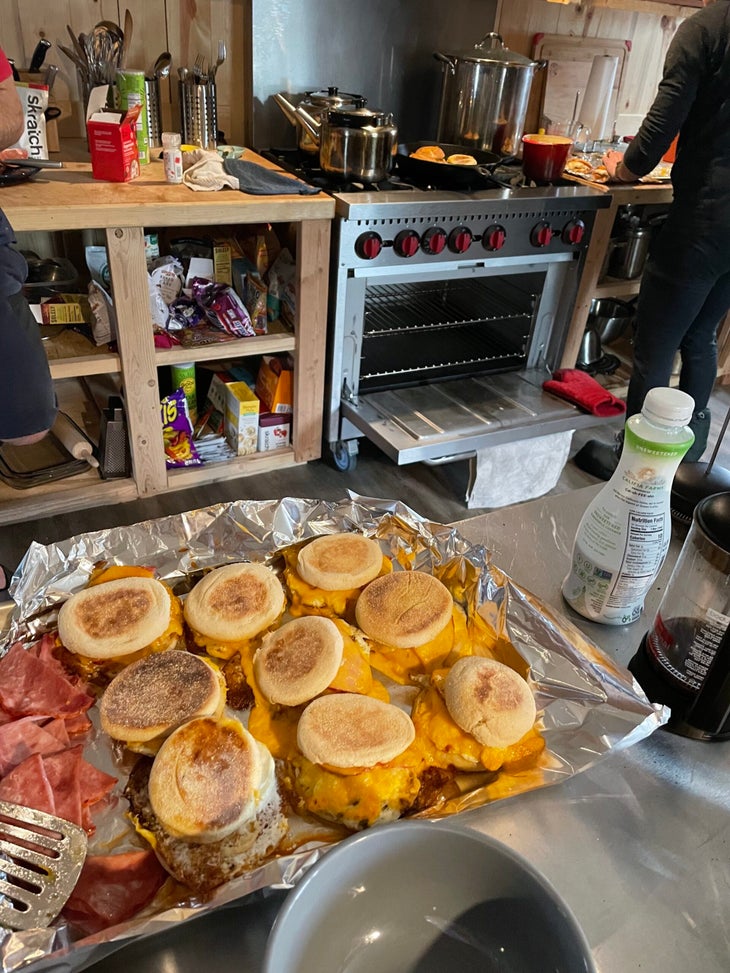 Thirty minutes later breakfast is up—egg sandwiches with Canadian bacon prepped on the six-burner stove—and we're stuffing snacks and tea into our packs and booting up to explore the terrain right out our front door.
An hour and a half from Fort Collins and about two and a half hours from Denver, Cameron Pass is a quiet backcountry zone that sees a fraction of the traffic the I-70 corridor does. 
From the Front Range, we wind our way between the rugged and snow-caked walls of Poudre Canyon to reach the top of the 10,276-foot pass, mountains spilling out in all directions. Storms favored the northern Colorado mountains this year, so we're treated to a deep snowpack and plenty of coverage for our three-day stay.
     Know Before You Go: How to Choose the Best Climbing Skins for Your Backcountry Skiing Adventures
For Fort Collins locals, Cameron Pass is the hub for local skiers, the closest skiing for the Front Range town of nearly 170,000. It's fitting that the closest skiing to the quiet and laid-back corner of northern Colorado is all human-powered; the nearest spot to catch a chairlift is Eldora Mountain, about 70 miles south. Locals seem to cherish the calm ski culture that juxtaposes the somewhat manic nature of skiing the rest of the state has become infamous for, no doubt kept this way by the lack of chairlifts.
One of our guides for the week, IFMGA guide Mike Soucy, tells us about the somewhat tumultuous history of potential development of the Pass, which has been largely left as a backcountry skier's haven for the last 100 years. In 1993, there was a proposal for a 1,300 acre ski area to be developed in the Seven Utes Basin, with hotels, condos, a golf course, and an ice rink. The residents of the towns of Gould and Walden, about 10 and 30 miles respectively from Cameron Pass, fought hard to reject plans for the "Resort at Seven Utes," alongside the support of the Poudre Canyon Group of the Sierra Club. The land board shut down the proposal that same year due to lack of community support, the last real attempt to develop Cameron Pass. "If you're headed west, stop into the bar in Gould on your way out and ask some of the locals," Soucy told us. "You'll certainly hear some crazy stories from those days."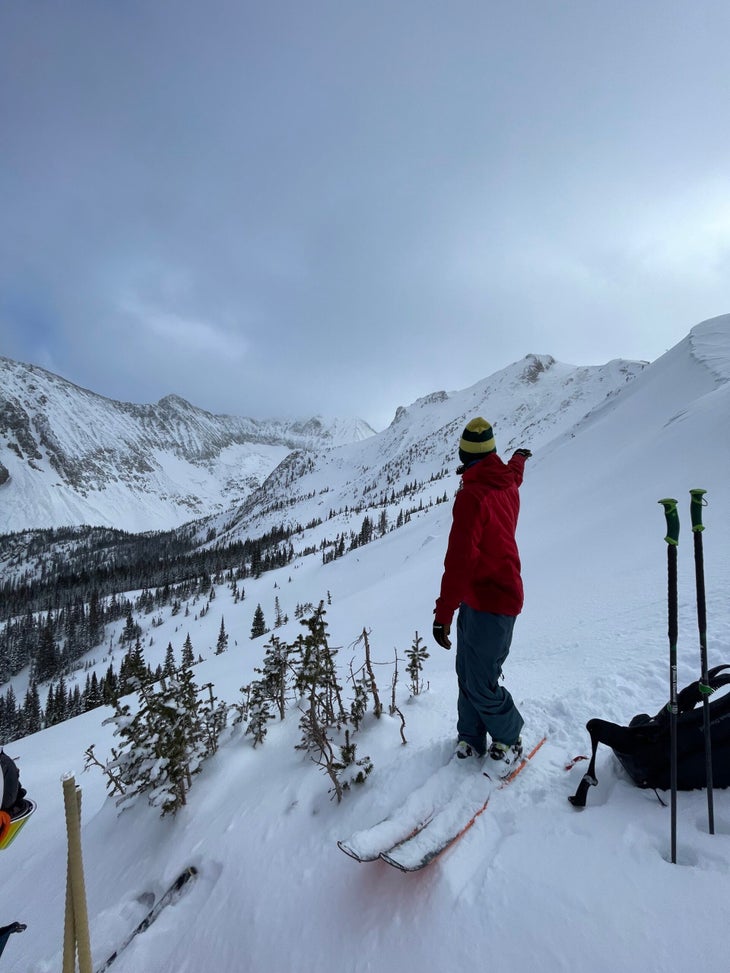 Exploring the abundance of north-facing terrain just steps from the Seven Utes Yurt, it's not hard to imagine why many developers wanted to turn this into a ski resort. Long fall lines of sheltered northerly slopes, rolling hills, and steep cliffy terrain up high leave nothing to be desired for skiers of a variety of ability levels.   
"It's also one of the most recently logged areas in Colorado," Soucy tells us. "Which results in really well-spaced old growth tree skiing."
Soucy has been skiing on Cameron Pass since he attended school in Fort Collins at Colorado State University in the '90s, and he deftly steers us through lap after lap of fresh powder turns as we explore a few different basins between Seven Utes and Braddock Peak. Since the yurt is tucked a few miles away from the main Cameron Pass trailhead, the only tracks we see are our own, as many fresh turns as our legs can handle. Off limits for a winter snowpack in Colorado, the steep couloirs of the Nokhu Crags are an enticing reason to make a trip back here in the spring, narrow ribbons of snow slicing into the jagged massif.
       Do Your Research: The Best Backcountry Skis of 2023
When we've had our fill and the sun starts to hang lower towards the horizon, we rip skins for our final descent and ski all the way down towards the Lake Agnes drainage, skinning and skating directly back to the yurt to meet up with the rest of our group. Fondue, whiskey, and a roaring fire greet us as we peel off our boots and hang our gear to dry.
CMS, which is based in Estes Park, built the Seven Utes Yurt last year as a remote adventure basecamp for both summer and winter trips. A six-burner stove, stocked kitchen, cozy roll-away beds, wood-fired stove, propane heater, and ample benches and cubbies feel like pretty palatial yurt living compared to the bare-bones yurts I've dirtbagged in with friends. This is the first full winter of operation for the 16-person yurt, which CMS is renting out for both guided groups as well as avalanche courses.
Another one of our guides, Sarah Janin, had just wrapped up a yurt-based AIARE Level 2 course before we arrived and says that the field-based courses are her favorite ones to teach. "Being in that environment as a group for longer I think really changes the way students learn," she said. Guide Jason Antin agrees. "Students can ask more questions, and the group becomes a lot closer since they're all staying together in the backcountry and everyone works together really well."
While gorging ourselves on an endless supply of fresh powder is a top notch way to spend a few days connecting with new and old friends, it's also a treat to fully check out for a few days (there's no cell service at the yurt), and experience the magic of a starry night ski, the sound of snow cascading off the roof, and the crackle of flames while drifting off to sleep.
Plus, fondue or no fondue, everything tastes better in a yurt.
Trip Planning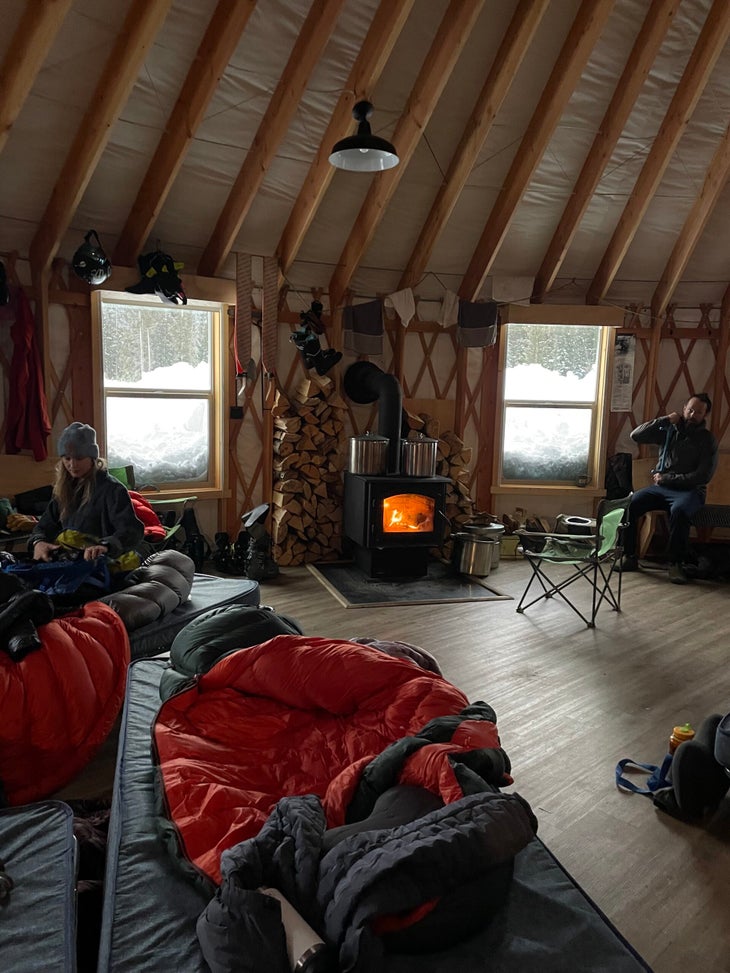 There are three ways to book a winter trip to the Seven Utes Yurt. You can either book out the whole yurt (a two-night minimum for $700/night, sleeps up to 16), sign up for a custom guided trip, or enroll in a yurt-based avalanche course. Reservations are open year-round for the yurt, with ample summer activities and hiking trails nearby. 
There are 16 rollaway sleeping cots, but plan to bring your own sleeping bag and pillow. Guests have access to the fully equipped kitchen, so all you need to do is pack groceries. Book your reservation online, or reach out to info@coloradomountainschool.com for other questions and inquiries.