Best From the Photo Annual
Heading out the door? Read this article on the new Outside+ app available now on iOS devices for members! Download the app.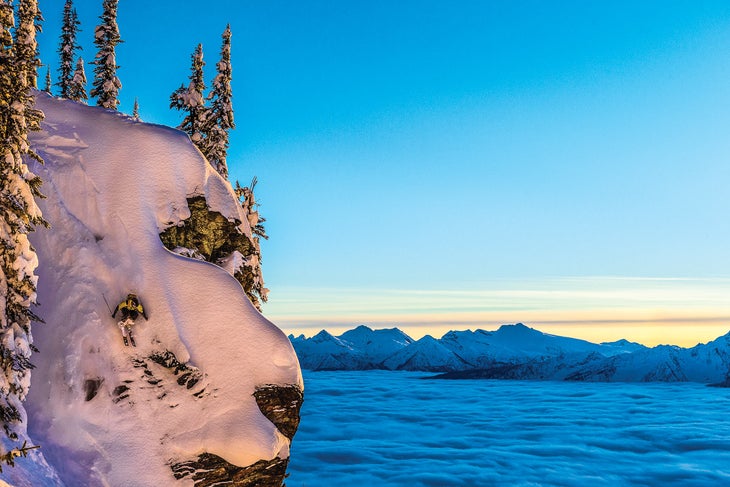 Grant Gunderson and KC Deane headed to Revelstoke, B.C., on the tails of another Pineapple Express. "We knew the cold Arctic air flowing down from Rogers Pass would allow for some great powder while the rest of the West was getting more rain," says Gunderson. As the storm beat its chest in the valley below, Deane skirted into position atop the near-vertical feature. "My dad always told me to just make my first turn and not to get too far ahead of myself," he says. "I banged out a quick few turns, and next thing I knew,  I was off the drop and skiing out."
PHOTOGRAPHER: Grant Gunderson  
LOCATION: Revelstoke, B.C.  
SKIER: KC Deane  
BUY: grantgunderson.com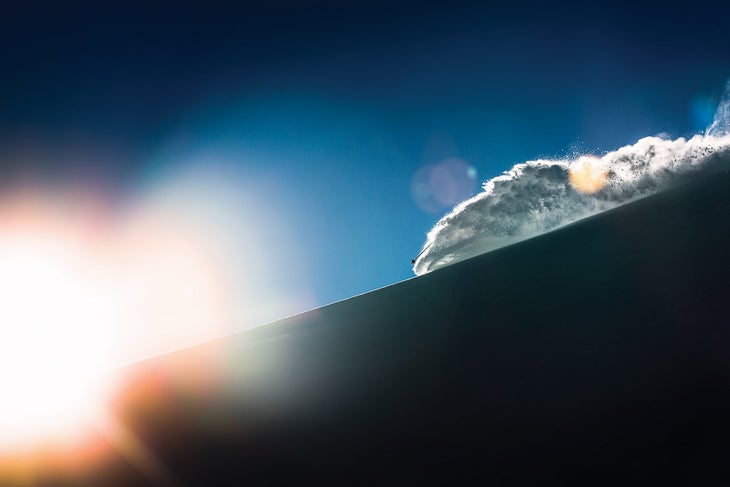 Skier Eric Hjorleifson and photographer Robin O'Neill toured aimlessly in the cloudy Selkirks. Weather and snow instability forced them to look for mellow alternatives to steep and deep. "We were kind of making something out of nothing," says O'Neill. "Eric said it best. We were just dickballin' around." Hjorleifson's backlit wave defines the moment. Dickballin', as it turns out, is pretty fun.
Photographer: Robin O'Neill  
Location: Selkirks, B.C.  
Skier: Eric Hjorleifson  
Buy: robinoneillphotography.com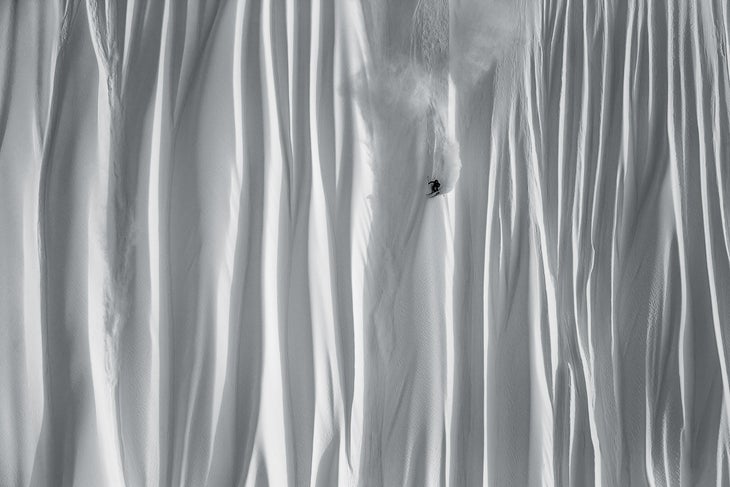 Skiing in Alaska has more to do with waiting than skiing. "Sitting around for days can be tough. The mental side is huge," says photographer Will Wissman. On this afternoon, Tanner Hall hadn't skied in 13 days, but the weather broke and it was time to fire. Wissman says that of all the athletes he's worked with in AK, Hall is the most dialed. "Tanner's ability to deal was impressive. That take more than raw talent." Of course, he was sharing a heli with Tatum Monod and Lexi duPont, which might have prompted good behavior.
Photographer: Will Wissman  
Location: Haines, Alaska 
Skier: Tanner Hall  
Buy: willwissman.com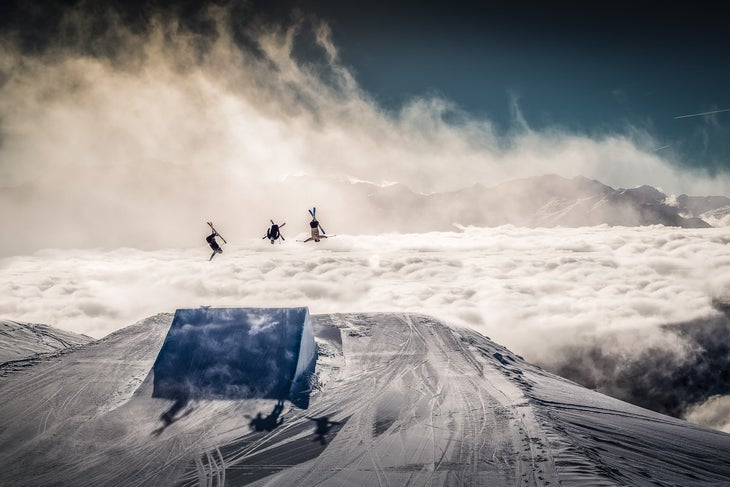 A typical training morning for Christian Bieri, Fabian Bösch,  and Till Matti quickly turned into photographic gold. "The light  was just perfect, the clouds, the fog—everything was producing  a mysterious atmosphere," says photographer Marc Weiler.  Following their warmup, with a collective shrug, the trio took  flight. Weiler, who happened to be on the hill that day, found  the right angle and captured the trio sending it into the clouds.  "I knew the shot was going to turn out."
Photographer: Marc Weiler  
Location: Laax, Switzerland    
Skiers: Christian Bieri, Fabian Bösch, Till Matti  
BUY: marcweiler.ch
Photographer Stephane Godin and skier Richard Amacker waited at the top of this ridge in the Rosa Khutor backcountry in Russia for nearly an hour for the clouds to part. "The weather changes quickly, and the proximity to the Black Sea gives the area a lot of humidity," says Godin. Sure enough, the weather cleared and Godin captured Amacker carving an artful turn into the shoulder.  
Photographer: Stephane Godin
Location: Rosa Khutor backcountry, Russia
Skier: Richard Amacker 
BUY: stephane-godin.com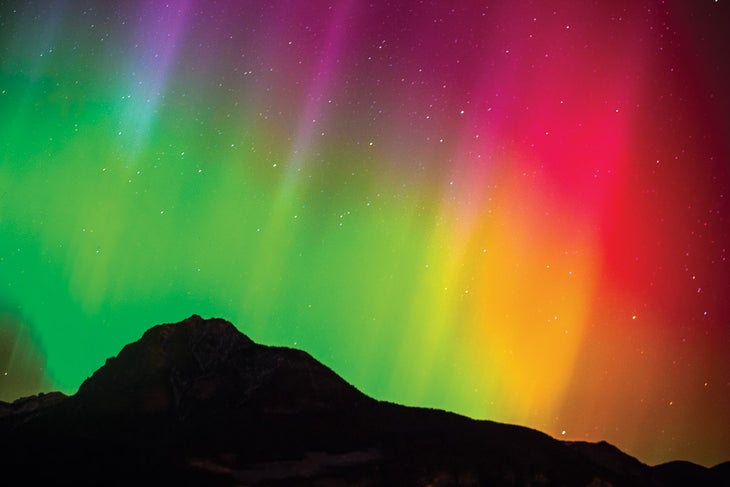 Stolen gear, a trailer blowout, and getting his truck towed from the middle of nowhere made for one hell of a week for photographer Elliott Bernhagen. But this aurora borealis display near Golden, B.C., was his reward. "It was surreal. I'm thankful to be alive in these moments," says Bernhagen.
Photographer: Elliott Bernhagen  
Location: Golden, B.C. 
Buy: bernhagenphoto.smugmug.com
On Friday the 13th, a layer of gray swept down the valley below the Dachstein Glacier while blue skies stretched out above. Christoph Oberschneider was shooting his friends skiing into the fog, and to distract the curious tourists asking him un-comfortable questions about whether it was legal to ski that line, he pointed his camera the other way. The gondola broke through the mists and right into Oberschneider's viewfinder.
Photographer: Christoph Oberschneider
Location: Dachstein Glacier, Austria  
BUY: oberschneider.com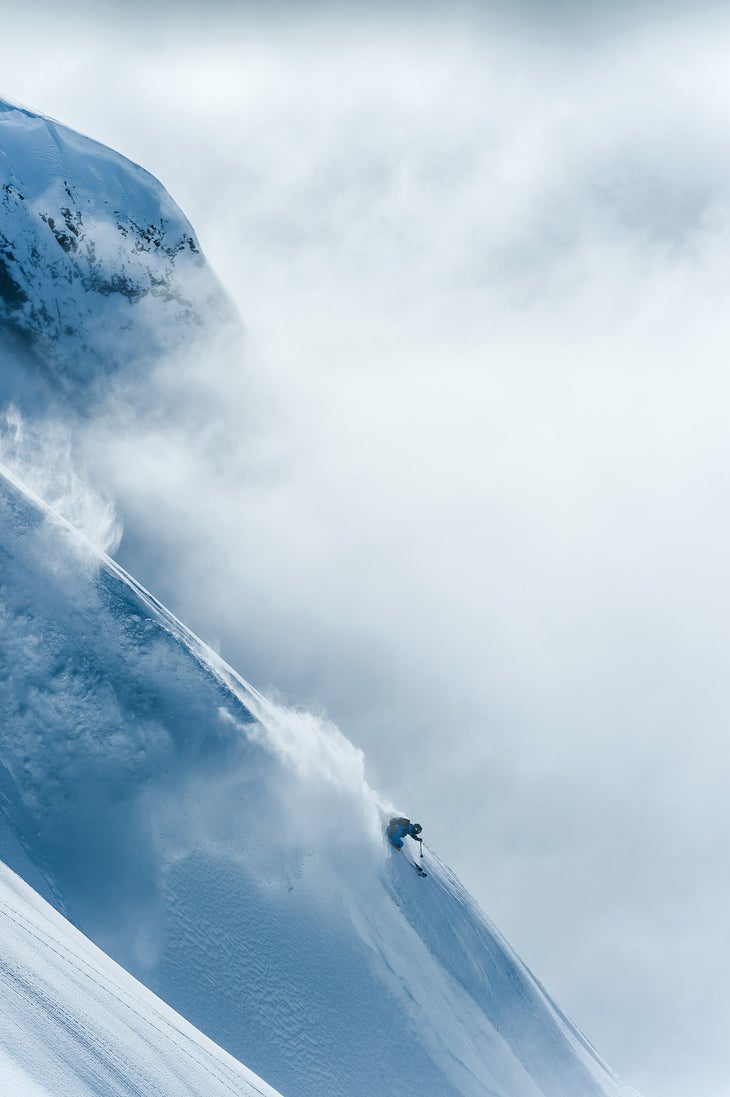 "Jonsson has called Engelberg home for the last 10 winters, and he knows all the good spots," says photographer Mattias Fredriksson. Here, Swedish professional skier Johan Jonsson sends it into the clouds along the classic off-piste route Wendelücke.
Photographer: Mattias Fredriksson  
Location: Engelberg, Switzerland   
Skier: Johan Jonsson  
BUY: mattiasfredriksson.com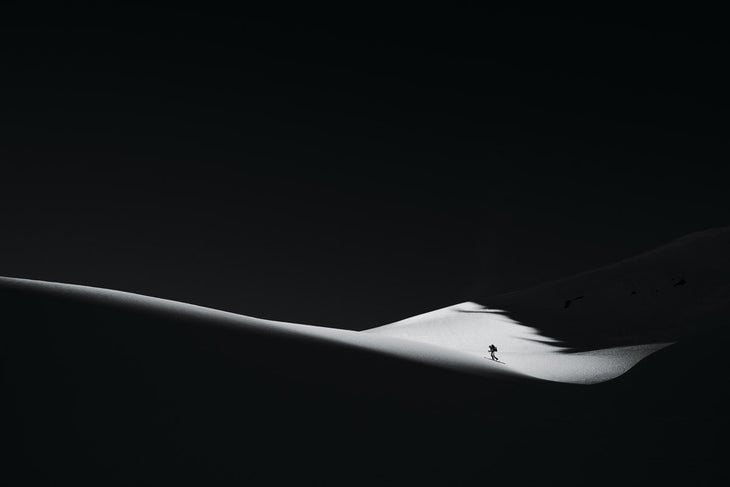 Last February, photographer Jason Hummel, along with Jeff Rich and Rowan Stewart, set off on a five-day traverse through a string of seven summits known as the Painted Traverse. In this shot, Rich pushes toward camp on day three as the sun falls over the horizon.
Photographer: Jason Hummel  
Location: Painted Traverse, Washington  
Skier: Jeff Rich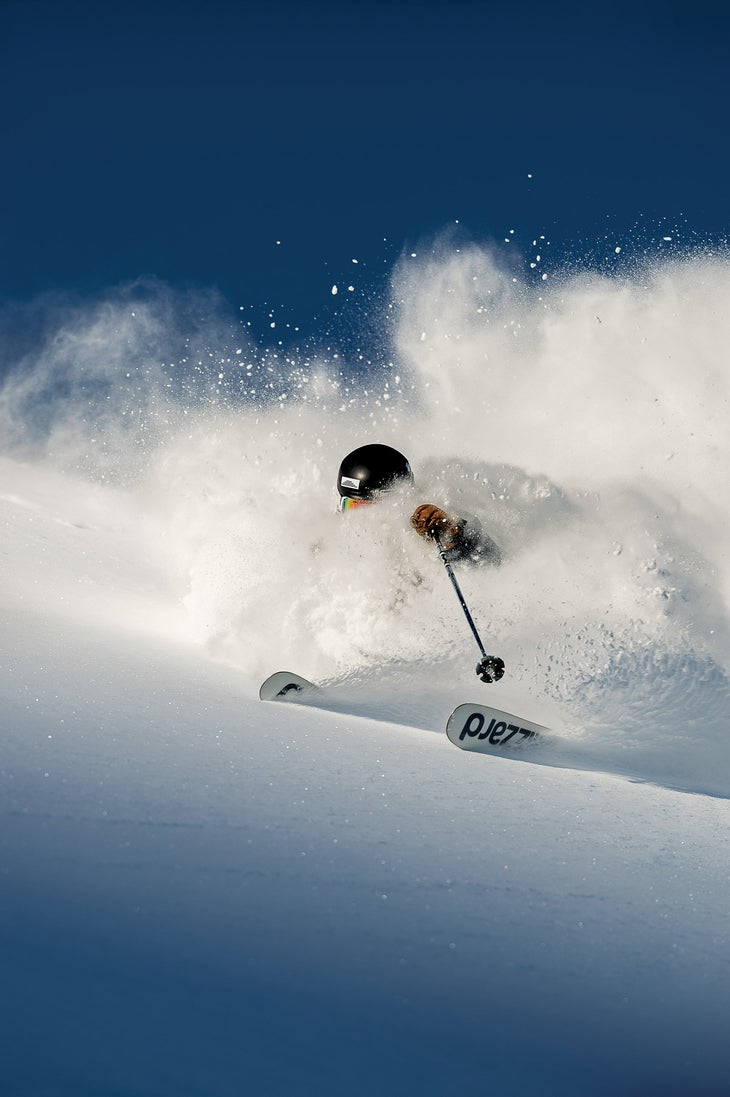 A few days before Christmas, photographer Lee Cohen and skier Marcus Caston waited for the sun to rise above the ridge behind Alta's Baldy Shoulder. "I knew the sun would hit it just right and that the snow would be blower," says Cohen. Once light finally crept in, Caston dropped toward the shadow line below, and Cohen captured this perfect turn.
Photographer: Lee Cohen  
Location: Alta, Utah  
Skier: Marcus Caston  
BUY: leecohen.com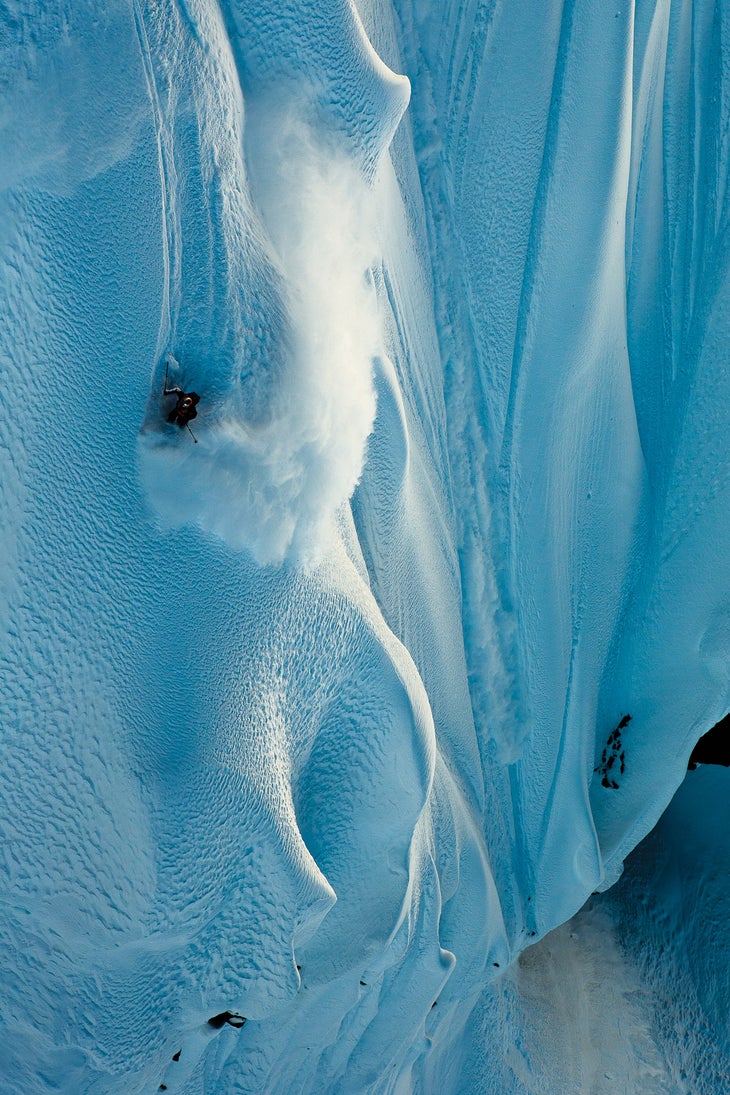 Oskar Enander and Henrik Windstedt boarded a plane to Alaska just 12 hours after booking their tickets. Then, on the last shootable day, they raced a storm front. "The face we had in mind was pretty big, so I shot from the heli to get closer. This frame ended up the best, right before Henrik clears the bergschrund."
Photographer: Oskar Enander  
Location: Haines, Alaska 
Skier: Henrik Windstedt  
BUY: oskarenander.com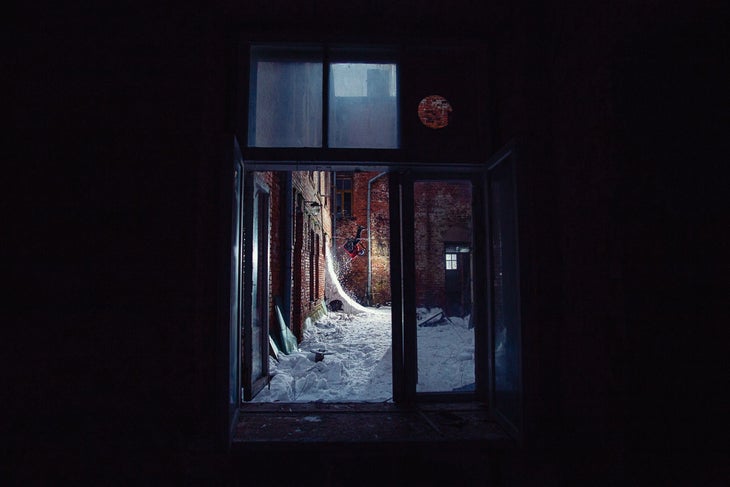 After noticing that the gates were left open to this deserted Estonian hotel, local skier Timo Jeeger hatched a plan. He called up photographer Roman Neimann, and by the time Neimann arrived the next day, Jeeger had already built a kicker and gathered the snow for an inrun. "The main problem was that we had a lack of snow and it was melting fast," says Neimann. Racing the clock, Neimann snapped this shot of Jeeger on one of his first attempts.
Photographer: Roman Neimann  
Location: Viljandi, Estonia   
Skier: Timo Jeeger  
BUY: vanaisa.ee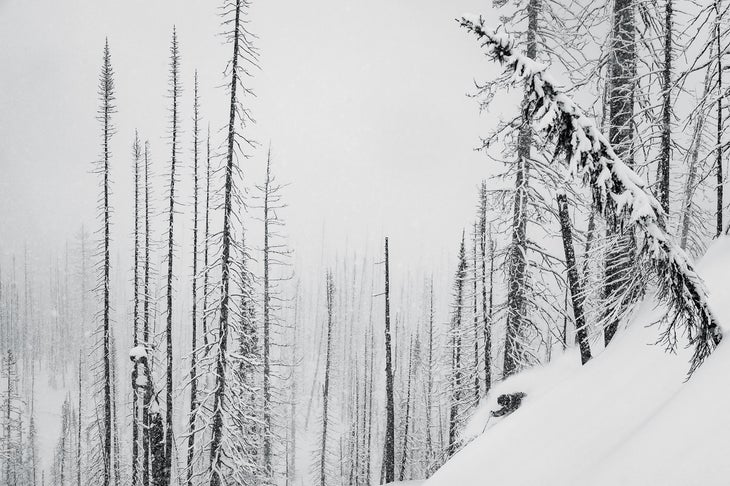 Photographer Reuben Krabbe got a last-minute phone call to join skier Dan Treadway on a trip with B.C.'s Monashee Powder Cats, and 36 hours later he was knee deep. "We had a confined opportunity to shoot before a temperature bump was set to turn all the fluffy pow into hot snot," says Krabbe. This was his last shot before the spiking temps forced the crew to retreat…to the hot tub.
Photographer: Reuben Krabbe  
Location: Monashees, B.C. 
Skier: Dan Treadway  
BUY: reubenkrabbe.com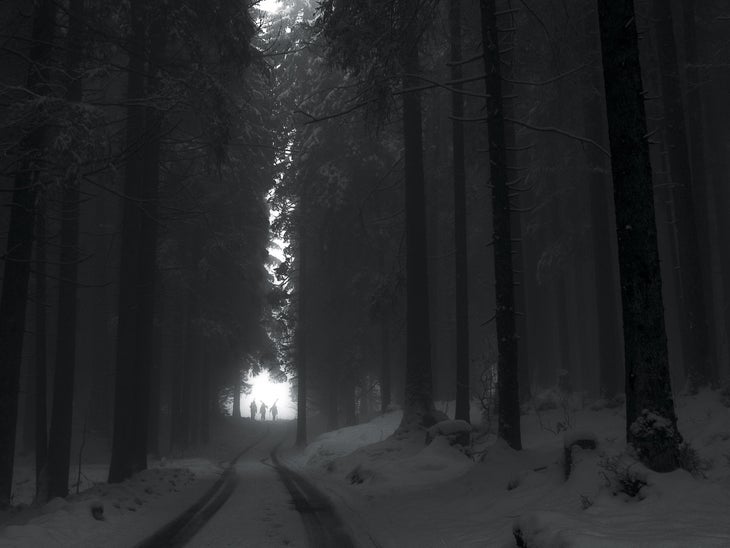 On the walk back from Laub, a classic 3,000-vertical-foot line in Switzerland, to Engelberg, Oskar Enander captured his friends with a point-and-shoot he had in his pocket. "The crowds had not arrived yet, the snow was really good, and I got a lot of riding in with friends without my big camera pack," says Enander.
Photographer: Oskar Enander  
Location: Engelberg, Switzerland  
Skierr: Matilda Rapaport, Olof Larsson, Willie Lindberg  
BUY: oskarenander.com