Best Photos of 2015-2016
This gallery features some of the best photos from our most recent issues. The three newest additons are well worth your time.
Heading out the door? Read this article on the new Outside+ app available now on iOS devices for members! Download the app.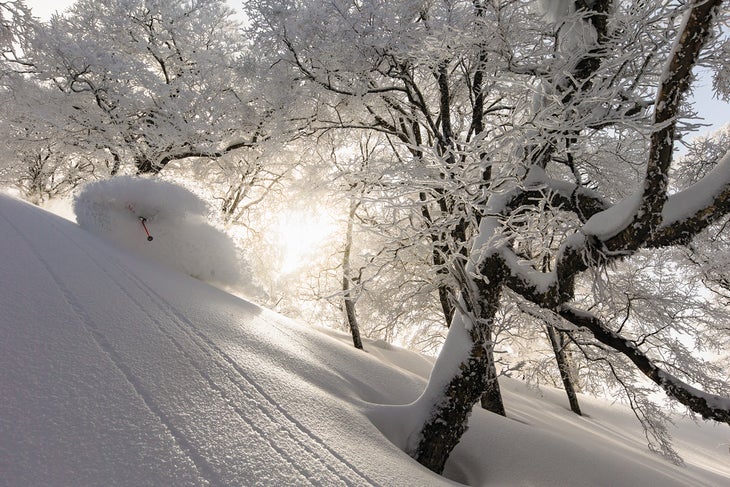 After retreating to low-angle pockets because of the avy danger of their original objective, Grant Gunderson captured longtime friend and ski partner Adam Ü in Nozawa Onsen, Japan. With a foot of fresh and in the best light Gunderson has ever seen in his eight Japanuary trips, Ü slashed through the depths, leaving hanging specters of snow to glint in their slow fall back to the thick, white blanket. —Paddy O'Connell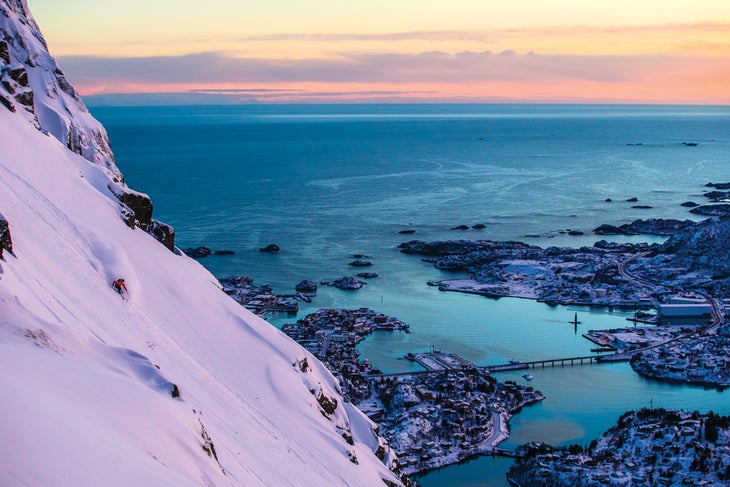 "Our timing was a little off because we hit the archipelago during a storm, and light like this was rare. But when it hit, wow. It was unlike anywhere else I'd been," says photographer Adam Clark. Lofoten, Norway, has seen human activity for more than 11,000 years, and fishing, for both cod and tourist coin,
is its financial lattice. With a striking juxta-position of sea and snow, Old World fishing village and skiing, Clark captures Austin
 Ross in a beautiful left footer.  —Paddy O'Connell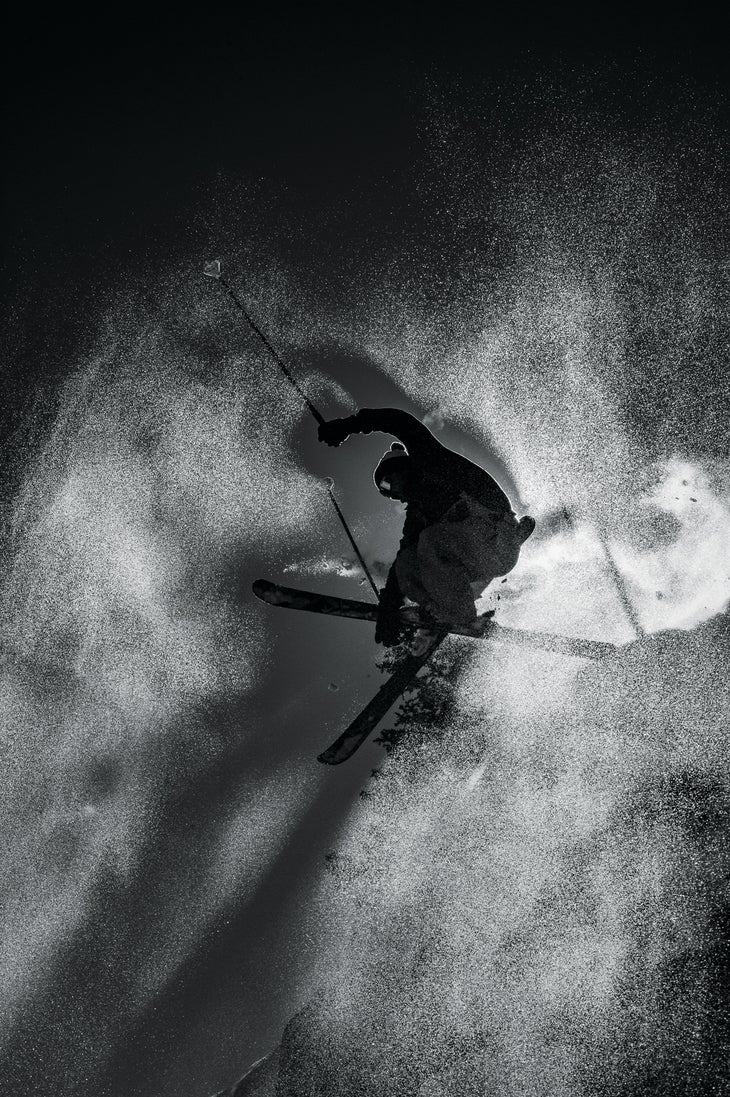 Say "Cheese!" Pit Viper's Chuck Mumford kept it retro in the swirling crystals of spindrift at Brighton, Utah. Photographer Reuben Krabbe got creative when shooting on crusty old snow. Rather than asking Mumford to send big airs, Krabbe instructed the goofball in neon sunglasses to pop off small rock features. The shadow Mumford casts here indicates the enormity
of his character.  —Paddy O'Connell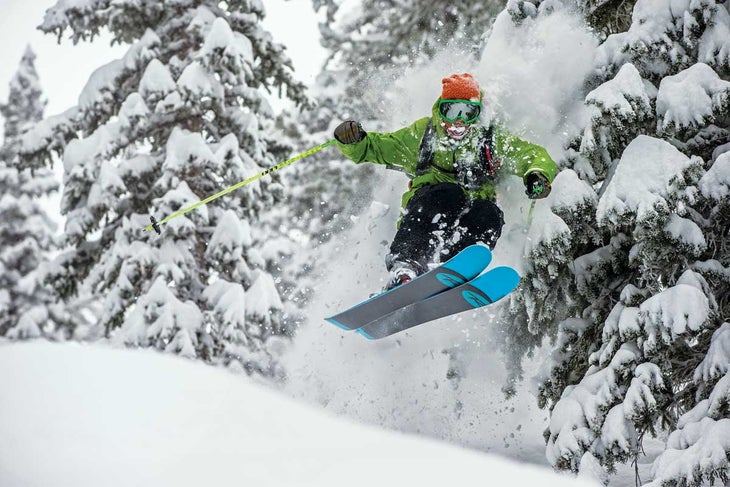 With 20 new inches overnight and no sign it was letting up, photographer Adam Barker told Carlo Travarelli to blast the pillow, stay tight, and get some snow moving. "Carlo is a seasoned vet and as per the norm, he got 'er done," Barker said. Right after they captured the image, Barker's camera battery promptly died. He'd forgotten to pack a second, so he drove 30 minutes each way to retrieve one. "We all have those absent-minded moments at times—glad this one didn't cost me the shot."  —Leslie Hittmeier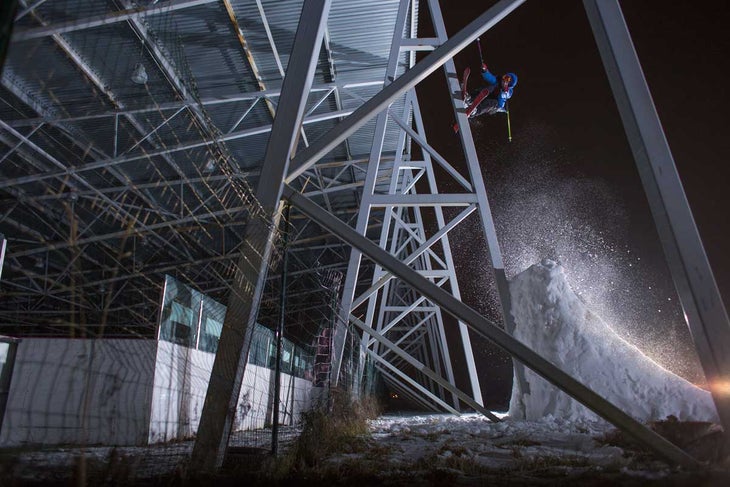 On a mission to steal some snow from an ice rink in Viljandi, Estonia, photographer Roman "Vanaisa" Neimann got inspired to shoot. He recruited athlete Timo Jeeger to build the kicker, a job that took him two days. After well over 10 attempts to get the shot, Neimann and Jeeger went back to the drawing board. The solution? Jeeger just needed to jump higher. Three days and one broken finger later, the dream team got this epic frame.  —Leslie Hittmeier
Alaska doesn't mess around. Neither does skier Richard Permin. "Backcountry is my favorite discipline," he says. "It mixes freestyle and freeride. It's a perfect form of fusion." Photographer Blake Jorgenson captured Permin within his field of study on a spine near Valdez. —lily krass
Richard Permin in the Chugach range, Alaska, by Blake Jorgenson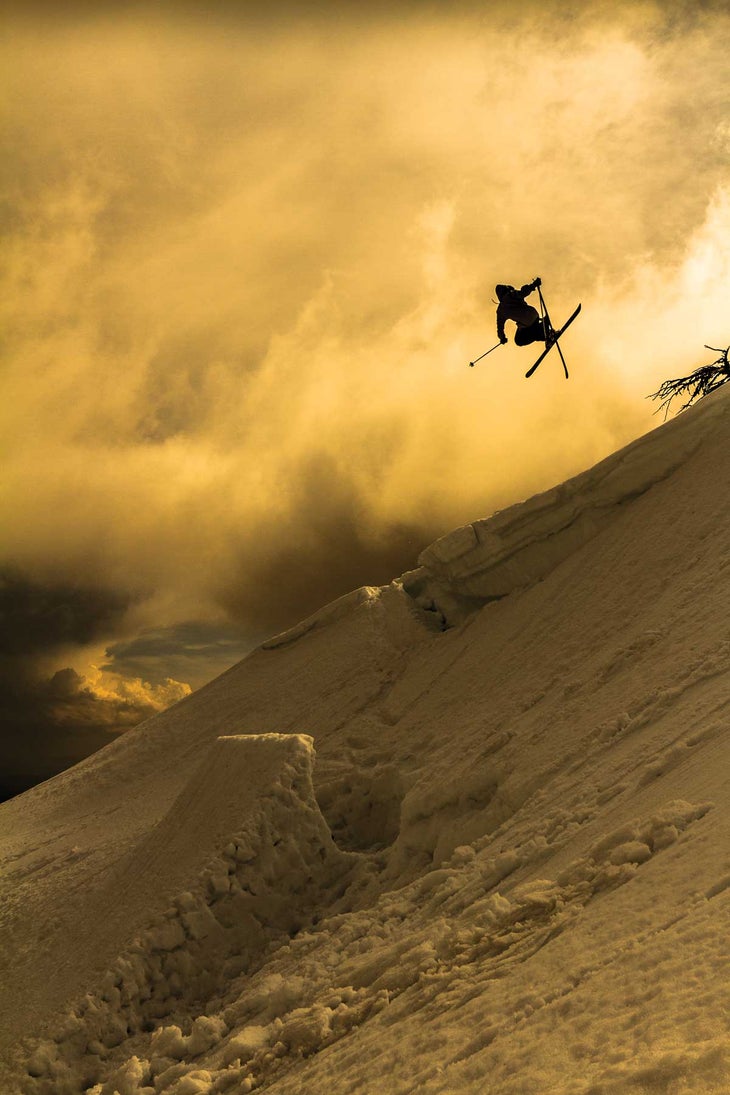 Despite last year's soul-crushing Northwest winter, a small storm came through Mt. Bachelor in April, and photographer Erik Hostetler and skier Lucas Wachs got to work. Hostetler had been eyeing this spot for most of the season, and Wachs hit the step up late in the afternoon as a second storm approached. "It worked out really well and created a much moodier backdrop with the dark clouds," Hostetler said. Then, of course, just after Wachs took flight, it started to rain. Again.  —L.K.
Lucas Wachs in Mt. Bachelor, Oregon, by Erik Hostetle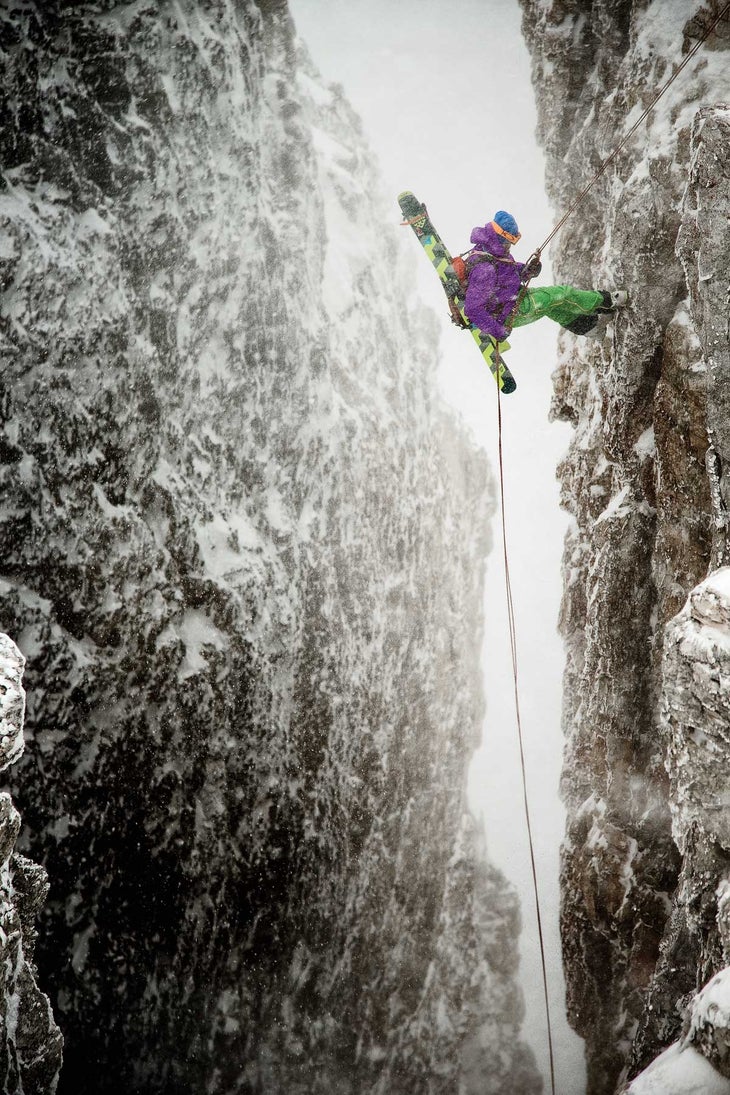 With no time to wait for the weather to subside, skier and climber Bruno Compagnet and photographer Daniele Molineris battled the elements in a hair-raising couloir on Rosetta Mountain in Italy's Dolomites. The two were shooting for Arc'teryx's King of the Dolomites photo contest.  —L.K.
Bruno Compagnet on Rosetta Mountain, Italian Dolomites, by Daniele Molineris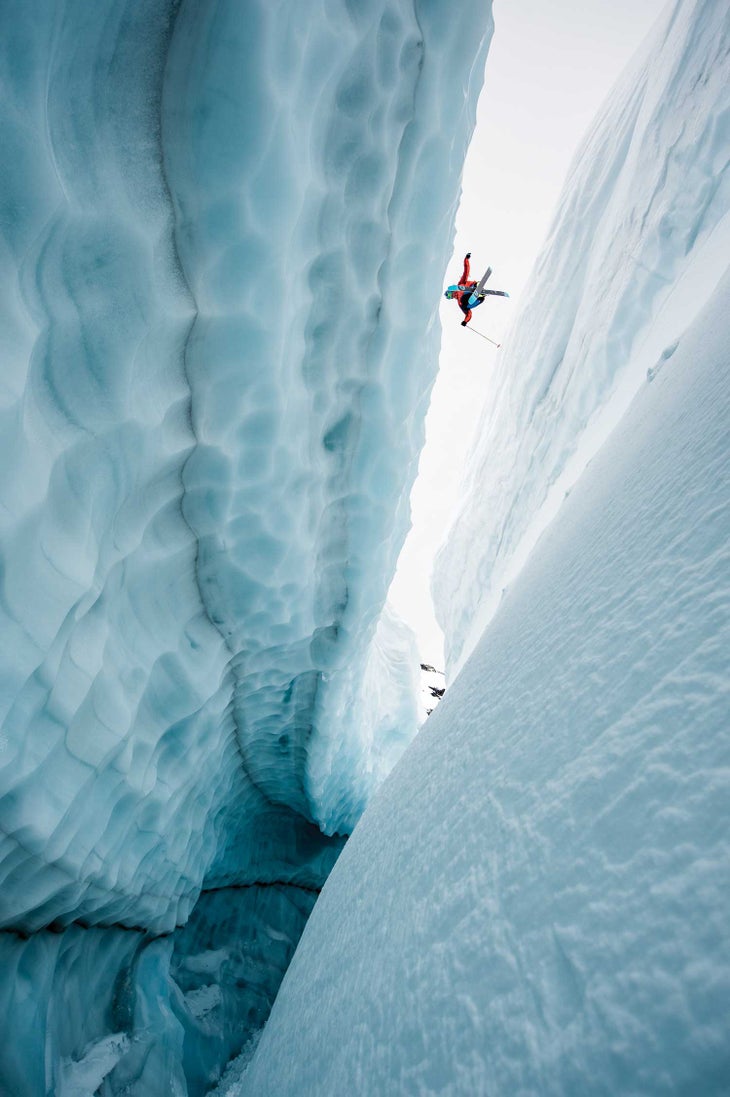 #NailedIt
To ski among natural features like this typically requires an arduous and remote adventure. But last season's all-time low snowfall exposed crevasses all over the Blackcomb Glacier, including this icy, pocked slit just feet away from a lift. "It was an Instagram attraction for tourists," said photographer Blake Jorgenson, "so on a dreary day we decided to join the masses." As the audience cheered and snapped Insta-bangers, skier Dave Treadway aired into the blue void.  —P.O.
Dave Treadway at Whistler Blackcomb, British Columbia, by Blake Jorgenson'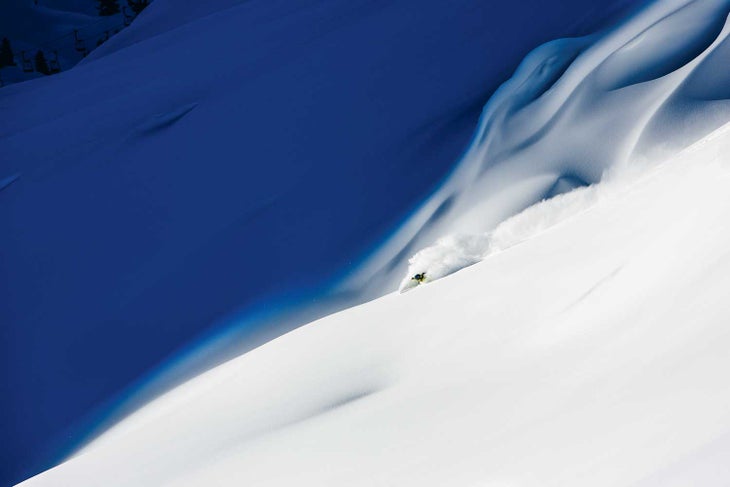 Late Shift
In the shadow of Switzerland's Mount Titlis, the slopes of Engelberg Ski Resort stay cold and dry for most of the day. That's why photographer Oskar Enander loves shooting there. "You can ski a lot in the morning without shooting, and then start working in the afternoon after you've gotten your powder fix, when the light starts coming in," says Enander. In this shot, skier Olof Larsson clocks in on a wave of cold smoke after a full day of playing in the powder.  —Lily Krass
Olof Larsson in Engelberg, Switzerland, by Oskar Enander.
Ready or Not
Photographer Will Wissman was standing on the tarmac, ready to hang it up for the season after shooting for two months in Haines, Alaska, when he got a call from Colter Hinchliffe. Hinchliffe persuaded him to extend his departure by a week. Though Hinchliffe had just been farming corn in Aspen, Wissman threw him into the "nastiest shit you've ever seen," Wissman says. Here, on just his second day in AK, Hinchliffe chose to traverse in rather than rap down to this perch while Wissman snapped the intense moment. And after? Says Wissman, "Oh, Colter cleaned the shit out of that line."
—Paddy o'connell
 Colter Hinchliffe in Haines, Alaska, by Will Wissman