Booze of the Month: Marble Distilling Co.
The Western Colorado-based distillery makes fantastic spirits in a sustainable way.
Heading out the door? Read this article on the new Outside+ app available now on iOS devices for members! Download the app.
Imagine a distillery where every ingredient is sourced as locally as possible, every tool used in the liquor-making process is made in America, and where a woman runs the entire operation. Then place that distillery at a small-yet-luxurious inn located in the heart of a mountain town that's less than an hour from some of the best ski resorts and backcountry skiing in North America. Sounds like a dream, right? Well, this dream is real.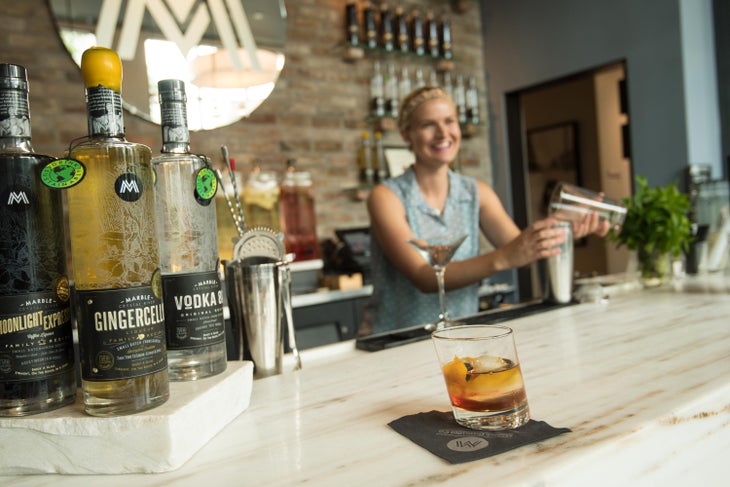 Marble Distilling Co. is located on Main Street of Carbondale, Colorado. In the morning, visitors can hop on a bus to the iconic ski areas of Aspen Snowmass, or they can drive west towards the tiny town of Marble and McClure Pass for some of the best backcountry ski touring in the state. After a day in the mountains, the best après option in the entire Roaring Fork Valley is the Marble Bar and Distillery Inn. The exquisite Marble Bar is staffed by skilled mixologists, and is only a short staircase away from five luxury suites featuring amenities that rival Aspen hotels.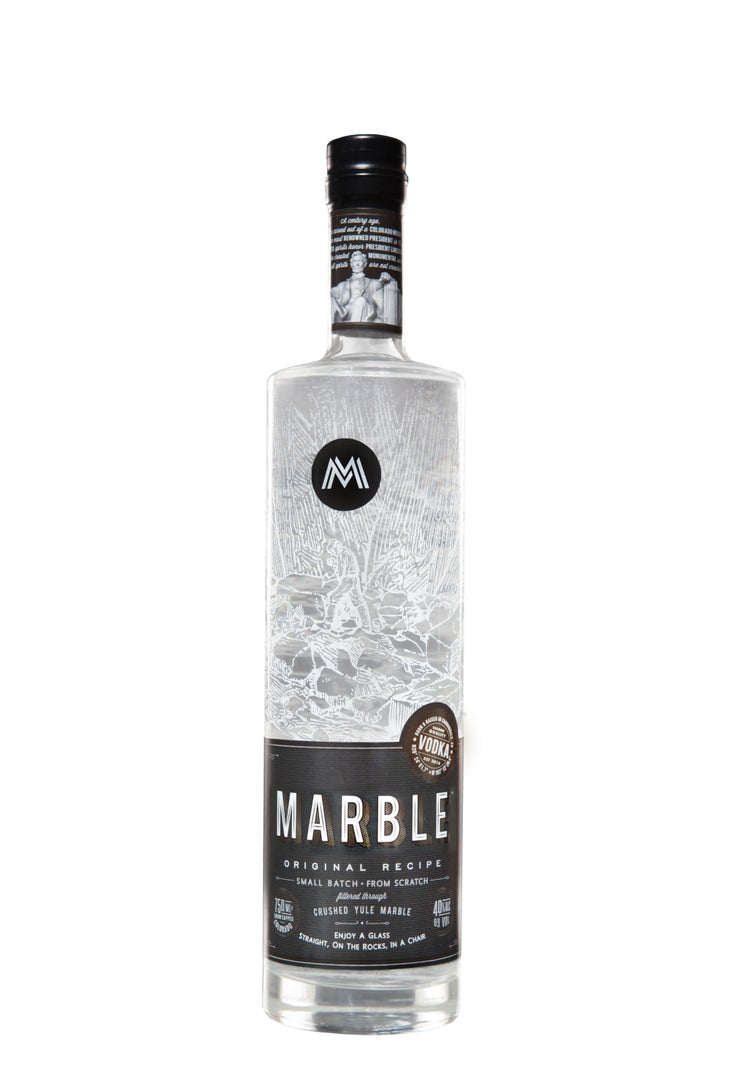 And, considering all of these geographical and accommodation perks, the booze is delicious (this is a column about alcoholic beverages, after all). Marble Distilling Co.'s signature spirit is their Marble Vodka. The 100 percent Colorado soft white wheat and malted barley is distilled in an American-made copper pot still five times, each time passing through a unique filtration system that uses crushed marble rock from a quarry just up the road. The grain vodka is creamy, smooth, and full on the palate, with a lingering, enjoyable finish. It's the type of vodka that accents a cocktail, instead of hiding beneath the other ingredients.
Their other signature liquors include the chocolatey, rich, and semi-sweet Moonlight EXpresso and a pleasantly warming Gingercello . The espresso liqueur is definitely not Kahlua. Rather, it's an incredibly high-quality 52-proof family recipe that uses Guatemalan coffee, Uganadan vanilla, and house-made cold brew coffee that just belongs in white Russians, black Russians, and just about anything hot or cold that could use a yummy coffee kick.
Read more: Booze of the Month – Wyoming Whiskey
The Gingercello riffs on the classic Italian liqueur limoncello by taking vodka and infusing it with fresh-cut ginger, hand-zested lemons, and then sweetened with simple syrup made with locally sourced beet sugar. Drink it straight, and you'll enjoy a pleasant warming sensation, making it an ideal sipper on cold winter days; or splash it into a hot toddy or other fancy cocktails for an added, gingery kick.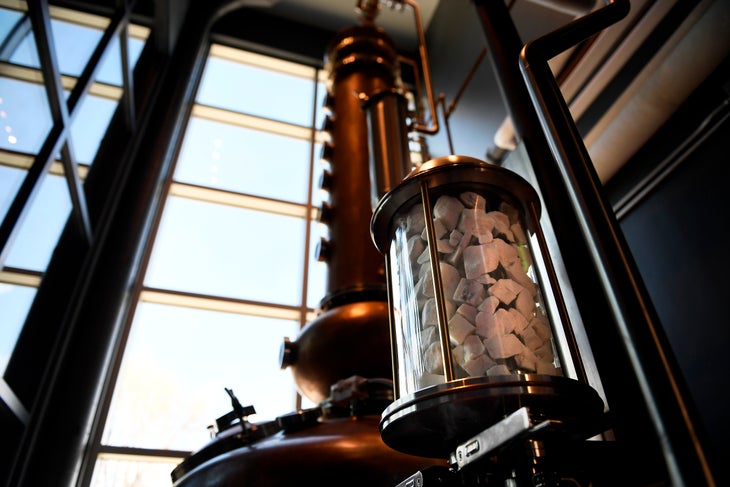 On top of all this, Marble Distilling Co. makes all of its liquors sustainably. While most other craft vodka distilleries waste thousands of gallons of water during the distilling process, the closed-loop water reuse techniques Marble Distilling Co. uses mean that only a liter of water is used to make a liter of vodka. This sustainable distilling process saves over four million gallons of water a year. All of the spent stillage is sent to local ranchers near the town of Carbondale. The distillery has been working with other craft distillers to get them to practice more sustainable distilling techniques as well, meaning they really just might be "saving the planet, one bottle at a time."
All of their spirits are ideal for cocktails, so find a bottle near you and get to work on these fantastic cocktails if you can't make it to the Distillery Inn this season. If you do make it to their spot in downtown Carbondale, we might just see you there. And if you don't feel like venturing down valley during an Aspen ski trip, be sure to stop by the Marble Bar Aspen and get a couple of cocktails there.
SKI Magazine's Favorite Marble Distilling Co. Cocktails
Recipes courtesy of Marble Distilling Co.
The Dude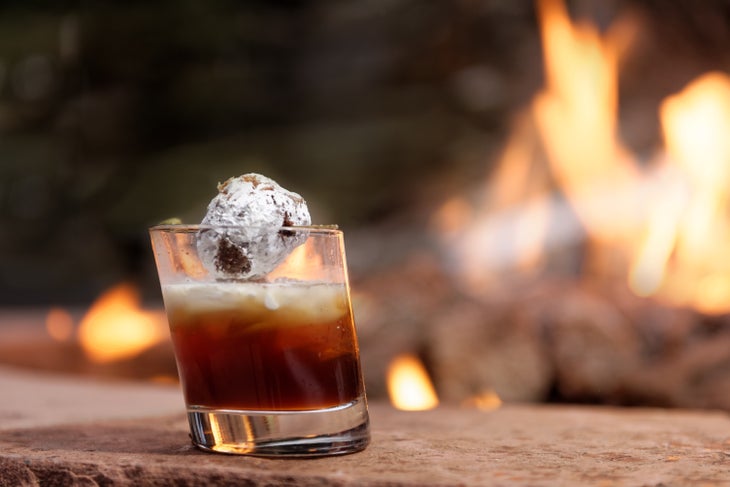 3 oz. Moonlight EXpresso 
A skosh of heavy cream 
A shave of dark chocolate
Fill rocks glass halfway with ice before layering the cocktail. Then, pour Moonlight EXpresso over ice followed by a skosh of heavy cream and a shave of dark chocolate.
Also try substituting heavy cream for almond milk to create the lactose-free and gluten-free Crunchy Dude, or add a topper of Marble Vodka for the Dude Abides.
The Marble Mule
1 oz. Gingercello
2 oz. Marble Vodka
1/2 lime, squeezed
Fill a cocktail shaker with ice, Marble Vodka, Gingercello, and lime. Shake, strain and pour over fresh ice in your favorite copper mug or rocks glass. Top with a splash of ginger beer and garnish with a wedge of lime.