Cariboos Magic
It's not all insane terrain at the CMH Cariboos Lodge, but it can be.
Heading out the door? Read this article on the new Outside+ app available now on iOS devices for members! Download the app.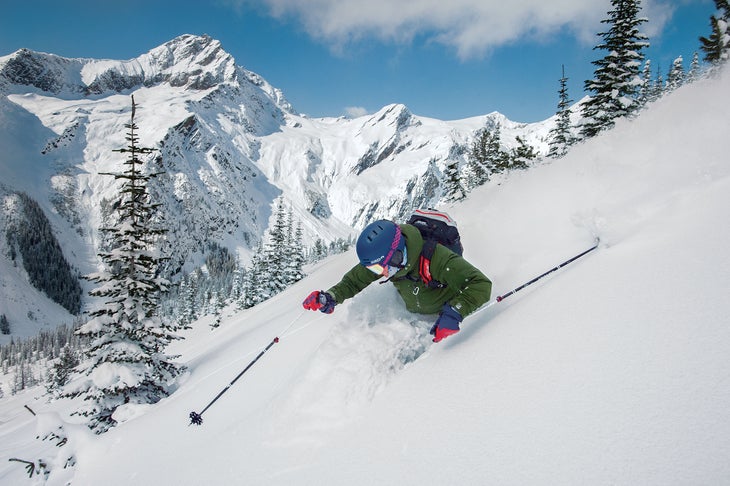 As we buckle our boots and click into our skis, I can't help but notice the west-facing slope below us does not look terribly difficult. It reminds me of Vail's Back Bowls, if the Back Bowls were covered in three feet of virgin, stable, and creamy Canadian powder, and only three groups of 11 had access.
In other words, while not very steep, the slope is any powder-lover's fantasy.
Our guide, Otto, leads the charge downward, rhythmically turning his skis as if tuned into a metronome and making perfectly symmetrical squiggles. The group, forming a skiing version of the "Flying V," spoons Otto's track for 1,000 vertical feet. Only then does he stop to make sure no one needs assistance.
As the group catches their breath with smiles as big as the Bell 212 helicopter that delivered us to the top of the slope, Otto playfully judges the group's ability to "lay the magic carpet" on the otherwise untouched snow. Any errant tracks that don't properly spoon the adjacent line are shamed for being "schnitzel" (which sounds a lot like a certain four-letter word in Otto's Austrian-accented English). We all know his chiding doesn't really matter. By the end of the 6,000-vertical-foot run, that first attempt at laying down a carpet is already a distant memory.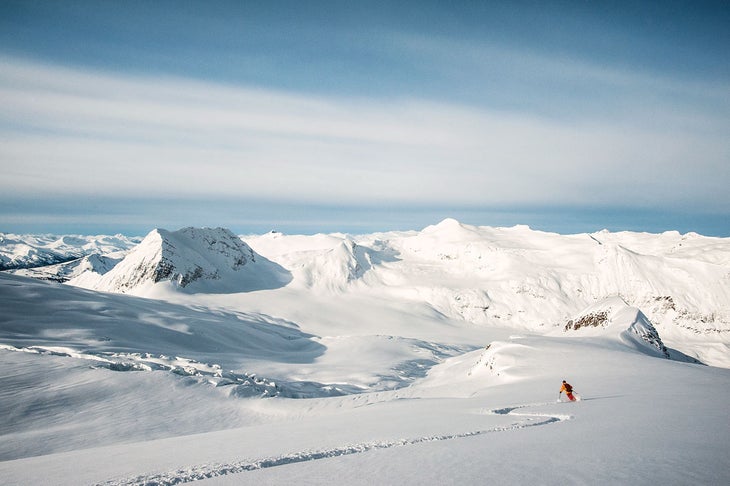 Everyone has a different idea about what "heli-skiing" involves. Some fans of modern ski films imagine the act of physically jumping from the helicopter on to a knife-edge summit and descending near-vertical, cliff-laden slopes. Others might conjure posh cabins perched on the edge of a massive cliff, with James Bond-worthy amenities.
CMH is hoping to change these misconceptions. And some of its clientele already knows that you don't have to be a pro to go heli-skiing. On the way to laying schnitzels and magic carpets with Otto, I sit in the helicopter between two septuagenarians and across from a mother of two teenagers, one of whom is also in the heli. I get the feeling that her son and I are the only ones who have any desire to "jump" out of the heli.
Read more: CMH Unveils "Lines of Sight"
To be clear, there is plenty of exciting, expert-level terrain available at CMH Cariboos. Over the course of the week, our guides—Otto, Morgen, and John—definitely satiate my desire for adventure. They point me towards cliff drops and pillow lines while the rest of the group would keep their skis on the snow, picking their way through perfectly spaced Canadian pine. No one seems to be impressed by my antics—they are all too busy skiing powder. Besides, the terrain and surrounding beauty simply overwhelm anything a person could do on skis.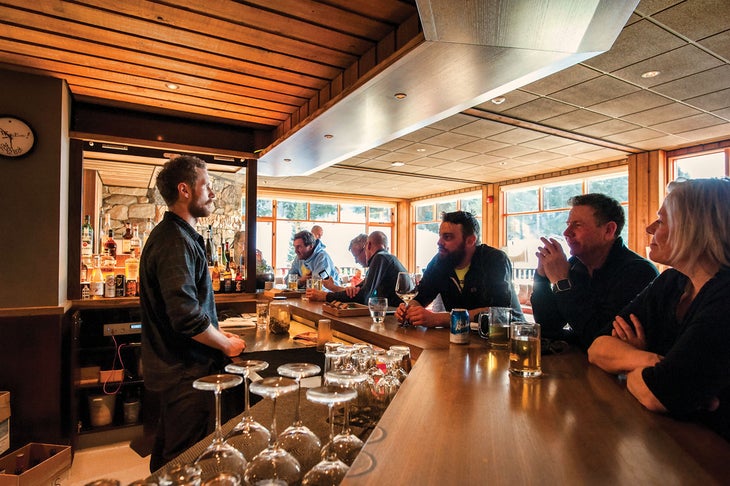 Every day, when the group returns to the lodge, well, let's just say those James Bond–style amenities aren't entirely a fantasy. CMH Cariboos is only accessible via a 15-minute helicopter flight from Valemount. With ample room for 42 guests, a posh bar and dining area, hot tub, sauna, massage therapists, exercise room, and full-service ski shop with a number of girthy powder skis available for demo, there is no expense spared when it comes to comfort. The lodge is so nice that CMH Cariboos regularly hosts guests who don't actually ski—they come to simply find respite in the mountains while everyone else gets their powder fix.
CMH Cariboos By the Numbers
Number of Guests: 42

Guide to Skier Ratio: 1 to 11
Square miles in the CMH Cariboos Tenure: 575
Looking out of my room's windows at the monolithic glaciers slowly carving the slopes of Mt. Sir John Thompson—named for Canada's fourth Prime Minister—I realize I could be happy here without skiing, too. But, as there's 575 square miles of skiable terrain and we're in a near-perfect early April weather window, I am anxious to ski as much as humanly possible.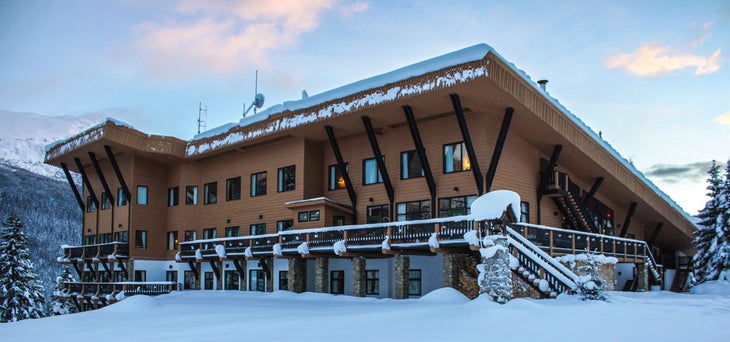 And we do. In five days, our group skis over 50,000 vertical meters (164,000 feet). The two septuagenarians pass seven and nine million lifetime vertical meters with CMH during the week, while the mother of two notches her millionth vertical meter. Looking at the final tallies of vertical skied, I can't help but wonder if CMH should offer a program to warn first-timers about the dangers of heli-skiing addiction.
Stay on topic: Near and Far with North Cascade Heli
CMH Cariboos Trip Planning
Getting there: Kamloops is the nearest international airport, about three and a half hours south of the staging zone in Valemount. CMH provides transportation to and from Valemount via Kamloops. 

Editor's Note: Starting during the 2019/2020 season, Kelowna will be the official pickup location for CMH Cariboos Lodge. Guests may fly into either Kelowna or Kamloops and CMH will arrange for transportation into the lodge.

Cost: Packages start at $4,490 CAD. Ikon passholders can get early booking privileges. 
Info: CMHheli.com
Originally published in the January/February 2019 print edition of SKI Magazine. Editor's note added to digital version in January 2019.