Denver Teacher climbing summits of 50 states in 50 days
Heading out the door? Read this article on the new Outside+ app available now on iOS devices for members! Download the app.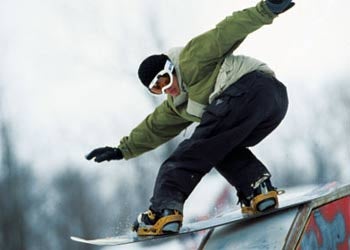 WICHITA, Kan. 
– How do you top a successful expedition to the top of the world – Mount Everest – that was closely monitored by thousands of schoolchildren on the Web? Climb another mountain? How about climb to the highest point of each of the 50 states – and do it in 50 days or less.
Compared to the Coleman Everest 5.5 Challenge last year, Denver schoolteacher Mike Haugen's new project, 50 States in 50 Days Adventure, is even more challenging. More days, more climbing, more travel. Infinitely more complicated logistics. Yet his quest takes place right in the nation's backyards.
Haugen, 31, hopes to combat increasing rates of childhood obesity due to poor eating and exercise habits by hosting an online virtual challenge with his next climb to all 50 U.S. highpoints, which begins June 9. The public can follow along in real time during June and July on
. Posted online will be photos, videos and a blog about his route, equipment, the people he meets, and the nature surrounding each summit.
Information about the American highpoints collected by Haugen will help update the Highpoints display at the
Bradford Washburn American Mountaineering Museum
, which hosted Haugen's media kick-off event on May 20.
After Haugen physically completes the Adventure in July, Coleman's 50 States in 50 Days Challenge will launch with dozens of activities – from bicycling and jogging to hiking and camping – that kids can undertake as they earn their way from one state's virtual highpoint to another. What's more, teachers will be encouraged to include the challenge in their curricula so that entire classrooms can participate together as a team. The online challenge will continue through December.
Mountains and Molehills

These highpoints are an interesting collection of summits. The Delaware highpoint (448 feet) in Wilmington is located in the center of a road. Britton Hill (345 feet), the highpoint of Florida, is situated just 20 feet from a parking lot near Florala, Ala. The toughest, Alaska's Mount McKinley (Denali), starts the 50-day clock the minute Haugen tags the top.
Haugen will summit by any means during his 24,000-mile journey this summer, even if by car. Such is the nature of the variety of America's highpoints. Regardless of its height, each highpoint will allow Haugen to tell a different story involving flora and fauna, geography, fitness and the simple pleasures of being outdoors.
Haugen's goal is to finish on Hawaii's Mauna Kea, less than 50 days later, on approximately July 25. Ben Jones, from Lynnwood, Wash., set the current record of 50 days, 7 hours and 5 minutes in 2005.
Fighting Nature Deficit

For years, The Coleman Company, Inc. has been concerned about the growing number of children who spend more time indoors with electronic devices than they do exploring the outdoor world, coupled with the increasing rates of childhood obesity due to poor eating and exercise habits. "Nature deficit" is considered a threat to the health of American children. Studies have shown that exposure to nature and being active outdoors may be just the right antidote to an epidemic of obesity and many other problems kids face today.
Through this project, Coleman and Mike Haugen hope to encourage kids to discover the outdoors and remain physically active both at home and at school.
Accompanying Haugen on his adventure will be Zach Price, 30, an architect and climber from Seattle, and Lindsay Danner, a social work major residing in Denver.
Mike Haugen's 50 States in 50 Days Adventure is supported by Coleman, K2 Skis, Marmot, and SPOT Satellite Messenger. Additional help provided by
.