Dream Jobs: Ski Patrol Director
As Crested Butte's ski patrol director, Bill Dowell gets first chair, makes sure people have an amazing ski day, and deals with all types of ski injuries.
Heading out the door? Read this article on the new Outside+ app available now on iOS devices for members! Download the app.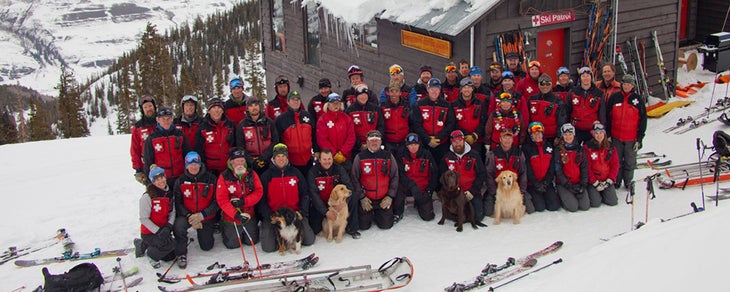 Ski patrollers are arguably the most important people on the mountain, and without them ski resorts couldn't function. Bill Dowell, Crested Butte Mountain Resort's ski patrol director, makes sure everything is running smoothly to help ensure skiers have the perfect day. Here are the nuts-and-bolts of Dowell's job, how he helps people on the mountain, and his thoughts on being an ambassador for the sport he loves.
How did you become a ski patroller?
As a kid growing up skiing, I would see ski patrollers and think that was a pretty cool job. At one point I was living in Crested Butte, enrolled in a ski patrol school, then applied for the job when they were expanding their patrol. That was about 30 years ago, and I climbed through the ranks and eventually became the director.
What is a typical day like for you?
Some days we're even on the lift when it's still dark. On a normal day, we start with an 8 A.M. meeting to talk about terrain openings and closings, make sure everyone's on the same page, and give a brief synopsis of what's going on during the day. We might do a safety talk or medical training, and then we'll head onto the hill and get the mountain set up before the public arrives.
When the public's on the hill, what we do depends on if we're on a storm cycle. If we are, we might be doing avalanche blasting to stay ahead of the conditions. We also do maintenance, and sometimes we're in the process of opening new terrain. Obviously we're on the hill and assisting people any way we can whether that's attending to injuries, finding lost children, or anything else. A lot of the job is customer service, and engaging with skiers and snowboarders to make sure they have a good experience on the hill.
How is your job as a director different from normal ski patrol?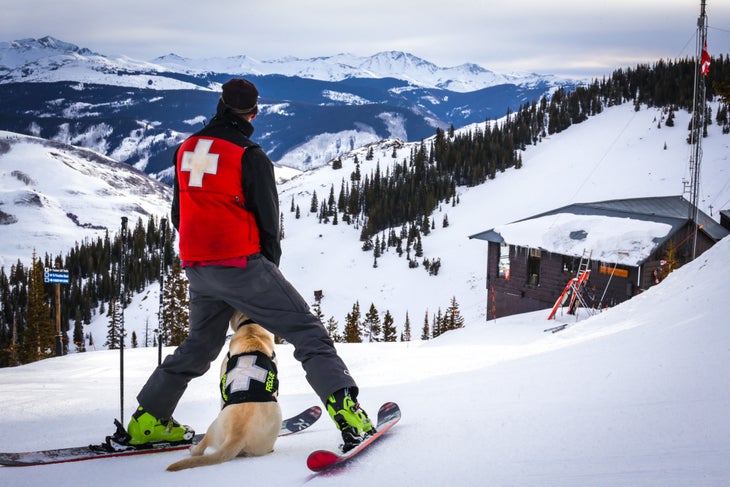 As a director, I'm a liaison between upper management and ski patrol. I translate upper management decisions and directions, and I bring ski patrol concerns to upper management. I make sure everyone gets paid, and I'm in charge of hiring and firing. Along with my staff, we devise pre-season trainings. 
I make sure we have the equipment we need, and maintain those inventories. I'm in charge of scheduling and determining how the ski patrol rotates through different duties on the mountain. It's a lot of administrative duties as well as on-the-hill skiing.
Help less, shoot more: What it's like to be a pro ski photographer
What advice do you have for people who want to be ski patrollers?
Be really honest about your skiing ability. You don't have to be the prettiest skier on the mountain, but you do have to be really strong and capable of dealing with any conditions that are out there. You also have to be really confident and have a strong medical background. Just be ready to work really hard.
What is the hardest part about your job?
Probably just dealing with the elements on a really cold, nasty, windy day. We have to be out there regardless of the elements, and if someone gets hurt, we're the ones that are there. Being out there every day in our ski boots can be hard on the body.
What is your favorite part about your job?
My favorite part is interacting with the guests and making people feel the passion for skiing that I've had for so long. I like guiding scared kids and adults down a hard run and helping them feel at ease. People might get hurt, but it feels good guiding them safely down the mountain and getting them the help they need. I also work with a great group of people that are highly motivated and trained. It's like working with your friends every day.
Not good with blood? Check out some less gory dream jobs in the ski industry.
Originally published in April 2014 for Skiing Magazine's Website. The article has since been updated with formatting, links, and photos.