A Freeride Rookie Finds Her Line
Tucker Vest Burton takes us through the Subaru Freeride World Qualifier course in Big Sky, Montana.
Heading out the door? Read this article on the new Outside+ app available now on iOS devices for members! Download the app.
Perched atop the expansive Headwaters face high above the meandering blue and green trails of Big Sky, Montana, I glance into the distance and watch the tram glide to the pinnacle of Lone Peak. I shade my eyes from the glare of warm mid-day sun to peer down a sheer drop towards the finish corral and tent, the conclusion of the Subaru Freeride Series World Qualifier venue. Butterflies flutter inside my stomach and my heartbeat quickens. I peel my eyes away and force myself back into the present moment.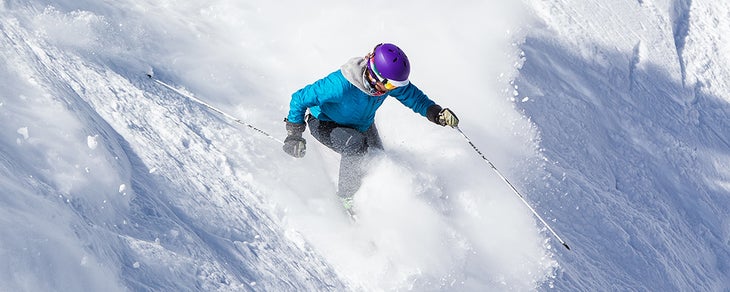 I chat with fellow competitors and the cheery ski patrol, then realize it's almost my turn. With a lack of grace due to the precarious start position amid a jagged ridgeline, I finally manage to bang sticky snow off my boots and click into my skis.
I watch the competitor before me take off. I slide down to my start position, buckle my boots as tight as they will possibly go, maneuver my goggles, focus my eyes upon the expansive vistas encompassing me, and relish the moment. 
I'm in my element, a place where I find myself most at home, suspended atop a soaring peak with nothing but snow and serenity. Every fiber in my body prepares for when my skis turn down, headed for a line I know I'm ready for.
Three, two, one, go announcesthe starter as I lean forward. I progress into fluid turns headed straight for the first difficult maneuver of my line. Soft snow billows around my boots as I turn right, point straight, and then drop. With motion continually propelling me forward I know somewhere in the back of my head that I am off to a good start. I make a hard left towards Hells Half Acre chute.
Controlling my speed through quick, fast turns I drop into the aptly named chute and press forward. Slough engulfs my skis as I approach the first rock band. It only offers the choice of free passage by airing the jagged strip. Knowing full well my chosen route I continue my run and drop right sending myself downward where I then continue quick, fast turns headed straight towards the second rock band.
To ready myself for my final drop of the run, I point left. I drop, land, and I'm still on my feet, headed towards the finish. I hold on for dear life, my quads screaming for respite and lungs rasping with exertion. As I make my final turns, I hope my legs don't give out now. I make an exhausted attempt at a spread eagle off the road that cuts across the bottom gully of the face, land, and enter the half circle of banners.
A huge smile stretches across my face as I catch my breath, because I just pushed my skiing to a new level. A place I never thought it could go.
Tucker Vest Burton is a veteran ski racer who decided to give freeride competition a shot. She works in the communications department at Colorado's Keystone Resort. Follow her on Instagram and Twitter @Tucker_Vest. Read about her first freeride competition here.