Freestyle Skier Shannon Bahrke Talks Life After Bronze Medal
With pink hair, a blinding smile, and a silver medal in moguls from the 2002 Olympics, Shannon Bahrke stood out in a crowd before the five-ring circus in Vancouver kicked off. Now she's won a bronze medal and made multiple appearances on the Today show, finishing her last Olympics as one of America's darlings. By Olivia Dwyer
Heading out the door? Read this article on the new Outside+ app available now on iOS devices for members! Download the app.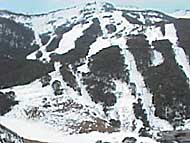 Shannon Bahrke (right) celebrates her bronze medal with gold medalist Hannah Kearney of the United States (center) and Jennifer Heil of Canada.
This is the second time I've spoken to Shannon Bahrke on the phone, and the first thing she does is apologize for not returning the message I left her the day after she won the bronze medal in women's moguls. I tell her it's fine, I understand she's had more important things to do than sort through her voicemail.
"It has been so crazy," she says. "We got to go on the Today show a bunch of times. I've watched a couple of events, and I've been doing tons of interviews and spending time with my family."
The first time I spoke to Bahrke, before the Olympics, she promised me the American women would make a run at a podium sweep. They came close during the women's mogul competition on February 13, as Hannah Kearney took gold, Canada's Jennifer Heil won silver, and Bahrke completed the U.S. bookend with a third-place finish.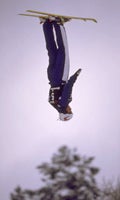 Bahrke tears up the course at Cypress Mountain on February 13.
Ready to Ride
Standing at the top of the course at Cypress Mountain on that rainy night, Bahrke decided to go for broke.
"I had such a good feeling in the start gate," she says. "I qualified in sixth place and I was so mad at myself—I did not work these last four years to get sixth place, so I just pushed out [of the start] like I wanted it."
For me, watching NBC from the couch at home, her run looked like a winner, or close to it. Bahrke thought otherwise.
"I went big off the top air, and I thought I made a big mistake and I was really upset at that point but I knew I skied the middle section like I'd been training and just let it rip," she remembers. "I went really big off the bottom air and finished great. I thought I'd made a significant mistake on the first air, but it turned out you couldn't see it from the bottom. I got to the bottom and looked at the coaches and they were going insane."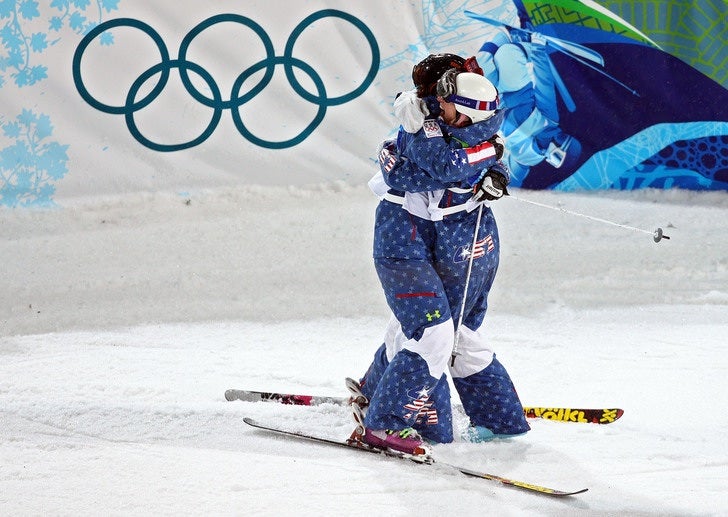 Bahrke embraces Kearney after her gold-medal run.
Team First
One of the challengers was teammate Heather McPhie, who fell on course and tumbled in the standings. Bharke was waiting at the bottom with a hug.
It's easy to offer support from the top, but Bahrke had more hugs for Kearney after her gold-medal run, knocking her teammate off-balance with her enthusiasm.
"I whispered—well, probably not whispered but yelled—you just won the Olympics! I didn't know what the judges were going to do. I said if they didn't reward her for it, it was ridiculous," Bahrke says.
Bahrke throws down before the Olympics.
Looking Ahead
Bahrke has said this is her final Olympics, and her final year of competition. She's getting married in the fall, and wants to start a family while building her business, Silver Bean Coffee, and pursuing opportunities to return to the sport as a commentator. But for now, she's enjoying her victory lap in Vancouver.
"Every athlete dreams of going out on their own terms," she says. "Everyone on our team works so hard, and for me to be able to win a medal in my last Olympics and go out on my own terms really means a lot."—Olivia Dwyer