Get Around
At Valle Nevado, you are so close to neighboring resorts you can practically taste them. Check them out with the Interconnect Pass.
Heading out the door? Read this article on the new Outside+ app available now on iOS devices for members! Download the app.
One of the sweetest deals in South American skiing is the Interconnect Pass. If you book a seven-day hotel package at Tres Puntas, Puerta del Sol, or the Valle Nevado Hotel, you will receive two Interconnect Passes that provide access to the ski areas next door: La Parva and El Colorado. This opens up over 7,000 acres of terrain, plus tons of access to surrounding backcountry zones. With access to a comparable amount of terrain as Park City, the largest ski area in the United States, for two days at no additional cost, this deal is hard to beat.
To make the most of your time, check out trail maps the night before crossing the border into La Parva or El Colorado, or ask around at the hot tub about the best spots to go at either resort. Both ski areas can be accessed from the top of Valle Nevado's Andes Express lift (pictured above), but the sprawling lift systems at the other resorts—including T-bars crisscrossing beneath quad lifts—can be tricky to efficiently navigate. El Colorado is more mellow overall, while La Parva has a more diverse menu of runs, including hike-to terrain comparable to Shake and Twist, the most difficult runs at Valle Nevado.
The highlight of a trip to either of the neighboring resorts is a chance to check out different on-slope amenities, including the Santiaguino-preferred La Parva. After a day or two of exploring, don't forget to pay it forward when you return with advice to others in the hot tub back at Valle Nevado.
Athlete Tip: Marcus Caston "It's super easy to ski between all three resorts for endless amounts of skiing. Each resort feels a little lonely on their own, but the Interconnect Pass makes them all feel attainable. If you have backcountry experience and are an expert, definitely check out the Chiminea at La Parva, then tour to the Anclan zone to ski back to Valle Nevado."
El Colorado
Something for the whole family, especially if the family is freestyle-oriented.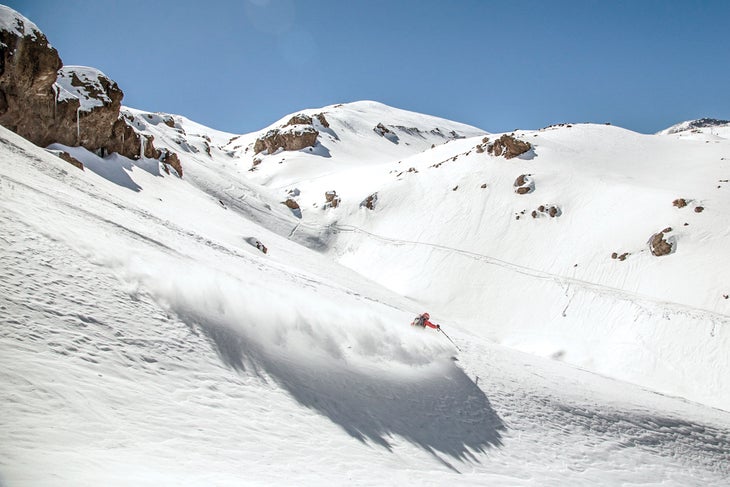 From the base of Valle Nevado, it's easy to get confused why there aren't more people on slope towards looker's left: A steep, mogul-covered slope that faces Puerta Del Sol. That's because you're looking at the advanced- and expert-specific inbounds backside of El Colorado, a different resort that encompasses the dome-shaped peak west of Valle Nevado. With over 2,400 acres of terrain and just short of 3,000 vertical feet of descent, El Colorado is regarded locally as a mostly beginner- and intermediate- friendly mountain, a solid choice for family vacations. On the flip side, you have to ski through El Colorado to get to Santa Teresa, the steep, cliff-laden backcountry zone that has played host to the Freeride World Tour competition. El Colorado is also renowned for its terrain parks. National and junior national freestyle teams come here to train on the well-sculpted jumps, rails, and mogul fields.
La Parva
Chilean vibes and unadulterated views of the city make this a local favorite.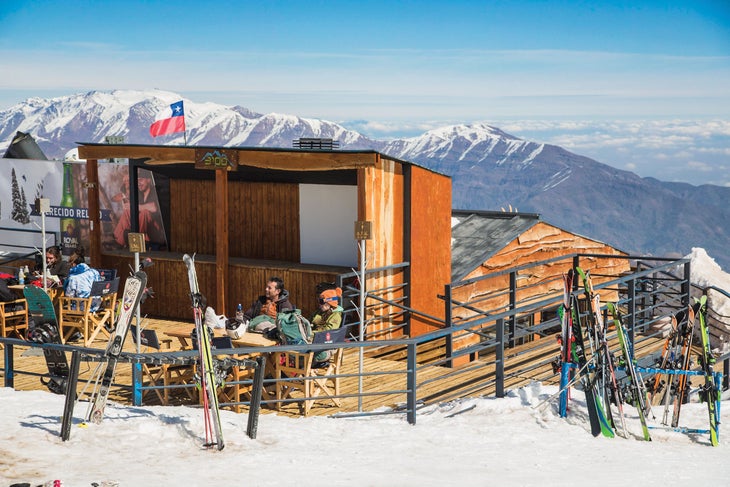 La Parva features longer runs than El Colorado and is a slightly shorter drive from Santiago compared with Valle Nevado, making it a favorite of wealthier Chileans who own the condos scattered throughout the base area. It also gives the mountain more of an authentic, if slightly moneyed, Chilean vibe. The expert terrain is easy to see and ski to from the top of the Las Águilas lift, which also provides the shortest approach to the Anclan backcountry zone. The long, rolling groomers found throughout the rest of the mountain easily please skiers of all abilities, and are also frequented by alpine ski racers from all over the world for off-season training, most notably Lindsey Vonn. The incredible views of Santiago and the coastal range also stun.