A Grassroots Alpine Ski Team
Western State Colorado University's Alpine Ski Team has been reinstated and is thirsty for glory.
Heading out the door? Read this article on the new Outside+ app available now on iOS devices for members! Download the app.
By Sonia Amodeo
Western State Colorado University's Alpine Ski Team is back and gaining speed—both down the mountain and on campus.
The Alpine Ski Team was founded in 1946, comprising mostly 10th Mountain Ski Division veterans. Since then it had created a legacy of NCAA Division I success. Multiple team members over the years went on to ski in the Olympics, and their coach Sven Wiik became coach of the United States Olympic Team.
Then six years ago, the team was disbanded. But a resurgence of interest from students and alumni resulted in the Alpine Team's reinstatement, though now it's a club sport. This winter is the team's first season competing again.
Western State, located in Gunnison Valley, is just an hour-long bus ride from Crested Butte, making it is desirable for students looking to ski competitively and recreationally. "When I visited Western as a high-school junior trying to decide what college to go to, I just knew I wanted to ski," says freshman competitor and team co-(re)founder Carley Clegg.
Clegg first became interested in restarting the team after visiting Western as a prospective student. Now, she competes on the team she helped put back together, and produces content for its website.
"When starting the team," she says, "I don't think there was an obstacle we didn't overcome. It took a while to truly get going, though."
The Alpine Ski Team comprises eight young women, no men, and a single coach. Too small for tryouts, the team accepts skiers of all levels, as long as they are willing to commit to the club fees and weekly schedule. A thirst for redemption also helps.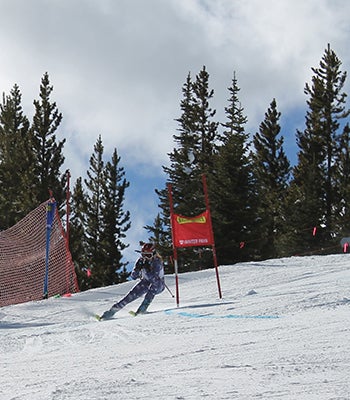 The team practices at Crested Butte Mountain Resort on Tuesdays, Thursdays, and the weekends they don't compete. When they do race, they typically leave Friday after class and get back on Sunday night.
In addition to the rigor of training, the team faces challenges that established programs do not. "The committed athletes have progressed tremendous amounts," says Clegg. "But it's challenging, mentally, to compete against girls who have raced their entire lives when you're just starting out or restarting in the sport."
According to the team's coach, Tyler Johnson, the team's greatest obstacles have been generating student interest and school funding. "We're really trying to get people here interested in the sport again," he says.
Between club fees and equipment, the Alpine Ski Team is more expensive for individuals to join and be a part of than any other mountain sport at Western. It's also expensive for the school to buy practice equipment for the team. Because of the high cost of practice gates, for instance, Western's team chose not to buy them this season.
"We are really grassroots at the moment," says Coach Johnson, "Our team is experimental this season. If we do well, then the school is willing to spend money on us next year." 
Knowing Western's alpine ski legacy, Crested Butte's race program lends them gates. "We have a very supportive community to help us through," says Clegg.
The team had their first competitions, a slalom and giant slalom, last month in Winter Park, and since then they have travelled to Telluride and Echo Mountain for more races.
"We're definitely improving," Clegg says, "and we're definitely contenders."
Photos Courtesy of Western Colorado State University Alpine Ski Team.