Hot Springs in Ski Country
After a day of skiing, nothing feels better than a steamy soak in a tub. Except maybe a steamy soak in an all-natural, outdoor hot spring, which also helps eliminate fatigue, promote blood circulation, and loosen muscles and joints. We've searched high and low for the 13 best hot springs near ski towns. Find them all here. By Molly Baker.
Heading out the door? Read this article on the new Outside+ app available now on iOS devices for members! Download the app.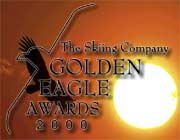 A steep, winding, unpaved road from Steamboat Springs leads you to Strawberry hot springs, and from November 1 to May 1, four wheel drive or chains is required (the Colorado State Patrol is known for ticketing cars that aren't prepared). Parking at Strawberry is limited, so consider the shuttle. Try Sweet Pea Tours, which will take you the 25 minutes from Steamboat to the springs, for $40 per adult. A day at Strawberry is $10 per person and the pools are cleaned and drained once a week.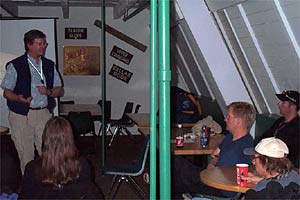 Northeast of Nelson, Ainsworth is near some of B.C.'s premiere heli-skiing locations, such as Snowwater, Retallack, Selkirk, and Baldface. For those not spending their life savings on heli-skiing, Whitewater ski resort is the closest option for powder turns. At Ainsworth the water enters the pools through a horseshoe-shaped cave, where the water actually falls from the ceiling of the cave, creating a steam bath; bathers can sit back and enjoy the stalagmites and stalactites formed everywhere in the cavern. After the horseshoe pool experience, take a plunge in the cold pool, where the temperature varies throughout the year. An adult day pass is $15 or you can opt for the $10 single entry fee.(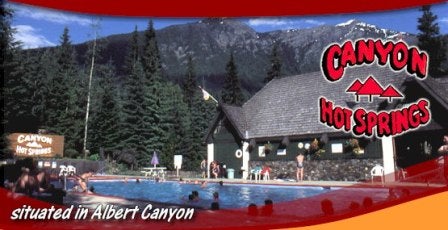 Twenty-two miles west of Revelstoke and 22 miles east of Rogers Pass and only $13 for a day pass, Canyon hot springs exists for skiers. True to the skiing community, one of the first residents of the area was a Scandinavian miner, credited as the first person to use skis in the north Kootenays. If you plan to visit the area often throughout the winter, buy the $90 season pass.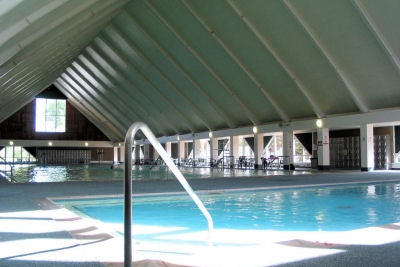 Discovery Ski Area is closest to Montana's Fairmont hot springs, where tickets cost only $35 a day. So, if you find yourself somewhere between Yellowstone and Glacier National parks, make turns at Discovery and then check out the pools at Fairmont. This resort offers two Olympic sized pools and two mineral soaking spots, plus waterslides, and can be accessed by guests 24 hours a day. Adult admission is only $9 a day, making the ski/soak combo cost under $50 per skier.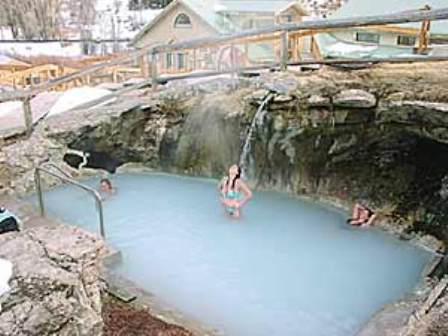 Thirty minutes west of Winter Park, Colorado, Hot Sulphur Resort boasts 22 mineral ponds. For an outdoor soak in the public pools you will spend $18 a day, but you can also pay for a private indoor mineral bath for $15 an hour. Continually operating for the past 140 years, the Hot Sulphur Springs resort has been around a lot longer than any ski resort in North America, but luckily now you can benefit from both skiing and a soak. Also, check out Sol Vista ski resort, only 10 minutes away, or try the two hour drive to Vail and Steamboat Springs.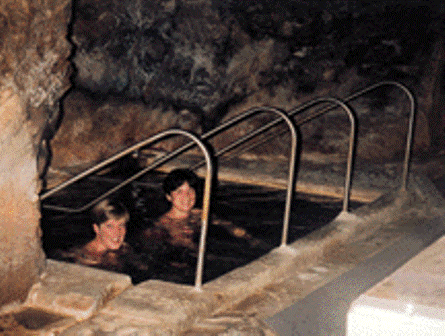 Just 32 miles west of Denver, Indian hot springs is the closest soak to the Denver airport. If your flight left you stiff and achy, try the geothermal cave baths, for $18 a person. These pools, created between 1903 and 1911, are huge, walk-in tubs, constructed directly into the side of the mountain. Temperatures in the cave baths range from 104 to 112 degrees, and are open until 10:30 at night. After your cave bath soak, give yourself a mud bath, a technique believed to absorb toxins from the body through the skin. For a more traditional soak, visit the outdoor Jacuzzi or the mineral water swimming pool. After your soak, drive to Keystone, Winter Park, or Breckenridge.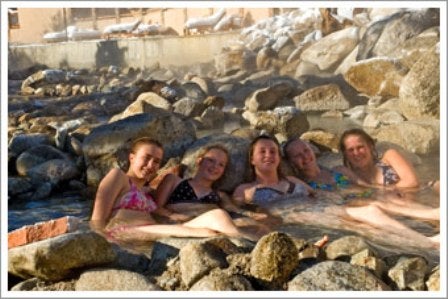 Near Bueno Vista and Leadville, Colorado, these hot springs are perfect while traveling to Crested Butte from Denver or skiing Monarch or Copper Mountain, plus most Summit County ski areas are only one hour away. Nearby Mt. Princeton is one of many of Colorado's 14,000-foot peaks in the surrounding area, so arrange a soak if you will be climbing mountains. Consider the 90-degree lap pool to stretch your muscles without the irritation of chlorine. The geothermal springs, located amidst the smooth river rocks, reach up to 135 degrees and are odorless, while the constructed pools average 95 degrees. Offering a lodge and cabins, plus a restaurant, Mt. Princeton Hot Spring is the ideal base camp for experiencing skiing in Colorado.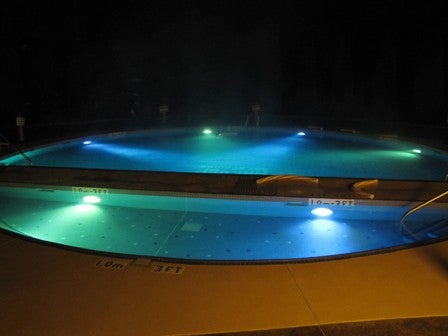 If flying into Vancouver, Kelowna, or Calgary seems far away, some may prefer to utilize the Nakusp 3,000-foot asphalt runway; a much faster, but more expensive way to land right in the middle of North America's best skiing and hot springs amalgamation. Only 60 miles from Revelstoke, spend a few days in Nakusp in the 100-degree pools for $14 a day and then go ski powder.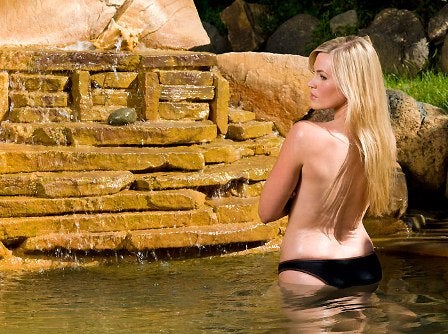 First off, clothing is optional. Secondly, the water is not treated or heated in any way. Even so, if you are skiing Telluride, ignore your germ phobia and make the one hour drive to experience Orvis's four outdoor soaking ponds, known for their high lithium content, an element used to treat manic depression and soothe mental stress. Also, low in sulfur traces, visitors can avoid the commonly inevitable rotten egg smell. Prices range from $14 for a day pass to $10 for a one-hour soak.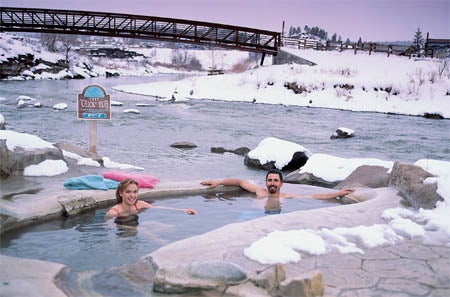 High in sulfate and sodium, the Pagosa Hot Springs, located near Wolf Creek, Colorado, have served as a body healer for over 150 years; Native Americans called the springs "Pag-Osah," which translates to "Healing Waters." Sodium, sulfate, and chloride are the most prominent elements found in these pools; all of which provide musculoskeletal benefits. Your quads will appreciate you spending the extra $20 for a one-time soak and if it is the first ski trip of the year, consider the "shred and soak" package to ensure your ski legs survive the duration of the week. The package includes lodging, lift tickets, and unlimited access to the pools for $140 per person.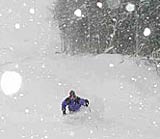 Close to Revelstoke in British Columbia, Halcyon is just a short drive and free ferry ride to Galena Bay from the ski resort. With two pools, 100 and 105 degrees, it is the ideal place to spend a rest day. If you decide to take a day off of skiing, go for the "Lunch and Dip" package, which provides lunch at the restaurant and a one hour dip for $20 per visitor; try the mushroom burger, topped with marinated portabella mushrooms and gruyere cheese, with the tomato and fresh mozzarella salad. The exceptional food almost outshines the benefits of the hot springs.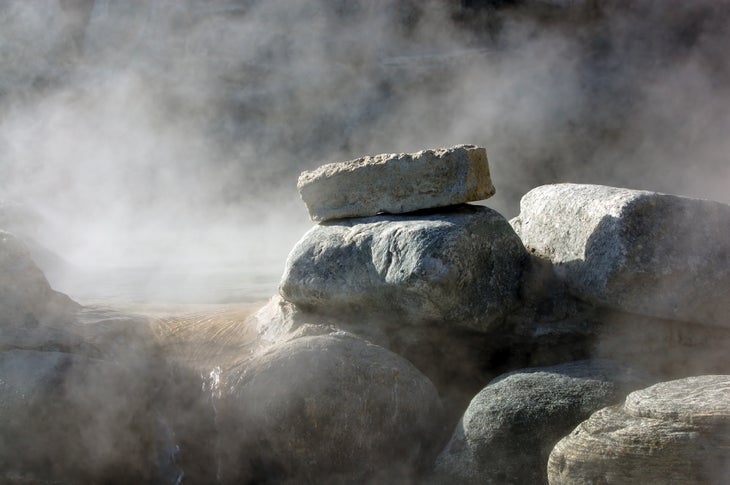 Just outside Mammoth Lakes, you have to swim through the cold water of the river to get to warm bath water of Hot Creek. A desolate location, but usually full of people, enjoy the dusty, washboard roads on the drive to the springs.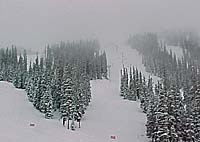 Outside of Taos Ski Valley in New Mexico, Ponce de Leon is now just the remnants of an old hot springs resort. These pools are located near many private residences, so make sure to obey all signs and be courteous to the nearby houses. The upper pool is usually the most reliable bath, but don't expect a clean, full pool. Also, expect an exceedingly muddy road during the winter and spring.