How to Tune Your Skis for Manmade Snow
Shralping on gunpowder right about now? Here's how to prep your skis for that.
Heading out the door? Read this article on the new Outside+ app available now on iOS devices for members! Download the app.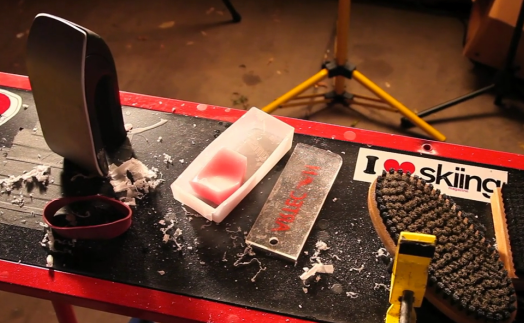 East coast to west, you are probably skiing on manmade snow right now. Manmade snow crystals are extremely aggressive and can take a toll on your skis. If your local hill is experiencing the dreaded freeze/thaw cycle, using salt or chemicals to maintain snowpack at the base, or if the weather has been cold and clear at night, you are likely to be skiing on this type of coarse snow. Faintly white bases, aka base burn, is a tell tale sign that your brand new ski setup could use a little love.
By following a few tips, you can keep your skis in good shape for when the real snow begins to fall.
1. Use a cold weather wax. Laying down a few layers of cold snow wax such as Swix CH4 or CH6 will be your main defense against crap snow. Cold snow wax is extremely hard, so it will protect your base against abrasive snow and ice.
2. Take care of any core shots or base damage right away. With all the rocks lurking below the shallow snow surface, you will inevitably damage your skis. Filling core shots with p-tex promptly will ensure your skis stay healthy for the rest of the year. Waiting to do it until the end of the season will allow moisture to penetrate to the core of the ski, rotting the wood.
3.Keep your skis clean. If your local hill is using salt or chemicals to maintain snowpack, you will want to wash or wipe down your skis to prevent corrosion. Putting your skis in the shower is perfectly fine, so long as they are dried afterward.
How to Tune Skis