In Honor of the Tokyo Olympics, These Are Our Favorite Stories About Skiing in Japan
Celebrate the start of the 2021 Summer Olympics by feasting on some of our best adventure stories about skiing in Japan.
Heading out the door? Read this article on the new Outside+ app available now on iOS devices for members! Download the app.
As the Tokyo Olympics kick off in Japan, we've got a major case of Japow on the brain. Even though we're not getting there anytime soon (thanks, Delta variant), that won't stop us from daydreaming about the deepest and lightest blower pow on the planet, and scheming about ways to get there as soon as humanly possible.
In the meantime, we invite you to celebrate the start of the 2021 Summer Games by feasting on some of our favorite adventure stories about skiing in Japan. You know, so you'll be prepared when it's time to finally plan that dream trip.
Join Outside+ to get access to every last bit of it. 
Look No Further Than This Resort for the Best Tree-Skiing in Japan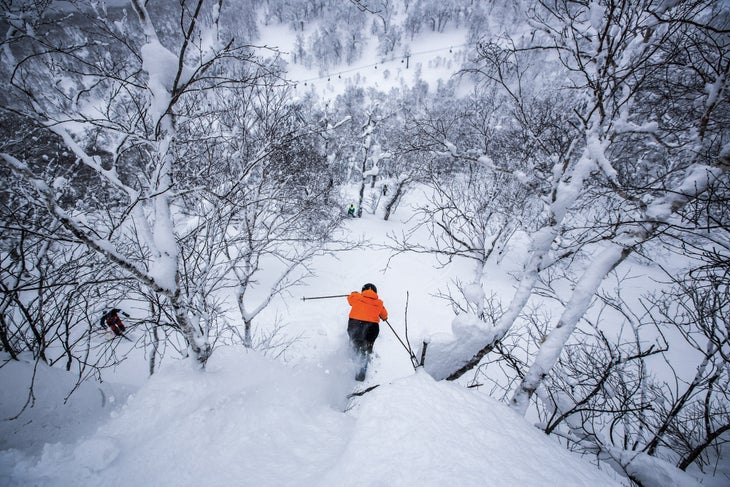 Obscure fact: You can't ski in the glades at some Japanese resorts. Not true at Rusutsu Resort, where it's encouraged and celebrated.
"Anyone who has watched a ski movie from the last decade has likely seen epic powder segments filmed in Hokkaido. The mountains of Japan's north island consistently get more snow than almost any other region in the world, enticing skiers in search of lift-accessed, bottomless powder. What these ski movies don't always show is that many of the shots are in the backcountry or in closed terrain: Skiing in the trees isn't necessarily permitted by all of the ski resorts in the region.
But this isn't the case at Rusutsu. This ski area not only allows tree skiing, they encourage it. In the glades between the cut runs, snow-covered fallen—and still standing—trees form natural launch pads with pillowy soft landings for any amount of air. And there's plentiful powder for skiers who prefer to keep their bases on the ground."
8 Reasons to Ski in Japan This Winter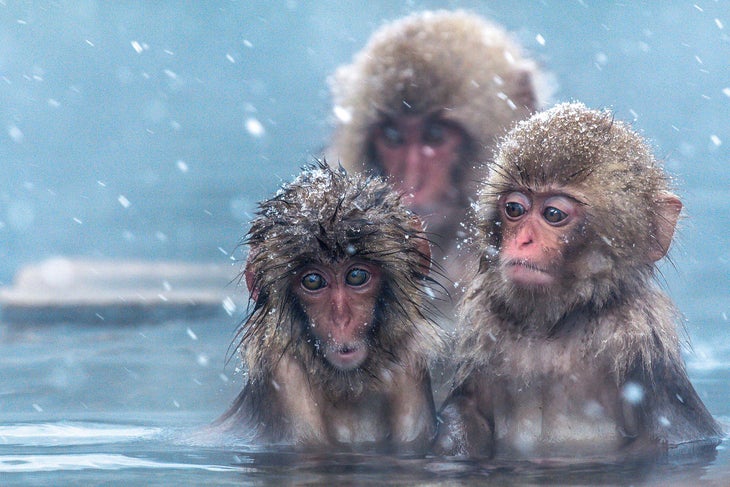 Deep snow is a big one, but the incredibly welcoming culture is a huge reason to visit. Even the monkeys are friendly.

"No 3: Après with Snow Monkeys: Après in Japan is different than most. Sure, you can grab a beer from a vending machine or belly up at a whiskey bar, but for those who want to experience something more than a beverage after skiing, there are numerous, awesome options.
Because of the many volcanoes throughout the country, thermal pools—called onsens—are an abundant staple in the Japanese après tradition. After a long day on the mountain, relax in one of the many onsens found in resort towns to soothe your muscles. You may even spot one of the famous snow monkeys taking a dip in the hot pools alongside you."
Read the rest of the list here.
This Guide Service Will Make Your Japan Dream Trip a Reality
You can ski Japan without a guide—but you really shouldn't. After all, you don't want to come all this way to miss the best stuff.
"For Americans, Canadians, Australians, and Kiwis, every visit to Japan can be disorienting, especially at various ski areas on both Honshu, the main island, and the northern island of Hokkaido. Hiring a guide for skiing is a critical part of making the most of the experience, and Hakuba-based GoodGuides, who Ainsworth works for, is one of the best guiding services in Japan when it comes to serving up powder-filled adventures."
Yes, You Can Take Your Kids Skiing in Japan. Here's How.
Let your little rippers see that there's more to skiing than Deer Valley and Keystone. Japan is a very family-friendly destination, from the slopes to the cuisine to the culture and beyond.
"Located at the base of Sahoro Hokkaido ski resort on Japan's northern island, Hokkaido, Club Med Sahoro takes all the guesswork out of traveling to a country where you'd otherwise be lost trying to order lunch. Perk we love: Your all-inclusive stay (prices start at $219/night per adult) includes everything you'd need, and then some. Skiing, lodging, meals, child care, ski lessons, and even adult beverages are included, creating a seamless, one-stop-shop experience for travelers and taking almost all of the legwork out of planning. Because vacation should be fun and relaxing for the whole family, right?"
Get all the family-friendly tips here.
Plan the Perfect Ski Trip to Niseko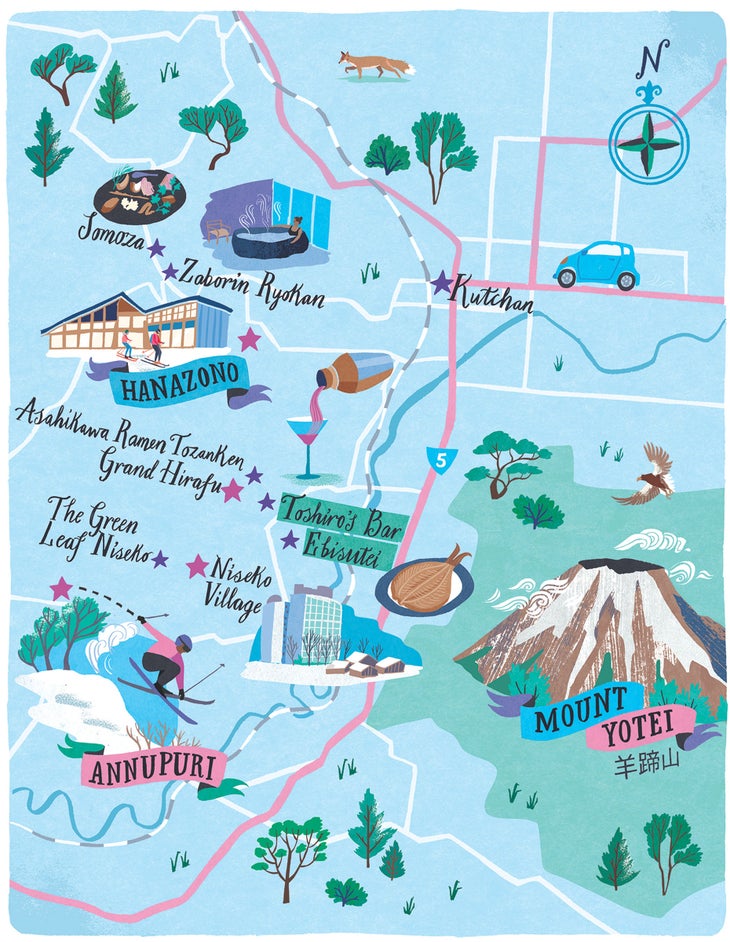 Niseko is a rad little ski town with some of the best food in the country. Make sure you're well-informed when planning a trip with this handy guide to the town.
"Local Tip: Walk into random restaurants. In my experience there are no bad restaurants in Japan. Just pick one and try everything on the menu. Eating out in Japan is part of the culture, so don't be afraid to try it all! —Matt Hampton, Owner of outdoor gear outfitter Rhythm Japan"