Freedom to Roam
With the opening of the new Solitude Station Learning Hub, now's the time to introduce your bold young skiers to the slopes of Jackson Hole.
Heading out the door? Read this article on the new Outside+ app available now on iOS devices for members! Download the app.
I'm sure I'm not the only ski parent who's tried to spy on their kids during ski school. Especially when they were younger, my husband and I would lap the terrain we thought they might be skiing, craning left and right off the lift hoping to see them snowplow down in a sweet little line of gumball-helmeted groms.
Now that they're older, they don't go to ski school that often. But since we were headed to Jackson Hole, Wyo., for the first time as a family, I wanted them to experience the new-last-season Solitude Station mid-mountain learning hub. So that's how my three boys (13, 11, and 8 at the time) found themselves back in ski school.
I won't lie; there is some hemming, and more than a little hawing—mostly from the newly minted teenager—as we board the Sweetwater Gondola for the short ride to the midway point. "They're not going to let us do anything fun!" he whines. Spoiler: He's wrong. But we'll get back to that later.
Solitude Station is a tasteful, low-slung building located right off the Sweetwater gondy's mid-station. "We really wanted to put a new learning center on the mountain for a variety of reasons," says resort Communications Manager Anna Cole on the decision to build the facility on the slopes as opposed to the base village. "The opportunity to give learners a chance to get up on the mountain is a big deal. Being able to have all of these learning amenities—check-in, locker room, kids' cafeteria, rentals, and learning terrain all in one place makes the entry experience so much smoother and positive."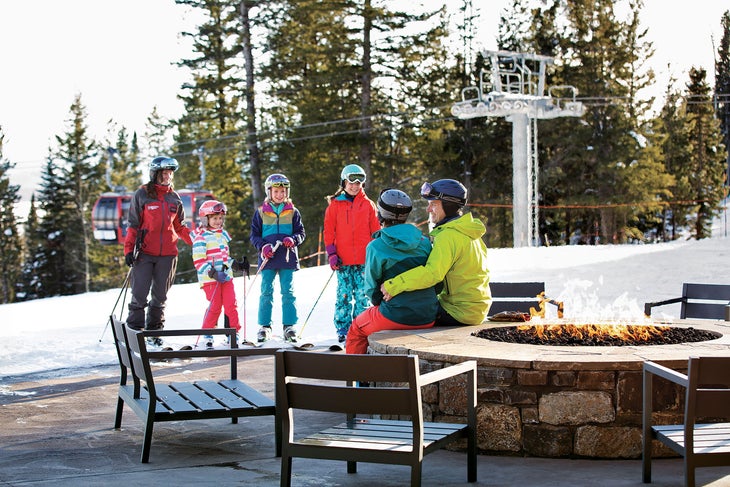 The other reality for the resort is that it had outgrown the previous facility at Kids Ranch (daycare remains at that location). One of the only places to expand was on the mountain. The new 11,800-square-foot building opened at the start of last season. It's actually three connected structures built with a low profile to preserve mountain views. The building closest to the gondola is where visitors start, checking into their reserved program via one of the computer stations. The next building houses the rentals and locker rooms, where kiddos get suited up. The last building is the kid's cafeteria as well as a lovely new dining area for adults—with a bar. Parents can come up to watch newbies on the magic carpet out front and stay for a buffet lunch, have a drink from the full-service bar, and snag a patio chair by the firepit out front.
"We wanted Solitude to be a gathering place," Cole says, "rather than a drop-off -and-run type of experience. Get the kids settled, stay for a coffee, or come back toward the end of the day and have a cocktail while they finish lessons."
Check-in went seamlessly for my boys, and within minutes they were heading out to the corral to meet their instructors. Then off they went. We enjoyed a fuss-free coffee by ourselves before my husband and I boarded the Sweetwater to get on with our kid-free ski day. (We didn't spy on them, but not for lack of trying. We couldn't keep up…)
We made our way back to Solitude Station at 2:45 p.m. to find a bit of a party going on. Parents milled about the patio, drinks in hand, settling in around the firepit to watch their little sliders master the magic carpet or wait for older kids to slide back into the corral. Tunes and happy chatter fill the air. 
We order a couple of pints and join a group by the firepit. At around 3:30, our boys are among the last to trickle in. We're regaled with stories of epic terrain parks, tram rides, and hucked cliffs (small ones, I'm assured). We end the day by following them to the Bronco terrain park, where 360s and 180s are solidly landed.
2020 Resort Guide: Jackson Hole, Wyo.
The next morning we wake to a blue sky and a trio of kids who want to show us all the places they discovered the previous day. First stop: the Dance Floor at the Campground Stash terrain park. It's a big, flat tabletop that ends in a mandatory air. Next up, we head to the James Bond Traverse, a slick passageway between a couple of big boulders that skis like a (very) mini Corbet's Couloir. We end the day in Dick's Ditch, a rollercoaster of a trail with endless whoop-de-dos, gullies, glades, and even the occasional log and boulder thrown in for good measure. Then we schuss our jelly legs back to the hotel for a long soak in the Four Seasons' grotto-style hot tub.
As I submerse my aching muscles into the water, I realize that even though I didn't manage to spy on the boys at ski school, I got something even better: Experiencing the mountain through their eyes on a kid-guided day on the slopes. Priceless.
Jackson Hole Trip Planning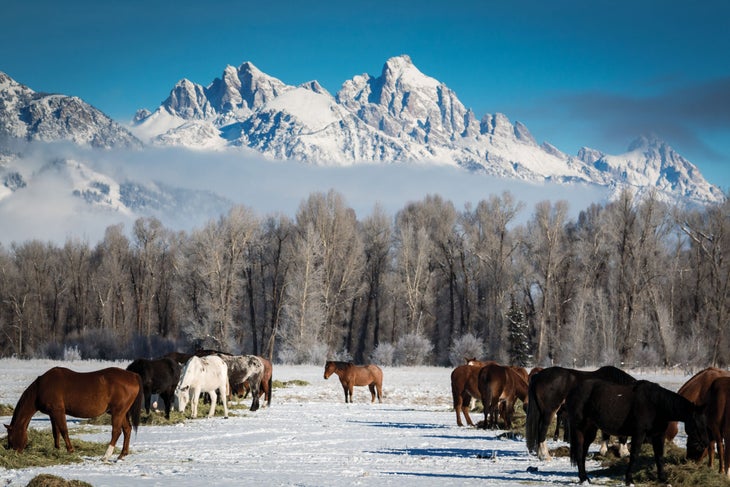 Where to Sleep in Jackson, Wyo. 
In Teton Village, the Four Seasons Jackson Hole sits right beside the Sweetwater Gondola. It's a Four Seasons, so of course it has all the luxe amenities one would expect, but it also has a welcoming family vibe, awesome outdoor pool with rock grottos and poolside s'mores, and is also home to the Handle Bar, a casual lunch and dinner pub-style eatery with a great menu. In town, Mountain Modern Motel is great for families, with rooms with bunk beds, an indoor pool and spa, complimentary breakfast in the lobby, and plenty of books and games to keep the younger set engaged (and off mobile devices).
Read our Review: Mountain Modern Hotel, Jackson, Wyo.
Jackson's Best Places to Eat 
Roadhouse Pub & Eatery is across the street from Jackson's antler adorned Town Square and serves an impressively adventurous menu. From chorizo flatbread and bovine and swine bratwurst to gravlax and duck poutine, the menu will intrigue kids with varied palates. On the mountain, Piste is a must for its location atop the Bridger Gondola. The food makes it worthwhile. Don't forget to stop for warm waffles at Corbet's Cabin at the top of the tram.
Beer for Skiers: Roadhouse Brewing Co.'s Loose Boots IPA
Things to Do near Jackson Hole
How can you be this close to the national parks and not set foot inside? Opt for a winter safari through Grand Teton National Park to see bison, elk, moose, and plenty of smaller critters in their natural snowy habitat.