Jamaica's One and Only Olympic Skier, Ready for Glory
Errol Kerr still laughs at jokes about lucky eggs, but he is all business when it comes to being the best in the world at skiercross. This week, he's heading to Vancouver for his first visit to the Winter Olympic Games. By Olivia Dwyer
Heading out the door? Read this article on the new Outside+ app available now on iOS devices for members! Download the app.
Errol Kerr relaxes before the start of a FIS skiercross race at Sugar Bowl February 2.
I am standing at the second turn on Sugar Bowl's skiercross course, a turn with a jump that had drawn a few four-letter words and their French equivalents from the skiers during training runs. A men's quarterfinal heat whizzes by, with Jamaica's Errol Kerr in the lead.
Next to me, a teenage park rat yells, "That's my lucky egg, mon!" a line from Cool Runnings, the 1993 movie about the Jamaican bobsled team that competed at the 1988 Olympics.
The peanut gallery might still find the idea of a Jamaican ski team hilarious, but Kerr is all business as he prepares for the 2010 Olympics in Vancouver, which starts on Friday.
"I want to be the best in the world by the time I'm done," Kerr says. "Even skiing for Jamaica I'm not a shoo-in. There's no golden ticket. I had to work hard to get to the Olympics."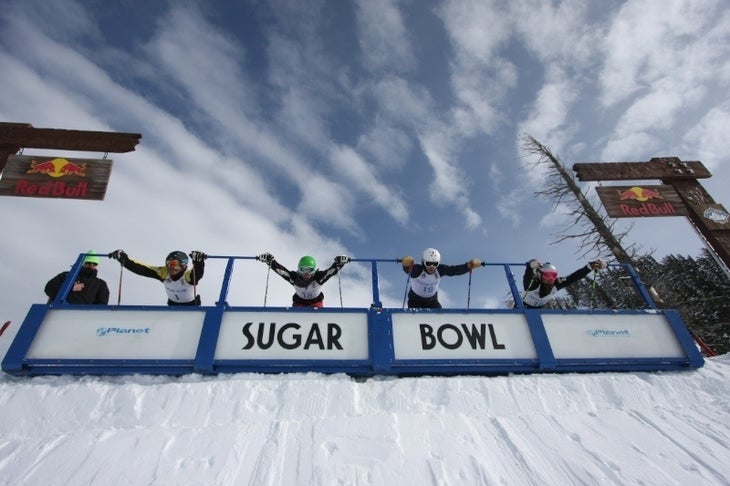 Racers crouch in the starting gates.
Kerr is ranked 31st in the world in the FIS standings, and proved his chops at Sugar Bowl with a fifth-place finish on February 2 and taking the top spot on the podium on February 3 in the two FIS Nor-Am Cup races. The 23 year old, whose father was Jamaican, is the one and only athlete on the Jamaican Ski Team.
"What [going to Vancouver] means to me is a chance to be part of something so much bigger than yourself," Kerr says. "The World Cup, the X Games, that's all about me, what can I do. The Olympics is so much bigger."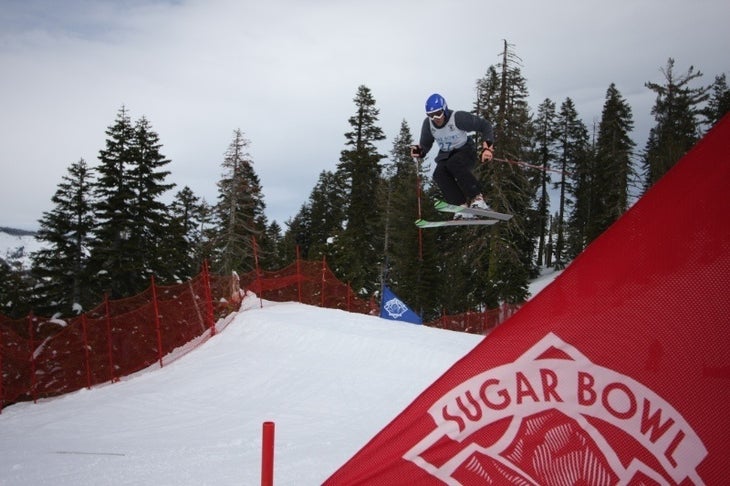 Flying high at top speed is part of skiercross.
With the Olympics in mind, Kerr is doing his best to avoid game-changing injuries, such as those that U.S. rivals Daron Rahlves (dislocated hip) and Casey Puckett (separated shoulder) are trying to recover from in time for Vancouver.
"That line was drawn here today," Kerr says, mentioning a scrum in the first turn of the course in the a semifinals heat on February 2. "[Enak Gavaggio of France] came away with a bloody face. I just snowplowed and let them go."
But playing it safe doesn't dull Kerr's competitive edge. Milling around the starting area before the race he is relaxed and friendly with everyone. On the course, that changes.
"We're all really good buddies and you can really hurt someone pushing him off a jump," Kerr says. "It's hard to be cutthroat, but as soon as the gate drops there's no more Mr. Nice Guy because nice guys finish last."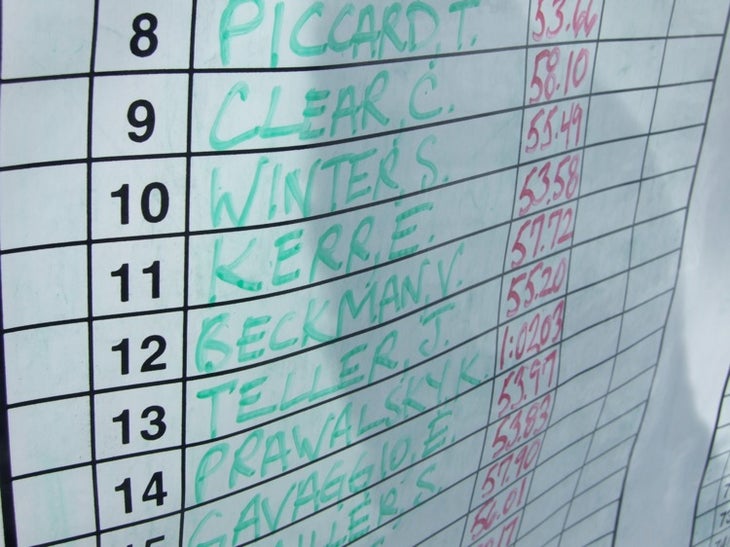 Kerr led the field at Sugar Bowl with the fastest time in qualifying runs.
Kerr is the calm eye at the center of a pre-Olympics buzzstorm. At Sugar Bowl, his mother, Catherine Kerr, and two managers are with him. They are responsible for buffering Kerr from media and juggling his commitments to sponsors—a photo shoot with Spyder was eventually rescheduled for another day so that Kerr wouldn't have to shuttle between the competition at Sugar Bowl and the shoot at Northstar-at-Tahoe, 20 miles away.
Kerr and his team expect the excitement to carry through the Olympics. An appearance at a concert featuring Damian Marley and Nas is in the works, and then a return to Jamaica following the Games. Kerr last visited in the summer of 2009.
"I'll go back after the Olympics and it will be really fun and exciting," Kerr says. "As time goes on [it becomes] more and more powerful and more embracing."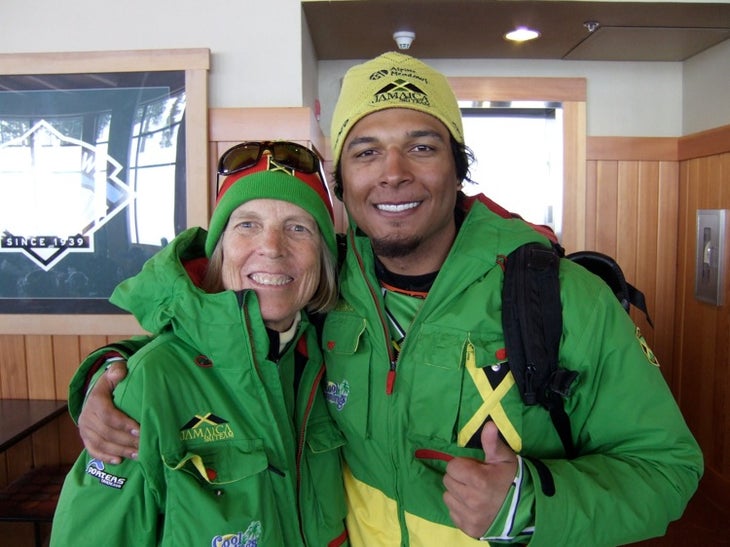 Errol and his mother Catherine after his fifth-place finish at Sugar Bowl.
Kerr is looking forward to competing on the Olympic ski cross course at Cypress Mountain in Vancouver.
"It's built for me. There are a lot of jumps, and I'm smooth over terrain," he says. "It's my candyland."
While Kerr is a world-class athlete, he can still take a joke. Comments about lucky eggs don't faze him.
"I just embrace it. I love it, it brings more support to what I'm doing," Kerr says. "But at the same time, it's not a joke. I'm here to be the best in the world." — Olivia Dwyer