Japan: Land of the Deep
Two weeks at Kiroro with SASS Global Travel.
Heading out the door? Read this article on the new Outside+ app available now on iOS devices for members! Download the app.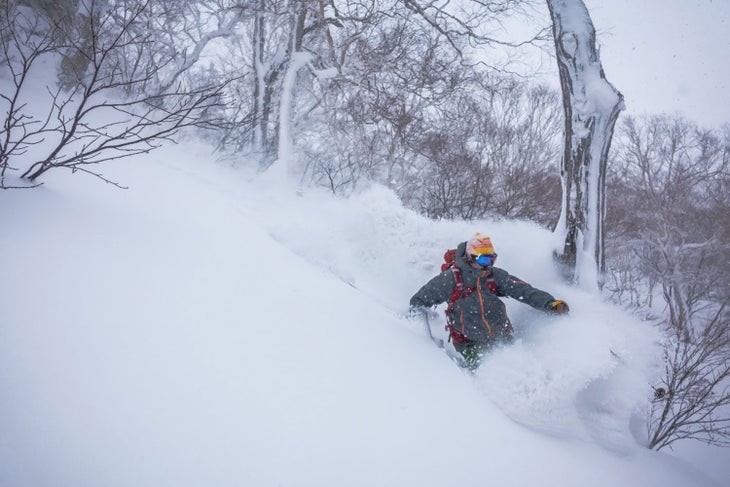 When I arrived in Hokkaido this January, they were calling it a low snow year. But this turn—the first of my trip—turns out to be one of the most satisfying turns of my life. And still, Lucas Moore, SASS global travel program director and guide, deems this particular day only a six out of 10. "Just wait," he tells me. "You have no idea, dude."
Photo credit: Lucas Moore, SASS Global Travel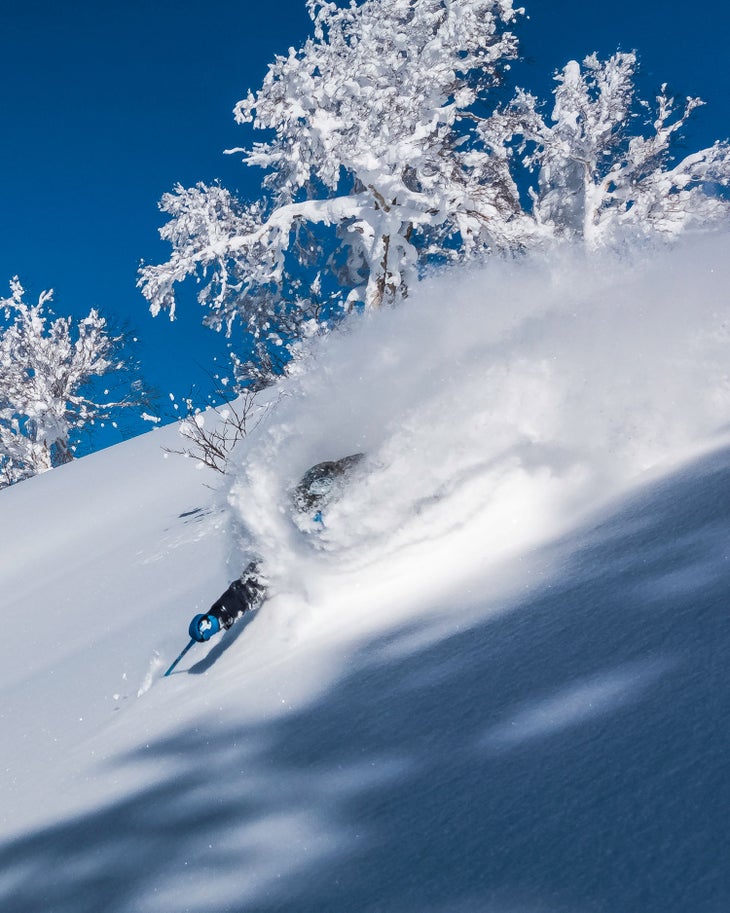 Pro skier and rookie SASS guide Benny Schmitt trenches on the edge of shadows in an elusive area nicknamed The Steepest Run in Japan. This is called a "Benny-deep day" by the SASS crew. Small in stature, Benny skis like a stick of butter wrapped in silk—super smooth. He is one of those former-racer types, always in the right position with textbook form.
Photo credit: Lucas Moore, SASS Global Travel
Benny Schmitt guides clients up the hidden ridge of The Steepest Line in Japan. Low visibility kept the approach concealed for the majority of the trip, and the line—which is easily visible from the lift—remained untouched. On this day, the sun helped reveal the ridgeline and granted easier access to the goods.
Photo credit: Lucas Moore, SASS Global Travel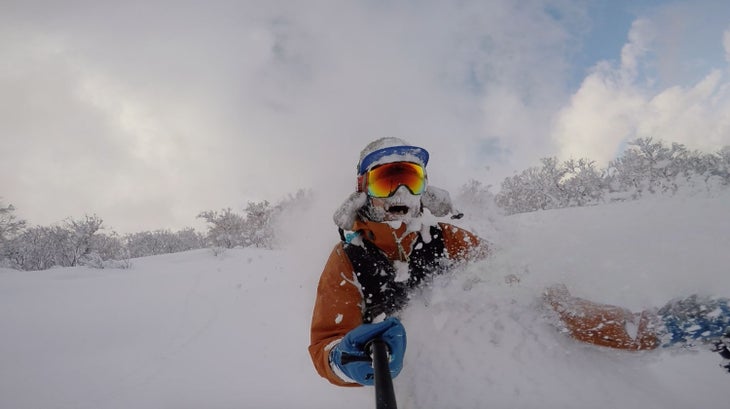 My good friend Garrett "G-Funk" Russell has guided for SASS for over a decade and has grown into an exceptional, knowledgeable mountain man, yet he describes his expertise quite differently. "I am at a novice level in the spectrum of what is respected. I have a solid 1,000 hours of guiding people in avalanche terrain," Garrett says. "But I am no expert…The No. 1 rule is to be safe, No. 2 is have fun. If we can do that, well, then we'll crush it." Here, Garrett descends the wide-open fields of Piano Ridge, named after the hotel it towers over.
Photo credit: Garrett Russell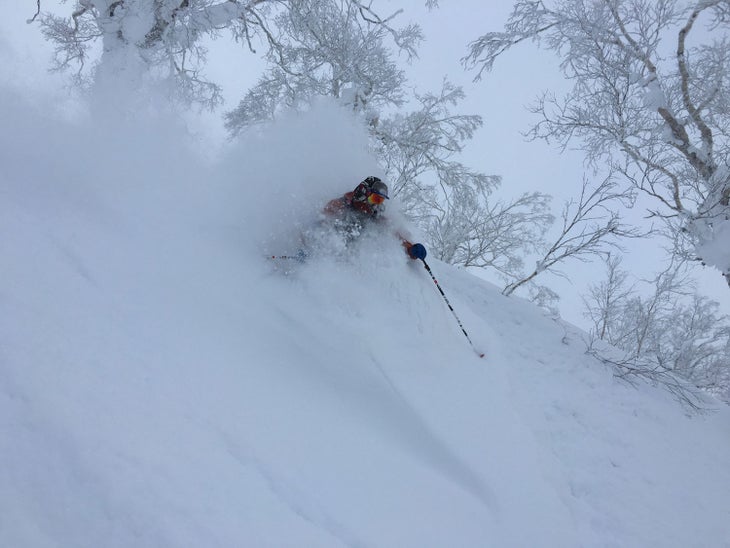 Funky Garrett Russell thumps a turn in the Gnarnia Trees, a moniker derived from the bottomless snow and the technical traverse out of the creek bed. Garrett was born and raised near the shark-fin peaks of Telluride, Colorado, and developed his technical proficiency and style on the bumps-n-jumps team and in the terrain park. He flows like water.
Photo credit: Lucas Moore, SASS Global Travel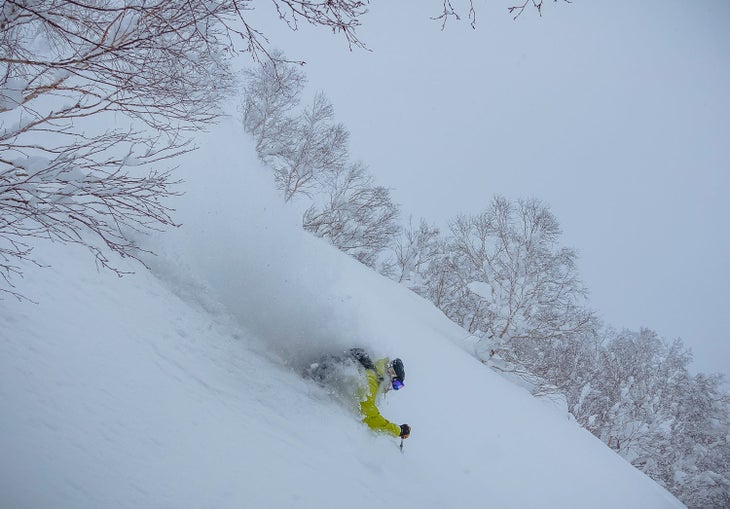 SASS's mountain operations director and head guide, Pete "Tokyo Drift" Connolly, throws a big turn in an unnamed area in the backcountry of neighboring Kiroro Mountain Resort. "Sneaky Pedro" grew up in the woods of the East Coast and began his guiding career with Silverton Mountain Guides in Colorado. He is a beast on the uphill, a thoughtful educator, and a graceful big-man skier, exemplified here in this turn.
Photo credit: Lucas Moore, SASS Global Travel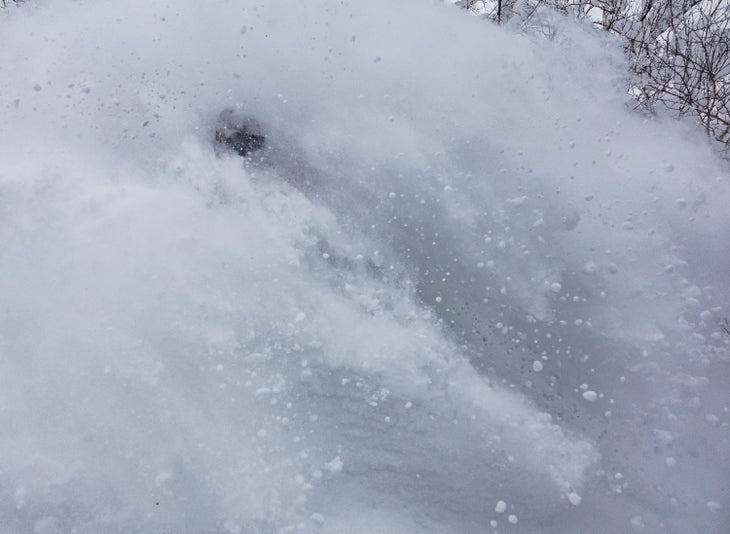 No caption necessary. Besides perhaps, "gaaaawwwwwwhhhhh."
Photo credit: Lucas Moore, SASS Global Travel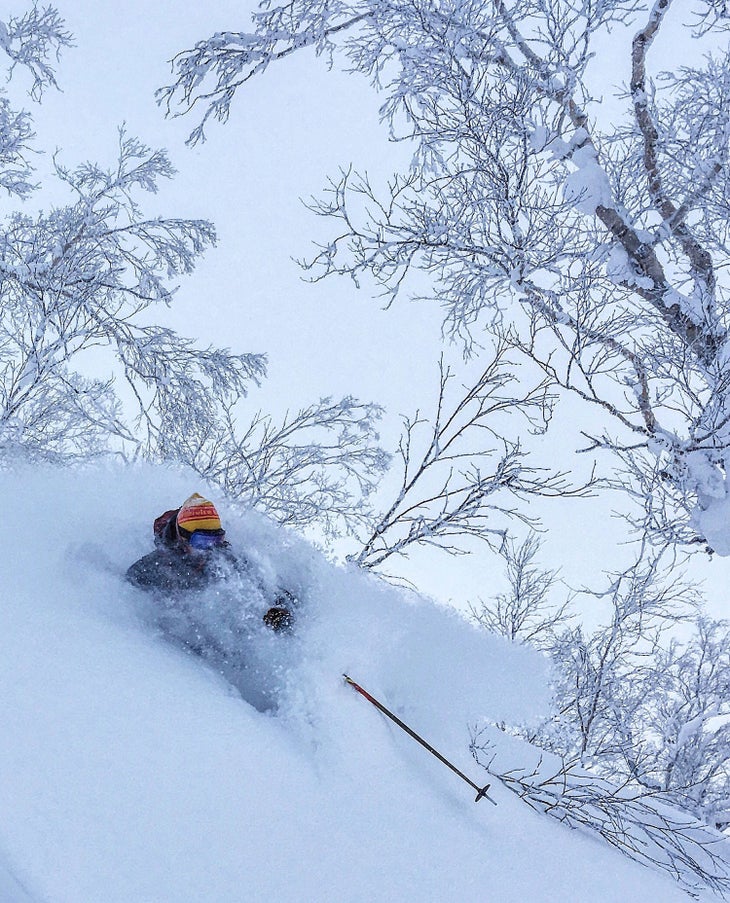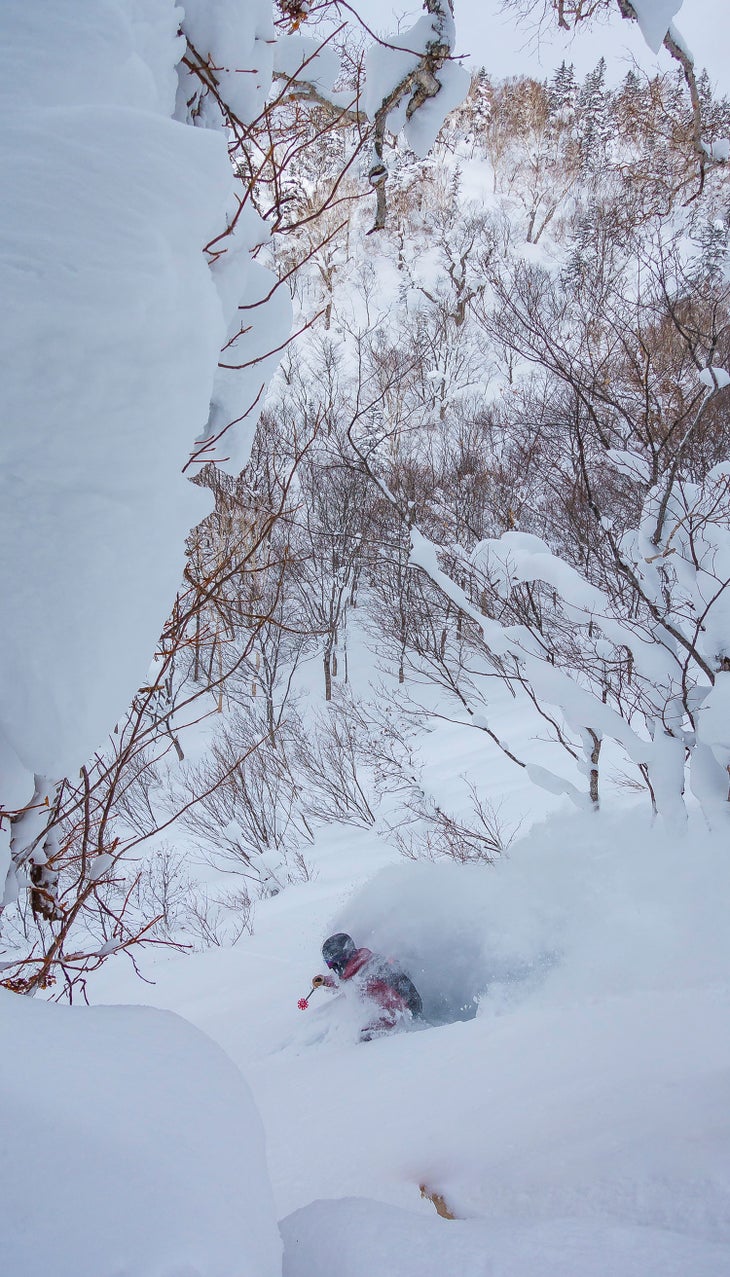 Rookie GIT (guide in training) Max Tabor finds an opening between the willows on Himax. Max does everything from sales and marketing to shuttle runs and "go-fer" duties. On his first day on the job, he launched off of a pillow into the trees, leaving a hanging puff of cold smoke. Max might have the best entry-level job in the world.
Photo credit: Lucas Moore, SASS Global Travel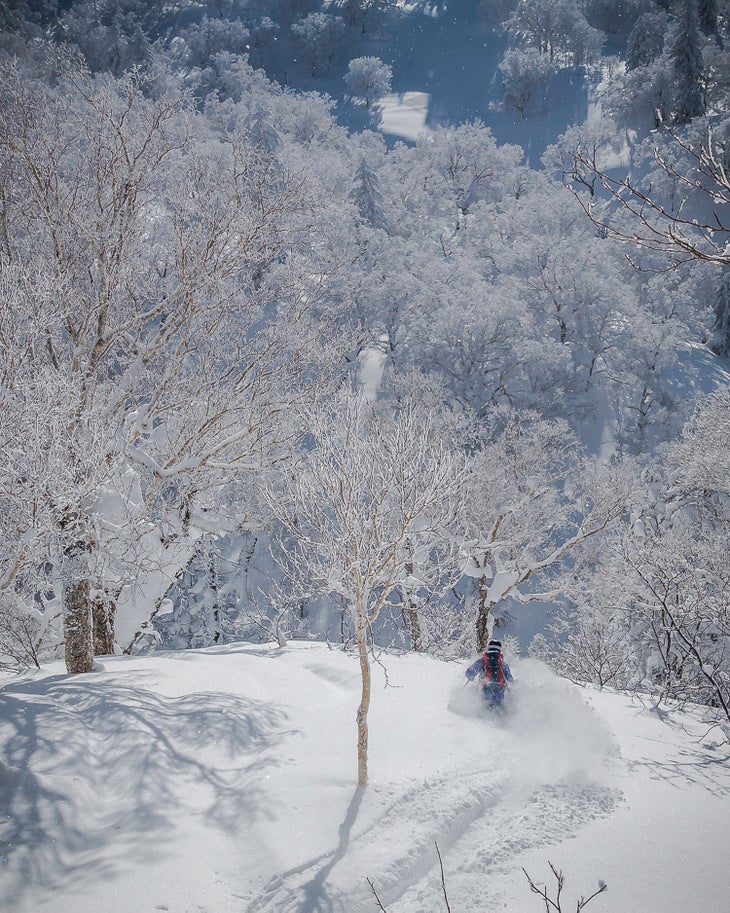 Perfect-turning Mauri Cambilla navigates the brilliance of Worth It, named as such because, well, it just is. Spend two extra minutes on the bootpack out the gate at the top of the gondola at Kiroro and you are rewarded with untracked rollers descending into the Double Bubble creek bed. A first-timer in Japan, Mauri has guided for SASS in his hometown of Bariloche, Argentina, for many years.
Photo credit: Lucas Moore, SASS Global Travel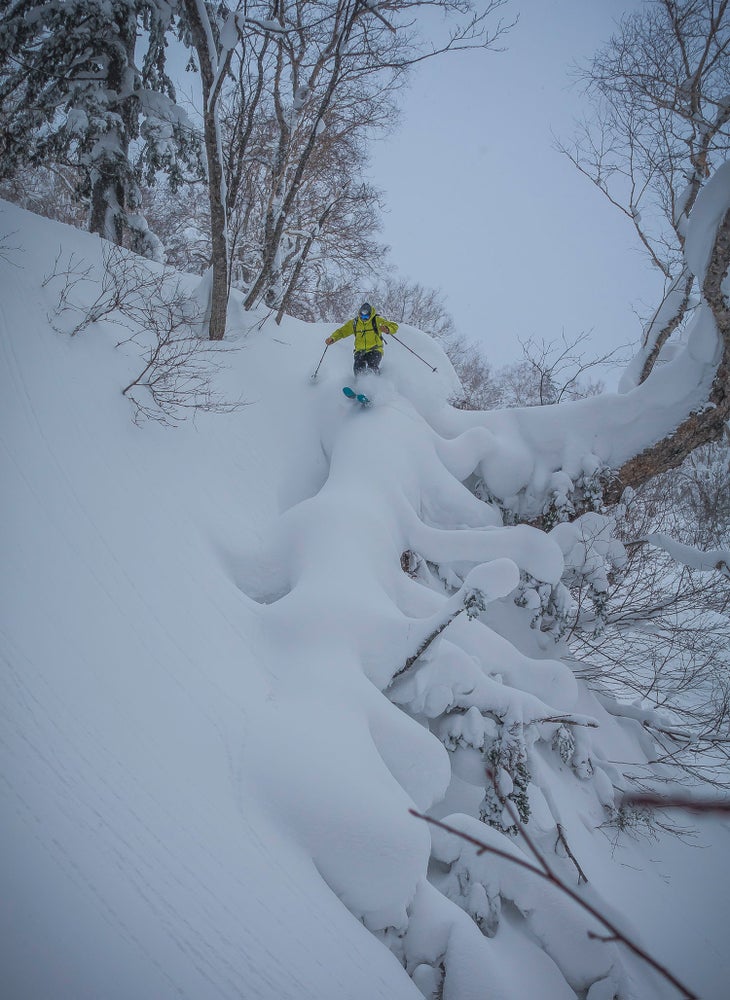 Pete Connolly tests his mettle on a snow-covered downed tree just above the Gnarnia creek. Mountain operations director seems like a pretty damn good job when this is both your office and your daily commute. Guide Mauri Cambilla calls Pete "Pedro La Maquina," Pete the Machine. He is as ferocious off the mountain as he is on. (Don't ask him about Phish—"the greatest band of all time"—or Star Wars —"it's just dumb".)
Photo credit: Lucas Moore, SASS Global Travel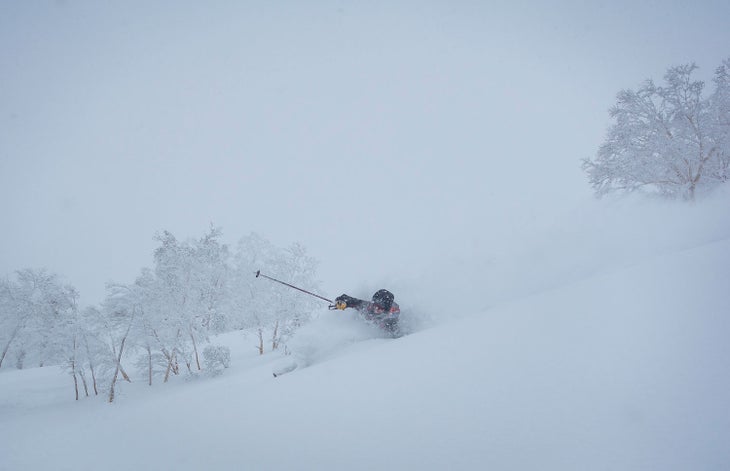 Client Doug Kirby swims through "namara fukai yuki," super deep snow, on Quality Control. SASS groups three to five clients with a guide, depending on each client's trip goals, the program's daily objectives, client skier level, and group dynamic to create a cohesive ski group.
Photo credit: Lucas Moore, SASS Global Travel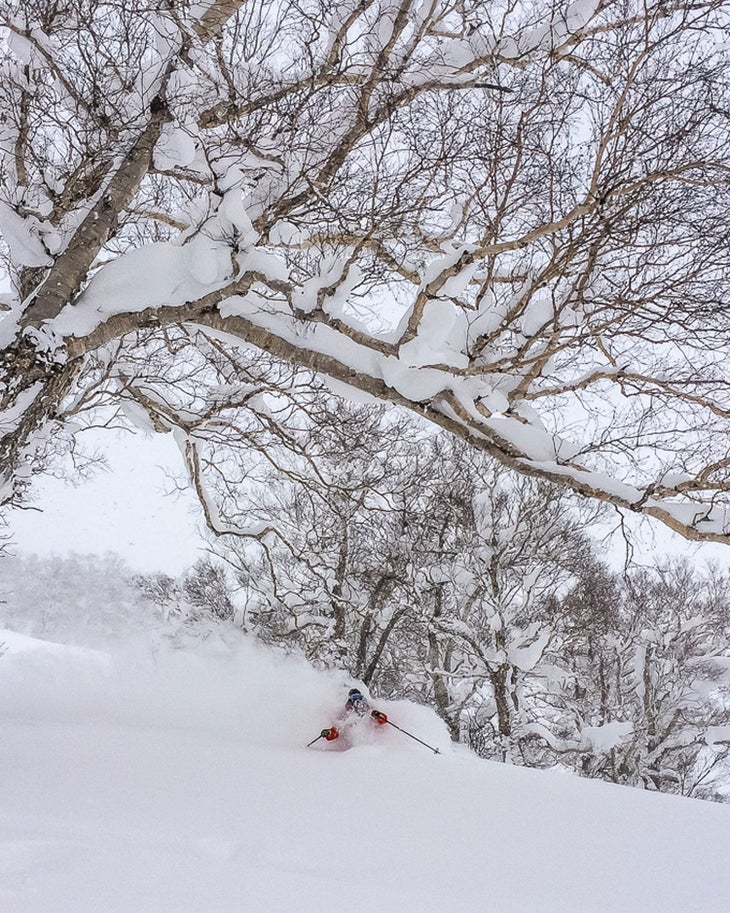 Caught in front of the lens rather than behind it, SASS's quadruple-threat (program director/guide/photographer/ping-pong player) Lucas Moore flows through the depths like Swayze on the dance floor. Lucas handles site operations, systems, client management, event planning, morale, and 1980s movie quotes. Seen here "crushing pow, bro" with a smooth left-footer after capturing photos of clients.
Photo credit: Pete Connolly, SASS Global Travel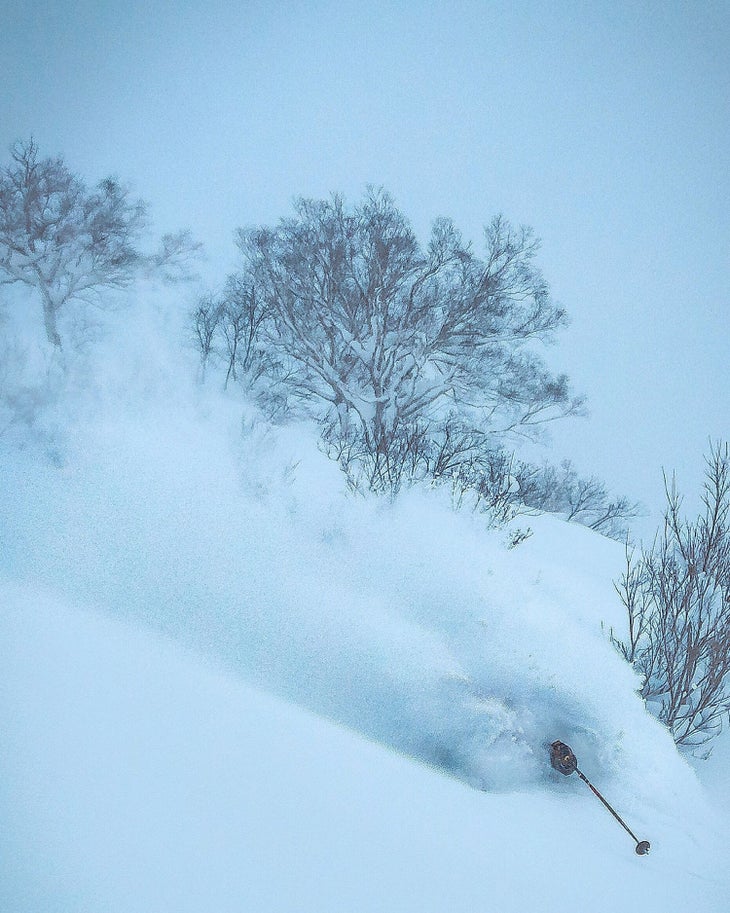 We spend the day touring through the woods and up a ridge that accesses flowing, open meadows behind an area in the backcountry nicknamed 7-Eleven. It is the best skiing of my life. The snow is so deep, I undulate like a porpoise and part it with my mustache.
Photo credit: Lucas Moore, SASS Global Travel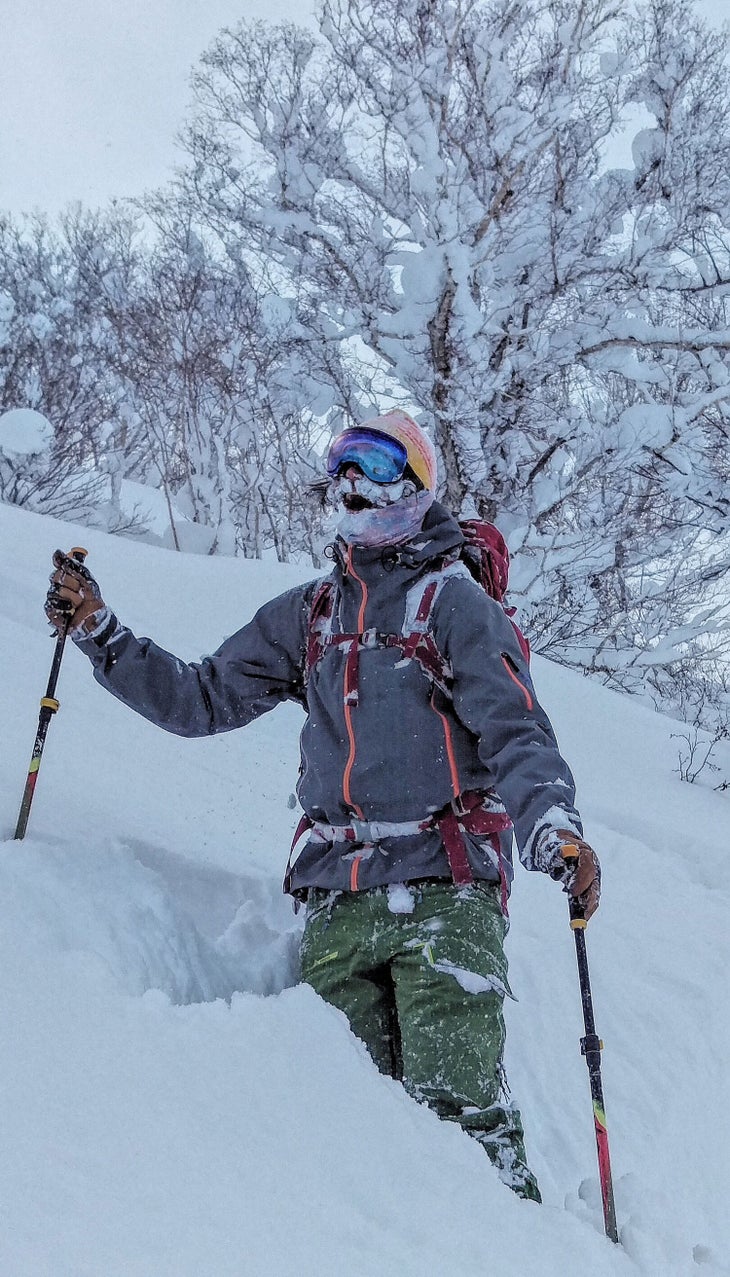 Taken immediately following my final run in Japan, this photo perfectly sums up my trip with SASS and why I love skiing. I have never experienced skiing like I did at Kiroro.
Be sure to watch the video from the trip HERE.
Photo credit: Rob Thompson