Lessons from a Ski Bum Entrepreneur
Kate from Kate's Real Food packs her hand-rolled bars with intention and a new-found perspective.
Heading out the door? Read this article on the new Outside+ app available now on iOS devices for members! Download the app.
"Well, I guess I could do a few tele turns down this run," says Kate, who has spent the morning sneakily avoiding laying into full telemark lunges down the mountain.
We're standing at the top of Jokerville, a classic bump run at Crested Butte Mountain Resort. We're both visiting CB for closing day, but you wouldn't believe it was the last day of the season based on the weather. In lieu of bluebird, 40-degree conditions ideal for onesies and pond-skimming, the mountain is covered in eight inches of fresh but rain-wrecked, choppy snow.
"I should probably just get an alpine setup," Kate laughs, then picks her way down the slope, carving half-tele turns.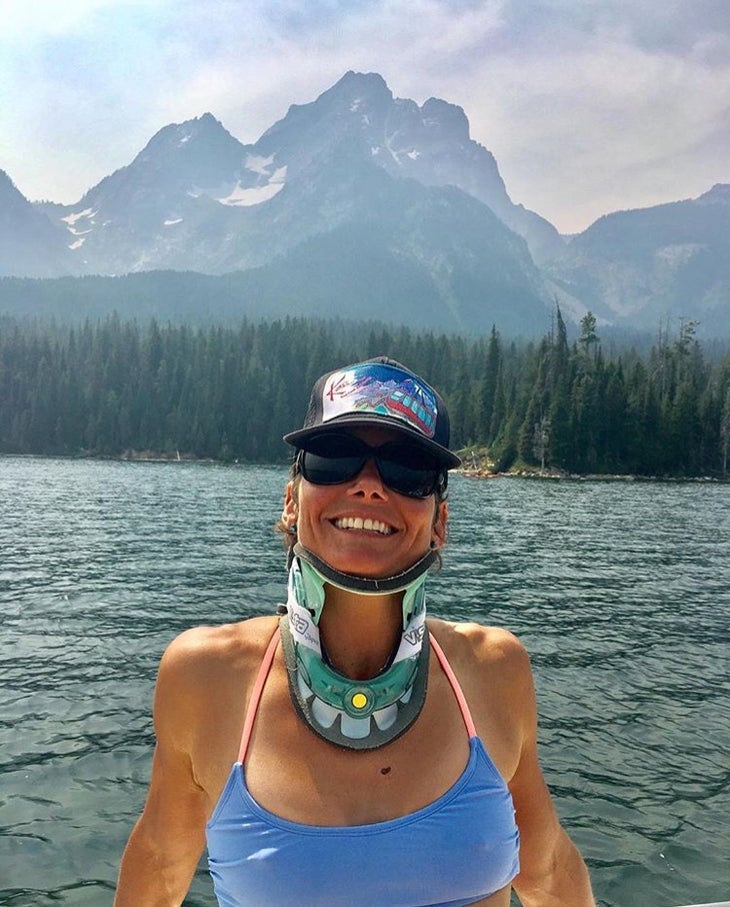 Normally, I'd poke fun at a telemarker not making proper tele turns. Something along the lines of, "Isn't it free your heel, free your mind?" But, I know it's only her second day on skis this season. I also know that 10 months ago, Kate crashed during an off-road dirt bike race and broke three vertebrae, bent her neck 17 degrees and could have been paralyzed. So, Kate doesn't deserve any lip-service. She's brave to be out skiing today at all.
We load onto Red Lady lift and make our way up the mountain. Kate reaches into a pocket and pulls out a bag of tidy squares of trail mix. "Want to do some product testing?" She smiles and hands me a bar, which I happily plop into my mouth. I immediately taste a perfect balance of lemon, coconut and chewy textures. "There's also a touch of ginger," Kate says. I should have known that skiing with Kate from Kate's Real Foods would entail eating food.
I was introduced to Kate Schade the previous night. While we drank margaritas and I admired her cute pixie haircut, Kate gave me her backstory. She was a young gal from the East Coast when she moved out to Jackson Hole in '93 after college to become a ski bum. She worked several jobs in true ski bum fashion, but also baked homemade trail mix bars which she unofficially sold in the tram line and around town. Eventually, she realized she could turn baking into a legitimate business.
"We officially started in 2010, but the Tram Bar had its beginnings in the mid to late '90s while I was experimenting with my tasty concoctions," she said. Back then, she was in full start-up mode, getting creative with recipes and using gear stickers to seal the plastic wrapped around her home-baked energy bars that she and her athlete friends would eat to sustain themselves on their daily adventures. "My thought process was that by creating a successful company, I would be able to support the things I love: outdoor play, eating and organic food."
Going all-in on something that had always been a side gig was overwhelming and at times taxing. "Business was stressful for many years, and it consumed me at times. I lost a lot of joy that should have been present in my life," Kate said.
But after her dirt bike accident last summer, Kate got perspective.
"Business is not the most important thing in life, and stress rarely helps anything," she said. After the accident, she hired a new CEO for her business to help with the workload and stress of running a business. After all, Kate has enough to deal with. "I now have a titanium plate and six screws in my neck. Feeling in my hands is mostly back to normal. My neck is stiff, and I have trouble looking over my shoulder, but no complaints. I'm only looking forward anyway."
Follow Kate's journey and learn where to find her bars on Instagram at @Kates_Real­_Food.