World Famous Ice
Believe the hype: Sapporo's Snow Festival is an experience unto itself.
Heading out the door? Read this article on the new Outside+ app available now on iOS devices for members! Download the app.
Somewhere between the gigantic Cup Noodles ice slide and the Final Fantasy Ice Dragon Battle, I reach a level of stimulation that can only be called "peak tourist." With my jet-lagged pupils dilated and a goofy American smile plastered on my face, I can't believe what I'm witnessing: Dozens of ice sculptures as big as buildings—some even shaped like buildings—standing tall in the Japanese snowfall.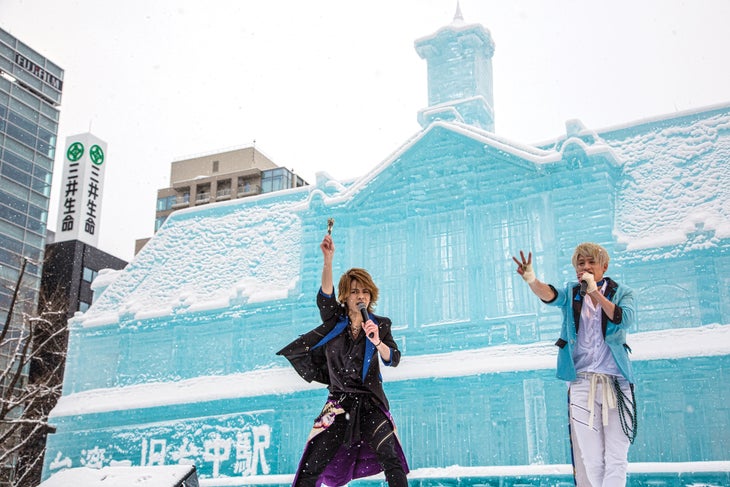 There is a small crowd of high school-aged locals gathering around the area in front of one sculpture, built to mimic a building in Sweden, as the Swedish Tourist Board is a festival sponsor. Suddenly, the youths begin to yelp in delight as a rock-star-costumed group of manicured guys take the stage. As the band sings some Japanese pop hits, or J-Pop, many of the younger crowd members perform—with perfect execution—every single choreographed dance move.
The first week of February 2019 will mark the commencement of the 70th annual Sapporo Snow Festival, which takes over the city's Odori Park, Susukino, and Tsudome areas. At Odori, the festival stretches over 12 city blocks, and, in addition to numerous and massive interactive ice sculptures, features warming huts serving Japanese sake and sochu—liquor distilled from sweet potatoes, buckwheat, and other local crops. Pop-up stores hawking local carnival grub and souvenirs from snowy locales all over the world line the orderly walkways, while families of tourists from all over Japan and beyond flock to explore these amazing, impermanent works of art.
Read more: The Land of Smiles
There are also a number of performances suitable for all ages, from local cheerleading troupes to classical string quartets to J-Pop. A tall scaffolding ski jump draws a large crowd, as local skiers and snowboarders launch backflips and spins to the delight of the audience.
After meandering away from the festival in search of dinner, we return to Odori Park at night, when the ice comes to life. High-tech lights and lasers illuminate the sculptures, creating even more visual stimulation, while choreographed narration and music play in unison with the shows. Granted, the narration was in Japanese, but it sounded like that ice dragon put up quite a fight.
Originally published in the November 2018 issue of SKI Magazine.