Meet the Pretty Faces
Get behind the scenes and meet the crew behind the Lynsey Dyer-directed ski film Pretty Faces.
Heading out the door? Read this article on the new Outside+ app available now on iOS devices for members! Download the app.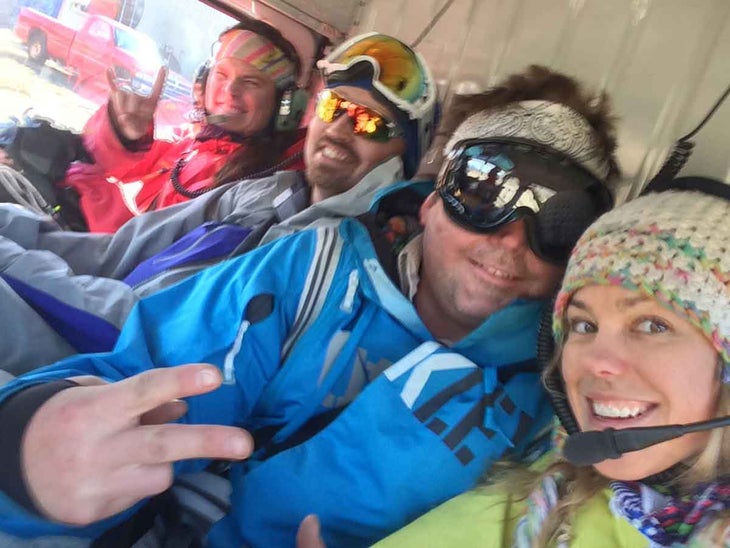 Pretty Faces, this fall's all-new, all-female ski film, features ladies skiing big lines. But behind the cameras and scenes, another crew of badass rippers joined forces to produce the ground-breaking film. Get behind the scenes here to meet Lynsey Dyer and her crew.
Photo: Rachel Burks, Simon Evans, Ralph Kristopher, and Lynsey Dyer snap a quick selfie before heading out to the Unicorn Picnic, Alaska 2014. Image courtesy of Ralph Kristopher.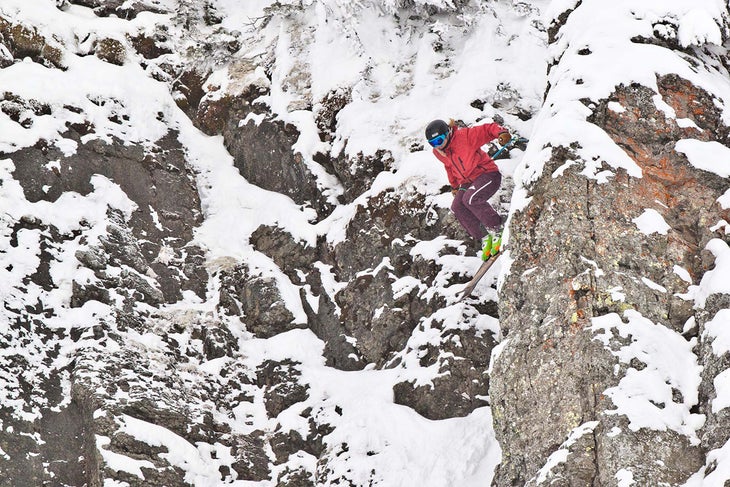 Vermont native and skeditor (skier and editor) Allie Rood quit serving tables to work with the Pretty Faces crew. "I met Lynsey in my first season at Jackson, and have been dedicated to making this film ever since. I edited the first draft of the Kickstarter campaign film this fall, was the submission coordinator this winter, and am now one of the editors."
As a resident of Jackson, Wyoming, Rood spends a lot of time skiing and working in the film industry. "I am a skier who saw a ski film in 2011 with no women in it. I thought, What decade are we in? Since then I have been dedicated, through thick and thin, to creating a film and platform in which women can showcase what they've got, which is a whole damn lot."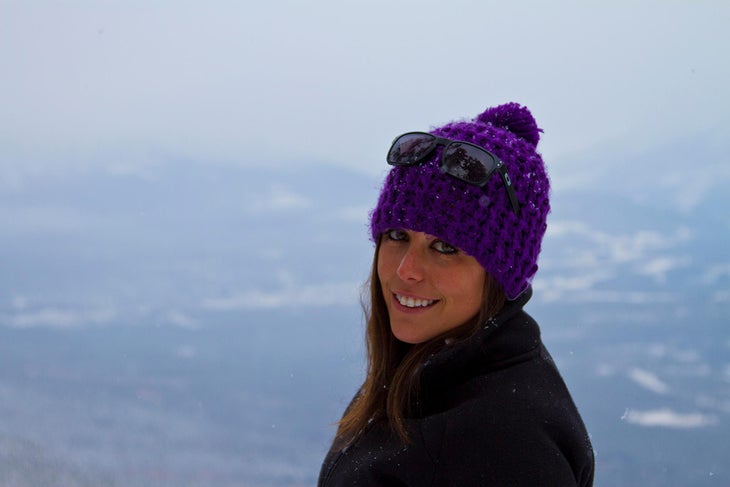 A resident of Whistler, British Columbia, Sarah Woods is one of the women behind Pretty Faces's Canadian tour—and also co-founder of Mountain Match Me, a dating app for mountain people. "I drew inspiration from many people on this journey, including Leah Evans and Izzy Lynch, who not only taught me on my skis, but in my personal life, how necessary living as your authentic, beautiful self is," she says.
"Jumps always look way bigger and scarier than they actually are," Woods says. "Once you jump and look back, you realize your fears weren't worthy of your worry. Because the moment you jump, those fears and worry disappear and you're filled with joy and happiness. And that's a rad feeling."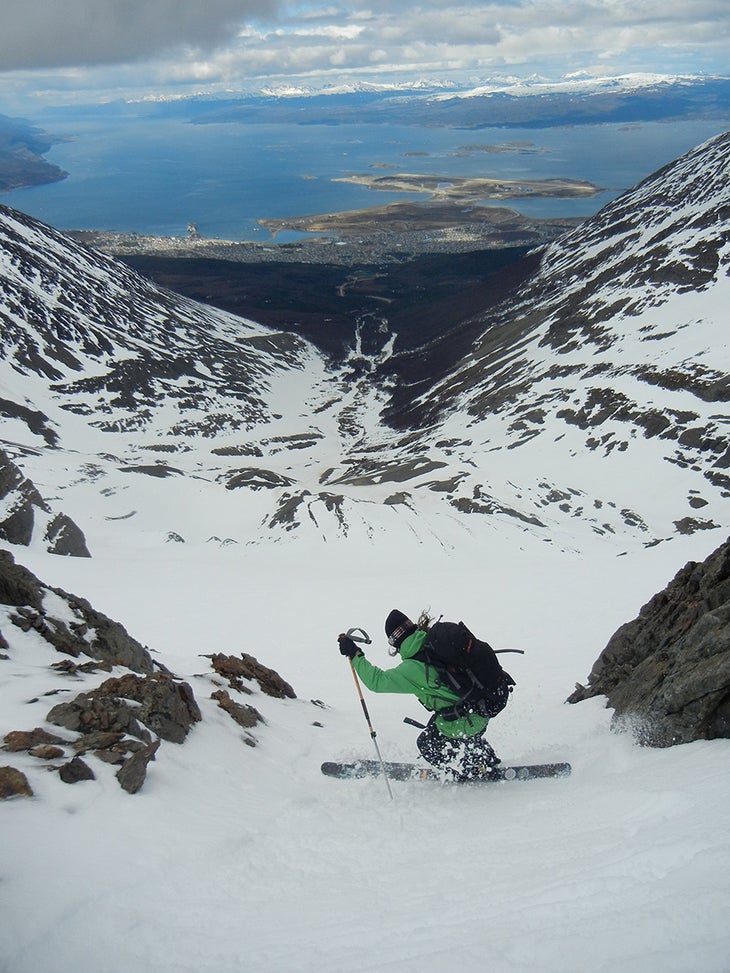 Claire Smallwood, co-founder and executive director of the women's outdoors organization SheJumps, grew up in New Mexico—without knowing any other women who skied. "As soon as I saw Wendy Fisher, Allison Gannet, and Kristen Ulmer in ski movies," she says, "I knew that was what I wanted to do with my life. When I was 19, I entered my first freeskiing competition and was mortified to learn that I would be competing against Lynsey Dyer (a picture of her was plastered over my desk at the time). But I quickly learned that Lynsey is pretty darn nice and really just wants everyone to do their best. I didn't win, but I made a connection that would change the course of my life."
"I have wanted to be in a ski movie since I was a teenager. But I have to say that skiing in front of the camera is only one aspect—being a part of the production team to create this film is such an honor that I have a hard time putting it into words," she says. "Although it's been challenging, I know that it is all worth it."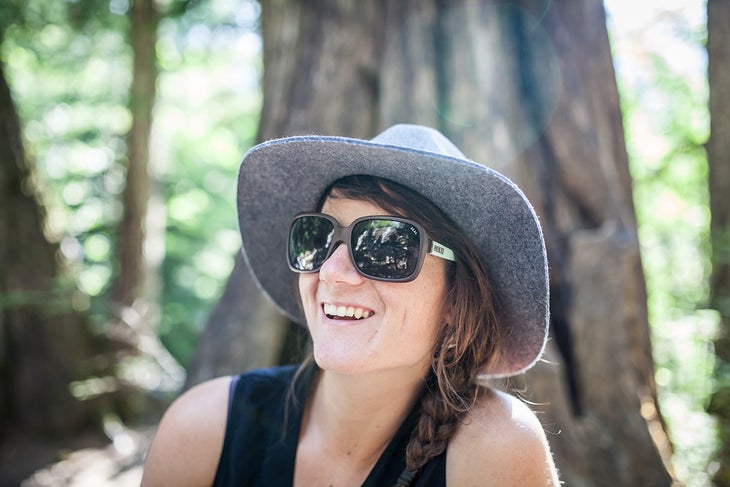 Initially, Canadian freeski champ Leah Evans wrote Lynsey Dyer a check on behalf of Girls Do Ski, an organization that leads freeski camps for women of all ages, because she wanted Lysney to know that she and the other coaches stood behind the project. But watching the first season and a few filming trips unfold motivated her to step up. "I hired a filmer and dedicated a large section of my season trying to get shots for this film," she says. "I got scared, which is such a good feeling because you know you're growing and pushing what you thought you could do."
Spearheading the Canadian Pretty Faces tour with Sarah Woods, Evans looks forward to connecting the female ski community.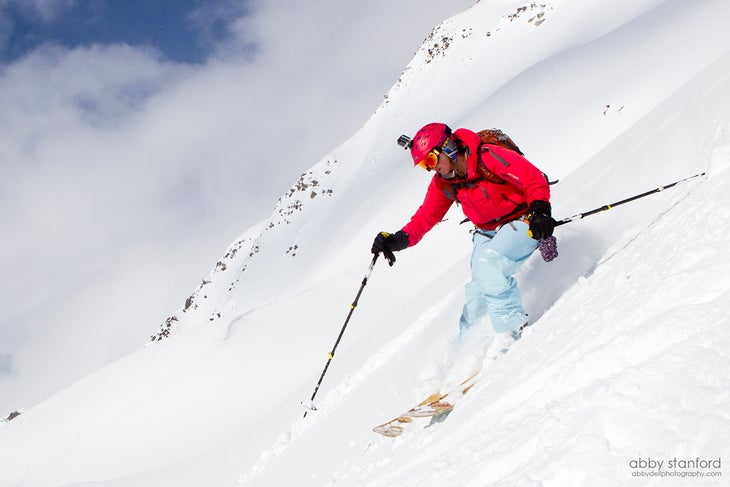 Cristy Watson, manager of social media and the Pretty Faces Kickstarter campaign, grew up as a female athlete in a male-dominated sport: wrestling. "I was very aware of being 'the girl,'" she says. "It took me many years to fully embrace the fact that I could be taken seriously as the powerful, skilled, competitor I know I am, while still embracing the fact that I like to wear dresses—and heck, I even wear pink sometimes!"
"The message that you don't have to choose between femininity and sports is a huge one, because this perceived choice is a contributing factor in why girls begin to drop out of sports in their teenage years," Watson says. "The fact that I'm now a part of a movie, and a movement, to dispel this notion is something I am very proud of. And I'm beyond thrilled that this is all happening through a ski film—what better way to empower women than through the power of the outdoors."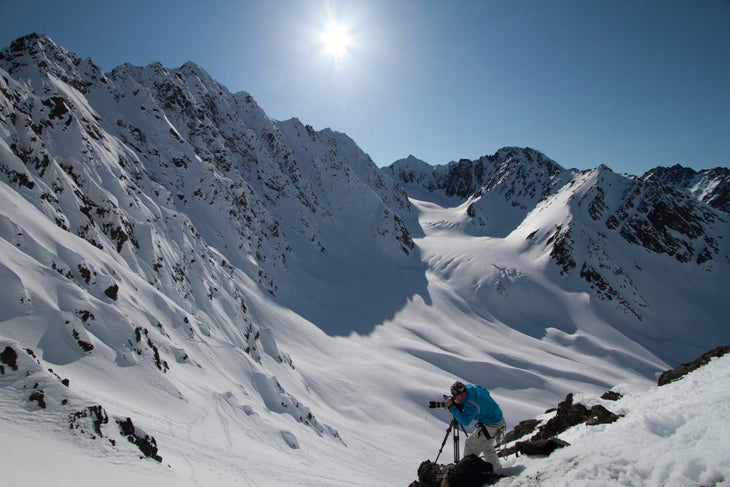 Ralph Kristopher, one of the token men behind the scenes, is a photographer, camera operator, and go-to for field direction and more. Here, he films for Pretty Faces in Alaska's northern Chugach Mountains. "Artists have the responsibility to be the voice and unite in vision, in action and a shared experience," says the Girdwood, Alaska resident. "Lynsey clearly is doing this for our mountain communities, athletes, and women young and old. It's not hard to support such a battle cry from our mountain warrior women, for fun, for seriousness, for health, happiness, sheer bliss, joy and the chase of powder, sun and adventure."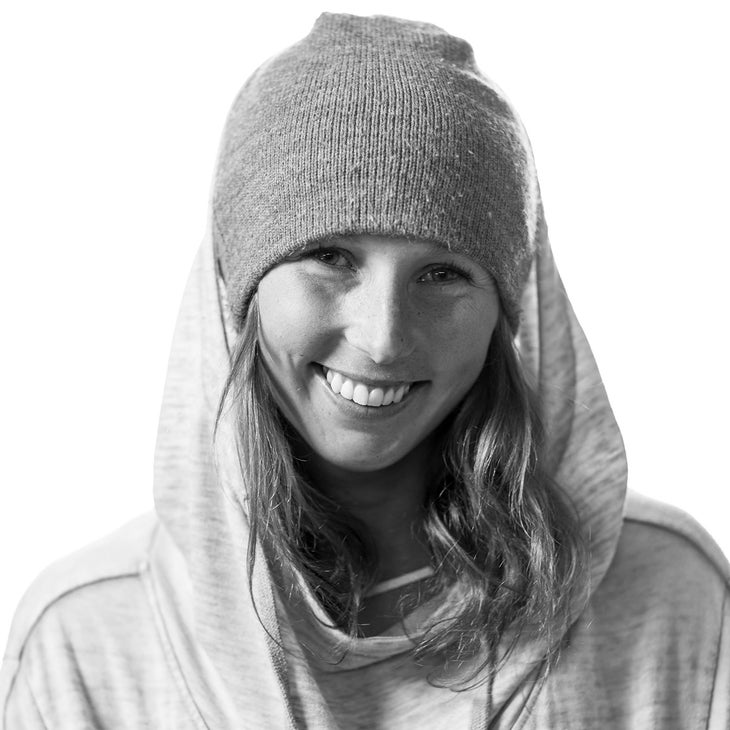 One of Pretty Faces's head editors, Hilary Byrne has a passion for storytelling. Originally from Vermont, she moved to Jackson to work at for the Teton Science Schools—and stayed.
"As a pro outdoor action sports photographer," says Freya Fennwood, "I am vividly aware of how women are portrayed in our society. We are objectified and valued for our looks and sex appeal rather than our talents or our souls. The images and films we see tell us to be pretty over powerful, sexy over strong. I strive to break these values, with one beautiful, strong, and empowered image at a time. We need films like Pretty Faces to set an example, showing being a woman isn't just skin deep."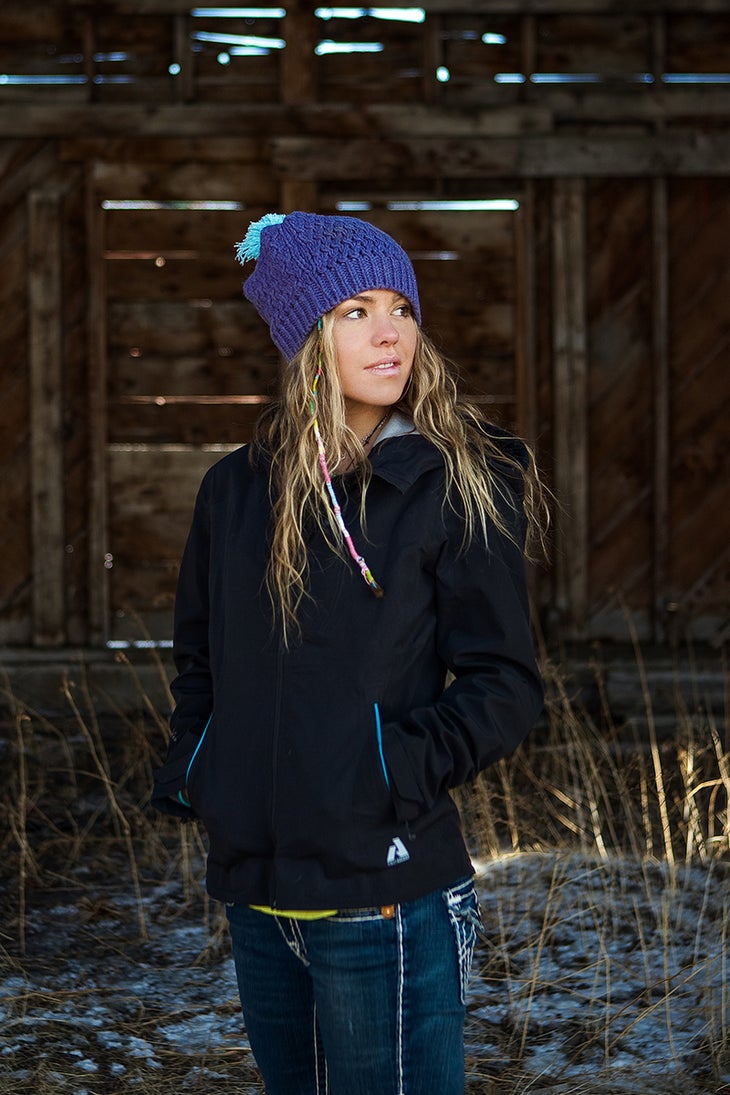 Rather than settle for the big deals of being a professional big mountain skier or co-founder of a non-profit, SheJumps, Lynsey Dyer took action on behalf of skier girls everywhere. She decided to do something about the dire proportional lack of female rippers in the ski films that stoke the masses each year. With a Kickstarter campaign that raised more than $113,000 and a flock of like-minded collaborators, she directed and produced Pretty Faces.
Watch the trailer here. Check out the tour dates here.