Parkin' It
Seeking solitude and powder with Yellowstone Ski Tours.
Heading out the door? Read this article on the new Outside+ app available now on iOS devices for members! Download the app.
Even though it hasn't snowed for days, the snow is pristine and there are no tracks in sight—and it's not because a snowmobile, cat, or heli dropped us off.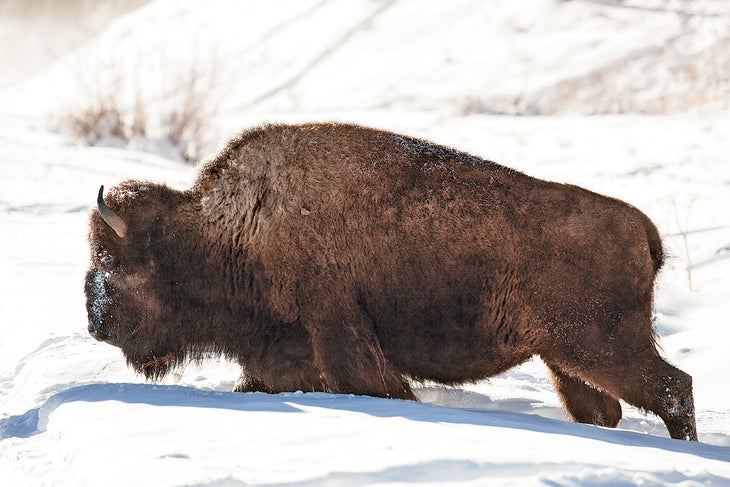 We walked here. We're on a ridgeline about to drop into Yellowstone National Park's Cache Creek basin, where 1,500-foot powder shots are plentiful and the only company is of the fur, feather, and tooth variety: Yellowstone's famous menagerie of wildlife.
Cooke City, Montana, a quaint town of roughly 100 mountain dwellers, sits at about 8,000 feet near the northeast entrance to Yellowstone National Park. Though it's perhaps better known as a snowmobiling destination, we came here to ski away from the motors in Yellowstone with prolific Cooke City skier and guide Beau Fredlund. But when we arrived at his tiny one-room cabin in the middle of town, his girlfriend, Kt Miller (who's prolific in her own right), greeted us at the door. She was in the middle of waxing her skis, an activity that took up the entirety of their cozy shack. "Beau's out skiing," she told us. "He'll be back soon."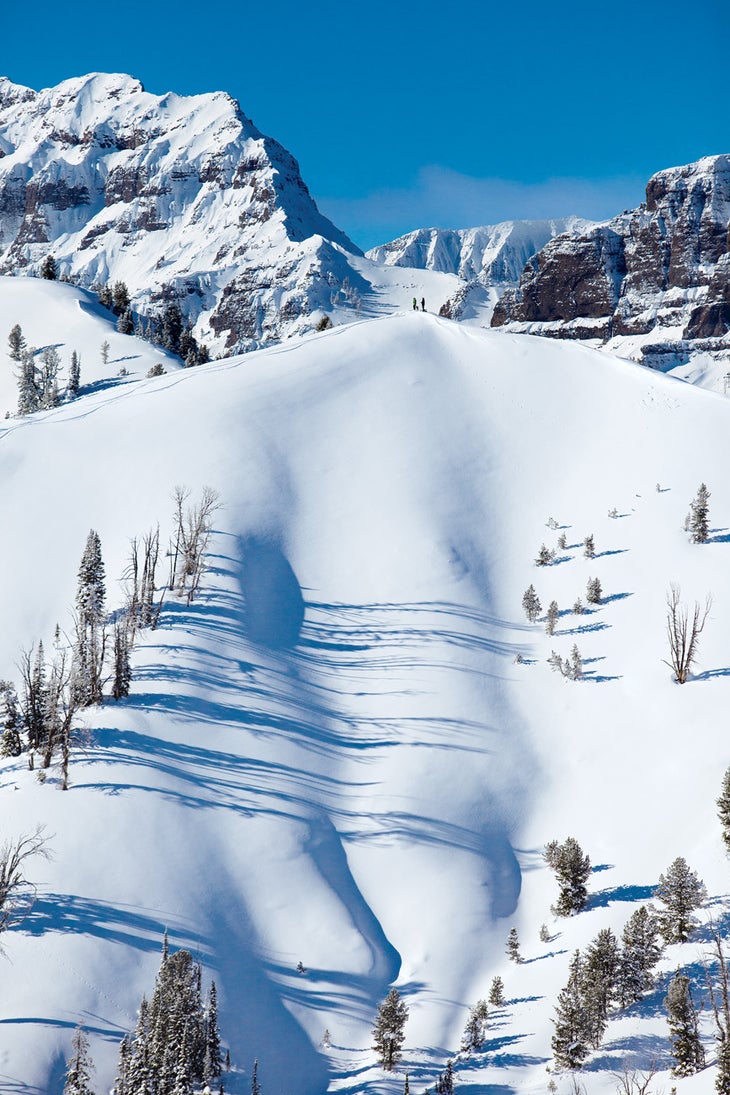 Beau is 33 years old and loves to ski. He skis five days a week, November through July, and is known for taking lengthy trips to places like New Zealand, Russia, and Norway to feed his habit—but he always comes home to Cooke. Here he doesn't have to deal with crowds or driving to a resort, or any logistics, really; just step out the front door, put on skis, and start walking. 
He normally spends his days alone, or with Kt, searching for new lines in the park. He has a profound fascination with the place, and obsession is what makes him good. His knowledge is impressive, but he's not chatty—in fact, he's just the opposite. He's quiet, but skiing brings him out of his shell. Just when you think he might be too quiet, he'll point out the track of a fox pouncing in the snow, or entertain with stories about accidently skiing up on the Lamar Valley wolf pack—all stories that will bring a shit-eating grin to his wind-weathered face.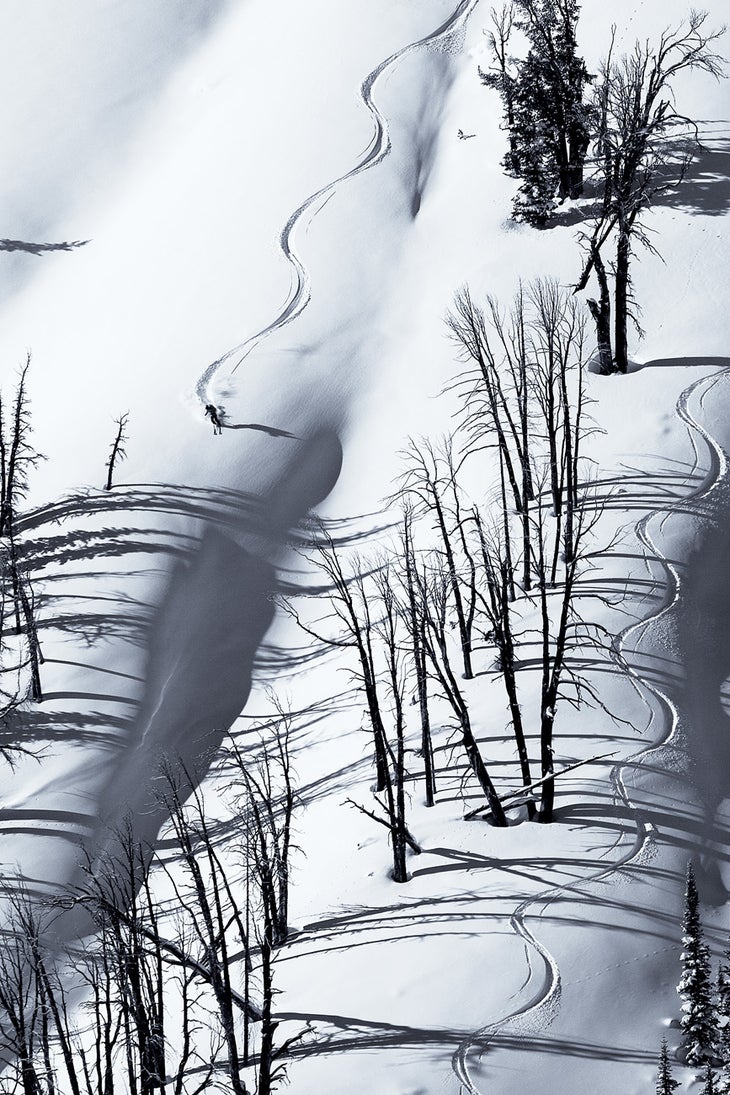 The next day, Beau drove us into Yellowstone and made sure to park in a pullout away from where we were going to be skiing. We dipped into the woods unnoticed by other skiers and, after touring into Cache Creek, spent most of the day making pow laps—so many that I actually felt powdered out. Later we toured to some caves that were begging to be explored, and on the way tiptoed silently past a wooly bison grazing though deep powder, its enormous head plowing a path like a skier taking face shots. Just another average day in Yellowstone.
BETA
> There's no cell service in Cooke City, so make your calls before you come.
> Cooke City is very popular with the snowmobile crowd, so book a place to stay early—The Cooke City Alpine Motel is recommended. If you botch it and forget to book, camping is free at the town dump (better than it sounds).
>The fitter you are, the better. Hard training will pay off.
> Cooke City doesn't see a lot of sun in winter. If you need to catch some rays, there's a tanning bed in the unisex bathroom of the local bakery.
> Website: yellowstoneskitours.com
This article is from the October 2016 Mountain Guide Issue (Volume 69/Number 1)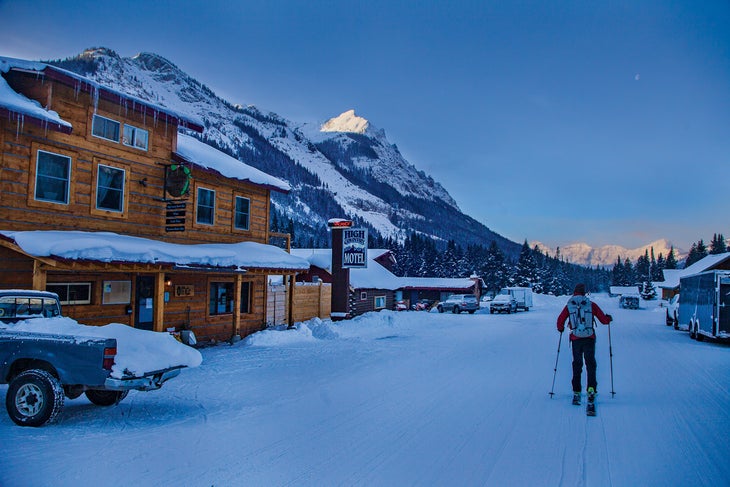 All photos are by Leslie Hittmeier.