Photo Story: Dream Trip
This much pow ruins you for life, but it's so worth it.
Heading out the door? Read this article on the new Outside+ app available now on iOS devices for members! Download the app.
Editors Note: This article was published in the October 2016 Issue of Skiing Magazine. The "Dream Trip" episode has since aired on SalomonTV. You can watch it here and enter next years Dream Trip contest here.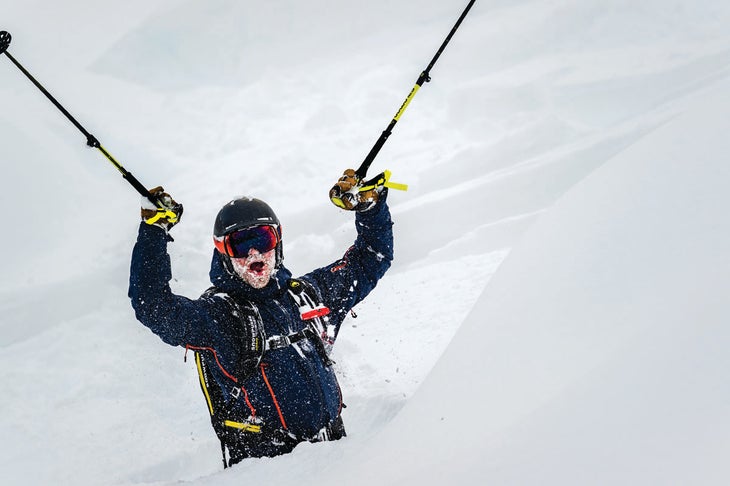 You're probably familiar with Salomon Freeski TV and its now annual "Dream Trip" episode, in which Salomon surprises one lucky skier with a free trip somewhere awesome, guided by skiing's rock stars. This year, the winner was Tim Loch, a real estate appraiser from Toronto. "I'm gonna owe my wife, like, a lot of stuff," Loch said on the phone after Mike Douglas, producer and director of Switchback Entertainment, called to tell him he'd won.
Loch and Douglas, along with photographer Mattias Fredriksson and pro skiers Chris Rubens and Cody Townsend, drove British Columbia's famed Powder Highway—from Revelstoke to Kaslo and Nelson, then to Blanket Glacier Chalet—where Loch couldn't check his work e-mail even if he wanted to. "It was funny for him to step into our world," says Douglas. "By the end of the trip, we'd kind of ruined him."
Here are the best photos from the trip that transformed a city dude into a powder-slayin' ski bum. (We hope he bought his wife a pony. Or a unicorn. No, an alicorn.) Tune in when Salomon Freeski TV's "Dream Trip 2: Powder Highway" airs, in October 2016.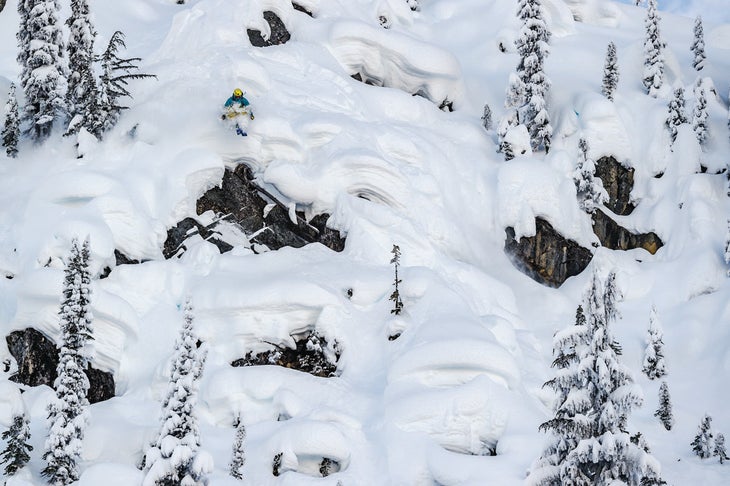 Chris Rubens boosts off
a cliff in the backcountry near Revelstoke. Rubens, a Revelstoke local, was an ideal guide for his deep and steep backyard. We wonder if anyone actually followed his line.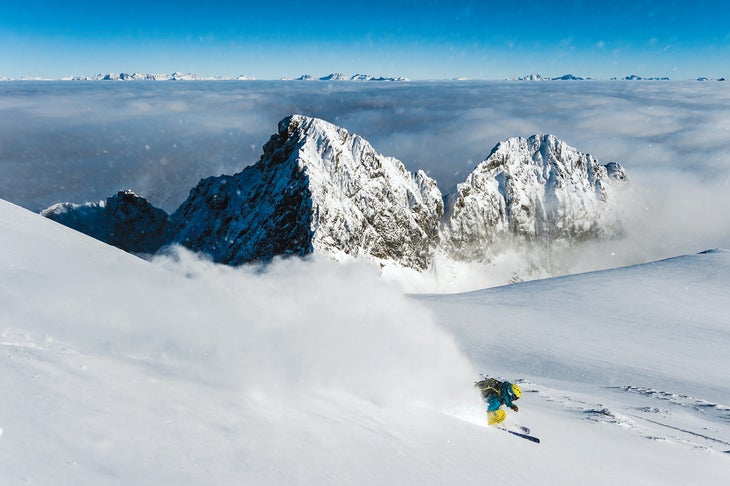 "It's rare to have a sunny day in the B.C. interior," says Fredriksson. Rubens takes full advantage of the inversion.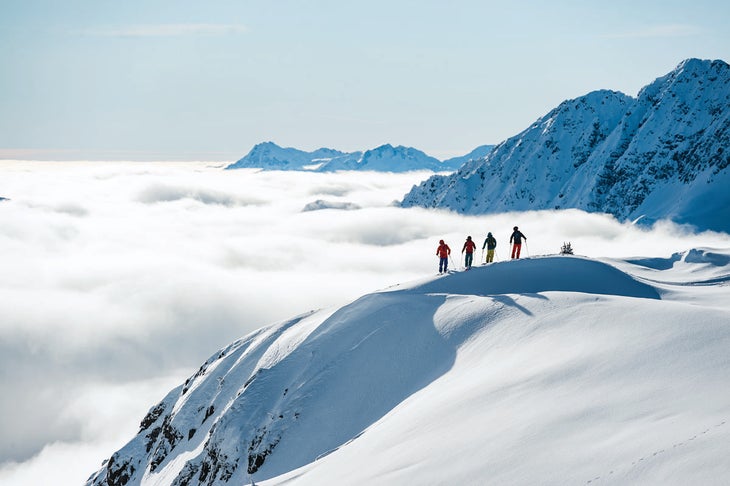 Loch's first time in British Columbia was full of firsts. He'd never been ski touring or heli skiing, and he'd never summited a proper peak. Check, check, and check.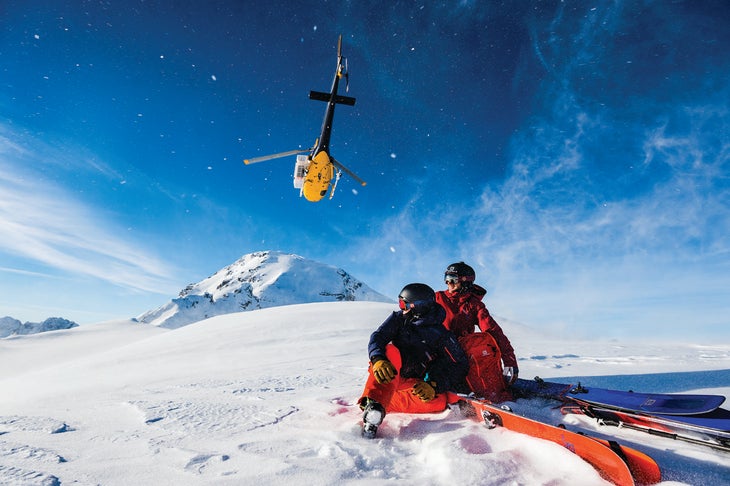 The bird soars away after dropping the crew off. "Tim [Loch] is a big-city guy. He's so corporate. We would often speak in ski-bro slang and you could tell he had no idea what we were talking about," says Douglas.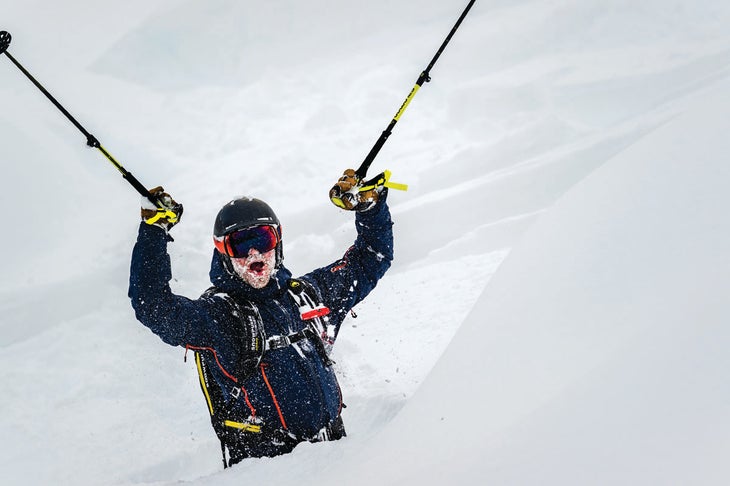 Tim Loch emerges from a powder-padded tomahawk and doesn't look too mad about it. "We never expect the Dream Trip winners to be amazing skiers, so we go into these trips with that in mind," says Mike Douglas. "The fun part about it is that it's kinda like when someone from out of town comes to visit your hometown—you're excited to show them everything, and it gives you an opportunity to see things through fresh eyes."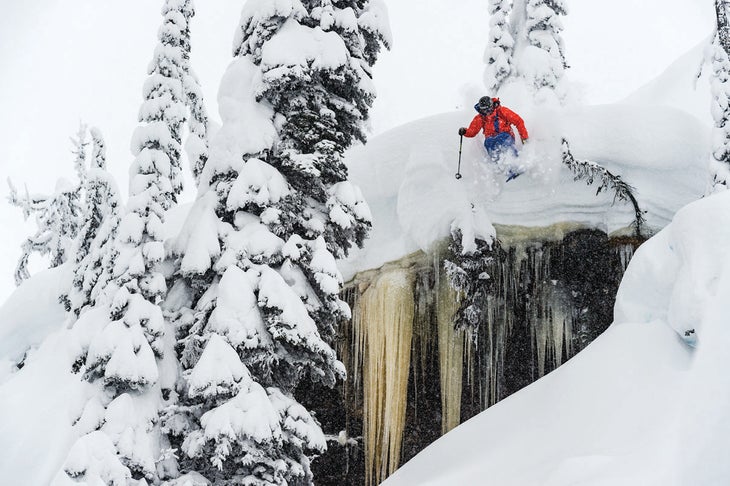 Cody Townsend launches off an icicle-encased cliff near the Blanket Glacier Chalet.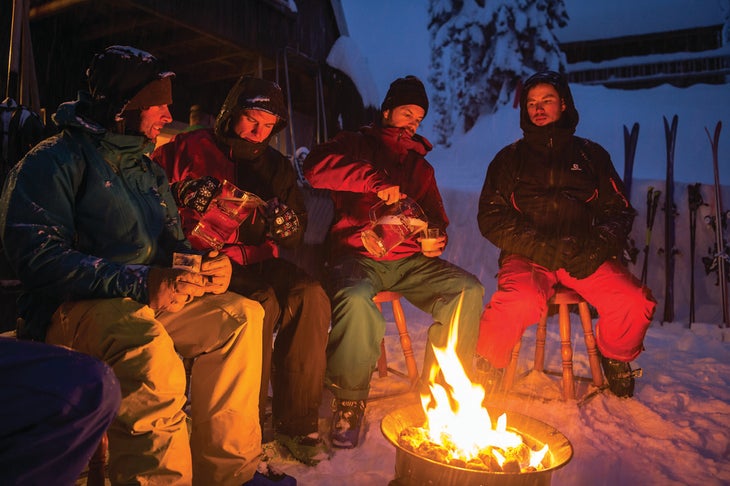 Settled in at the Blanket Glacier Chalet, Chris Rubens, Marty Schaffer, Mike Douglas, and Tim Loch enjoy post-skiing brews. What's not clear is whether this was before or after Rubens crushed everyone in a game of stump.
Photographer Mattias Fredrikssonis based in Åre, Sweden. He ski tours 30 to 40 days each winter and has been contributing to Skiing since 2000.
View more of the SalomonTV Episodes from this season here.