Schleper Returns for Fourth Olympics
A lot has changed since Sarah Schleper skied for the U.S. at the 2006 Olympics in Turin. On hiatus due to a knee injury, she fell in love and got married. Then she took another winter off to have her son. Now she's back, competing in Vancouver with her new family cheering her on. By Olivia Dwyer
Heading out the door? Read this article on the new Outside+ app available now on iOS devices for members! Download the app.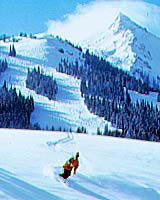 Sarah Schleper is back in racing form for her fourth Olympics.
Sarah Schleper knows a thing or two about the Olympics, since the Vancouver Games are her fourth appearance with the U.S. Ski Team. She knows the Opening Ceremonies are a can't-miss event, but she also knows there is no eye in the Olympic storm.
That explains why she left Canada after the Opening Ceremonies, and is now speaking with me over Skype from her hotel room in Jackson Hole, Wyoming, where she's training with the U.S. tech team until returning to Vancouver on February 19. I can hear her two-year-old son, Lasse, playing in the background as she talks about how her life has changed since 2006.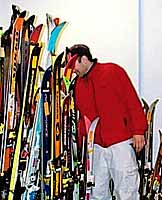 Schleper with her son, Lasse, who is already learning how to ski.
You've been to four different Winter Olympics—Nagano, Salt Lake City, Turin, and now Vancouver. How are they all different? What stays the same? Japan was just totally overwhelming for me. I'd never been to the Orient before, I'd never been to the Olympics before. I just soaked it all in and enjoyed every day. Salt Lake City, being in my home country was really great. It was the best Opening Ceremonies because everyone was really jacked up for all the Americans. In Italy, I just went and tried to have a great time. They've all been a little bit disappointing. The main goal as an athlete is to win a medal. You're not there to watch or party—you're there to win a medal and that's the bottom line. And I wanted to give myself another shot at that.

How has having a family changed your perspective on ski racing? Before my life was focused on skiing. Now that my family comes on the road, and just having a family, it makes that more of a priority than skiing. It's so nice to have them with me while I'm traveling. Before, home was so far away. Now that they're with me I feel that home is wherever I go. If I have a bad day, I come home and hang out with Lasse, and that's anything but a bad day. He's the joy of my life. Also, my husband does such a good job. I couldn't do it without him.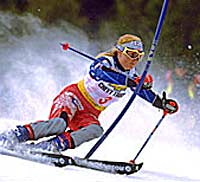 Your son is two years old, the same age you were when you first got on skis. Is he learning yet? My husband takes him to my races, and there's a great spot for him to learn how [to ski] down there at the finish. We take runs with him and we have a harness that you can hold the reins to. He's learning how to snowplow and hockey stop.
You're older and more experienced than most of the women on the U.S. Ski Team. Do you ever feel your age? Do they turn to you for help? Actually, going into the Vancouver Games with teammates who have never been to the Olympics is the first time I really felt my age. We get along so well and we all kind of help each other. Last year, when I was coming back, Megan [McJames] was skiing so well in GS and I was like—help me out! She has a bit more modern technique. I try to do the same for them. I help them with what I know more of and they help me with what they know more of.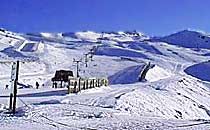 Schleper, with Lasse and husband Federico Gaxiola, shows off her hardware.
Do you feel like you'll like you'll reach a level at the Vancouver Olympics that's eluded you before? I feel like my skiing's there. I just hope the stars align and I get some luck on my side. Anything's possible. I'm a long shot for a medal. I haven't been on a podium this year. But I'm on the upswing for sure. I'm going in there believing anything is possible.

Is this your last Olympics, or is there more in store for you? My heart's still in skiing. I'm kind of on the fence. The thing that holds me back is physical capability. Some days my body hurts. But this other side of me is like, I can't give up.
Schleper will race in the giant slalom on February 24 and the slalom on February 26 at Whistler.—Olivia Dwyer