Secrets to Skiing Sun Valley
It's a simple existence in Sun Valley, Idaho. Ski, party, repeat. But combine a demanding mountain with celebrity sightings and seemingly bottomless schooners of beer, and spending time at America's most storied ski resort is anything but easy. Here's a guide to doing it right.
Heading out the door? Read this article on the new Outside+ app available now on iOS devices for members! Download the app.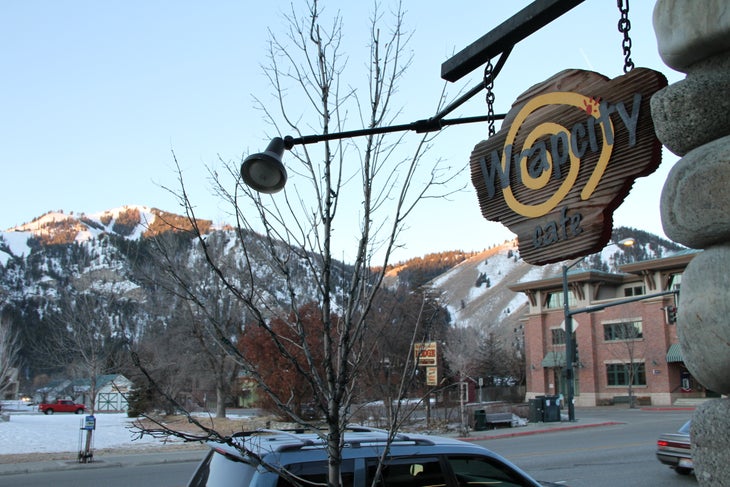 Start the morning with a hunger-satiating, hangover-quelling breakfast burrito from Wrapcity in downtown Ketchum. They're fat, fresh, and just what the body needs to survive a day on the hill. Don't argue with the body. It's an argument you'll never win.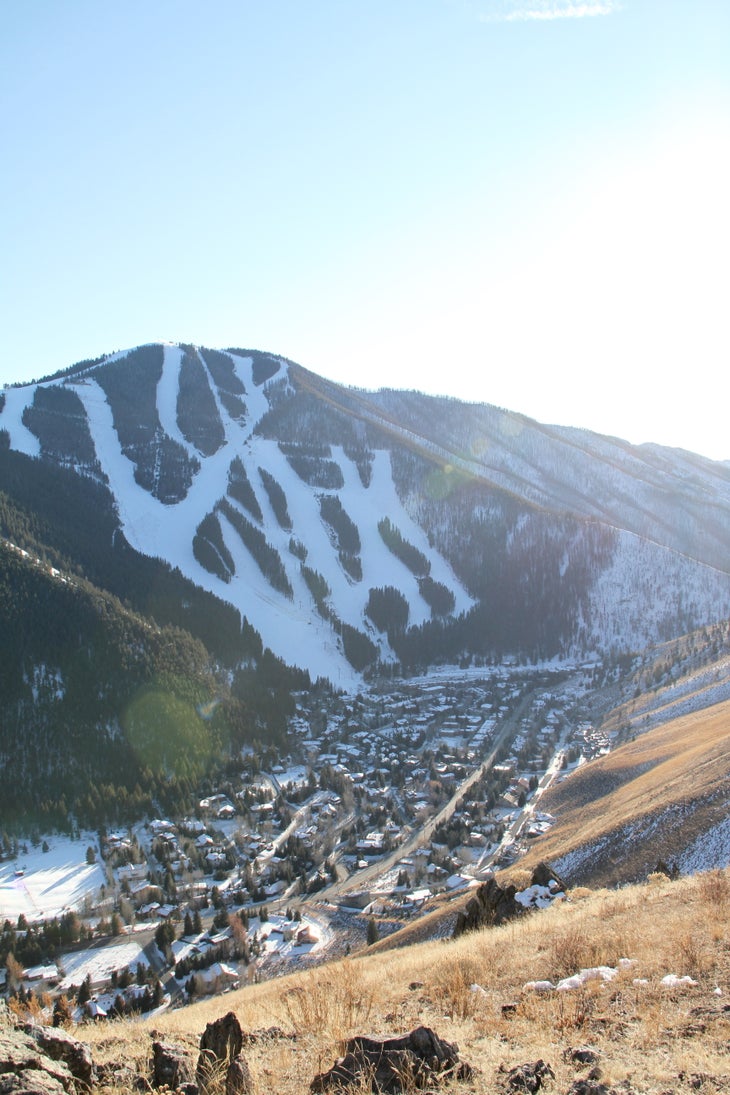 Bald Mountain's shady north face is named after the hot springs-fed creek that runs through the base area. The signature run, Warm Springs, is one of the classic groomer descents in the country. If you can't have fun on Warm Springs, you need a fresh tune and a ski lesson. This is not the place to slide a turn or suck at skiing. Few things compare to over 3,000 vertical feet of high-speed GS turns down this alley. Your legs will tremble and your lips will quiver with a strange mix of terror, excitement, and exhaustion. Warm Springs will make you remember that like powder, carving is pretty damn exhilarating. Plus, if you luck out with a fat storm with southwest flow, The Burn, the sidecountry zone created by the 2007 Castle Rock wildfire just off Warm Spring's western boundary, is some of the best powder skiing in the country.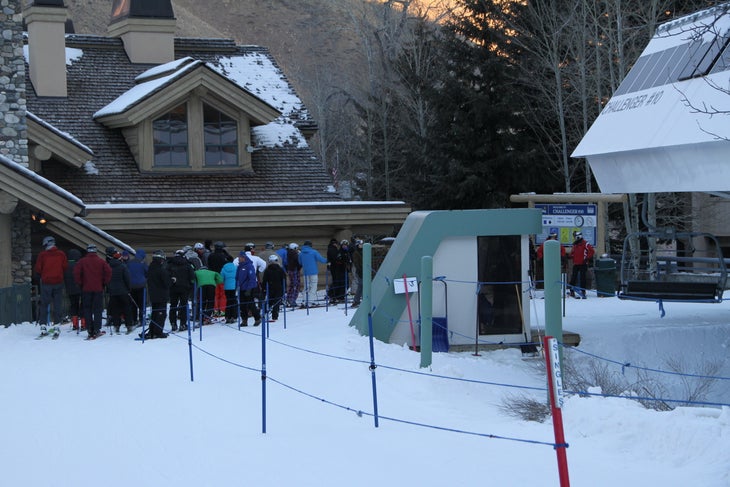 About the only line you'll ever see at Sun Valley is for first chair—regardless of the previous night's snowfall. The agro Sun Valley crowd battles for fresh cord like the rest of the country battles for first tracks. But if you get up early and find yourself some buffed real estate, you will understand what all the fuss is about. There's nothing like untouched powduroy to start off your day—except, I suppose, untouched powder.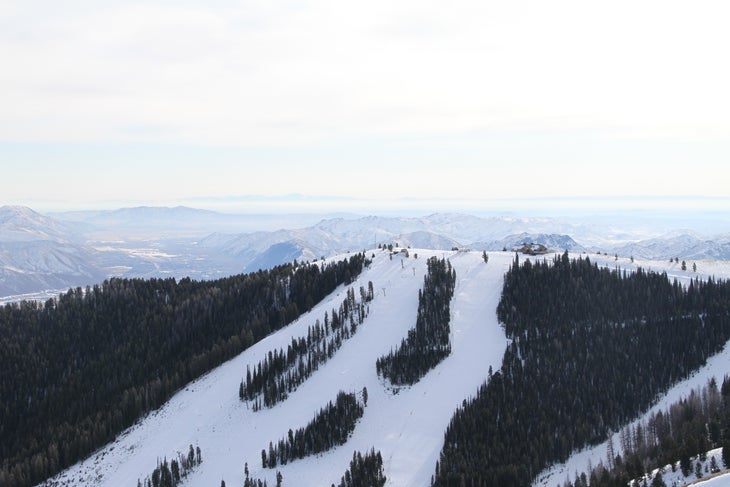 The ultra-plush Seattle Ridge Lodge serves up some of the tastiest on-hill eats anywhere and sits atop a spread of mellow groomers—known locally as Cialis Ridge for the abundance of shussers of an ED-afflicted age. The skiing can be gentle but entertaining and the lodge is one of the best places to grab a beer.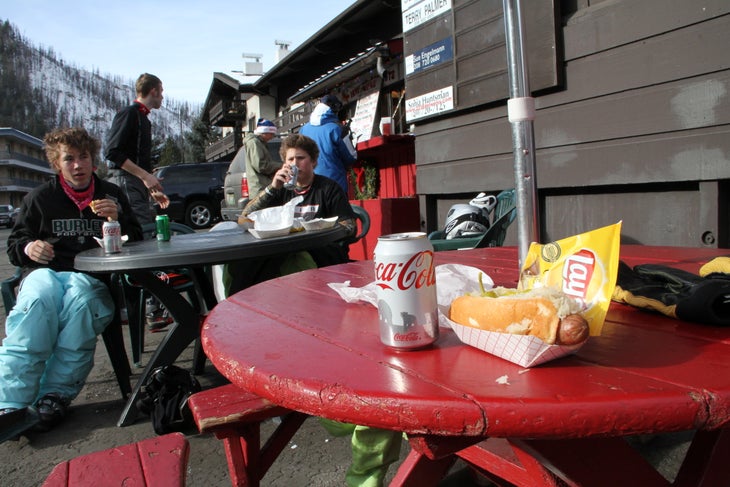 Hang around the Warm Springs base area during lunch hour and you'll notice an overwhelming amount of people walking around with wieners. Irving's Red Hots, the unassuming little red shack across the street from the day lodge, delivers the best and most affordable tube steak lunch in the area. It's a Sun Valley institution, and is not to be missed.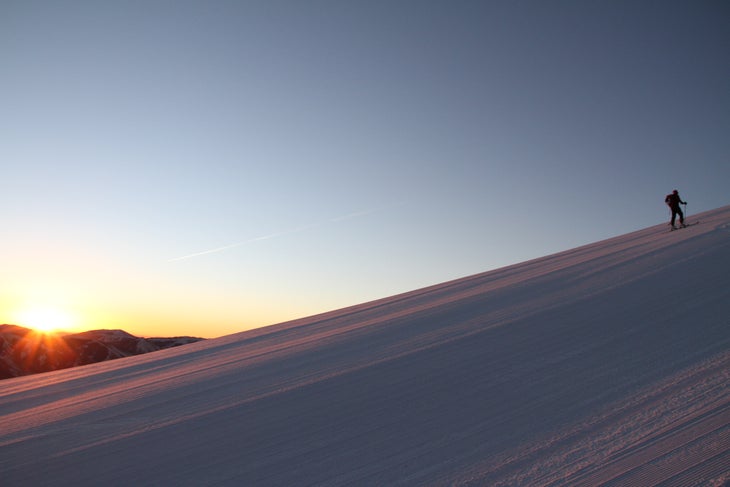 Located in the Sawtooth National Forest, Sun Valley is uphill friendly because it's operated on public land. Skinning up the 3,000-foot mountain is a hell of a workout and the perfect training tool to prepare for the limitless backcountry of the surrounding Sawtooth and Pioneer ranges. Do it for dawn patrol and you're likely to witness one of the more beautiful sunrises of your life.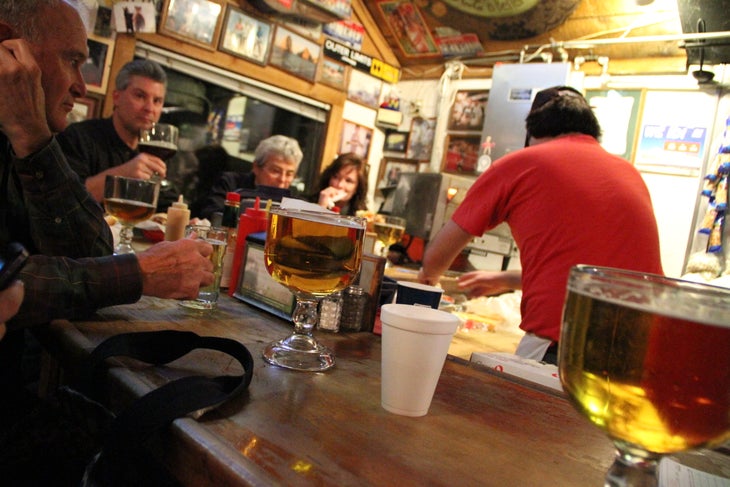 With 32 ounce schooners and greasy burgers, (Want pickles? They don't have them. Ask for number twos.) Grumpy's is the spot to stop after skiing or the place to do a load of whites (in the adjacent laundromat). If the décor doesn't clue you in, this place can get rowdy—especially on New Year's when dryer rides and Bruce Springsteen sightings become sport. This is a good spot to grab dinner before hitting greater Ketchum. There is a pretty ingrained regimen to partying in town. Start at the Pioneer for cocktails followed by the Cellar for Kokanee tall cans and shots. Then it's on to Whiskey's for live music and more shots before ending in the Casino where it's last man standing. Check your dignity at the door.