Moguls meets Big Mountain
U.S. Ski Team moguls racer Jaelin Kauf is set loose on the steeps of Silverton Mountain under the guidance of veteran freeskiers Lorraine Huber and Connery Lundin.
Heading out the door? Read this article on the new Outside+ app available now on iOS devices for members! Download the app.
Twenty-three-year-old U.S. Ski Team member Jaelin Kauf grew up chasing her mom, dad (both pro skiers), and older brother down the hills of Grand Targhee, Wyo., starting at age three. Skiing was the family activity for the Kaufs. "That is just what we did as a family," she says. Her dad, Scott Kauf, ran the cat-skiing operation at Grand Targhee, so when the kids weren't racing, they were out on the cat with Dad. As a young skier, Kauf did everything from racing to big mountain skiing to skiercross. It wasn't until high school that she found her stride as a mogul skier, but when she finally found it, it stuck.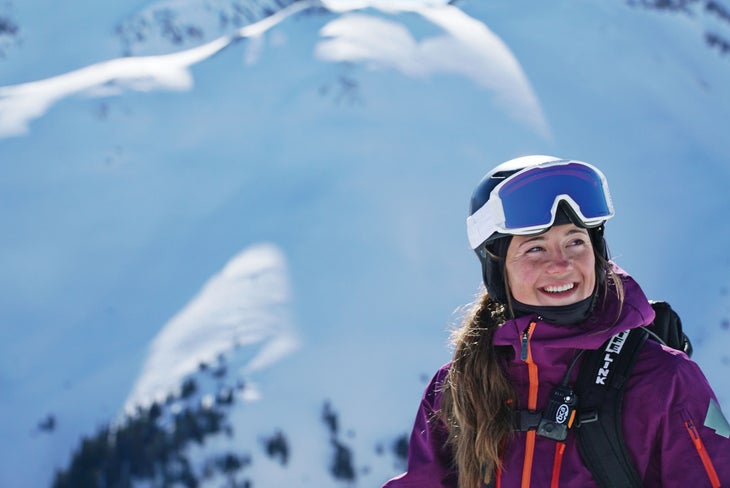 After moving to Steamboat Springs, Colo., in 2010 as a high school freshman, Kauf's ascension into mogul skiing stardom came quickly. She made the U.S. Moguls Team in 2016, and in that same season earned her first career podium and the Rookie of the Year title. "There's just something about the sport," she says. Mogul skiing combines the critical aspects of all the different sports she grew up doing the speed of racing, the jumping, and creativity of freeskiing and skiercross, and the precision and technique unique to moguls. Since her 2016 breakout season, Kauf has notched six World Cup wins, two World Championship podiums, and placed 7th in her first Olympics in PyeongChang in 2018. She has proudly followed in the ski tracks of her parents, who were both World Pro Mogul Tour champions— not only in competition, but also in front of the Warren Miller camera.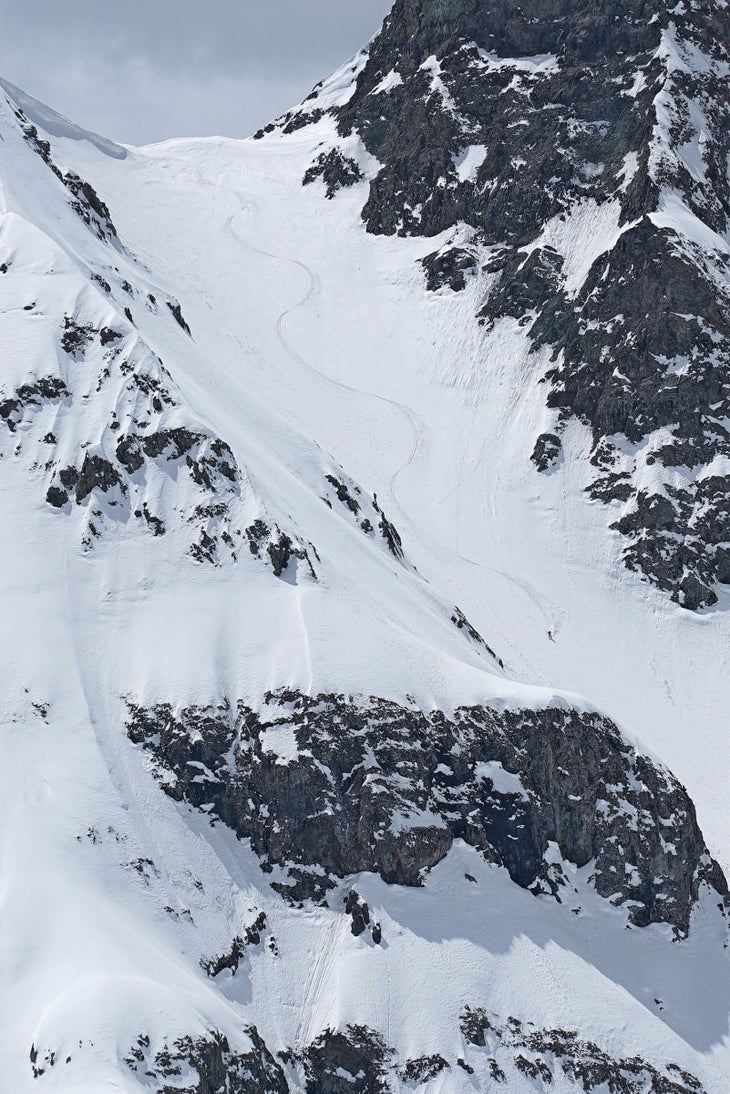 Like many young skiers, Kauf grew up watching Warren Miller ski films. Unlike most skiers, though, she grew up watching her parents star in some of those films. Her mom, Patti Kauf, was in "Born to Ski"(1991), and both of her parents were featured in "Fifty" (1999), Warren Miller's 50th anniversary film where Kauf and her brother, Skyler, were on set as toddlers. So, when she got invited to be in her own WME movie, her first reaction was "Oh my god, Mom, guess what, guess what, guess what?" The chance to fulfill a childhood dream was way too good to pass up. 
For this segment, filmed in Silverton, Colo., Kauf was joined by two professional big mountain skiers, Lorraine Huber and Connery Lundin. Not being a big mountain skier herself, Kauf says she was "definitely a little intimidated" at first, but that didn't last long. Both Huber and Lundin are world champions in their sport and have experience in front of the camera, so they coached Kauf on what to do and what not to do throughout the week. Early in the week, it was just the girls, and Huber quickly became a role model for Kauf. At the end of the day, they were all just skiers who loved what they do, and Kauf says everyone was easygoing and fun to be around.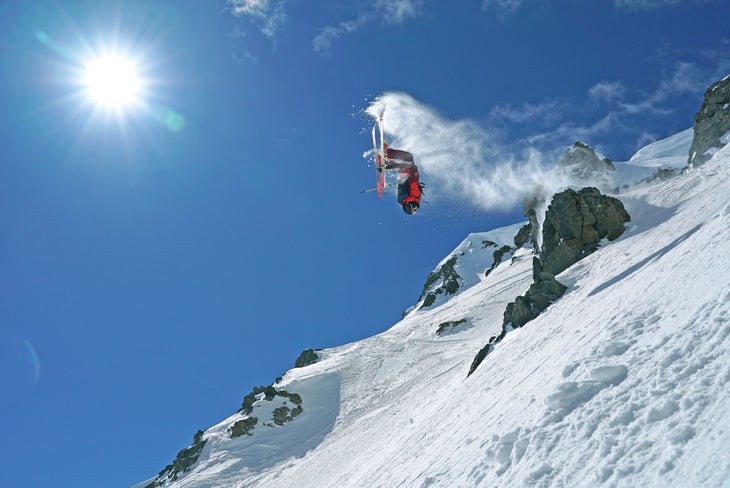 After a few days skiing runs off of Silverton Mountain's one lift, the group took to the skies for some signature Silverton heli-skiing. This was Kauf 's first time in a helicopter, but it certainly won't be the last. She admits she was more than a little nervous getting ready to descend some daunting vertical, but then she looked up to see cameraman Tom Day leaning precipitously from the heli door to get the shot. She told herself, "Oh my god, if he's hanging out of a helicopter, I can't be nervous!"
When you're deep in the snow of the Rockies, it might be easy to forget that you're actually on the job. When the camera is on the other side of the hill, Kauf and the other athletes had the freedom to ski the line their hearts desired—with some guidance from the crew, of course. Other times, film crew guys Day, Ian Anderson, and Jeff Wright were looking for specific shots, and they'd pick out the exact spots they wanted the athletes to make turns. In some moments, the instruction was along the lines of "Make a right turn exactly at that piece of snow, otherwise you ruin it," laughs Kauf. No pressure.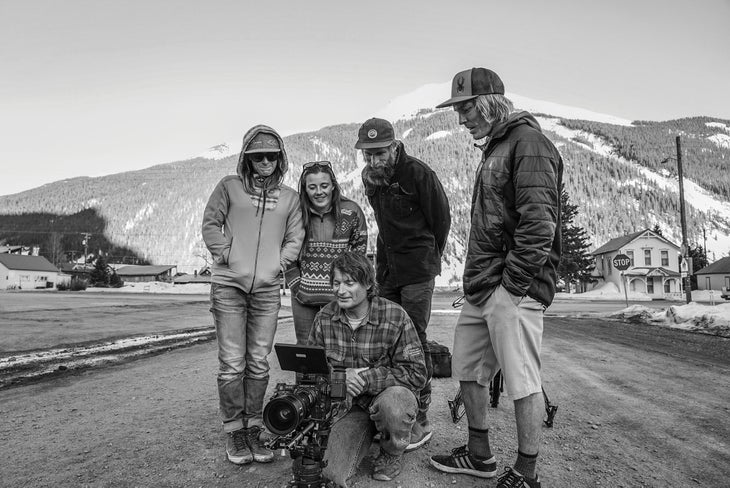 Silverton Mountain is nestled in the San Juan Mountains of southern Colorado. With a peak elevation of 13,487 feet, Silverton is the highest and steepest ski area in North America. There's only one two-seater ski lift sans safety bar, so it's not a mountain for the faint of heart. "Up until this winter, I honestly didn't know a ski mountain existed there," Kauf admits. Silverton flies under the radar, but is well-known to big mountain skiers as a great place to get guided backcountry experience and spectacular heli-skiing views. Needless to say, it's on her radar now.
More from the Special Edition of SKI Magazine: Raising Rippers
Where to go – Silverton, Colo.: 
Getting There 
Silverton Mountain is located six miles from the former silver-mining town of Silverton, Colo. The closest airports are Durango (63 miles south) and Montrose (64 miles north), both of which host direct flights from various hubs in addition to Denver. Denver International Airport is 380 miles north in the winter—or about an eight-hour drive. A four-wheel-drive car is highly recommended. However, there's no need to rent a car once you're in town, as there are shuttles to the mountain and the town itself is delightfully walkable.
Lodging and Dining 
The newly renovated Wyman Hotel sits on Main Street in a historic 1902 building that's close to dining, shopping, and bars. The 16- room boutique hotel offers six rooms types, including options with single or double bunk beds for a maximum occupancy of five. For dinner check out the Avalanche Brewing Company for from-scratch pizzas and craft beers plus wraps, tacos, and salads. Bonus: Avalanche is moving to Main Street in November 2019, where it will double its brewing capacity and triple its kitchen space.
SKI's review of The Wyman: The Classiest Hotel in Silverton
Originally published in the print version of SKI Magazine's Special Edition for "Timeless," presented by Volkswagen. Find out when the movie is coming to your town and buy tickets.