You Can Now Finally Ski Denali With a Guide
Telluride-based Mountain Trip has run two guided ski descents on the 20,310-foot peak since debuting the offering in May.
Heading out the door? Read this article on the new Outside+ app available now on iOS devices for members! Download the app.
Ski mountaineering enthusiasts now have a big new objective to add to their bucket lists—one we're guessing you might have heard of. Mountain Trip, a Telluride-based guiding company, now offers guided ski descents of a little peak in Alaska called Denali. The first team departed basecamp on May 24 and dropped in to make historic turns in early June. Another Mountain Trip team followed their success by skiing off Denali's peak later that month.
"I was watching it on a Garmin inReach mapping application, and when I saw the track drop from the summit down this big 1000-foot face, I jumped out of my chair," says Todd Rutledge, a co-owner of Mountain Trip, detailing his initial reaction to the first descent. He notes that while the words that came out of his mouth that day probably aren't publishable, they were undoubtedly "exuberant."
Both teams climbed and skied the classic West Buttress route on Denali. The trips began at the Kahiltna Glacier basecamp and took climbers through another four camps before they made the final summit push, 20,000 feet above sea level. There's rarely an average duration for an alpine route, as mountaineering often entails waiting for safe weather windows (ascents of Denali without skis can involve up to 22 days in the field). Mountain Trip's first guided group took advantage of their increased mobility as skiers, though, making it to the peak and back in just 12 days.
Hiring a guide for a notable descent like Denali isn't a free ticket to the top. To climb and ski a peak like Denali, you need considerable mountaineering experience—glacier travel knowledge is a must, as is a solid fitness base. Skiing off the peak isn't the powder-fest you'd expect from watching ski flicks, either; both parties encountered boiler-plate ice, windblown terrain, and other not-so-savory conditions. Aaron Diamond, the lead guide on the second descent, notes that his clients spent "a year or so" readying themselves for Denali.
Mountain Trip offers a range of backcountry skiing and mountaineering courses to prepare clients for serious objectives. At basecamp, the company's guides review mountaineering skills with their clients to ensure everyone's up to speed. While Mountain Trip doesn't supply personal gear, they do include detailed packing lists with their trip descriptions. Shared gear, like tents, sleds, and GPS trackers, comes with trip packages. Access to Uphill Athlete's alpine training program is also bundled with a trip purchase.
Good to Know: How To Go No. 2 While Skiing Alaska's Tallest Peak
Before these descents, National Park Service (NPS) permitting issues mired the prospects of potential guided trips. Historically, Mountain Trip has held permits to take traditional mountaineering clients to Denali's summit. These permits were restrictive, though; they didn't allow guides to support unroped alpine travel. This constraint barred guides from taking clients down Denali on skis, as ropes aren't conducive to skiing certain portions of the descent. "Nobody has ever been able to guide it [on skis] because you could never take the rope off," says Bill Allen, the other co-owner of Mountain Trip.
Noting that many of their clients were interested in taking a crack at Denali on skis, Allen and Rutledge began petitioning the NPS to alter the rope rule in 2006. Their efforts included test ski mountaineering trips up Denali to demonstrate that ski guiding was feasible in the terrain. Negotiations hit a standstill in 2011 when the NPS sent a letter to Mountain Trip, stating "we don't feel that unroped skiing could ever be safer than traveling on a rope," as paraphrased by Rutledge.
Rutledge and Allen's fortunes changed with the appointment of new NPS leader Tucker Chenoweth, the current south district ranger for Denali Park. "He's a skier, he's an avalanche education guy. And he really got it, and so he's been a really good partner," says Rutledge of Chenoweth. 
With Chenoweth's support, Rutledge and Allen once again pressed the issue. After pushing through a deluge of emails, phone calls, and meetings, the NPS granted Mountain Trip its wish. In 2019, the NPS dropped the rope rule for skiers, 13 years after Rutledge and Allen initially began their pursuit.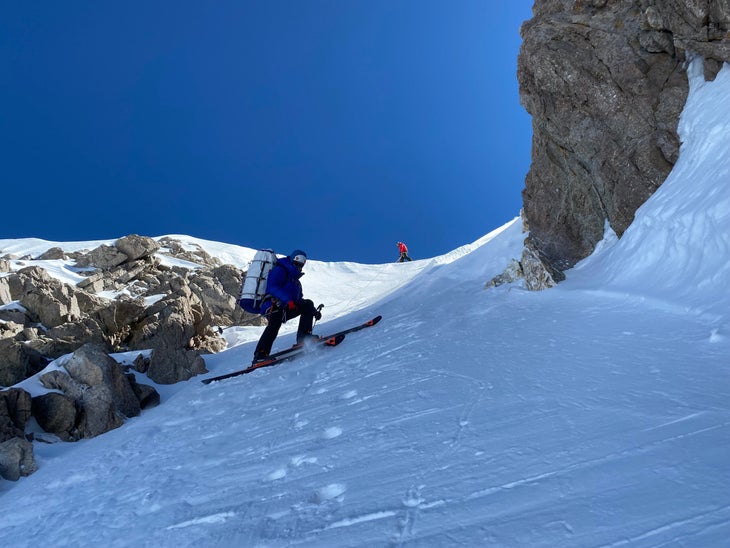 Since re-evaluating the rope rule, the NPS has maintained a positive relationship with guiding companies. "These days, the rangers and NPS seem very supportive of ski guiding on the mountain," says Aaron Diamond, who led Mountain Trip's second guided ski descent on Denali.
These Mountain Trip teams weren't the first to ski off Denali, a fact that neither Rutledge nor Allen are remotely shy about. Instead, they were the first guided teams to do so. Denali was first descended by skiers in 1972. Since then, ski mountaineers have scrambled to tick off the 20,310-foot peak's countless lines. The significance of Mountain Trip's efforts lies elsewhere, in the land of new guiding opportunities. 
For a Laugh: Don't Tell My Bucket List, But I'm Too Scared to Ski Alaska
Clients seeking a ski-mountaineering first formed Mountain Trip's second guided descent. The British group of two skiers and one filmmaker set out with the goal of summiting and skiing the highest peaks on each of the seven continents. No known mountaineer has yet to ski down all the seven summits.
Their project, The Last Ride, is being documented by cinematographer Jon Moy. Once they've completed their summit tour, they aim to produce video content that raises awareness about climate change, set against the world's most imposing peaks.
"We're covering the whole story from the human interest perspective and from the scientific objective-data perspective, as well as creating something exciting and interesting for people to want to engage with," says Will Tucker, one of the skiers in "The Last Ride." To realize this vision, they've spoken with experts in the climate field, including Nobel Prize-winning scientists. Tucker and Moy are joined by skier Ed Salisbury, who's credited with spearheading the project.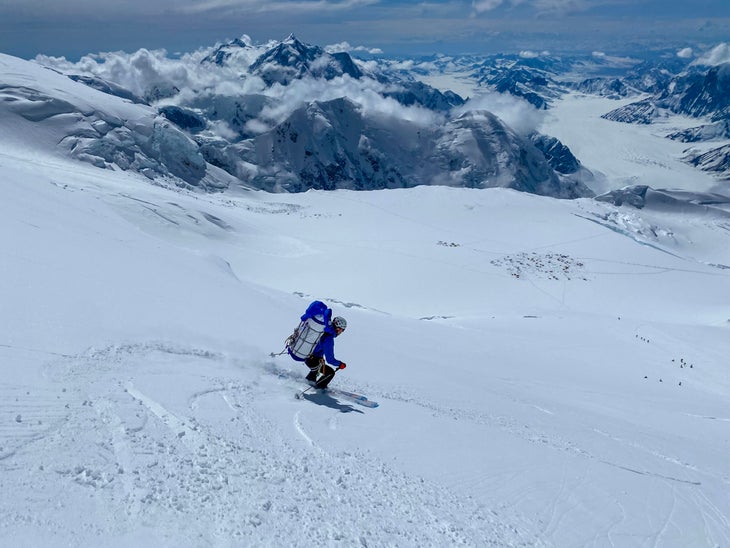 "The Last Ride" team is the first of many to take advantage of Mountain Trip's Denali ski guiding service, which is a boon to Rutledge and Allen; more clients means more paid opportunities for the guides they employ. The co-owners of Mountain Trip are guides themselves, and they've strived to create a stable work environment in an often unstable field. 
Their efforts have yielded positive results. Six Mountain Trip guides recently purchased homes in the Telluride-Ouray area. "That is one of the things that I'm most proud of. That we've been able to make the dream possible for our friends," says Rutledge. In addition to Denali, Mountain Trip offers guided skiing in the Telluride backcountry, as well as ice climbing, mountaineering courses, and international trips. Visit the website to find out more about their offerings and read Denali trip reports.