Focus 2019/2020
The best pictures to have graced the pages of SKI Magazine this past winter.
Heading out the door? Read this article on the new Outside+ app available now on iOS devices for members! Download the app.
So Close, Yet so Far Away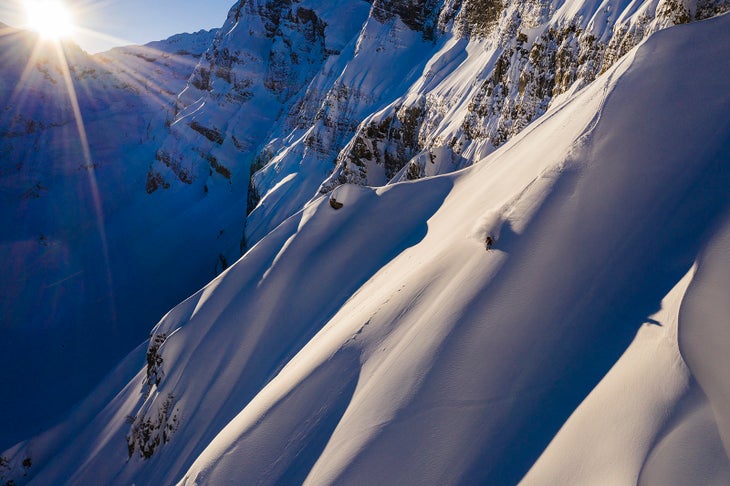 Johan Jonsson rips down a field of Swiss powder just as the sun starts to peak over of the mountains outside of Engelberg. "It's such a nice place to be right at sunrise," says photographer Oskar Enander. There is no glory without sacrifice, however, as the duo went to great lengths to capture this snap. "To reach it, we had about a two-and-a-half to three-hour tour, so we had to start around 5:30 a.m.," Enander explains. The two have worked together countless times over the years, and even though both of them live in Engelberg (half the year for Jonsson), this was Jonsson's first time skiing this face, giving truth to the notion that sometimes the best things are right under your nose.
DJI Mavic 2 Pro drone, Hasselblad 28mm f/2.8 lens @ f/6.3, 1/1000sec, ISO 100
A Different Perspective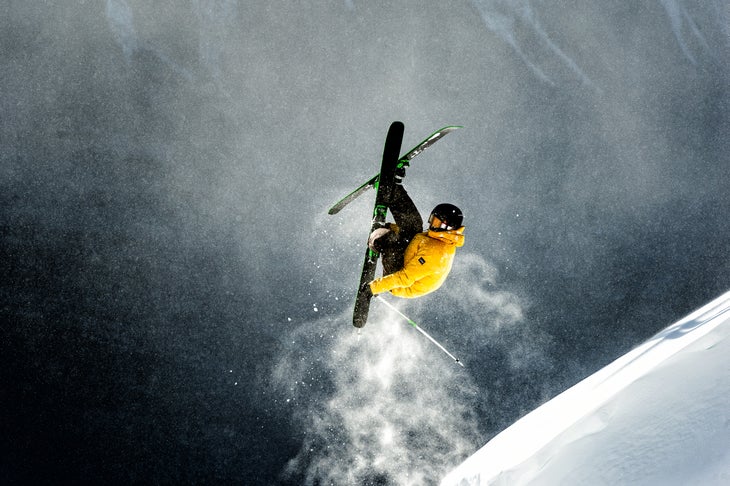 Ever wonder if the Canadian Rockies look as good upside down as they do right side up? Canadian freeskier Cole Richardson decided there was only one way to find out. On a crisp day last December, the up-and-coming 17-year-old took to the skies and earned some 360-degree views at Alberta's Lake Louise. According to photographer Graham McKerrell, Richardson, the winner of the 2019 Quiksilver Young Guns Contest, was exceptionally comfortable in the air. We're not surprised.
Nikon D4 body, Nikon 70-200 VRII 2.8 lens @ f/8, 1/1600sec, ISO 400
Where There's Wine, There's a Way
Father and daughter photographer-athlete duo Jeff and Amie Engerbretson were strolling through the town of Mürren, Switzerland in search of lunch after a morning of skiing in the Jungfrau region. Mürren, a classic Swiss village that sits on a 3,000-foot cliff with amazing views of the 13,025-foot Eiger, is only accessible by tram. Thankfully, the residents don't have trouble transporting wine to this remote mountain town. The younger Engerbretson spied this scene and urged her father to document the moment. "It's a great snapshot of the laidback joy of the Alps that I love so much," Amie Engerbretson says. "I suppose you gotta get your wine to your friends the fastest way possible."
Canon EOS-1D X Mark II, Canon EF 16-35mm f/2.8L III USM lens @ f/6.3, 1/1250sec, ISO 400
Second Time's the Charm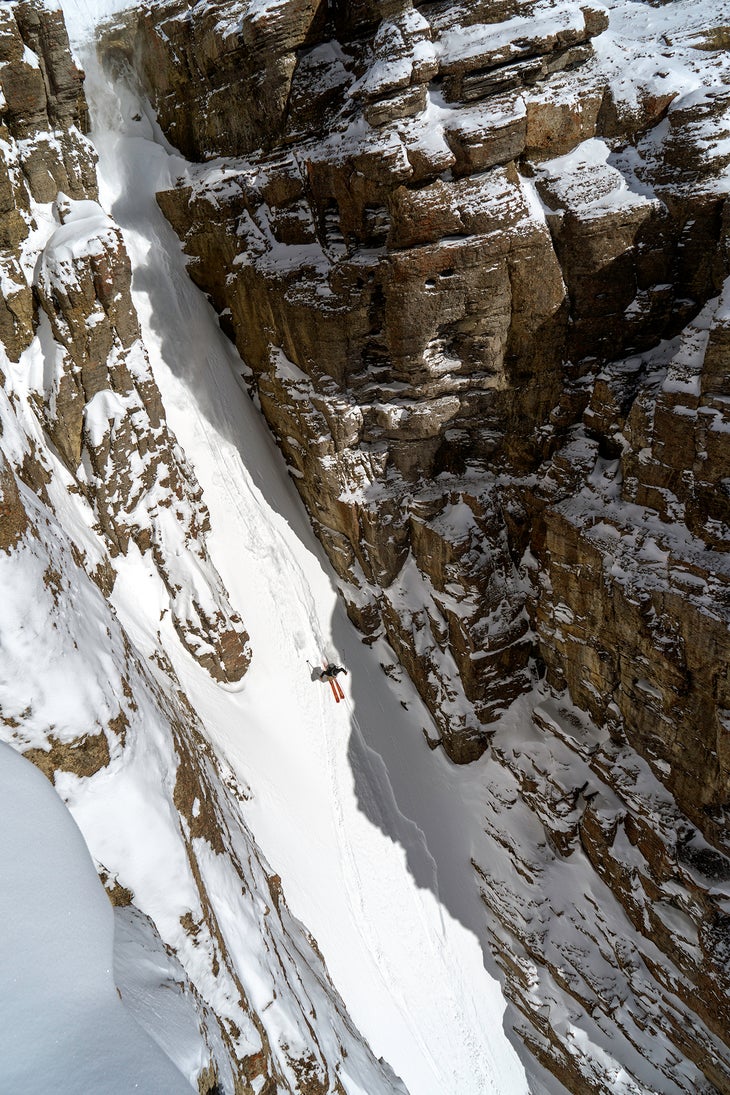 While filming the Jackson Hole segment of Warren Miller's 70th movie,Timeless, photographer Chris Figenshau captured this snap of athlete Caite Zeliff dropping the famed Gothic Couloir for her first time. What you can't see is that Zeliff and fellow athlete Forrest Jillson had trekked to this same spot the week before, and Zeliff opted to take a different route, as the Gothic "starts with a 15- to 20-foot drop that makes it nearly impossible to check your speed once inside," Figenshau explains. "The commitment level is high." Zeliff returned the next week to slay the dragon, with much success.
Sony Alpha a9 body, Sony Vario-Tessar T* FE 24-70mm f/4 ZA OSS lens @ f/10, 1/1600sec, ISO 200
Forest For the Trees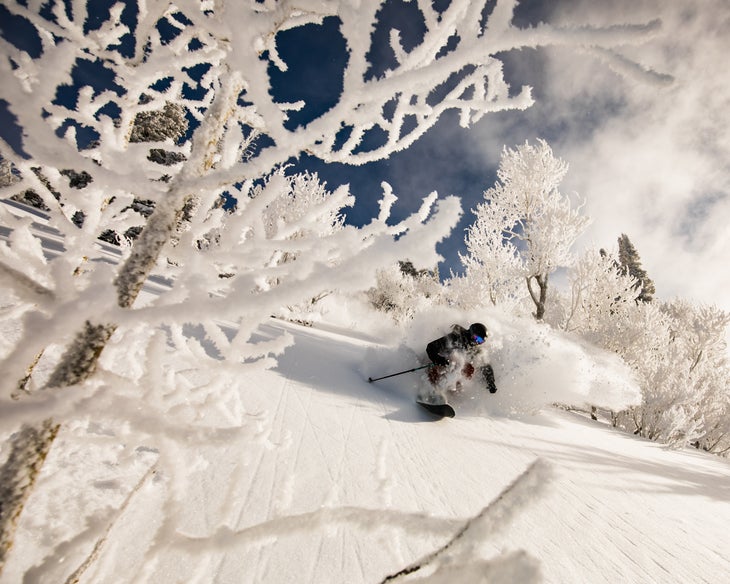 The morning after a storm is magical in so many ways, not the least of which is how the snow ices over on the trees, creating a stunning snow globe effect. That's what photographer Christopher Whitaker and athlete Carston Oliver were treated to one clear morning after a January storm dropped two feet on the Wasatch mountains outside of Brighton Resort. Whitaker, who's based in Salt Lake City and shoots back there often, reveals that the rimed aspens are actually pretty unusual. "I honestly can't think of any other time I have seen aspens rime up like this," he says. "We just lucked into deciding to shoot in this zone on this particular day."
Canon EOS 5D Mark IV, Canon EF16-35mm f/4L IS USM lens @ f/5.6, 1/2000sec, ISO 200
That's A Bird's Eye View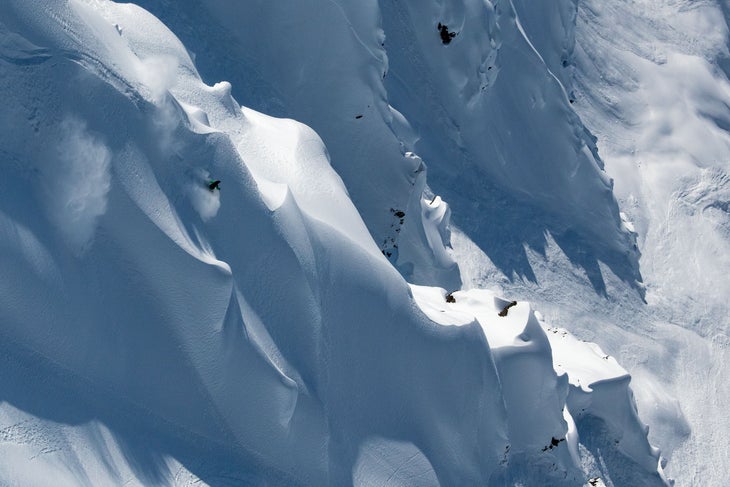 This mouth-watering image was shot in Alaska during the filming of Teton Gravity Research's," Winterland". Photographer Nic Alegre hovered above athlete Nick McNutt in a helicopter equipped with a gyro-stabilized camera as he ripped a line outside of Girdwood in a zone that the crew had come to call Slayer Bowl. "Our pilot had myself and cinematographer Jon Riley in perfect position, allowing us to attain the perspective we had hoped for," Alegre says. "Nick shredded it and it was definitely one of the highlights of this year's first AK trip."
Nikon D4S body, Nikon AF-S NIKKOR 24-70mm f/2.8G ED lens @ f/8, 1/800sec, ISO 320
Don't Fence Me In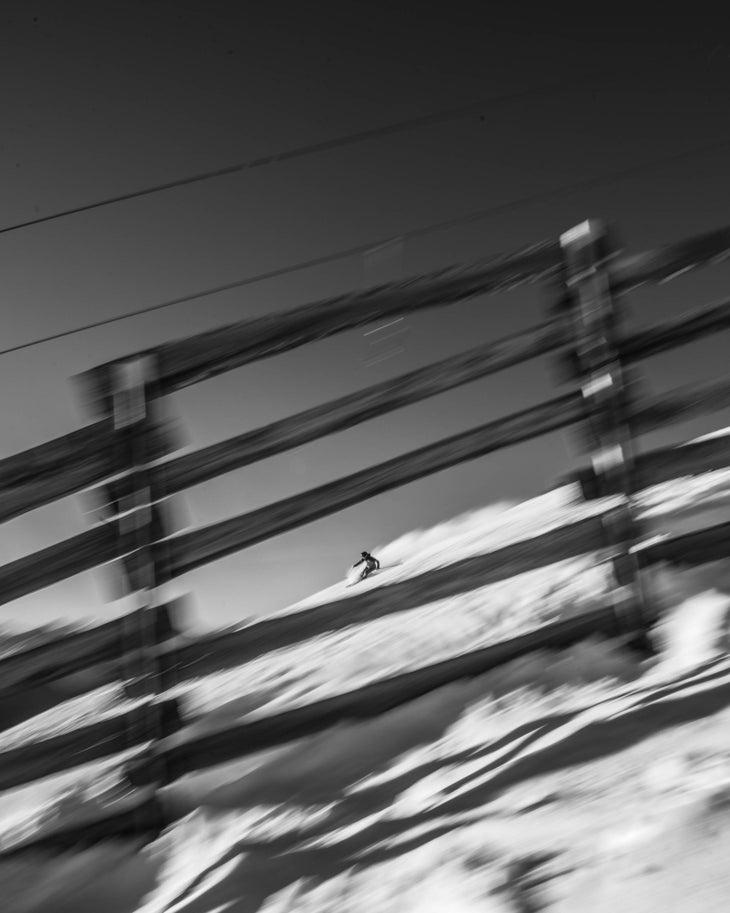 Sometimes the best images come from a lightning bolt of inspiration at just the right moment. This is one of those images. While shooting an advertising campaign at Lake Louise, "The potential for this image just jumped out at me," says B.C.– based photographer Rueben Krabbe. He was taken aback by the striking combination of the moody light conditions and the way the fence's shadow played on the snow. He snapped a couple frames of Liberty Skis athlete Kate Targett and the rest is history.
Nikon D850 body, Nikon 16-35mm f/4 lens @ f/22, 1/10sec, ISO 31
Homegrown Adventures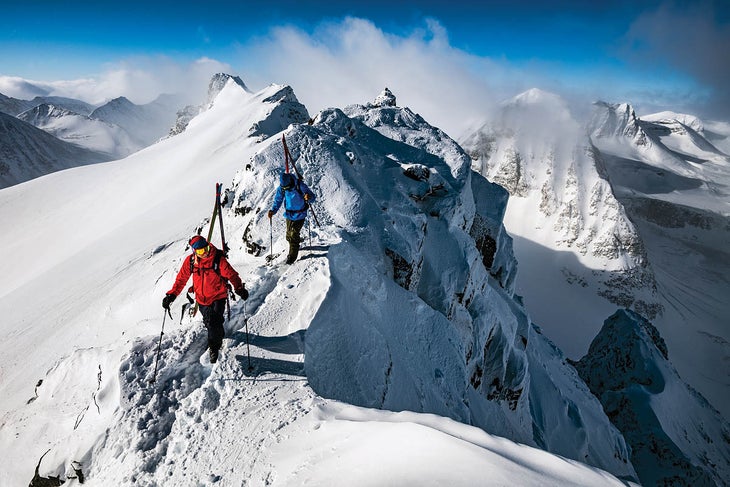 Swedish photographer Mattias Fredriksson has spent the last 25 years capturing world-class athletes skiing on far-flung slopes around the world. Yet some of his favorite images were shot right in his own backyard, like this one of his friends Patrik Strompsten and David Kantermo hiking the ridge on Sweden's 6,240-foot Nipals Peak. A late- March storm had just dropped several feet of snow, and the Arctic light that would become unyielding later in the spring was still soft and pure. After this snap, the trio skied down to Strompsen's Niehku Mountain Villa, one of the few lodgings in the region. "It is really something with the remoteness, the wild mountains, and the lack of infrastructure," says Fredriksson.
Nikon D850 body, Nikon 16-35mm f/4 lens @ f/11, 1/640sec, ISO 125
Skimming The Surface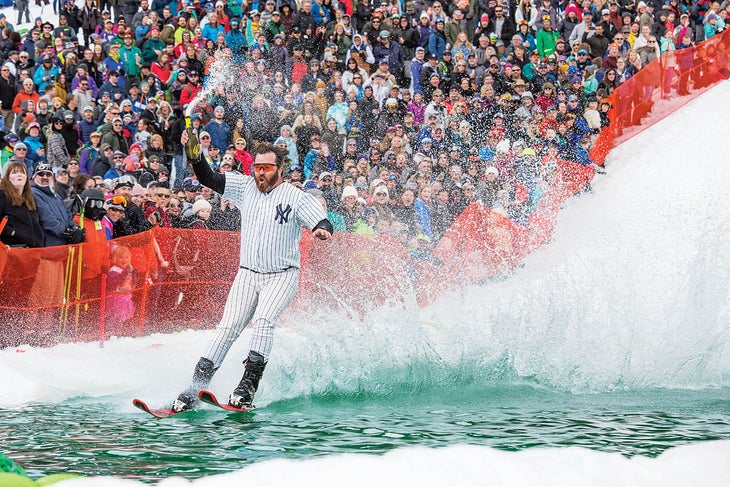 To nab pond-skim gold, you have to put on a show. No one knows this better than pond-skim legend Billy "Badness" Marcial ,a Whitefish local who has stood atop many a podium at the resort's closing- weekend contest. He didn't win this time, but he had a run for the history books nonetheless. Marcial's getup belonged to his late father, who wore it just a few years earlier while competing as the pond skim's oldest contestant. The younger Marcial capped this paternal ode with a trail of champagne and a smooth landing on the other side of the water. "You never know what kind of images you are going to get when photographing the pond skim," says Whitefish–based photographer Craig Moore. "I'm just happy my camera didn't get soaked!"
Canon EOS 5D Mark III body, Canon EOS 70-200 f4 IS USM lens @ f/8, 1/1000sec, ISO 400
More great photos: Focus 2018/2019