Girls' Trip to Ski Santa Fe
This photo gallery will change what you think of skiing in New Mexico.
Heading out the door? Read this article on the new Outside+ app available now on iOS devices for members! Download the app.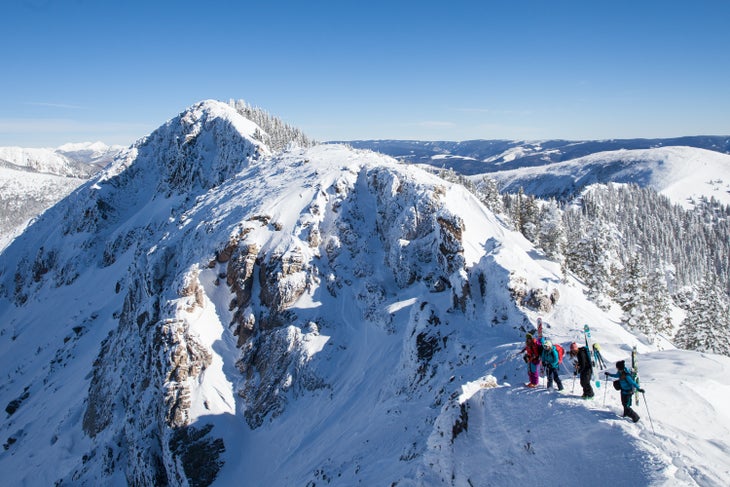 Lynsey Dyer, Caroline Gleich, Sophie Danison, and Kt Miller peer into Nambe Bowl in the backcountry just outside of Ski Santa Fe in New Mexico.
In January, we all met up to take advantage of the powder in the Southwest and make video about skiing. Kt and Sophie would film, Caroline and Lynsey would ski, and I would take photos and write about the trip.
Photo Credit: Leslie Hittmeier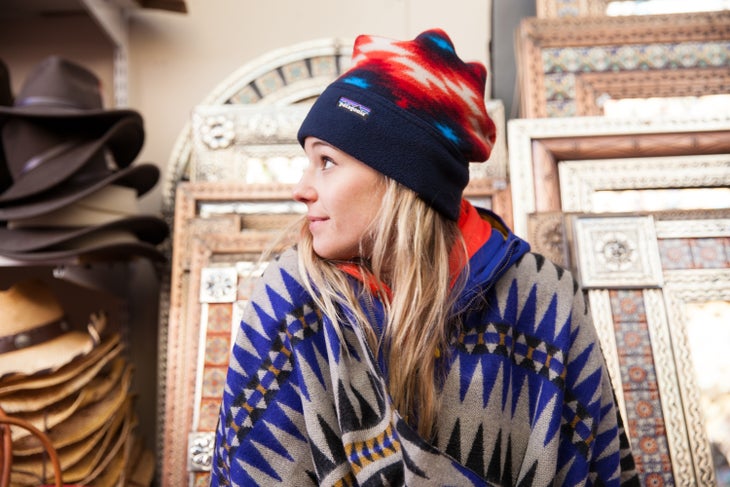 We nicknamed Caroline Gleich "C-Rex" because, frankly, the woman gets shit done. She kept us on track throughout the week, ordered pizza when we were hungry, and made sure we were on time. She's an incredibly ripping skier and experienced ski-mountaineer. On top of all that she's tough as hell and has an impressive pain tolerance—she toured and skied for two days with a fractured foot.
Photo Credit: Leslie Hittmeier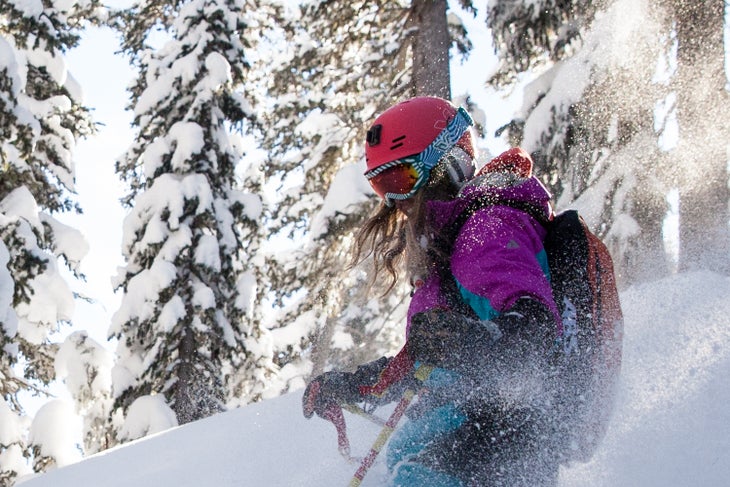 Lynsey Dyer was our creative genius. She had a constant stream of ideas coming in—some great, some a little out there—and her experience from producing Pretty Faces was invaluable. She made sure we weren't being lame-asses, saying things like, "Guys, we should probably do another lap today," or "Let's do that shot again." She's such an aggressive and fast skier, but manages to look effortless and beautiful while charging.
Photo Credit: Leslie Hittmeier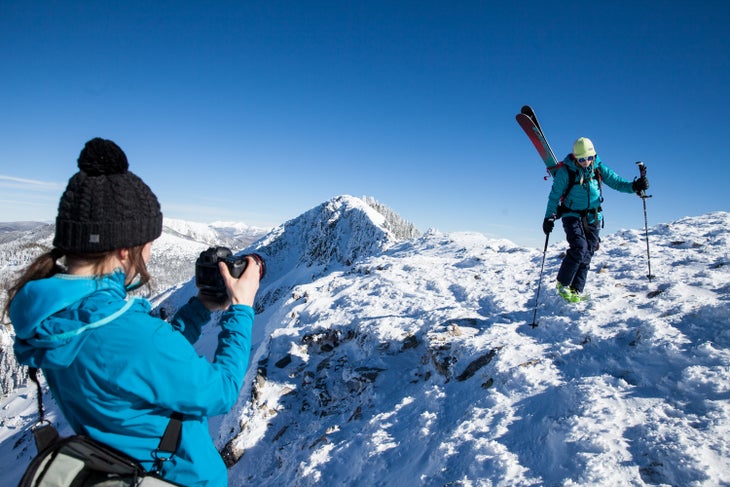 Kt Miller. Kt is an ambassador and subtle activist for our environment. She's a self-sufficient ski-mountaineer with no need for a guide to tell her how to climb a mountain. She's a master of photography and filming, and a damn good skier. She's someone you want on your team. Plus, she's guaranteed to supply copious amounts of hot tea and compliments when you're feelin' down on the skin track.
Photo Credit: Leslie Hittmeier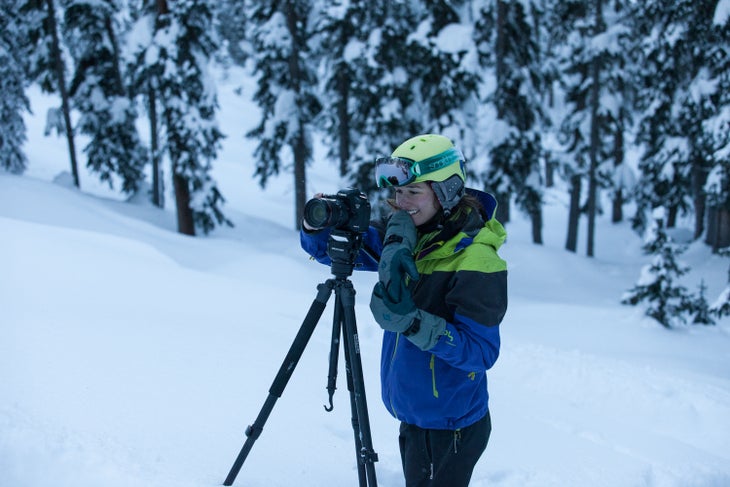 Sophie Danison is an up-and-coming filmer and editor. She just graduated from college a year ago, and has already worked on the editing team of Pretty Faces and is now the mentee of Miss Lynsey Dyer. She's extremely talented and just beginning to tap into her potential.
Photo Credit: Leslie Hittmeier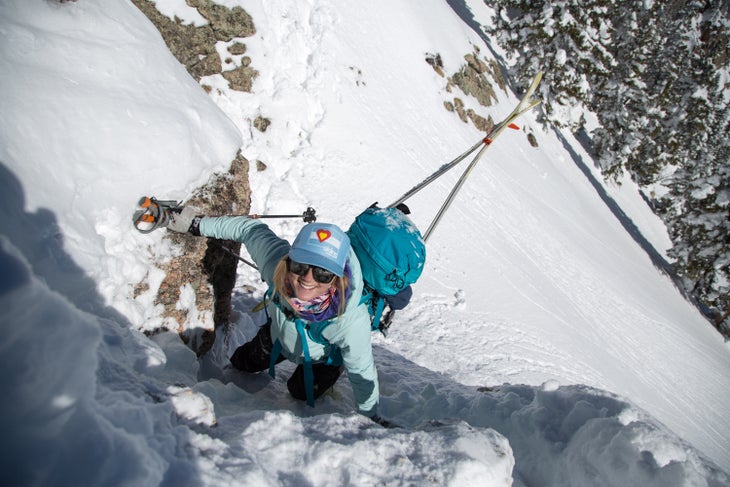 I work at Skiing Magazine and was invited along by Caroline to snap some photographs and write. I remember being so psyched to meet all these girls I've looked up to for so long. I've never been on a film project before, and it is a lot of work—we moved slowly, we disagreed, but everyone worked equally hard to get this project done.
Photo Credit: KT Miller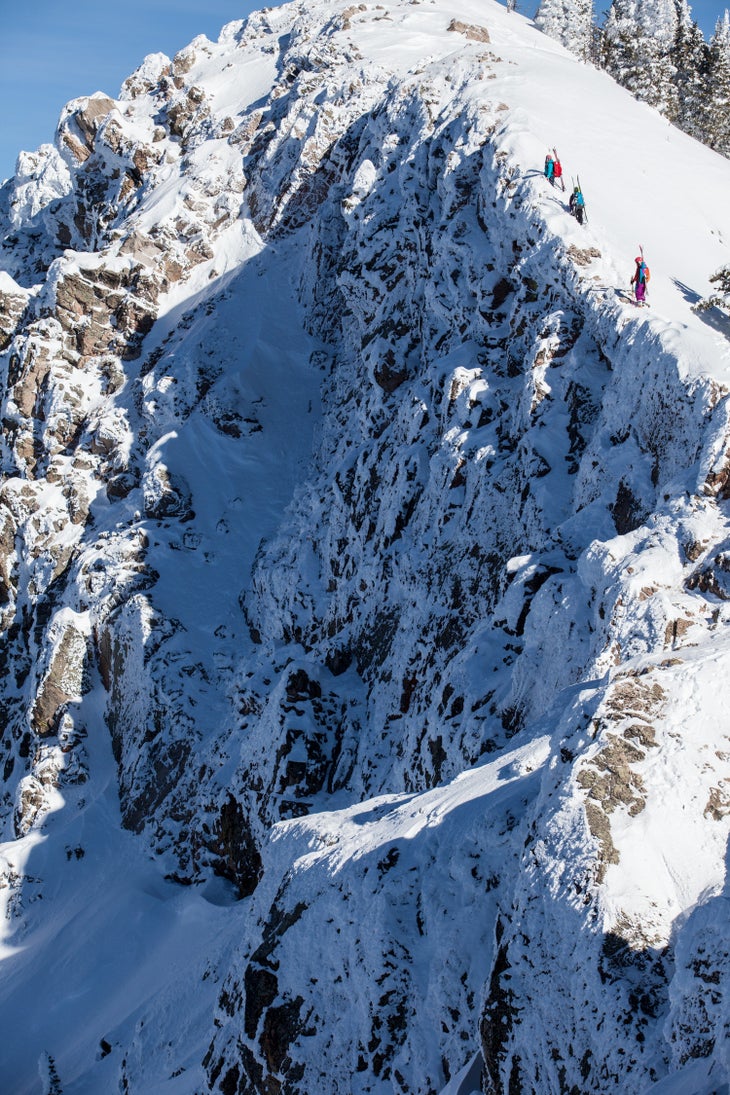 None of us thought the backcountry off the resort was going to be so gnarly. It was really amazing, but at the same time difficult because there was no real safe place to assess the snowpack, and we were new to the area. We had to walk a long way to get to a mellow(er) treed area that we felt safe skiing.
Photo Credit: Leslie Hittmeier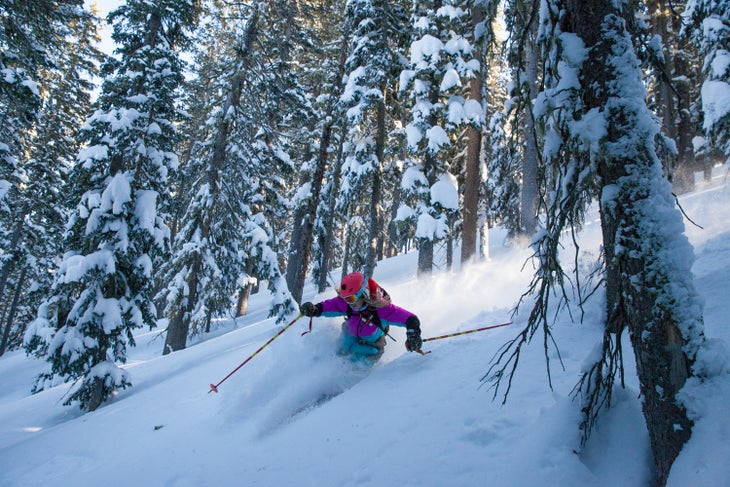 Lynsey, making the shady trees look good. This was the last bit of light we saw that day.
Photo Credit: Leslie Hittmeier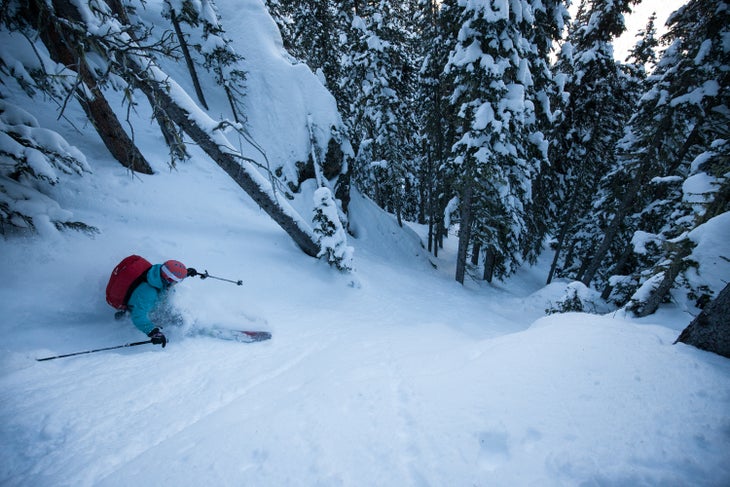 Caroline Gleich getting into the steepness off the backside of Ski Santa Fe.
Photo Credit: Leslie Hittmeier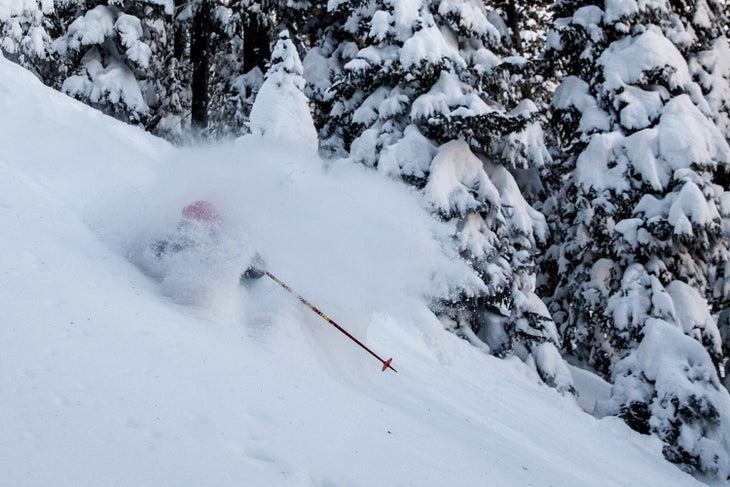 Lynsey gets pitted in the New Mexico pow.
Photo Credit: Leslie Hittmeier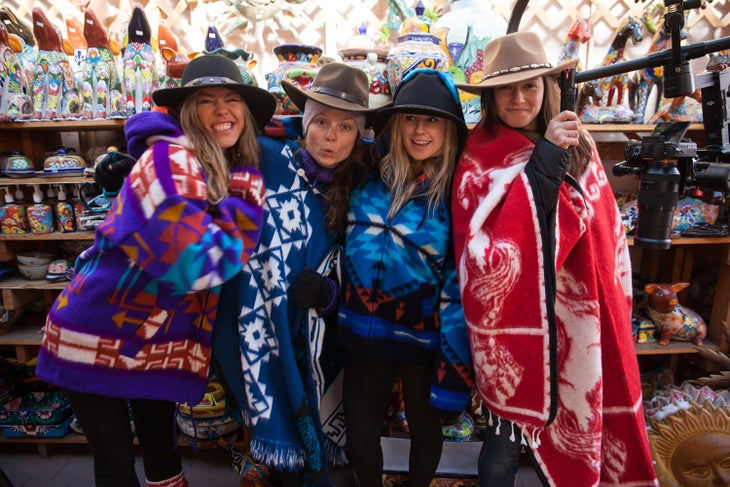 Left to right: Lynsey, Kt, Caroline, and Sophie. 
Photo Credit: Leslie Hittmeier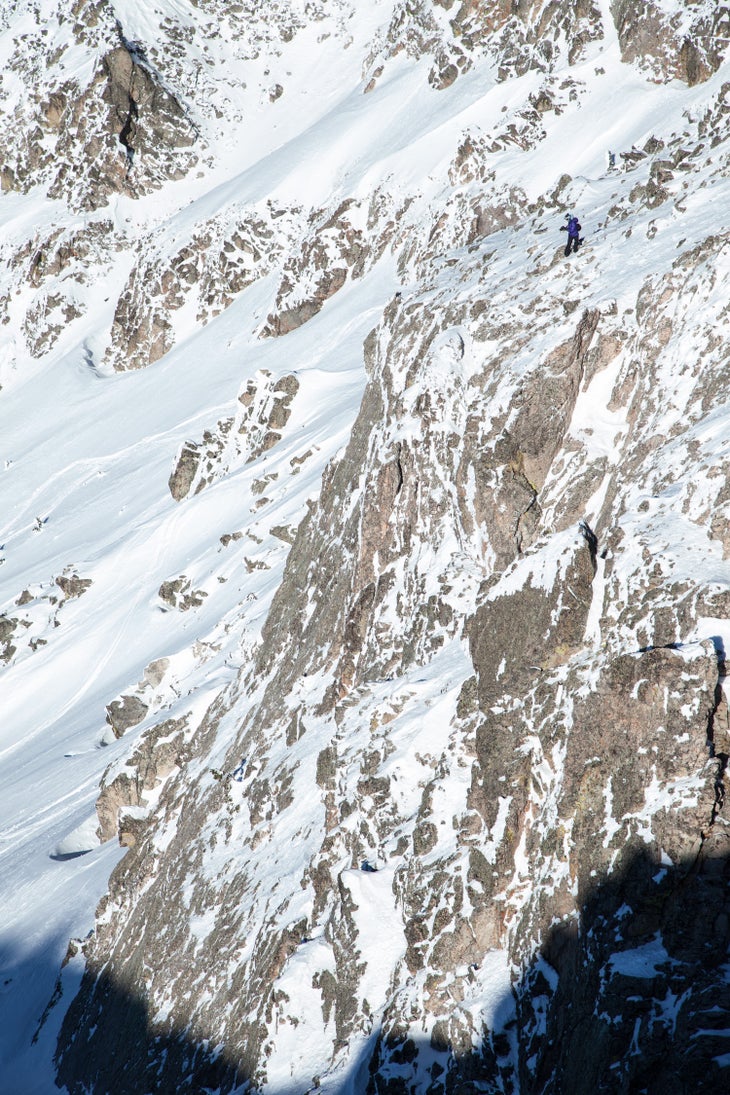 Kt Miller scooting closer to the edge to set up her shot.
Photo Credit: Leslie Hittmeier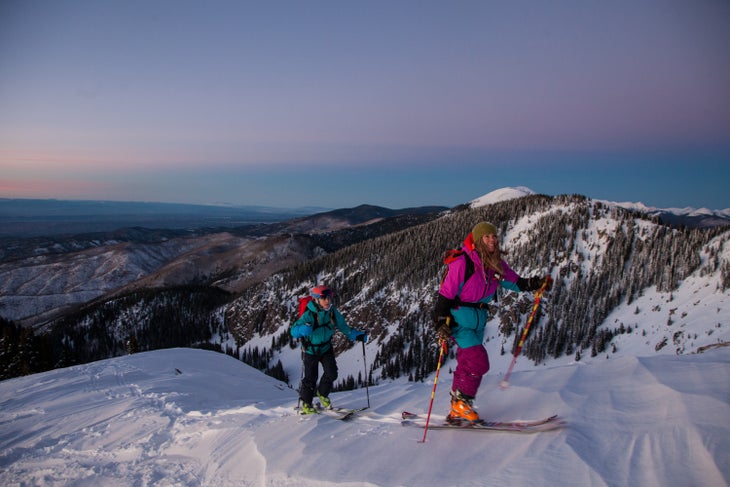 Being two completely different types of skiers, Lynsey Dyer and Caroline Gleich really had no reason to collaborate. Lynsey skis mega lines in AK while Caroline climbs ski-mountaineering routes in Cham. I'm not sure why they called each other to organize this trip, but something tells me it was a mixture of respect, curiosity, and the search for feminine companionship. 
Photo Credit: Leslie Hittmeier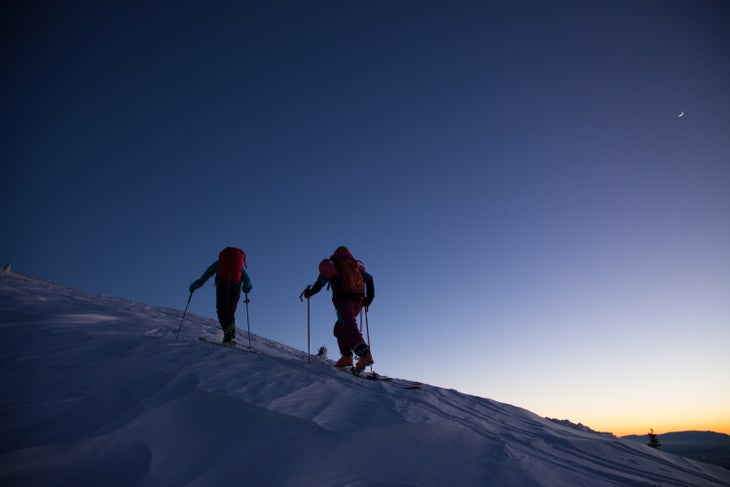 Lynsey and Caroline working hard until the last light.
The behind-the-scenes story of this shot is representative of what it's like to make a ski video. This was our last day of filming and we had all just skied into Nambe Bowl. When we realized we could probably hike out fast enough to film skiing at sunset, we started booking it. We made it to the top and the sunset ski shot wound up being the one that ended the video.
Photo Credit: Leslie Hittmeier