Skiing Will Never Be The Same: The Life and Death of Shane McConkey
On the surface, there was the nose picking on camera, the scatological humor, the pranks, and the endless self-mockery. But Shane McConkey was no lightweight. He revolutionized skiing three times—challenging what we ski, how we ski, and even how we think about skiing. So when cinematographers, ski manufacturers, and skiers wanted to predict the future, they looked to him. After a tragic accident this past spring, skiers came to one conclusion: Skiing Will Never Be The Same.
Heading out the door? Read this article on the new Outside+ app available now on iOS devices for members! Download the app.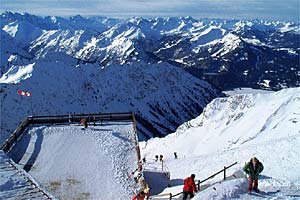 On March 26, Shane McConkey began his day prepping for a ski-BASE jump off the Sass Pordoi cliff in Italy's Dolomite Mountains. He was probably confident in the moments before takeoff. If you look at previous films from Matchstick Productions, for whom he was shooting his 16th segment, you can see McConkey's swagger. Before leaping, he'd say, "Ready, set, see ya." Jumping off huge cliffs, like this 1,920-foot precipice, was something McConkey had done hundreds of times.

J.T. Holmes, a close friend and longtime jump partner of McConkey's, watched him throw a double back flip. McConkey had planned to release his skis after the second flip. He favored old Tyrolia bindings for their ease of release and searched for them on eBay. On a typical jump, once his skis were off, he would glide away in his wingsuit, a stretch of fabric webbing that mimics a flying squirrel. When the glide ended, he would unfurl a parachute to float him back to earth.

But on this jump, McConkey struggled to remove his skis midflight. He tugged on quick-release straps leashed to the bindings but they wouldn't pop. Then he purposely turned himself upside down in an attempt to disengage the bindings by hand. They finally unhinged but the maneuver burned up valuable seconds.

By the time McConkey freed himself from his skis and turned into the rudimentary facedown BASE-jumping position to throw his pilot chute, which deploys the main canopy, he'd been free-falling for 12 agonizing seconds. The ground rushed toward him. His chute never filled with air, never pulled him aloft, and McConkey struck the snow below the cliff. He was killed upon impact.

I was skinning up a peak in Colorado's Gore Range when texts of the news began pouring onto my phone. The first came from Tom Bie, who'd written a feature for this magazine after McConkey bolted bindings onto water skis and slid sideways down a 2,000-foot, 45-degree spine at 40 miles an hour in 2003. I read other messages from the skiing universe expressing pain and disbelief. Then came the intercontinental phone calls, an outpouring of sadness manifested as confused rage. Within days, resorts from La Parva, Chile, to Squaw Valley, California, pledged to re-name iconic runs after McConkey. Squaw then held a massive memorial, complete with naked skiers jumping off cliffs in the Palisades, an homage to the man who had done so himself.

Which made me wonder: What kind of skier inspires the name changing of iconic runs, grief-inspired outrage, and huge tributes? Why did strangers rip him for leaving behind a young wife and three-year-old daughter? Why will skiers who have never heard of him really, really miss him? Who the hell was this guy?

In 1995, I flew to Gunnison, Colorado, to interview McConkey. We'd never met but I'd done my homework. I knew he was born in 1969 in Vancouver because his American parents were ski-bumming in Whistler. His father, Jim "Mad Man" McConkey, was himself an alpine star, performing in '60s ski films for Warren Miller; a six-person chairlift at Park City is named for him. His mom, Glenn, an elite slalom racer, toted Shane around the mountains in a backpack until she taught him to ski at age two. When Shane was three, Jim and Glenn divorced and Shane and his mother moved to Santa Cruz, California. For high school, he enrolled at Burke Mountain Academy in Vermont, a prestigious feeder of American ski racing. Then, at 16, McConkey broke his back at Junior Nationals. The U.S. Ski Team lost interest in him and McConkey reciprocated.

I knew that McConkey wound up on the Pro Mogul tour in the early '90s—it was his first run at notoriety. At a mogul contest in Vail that he hoped to win, he fell early in the first run and was eliminated. With nothing to lose, he hit a jump and reeled off a fat, glorious back flip. The crowd went nuts. Ski patrol did too. They kicked him off the hill, since inverted aerials were illegal at that sphincter-puckered time. McConkey, though, sneaked his way back onto the competitors' lift. He approached the starting gate, stripped, and bull-rushed the course naked, finishing in a spread eagle that was both very public and very pubic. Vail blacklisted him.

Which is why I was expecting to meet a loose cannon. This, after all, wasn't long after a Volant ad portrayed McConkey as some kind of hair-band jerk-off. The ad was a photo of him popping off a mogul with a sneer on his face, his long locks exploding up like he'd stuck a fork in an electric socket.

When we met at the airport, we hopped in a rental car for the drive to Crested Butte. He slipped some cool Euro electronica into the tape deck and corralled his hair into a mountain-man ponytail. Then he cracked spot-on imitations of Beavis and Butthead.

McConkey was there to shoot footage for an early Steve Winter film, The Tribe. I was there to follow McConkey and report a Powder magazine feature titled "The Planetary Snow Bohemians Will Save Us All." The article would angrily rebut the common insistence that skiing had been killed by snowboarding—by introducing the arrival of McConkey, Seth Morrison, Brad Holmes, Kent Kreitler, and the other young freeskiers who I thought could save skiing.

Eventually we wound up at a rambling dinner party at the ramshackle house that Winter and partner Murray Wais—who would later found Matchstick Productions—shared with a half-dozen skiers who slept in sleeping bags on the slanted floors. Everyone guzzled Pete's Wicked Ale, the beer of choice back then. A few stepped outside to toke beneath a lunar eclipse. There was a palpable sense that snowboarding was no threat, that ski culture was just fine in the hands of these pierced and tattooed Gen-Xers, but thanks for asking.

Winter, Wais, and I spent one day in Crested Butte's Phoenix Bowl filming Shane, who hiked like a mountain goat through knee-deep fresh before ripping down steep alleys between conifers. The day after, we snowmobiled several miles into the Ruby Range. While we watched from a lower basin, McConkey ascended an alpine ridge and commenced jumping. Front flips, back flips, 360s, 720s—he did them all, over a house-size cliff band. They were, by far, the most impressive airs I'd ever witnessed. For his final jump, McConkey climbed back up the ridge until he disappeared from sight, ditched all his clothes, and then threw a 40-foot, naked spread eagle. Though McConkey had a reputation for pranks—like sneaking into your hotel room to take a dump and not flush, or temporarily stealing all the cash from your wallet when you weren't looking and then secretly returning it—Winter didn't know it was coming until he, like the unsuspecting folks at Vail, got the full McConkey.

That capped my first 48 hours knowing Shane. Already he'd proven himself pioneering, ballsy, hilarious, and anything but a hair-band jerk-off. It was just the start.

McConkey's innovative spirit veered into rebellion, though it seldom got him in trouble. A few years ago, he came to a magazine editorial meeting attended by me and other members of the ski media. McConkey opined that young skiers want more images and fewer blocks of gray copy. As a writer and an editor, I snapped back that he had the "attention span of a fruit fly." We weren't going to throw down or anything, but there was some tension in the air. Shane chuckled graciously without retorting, and for a while I had the approval of all the wordy types in the room. But McConkey was right, of course. He presaged how contemporary skiers would demand their information—in visual bits and pieces.
His big rebellion came with equipment. In the early '90s, when every serious skier rode racelike 207-centimeter toothpicks, McConkey embraced fat skis. Fatties were derided as "chubby buddies" and were found mostly under the rear-entry boots of doctors and lawyers noodling down 30-degree pitches at posh BC heli-ski operations. McConkey's peers snickered at his affection for "old-guy skis" but he didn't care. He skied the widest board Volant made, the 87-millimeter Chubb, and won extreme championships in Crested Butte and Las Leñas. He wrote an editorial in a ski magazine that encouraged ski designers to fatten up.

The ski industry, scared shitless by the meteoric rise of the fattest possible boards (snowboards), eventually listened. Although some complained that face shots would be ruined by floating over snow instead of sinking into it, ski engineers finally put the surface area where it belonged, underfoot. Using his "chubby buddies," McConkey became the freeskiing world champion in 1996 and 1998. Other pros began to believe; Brant Moles won the World Extreme Skiing Championships in 1997 on fat Rossis specifically made for heli-ski customers. In between the contests, McConkey traveled the world, filming segments with MSP.

In 2001, Skiing listed McConkey as one of the top skiers in North America and readers voted him into the number-one spot. Powder readers voted him skier of the year three times. He finished second in the 1999 Winter X Games skiercross competition. It was a manic race, which Frenchman Enak Gavaggio won, but that wasn't the story. The story was that Shaun Palmer, snowboarding's enfant terrible, had decided to get into skiercross racing. Palmer crushed in the preliminary heats, earning himself a spot in the finals. But McConkey wasn't about to let a snowboarder win a ski race. After the start, he immediately began veering into Palmer's line. In those few seconds, McConkey's devotion to skiing was beamed through hundreds of thousands of TV sets. While ostensibly chasing after Gavaggio, McConkey, as if he had eyes in the back of his head, stayed resolutely in front of Palmer. McConkey finished second, but he achieved his larger goal of keeping a snowboarder off the podium.

Along with Kent Kreitler, Seth Morrison, Micah Black, and other peers driving the rise of Matchstick and Teton Gravity Research films, McConkey would be considered part of the second wave of freeskiing stars, following the original Glen Plake/Scot Schmidt/Mike Hattrup cabal. Proving he had truly arrived, a six-inch-tall Shane McConkey action figure was released in a package listing two of his nicknames, Pain McShlonkey and Cliff Huckstable.

McConkey accomplished his goal of legitimizing freeskiing a little ahead of schedule. But he and others worried that big-mountain skiing, which had taken off by the late '90s, could be the victim of its own success, especially if the FIS flexed its muscles and took over the big-mountain competition circuit. So with the help of Moles and Lhotse Hawk, McConkey founded the International Free Skiers Association (IFSA), which began as a loose union that professionalized the competitors. Hell, he even popularized the term "freeskiing." Though he was a primary beneficiary of the "extreme" phenomenon, McConkey called bullshit on the overused term and spearheaded the change in nomenclature. "Freeskiing," he insisted, better described the cliff-jumping, pillow-sticking, and straightlining that won contests and magazine covers. "Extreme," he noted, should be reserved for the original French practice of descending if-you-fall-you-die steeps by any means necessary. Later, he applied the final nail to the extreme label's coffin. In Scott Gaffney's film 1999, McConkey skis a streambed, "retires" five minutes later, then declares himself an "ex-stream skier."

With the professionalization and the IFSA, however, came the egos. Some of those on the big-mountain scene had become too full of themselves. McConkey quietly deflated them. He said the funniest trend in skiing was "lifestyle shots in movies of pro skiers trying to act tough and intimidating." When Powder got too sanctimonious, he called it Soul Bro Monthly. His acute self-awareness led him to create the funniest character in ski-movie history, Saucer Boy. According to Wais, Saucer Boy came out of brainstorming for Matchstick's 1997 release, Pura Vida. Saucer Boy totes a yellow saucer along with a harness and a rope he doesn't know how to use. He skis on snowblades and, because McConkey was so physically gifted, sometimes moonwalks on them. Saucer Boy chugs Jack Daniel's from the bottle and talks bro-brah slang at hip ski destinations, then gets pummeled for it.

Even Saucer Boy got professional: Wais says Jack Daniel's liked Saucer Boy so much it secretly sponsored segments one year, declining an onscreen credit for "liability reasons."

This is not to say McConkey stopped taking his skiing seriously. For instance, there's a particularly insane sequence in the film Yearbook that opens with McConkey atop Switzerland's infamous mountaineering peak, the Eiger. McConkey worms out of a shuddering helicopter, hoists his pack, and clicks into his skis. Carrying no ice ax or other visible means of self-arrest, he beelines for the edge of a giant, sheer cliff, and launches into space. What initially appears as the world's most aesthetic suicide attempt becomes ski-film history as McConkey executes a double front flip before deploying a parachute and wafting 4,000 feet down to the floor of the Alps.

The Eiger sequence earned McConkey a nomination for Alternative Sportsperson of the Year at the 2005 Laureus World Sports Awards. I went to the black-tie ceremony in the swank Portuguese beach town of Estoril.
The ceremony's emphasis on Formula 1 and soccer was horrendously boring. As gorgeous as the Slavic supermodels were, it was painful listening to them read English from teleprompters.

McConkey, tugging at his unfamiliar suit and tie, had to watch as the Laureus board, dominated by stuffy, soccer-centric Euros, handed the award—which, just to be clear, would be the award for the Alternative Sportsperson of the Year—to a British sailor, someone who is about as "alternative" as Sir Francis Drake.

At the after-party, 300 celebrities, athletes, dukes, and duchesses milled about a gleaming casino. I found myself hanging with McConkey, his new wife Sherry, and pro mountain biker Darren Berrecloth. While starstruck fans gaped at Owen Wilson and Woody Harrelson, the two actors gaped at McConkey, who was on crutches after one of what would be seven knee surgeries. When they spotted McConkey, the tuxedoed movie stars extracted themselves from the tentacles of publicists and groupies to talk to him. They introduced themselves, as if McConkey didn't know who they were.
"That cliff jump was mind-blowing, dude." Wilson told him.
Harrelson agreed. "You totally should have won."

For all his success, McConkey couldn't sit still. A few years after legitimizing fat skis, he came up with another ski design that placed him in the center of a debate not unlike Galileo versus the Church. McCon-key's next big idea was like nothing any skier had seen before, a ski that was wider underfoot than at the tail. And instead of bending like a rainbow, it curved upward at the tip and tail like a smile. He called it the Spatula, and convinced Volant to release it.

"The Spatula, at its time, was so far out of the box it was absurd," says K2's Global Brand Director, Jeff Mechura. "At first glance, there was absolutely no logic to it. But it got everyone thinking about skis on a different wavelength and got our own creative juices flowing again. We started asking What if? more. Shane was the poster boy for the youth movement challenging the conventional wisdom of an old-school ski industry."

Early buyers of Spatulas received a note from Shane himself. It read, in part: "Sidecut is not good in powder. Camber is not good in powder. Carving is not necessary in powder. Simply put, if you want to maximize your abilities in soft snow you do not want to use the same tool as you would on any kind of hard, groomed, or compacted snow."

When Volant was sold to the consortium that owns Atomic and rebranded as a luxury ski, McConkey signed with K2. There, he "drove the development of the [Spatula-like] Pontoon from conception to production," says Mechura. "There was no bigger voice in the room when it came to this project because nobody could really grasp how the ski would work except Shane."

Two years later, it would become an entrenched design. This coming season, look at ski racks on powder days and marvel at how many boards are rockered. Adds Mechura, "What people didn't know is that while Shane was playing the role of the quirky face of K2, he was sending us 2,000-word dissertations on the future of modern ski design. He changed the way we all think about skis."

While he was changing skiing as we knew it, McConkey did regular-guy things like buy a house near Squaw and start a family. He and Sherry had a baby girl, Ayla, now three. Ever the prankster, McConkey didn't send a baby picture with Ayla's birth announcement. Instead, he sent a photo of her meconium, the tar-black glop of gastrointestinal muck that is the first stuff to squeeze out of a newborn's rectum. Scatology aside, McConkey became a loving, devoted father. There's a touching video of Shane doing repeated handstands to amuse her, the way some dads might make a funny face.

Naturally, Sherry and Ayla will miss him more than anyone. But whether we know it or not, every skier will miss him too. If you've watched a ski movie or clicked into a binding in the 21st century, you've benefited from his brief 39 years on earth. McConkey changed skiing more than anyone in memory, redirecting the course of the sport at least three times, and in profound ways.

Never mind his physical accomplishments; McConkey's greatest gift was cerebral. For an athlete to champion design breakthroughs like fat skis and rocker is simply unheard-of. That he revolutionized ski-film humor as part of his master plan to keep freeskiing fun was just as important.

"Shane was willing to go out there and look kind of dumb, and that's what really separates him from everybody else," says Wais. "He had zero need to look cool, which made him easy to work with."

At the base of the cliff where McConkey died, J.T. Holmes took stock of his loss and the task at hand. Holmes had the unfortunate job of transporting both his and McConkey's gear back home. Early in the return journey from Italy, Holmes pulled out his wallet. It was empty. He burrowed through McConkey's things and found Shane's wallet. Inside was all of
Holmes's money. He had been victim of a vintage McConkey prank.

Even in death, Shane had unwittingly beamed to all of skierkind his final instructions: Ski hard, take chances, and above all, keep laughing.