Find Out What Happens When a Middle-Aged Mom Tries to Qualify for the Freeride World Tour
We asked one adventurous writer to huck herself off the extreme terrain at Taos Ski Valley, N.M., in the name of her craft, and to try not to get herself killed in the process.
Heading out the door? Read this article on the new Outside+ app available now on iOS devices for members! Download the app.
This is a preview of a feature that originally appeared in the December 2020 issue of SKI. To read the full story and get access to more premium content than your eyeballs can handle, join Outside+ today. 
"Jill, this is absolutely nothing like a JV soccer game," I say slowly and deliberately to my friend and former coworker, who's standing comfortably in ski boots far too close to a cliff on Taos Ski Valley's West Basin.
We're with other athletes waiting for our turn to compete in Taos' Freeride World Qualifier, one of many nationwide extreme skiing competitions that serve as feeder events for the professional-level Freeride World Tour.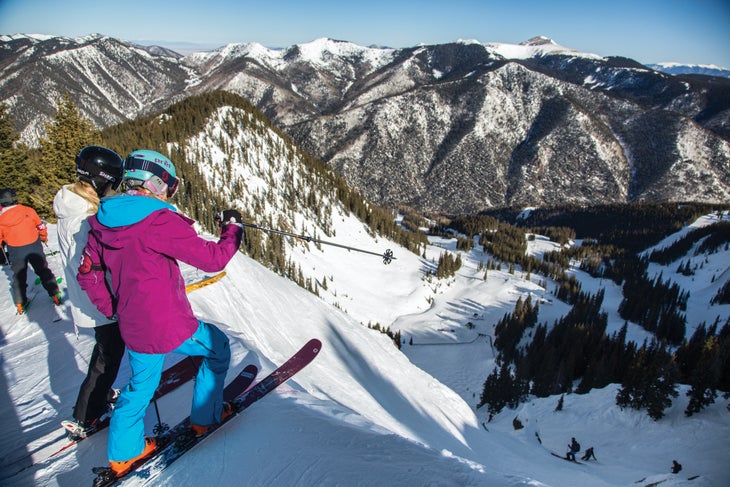 Jill, who is young enough to be my daughter, convinced me to enter this event in Taos by comparing it to kicking a ball around on a grassy field.
"Oh, come on, this is amateur hour," she says, casually leaning forward on her poles, her bib slipping down her willowy arm. "That girl looks like she's only been skiing for two years. You got this."
I watch the other competitor carefully pick her way down the cornice, cliffs, rocks, and vertical pitch of set-up concrete from my safe seat in the snow, kicking in my heels and trying not to think about the crowd below.
A more apt comparison than soccer, I think, might be walking out of my first seventh-grade dance at a new school with my dress ripped up the butt from bending over in the bathroom. Except this time, instead of everyone being able to see my control-top pantyhose without any underwear, they can watch me lacerate my spleen.
Related: 5 Wild Ski Adventures to Make Your Stomach Drop
"Oh my god, Beekman, I've never seen you like this! You need to channel yourself! Just watch the other girls. They'll inspire you," she says, pointing past a sign that broadcasts the most unhelpful warning in signdom—"Unmarked Obstacles Exist"—to another competitor cautiously dropping in.
She's right. I am usually not like this. Up until now, my "fake it until I make it" strategy has worked (though my 12-year-old daughter would refute, "Mom, we don't even own an X-Box"). I myself taught Jill in countless client calls that as long as you're sure of yourself, it doesn't matter if you actually know what you're talking about.
Now, however, standing atop this godforsaken pile of jagged rocks that are waiting to tear my legs from their cozy hip sockets, I have reverted to my awkward seventh-grade self, shuffling through the crowd sideways in too-big flats. In this moment, the only thing I am sure about is that I should never have let her talk me into this.
This article is part of the SKI Magazine archive and is available to Outside+ members. Read the full story here.