Tethered
Nothings binds people better than two weeks together in a tent in Greenland.
Heading out the door? Read this article on the new Outside+ app available now on iOS devices for members! Download the app.
Three-quarters of Greenland is covered in an ice sheet—making it the ultimate location for a combo mission of skiing and science. Last April, Salomon Freeski TV sent a team of eight—Pierre Muller, Anthony Bonello, Chris Rubens, Kalen Thorien, Mike Douglas, Simon Thomson, Bruno Long, and Alun Hubbard—on just such a mission. Very little went according to plan. There were flights delayed by weather, difficult glacier crossings, and bulletproof snow.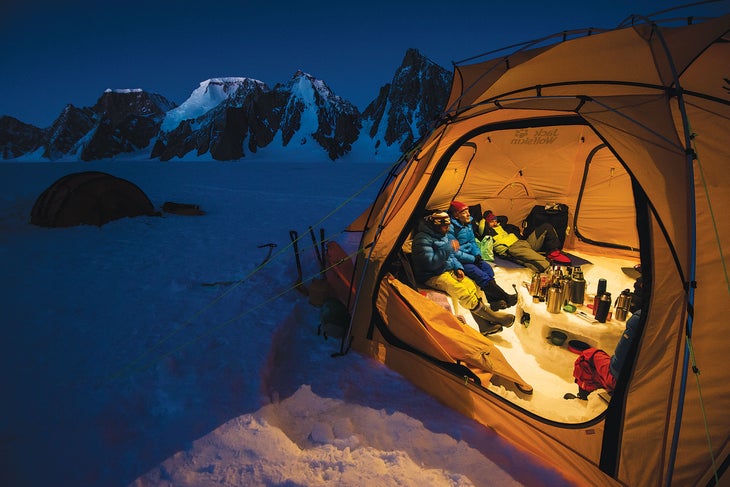 Chilling at Camp 1. This shot was taken around 11 p.m. in Greenland's "perpetual afterglow," Long says. "This was a pretty regular evening in our hangout tent."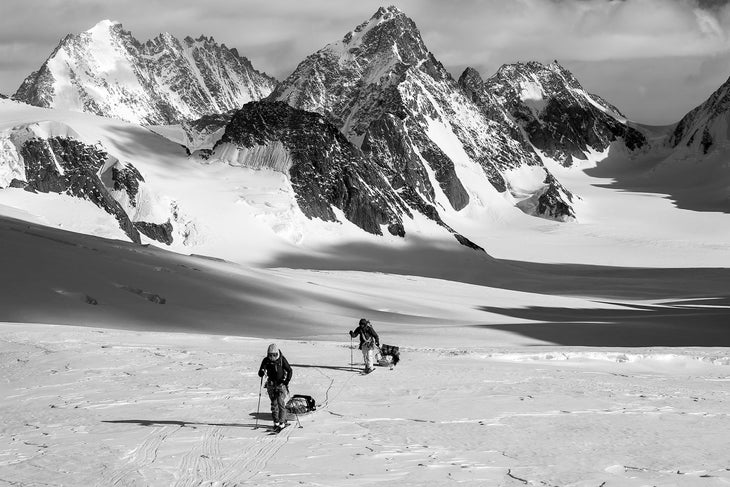 Thorien and Rubens push on to Camp 2, traveling a total of 15 miles and gaining 3,280 feet of elevation.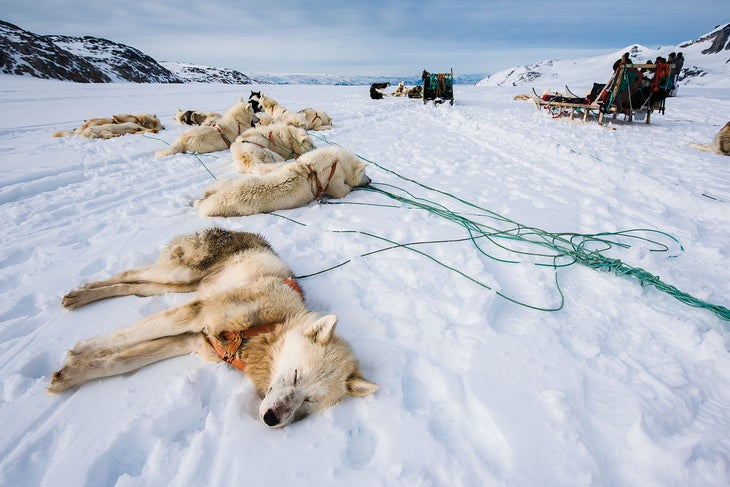 The team had to hire dogsleds to reach the tiny town of Tiniteqilaaq, which meant each crew member had a team of eight dogs. "It was total chaos all the time," Long says. "You couldn't pet them, they'd lose their minds. They would run until we took a break, and they would just lie down and fall asleep."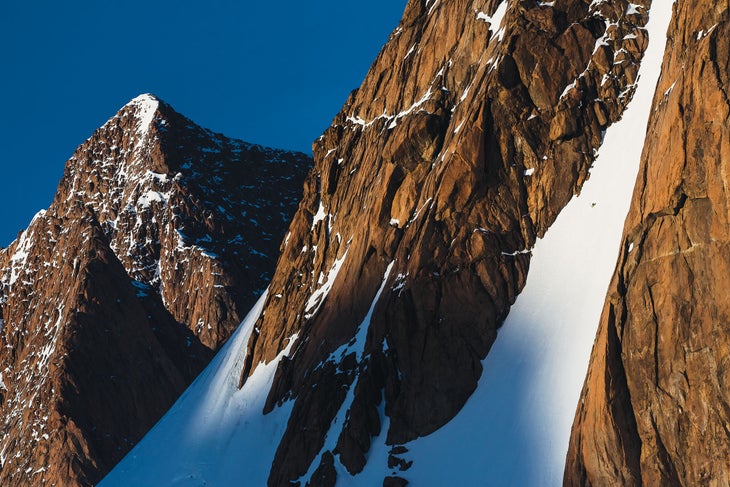 Rubens rips steep corn snow on a massive glacier near Mont Forel, right down to the valley bottom. "One of the first and best lines of the trip," Long says.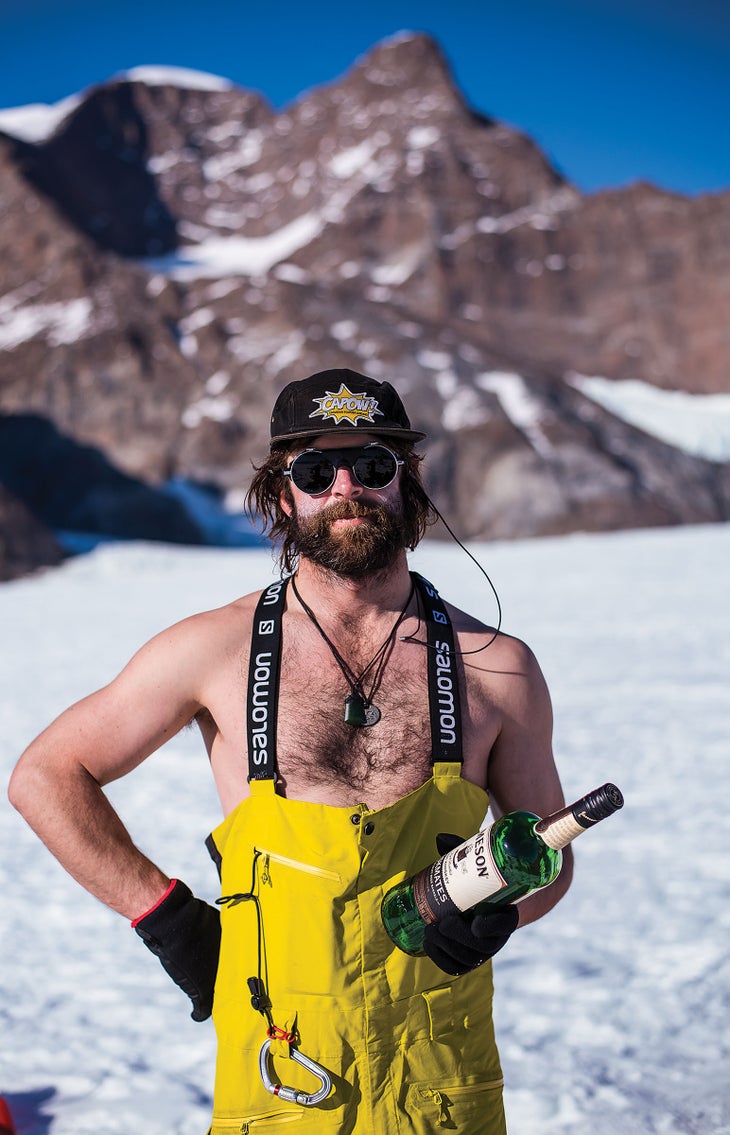 Upon their return to the lower Camp 1 after a week at Camp 2, the crew tossed the bottle around to celebrate the end of the hardest part of the trip. Of Rubens, pictured, Long says, "This was pretty normal for Chris. Legit, it's just how he rolls."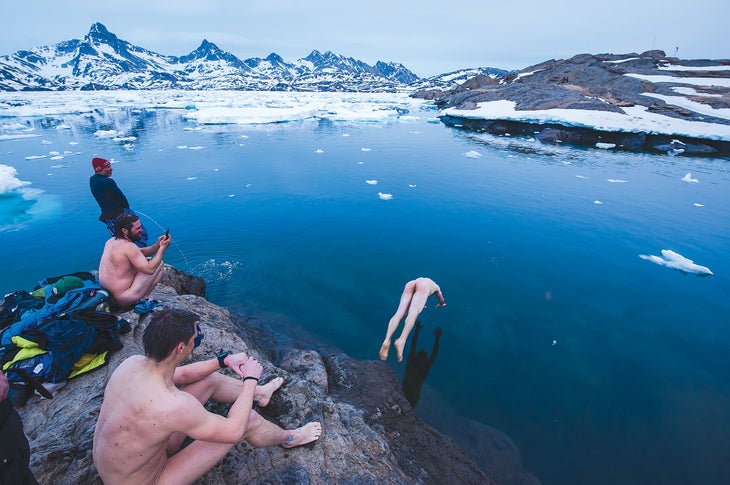 After winter camping for two weeks, Rubens rallied the troops for a polar-bear swim in memory of their friend Andreas Fransson, who died in an avalanche in 2014. "It was pretty cold out, but we went for it anyway," Long says.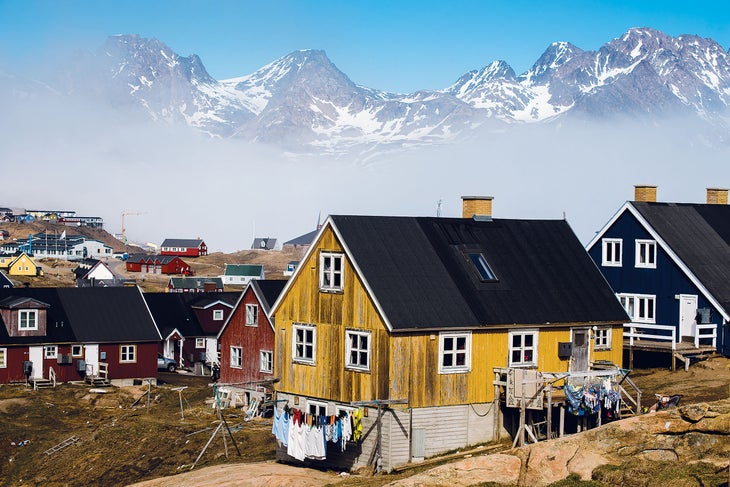 The crew passed through Tasiilaq, a remote maritime town. Yet with more than 2,000 residents, it's populous by Greenland standards.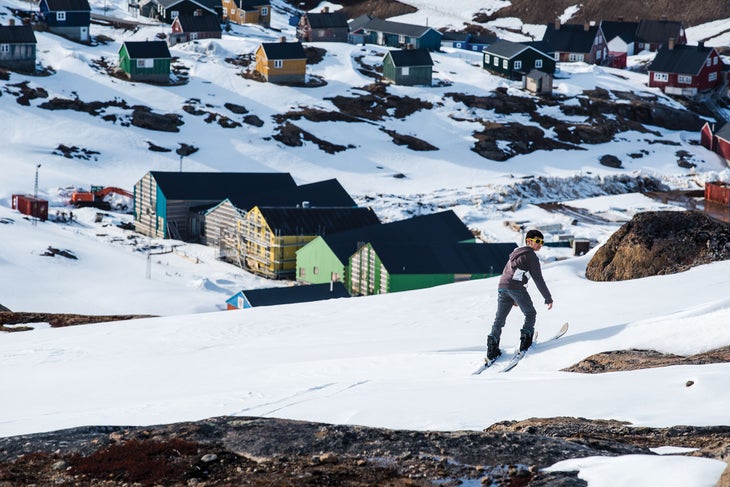 A young boy in too-big boots takes a "hot lap" on the rope tow above the town of Tasiilaq. "It took him about 30 minutes to get down," Long says, laughing. "They were for sure having a blast, finding that little bit of joy sliding around on the snow."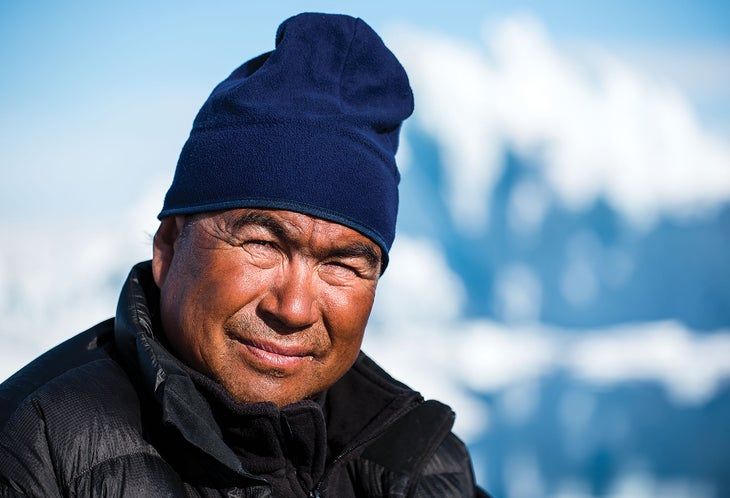 Local seal hunter, chief, and all-around badass Tobias Ignatiussen joined the mission as a guide. "He's a big guy. I was too scared to ask him to take his hat off," Long jokes.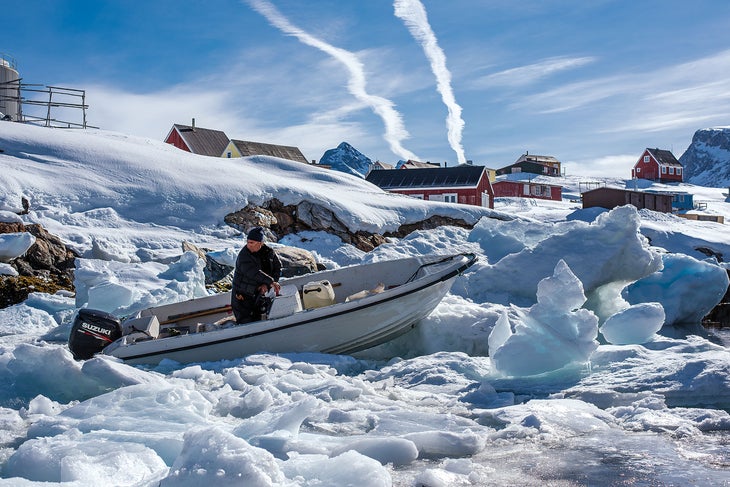 A typical traffic jam in the Semilik Fjord. "This is my favorite photo of the whole trip," Long says. "Tobias was 'the man' in town. He knew everything."
The team's objective was to camp at the base of 11,099-foot Mont Forel, one of the highest peaks in Greenland. It was a two-leg journey, and the trek from Camp 1 to Camp 2 was the more arduous because they had to pull sleds full of gear. "We moved so slow. Any little incline felt like the steepest hill ever," says Long, the trip photographer. "But it was the most spectacular place any of us had ever been."
From Camp 2, picking a line to ski down proved equally tough because of huge patches of blue ice and exposed rock. But the challenges, like tethering themselves together to prepare for crevasses whenever they left camp, made for some of the best memories, Long says. "We couldn't have had a better crew."
The team helped Hubbard, a glaciologist, collect ice cores. And from the start, the effects of climate change were obvious—temperatures were far higher than expected. "When you see what's actually happening, it really puts things into perspective," Long says. The episode drops November 15.