"The Fireside Sipper" Voted Top Après-Ski Cocktail in Mount Gay Rum Bartender Contest
Bartender Jamielynn Brydalski of the Dancing Bears in Lake Placid, NY creatively mixes Mount Gay Rum and Caribbean spices to win a ski trip to Aspen, CO.
Heading out the door? Read this article on the new Outside+ app available now on iOS devices for members! Download the app.
There is nothing quite like après with your friends to celebrate a great day of skiing. And when it comes to a celebratory après-ski cocktail to close out the day, some simply rise above the rest. When we asked our readers to choose their favorite Mount Gay Rum based cocktail, and the top prize went to "The Fireside Sipper". This Caribbean inspired cocktail, created by Jamielynn Brydalski of the Dancing Bears in Lake Placid, NY, is sure to make a great day of skiing and and spending time with your friends even better. We caught up with Jamielynn about the cocktails creation, her bartending career, and her plans for Aspen, CO.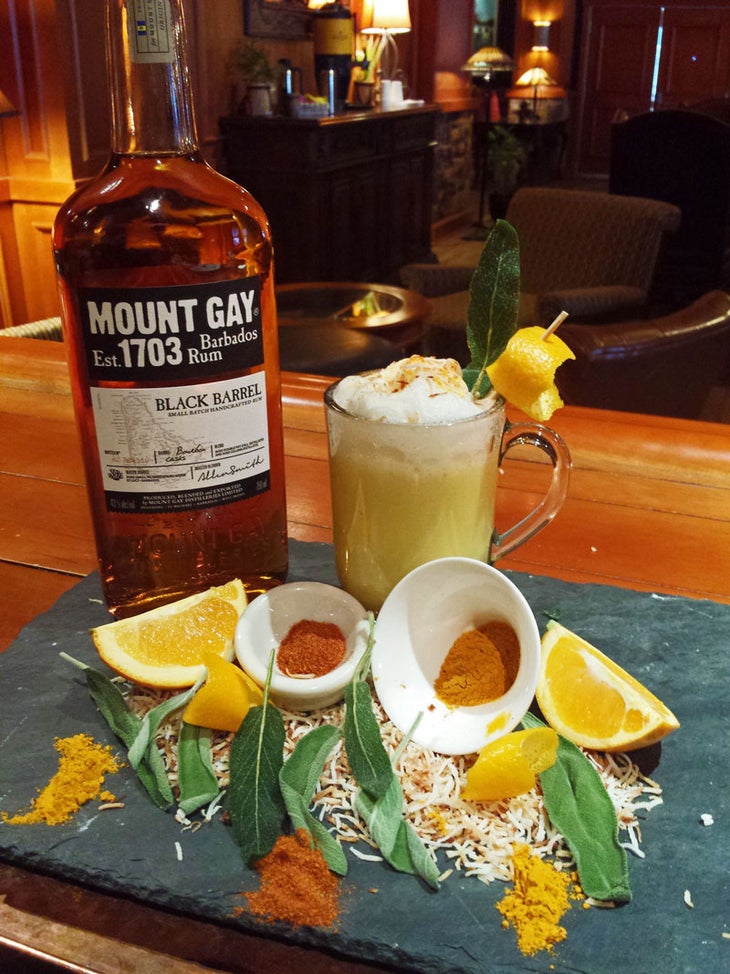 Q: What is the inspiration for your cocktail?
A: I wanted to stick to the theme of a "Caribbean" style cocktail, but also wanted to make it more of a winter warmer for when you come in after a long day on the mountain. Steaming some coconut milk, a little coconut cream and adding a little turmeric and cayenne pepper to sooth your muscles and joints and warm you up a bit. The flavor combination of Mount Gay Black Barrel Rum and a little Cointreau with the steamed coconut milk and spices is a perfect combination for a nice relaxing winter warming "Fireside Sipper." This winter warming steamed cocktail takes your mind and body from the exciting rush of the mountains to the warm sands and beaches of the Caribbean. This cocktail is also very versatile and can be served chilled and on the rocks to sip on in the summer with your friends around a bonfire.
Q: How long have you been bartending at Dancing Bears Restaurant?
A: I've been bartending at Dancing Bears since May 2009, almost 9 years.
Q: Give us a funny bartending story with this cocktail or bar? 
A: As all Bartenders know, everyday we are in this career is always a fun new adventure! We definitely see and hear at all! Especially since we are located in the heart of a ski town and a year round vacation destination. Our locals and guests come to Lake Placid let loose, to have fun and unwind from their normal everyday life. Lets just say "The Bears" (locals and tourists) definitely come out to play and dance. What happens at the Dancing Bears, stays at the Dancing Bears! You'll just have to come and see how we get down, party hardy and celebrate life!
Q: Why should people visit the High Peaks Resort? 
A: High Peaks Resort and Dancing Bears has been a celebration destination since the 1980 Winter Olympic Games. Its definitely one of the best resorts in Lake Placid to come and celebrate with friends and family. Its a place to see and be seen. There is nothing more priceless than seeing the look on someones face when they realize they are sitting across the bar from one of the 1980 "Miracle on Ice" Hockey Team Members or an Olympian (past, present or future), which happens very often.
Q: What do you do when you are not bartending? 
A: I love living here in Lake Placid, everyday is an adventure here. In the winter I love getting out and going skiing on the many trails in the high peaks. In the summer I try to conquer hiking up to one of the many mountain summits in the high peaks. I also enjoy hosting dinner and cocktail parties for my friends and family. In the off season (April and November), I get on a plane and travel to find amazing beaches around the world to relax and unwind from the busy season.
Q: Where do you usually ski? 
A: I like to switch it up every once in a while. I go up to Whiteface Mountain a couple of times a year and over to some resorts in Vermont. My favorite is to roam around the mountains and hit up the many hiking trails in the back country of the Adirondacks. Also, I have skied out west a bunch in Colorado and also down in the Andes Mountains in Chile.
Q: Do you know who you will take to Aspen? 
A: Yes. I will be bringing some one who is very special to me, who I know I will have an amazing time with both on and off the mountain.
Q: What are you most excited for in Aspen? 
A: I used to live in Vail and Avon, Colorado. I'm very excited to reconnect and hang out with my friends who still live out there in the area.
Q: Anything else you want to add before your big trip?
A: This has been a very fun and exciting career at the Dancing Bears and High Peaks Resort. I've had the pleasure to meet so many fun and amazing people, who have touched my life in the most positive way ever. I meet a lot of new people every day, but the best are the people that come to see me day after day, month after month and year after year. Thank you to all the locals who come to see me and try my new cocktails all the time and who come to have fun at the Dancing Bears, you guys make my career fun and interesting everyday! 
–
No matter where you après, the delicious and rich taste of Mount Gay Rum can help create the best Après-Ski cocktail. The Black Barrel, which is aged in deeply charred American oak casks, and offers smoky, bold flavors of wood, vanilla and spices that pairs perfectly in many cocktails. 
Want to make The Fireside Sipper yourself? Check out the recipe below!
Ingredients

1 ounce Mount Gay Rum Black Barrel

½ ounce Cointreau

6 ounces Steeped Warmed Coconut Milk (can be substituted with regular milk or almond milk)

1 ounce Coco Lopez

2 pinches Ground Turmeric

1 pinch Ground Cayenne Pepper

Garnish: toasted sweetened shredded coconut, dash of ground cayenne pepper, fresh orange zest, fried sage leaf

Method

Add Coco Lopez to steeped milk followed by Mount Gay Rum Black Barrel, Cointreau, ground turmeric, ground cayenne pepper.

Stir, gently, to combine.

Garnish and serve warm.