Uncommon Destinations: Boise, Idaho
An insiders guide to the snow, the suds, the beds, and the tasty eats of a place you may never have known was a ski town but should be checking out. By Kevin Luby
Heading out the door? Read this article on the new Outside+ app available now on iOS devices for members! Download the app.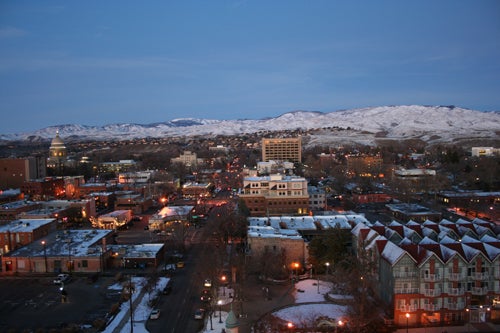 For years, residents of Boise, Idaho, have watched storms roll off the plains of the Great Basin into the higher elevations of the Rockies bringing ample precipitation of the frozen variety. The obscure mini metro area developed a core snow culture far from the spotlights of Colorado or Utah. Boiseans reveled, hidden under the guise of words like sleeper, out of the way, and undiscovered. But, in a state primarily know for its starchy root vegetables, Boise has cellared its former obscurity along with millions of potatoes. It just so happens that Idaho spuds taste delicious when paired with cheap beer, good eats, and healthy portions of powdah. Though it may lack the popularity of Colorado, the gnar of Utah, or the acreage of Whistler, ripping mountains and a quirky attitude make Boise a fun, funky, and downright awesome ski destination.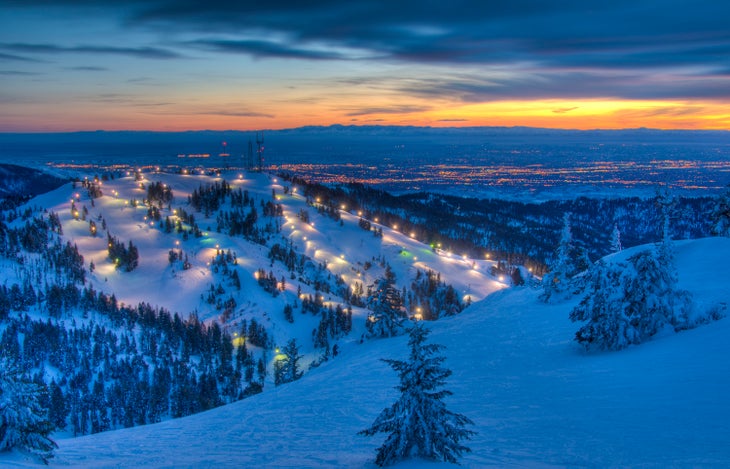 A testament to southern Idaho ski culture, Bogus Basin was built on the backs of the Boise ski community. Operated as a 501 (c) (3) organization, Bogus collects up to $600,000 a year in donations from local snow lovers in an effort to keep the mountain as affordable as possible for the average skier. With $48 day tickets and $199 season passes, we think they succeeded. Don't let this fool you; with 1,800 vertical feet and 2,600 skiable acres, the Basin is far from ordinary. On a powder day, the glades off the Superior Double Chair stay choked with snow as the crowds flock to the high-speed lifts. Also, night skiing at Bogus runs seven days a week, so you can après, then grab a few more runs in the evening. Bogus is 16 miles up the notoriously windy Bogus Basin Road but, thanks to a ski bus stop downtown, you can skip the drive all together. The 100 percent natural snowpack fattens up by mid January so plan your trip a little later to catch the big dumps of the season.
(208) 332-5100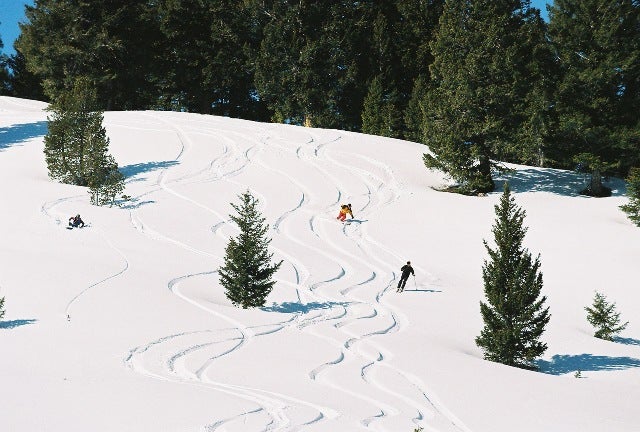 Bruce Willis owns this tiny gem of a ski area 102 miles east of Boise in Fairfield, Idaho. Closed Monday through Wednesday, storms load the slopes during the week, making Thursdays the ideal time to ski it's 1,400 vertical in near seclusion. Playful rolling terrain litters the mountain, especially off the ridge between Pioneer Peak and Mill Point. A brand new 4,500 sq. ft. lodge, built after the old lodge burned down last season, may make Soldier feel a little less rustic but $36 adult lift tickets will bring you back to days gone by. An $11 single-ride lift ticket drops you right amongst killer Southern Idaho backcountry and the nine- and ten-thousand-foot mountains of the Soldier Range. The top of any one of these peaks offers a breathtaking view of the camas prairie 5,000 feet below. Looking for your own private Idaho? Soldier Mountain may just be the place.
http://www.soldiermountain.com/
(208) 764-2526
Annually, Brundage receives 320 inches, which explains why many Boise residents make the 118-mile commute. At first glance, it seems like a modest mountain of 1,800 vertical feet and 1,500 skiable acres but it's powder-choked glades with views of Payette Lake will have you reconsidering next years trip to Tahoe. In bounds, look to Meadow Bowl and Dixie or befriend a local and ask them to take you to Mexico, a hidden stash you won't find on the trail map. Hike north from the top of Bluebird Express for sidecountry access to Sergeant's Peak where laps consist of steeps, trees, and face shots followed by an easy skate down a snowmobile trail back to the lift. Brundage also offers cat-skiing on 19,000 acres of Forest Service Land for  $239 per day. Better yet, grab ten hard charging buddies, rent the whole cat for $1600, and ski as many runs as your legs can handle. Brundage may be a bit of a trek from Boise, but a chance to satisfy a snow addiction is well worth the trip.
(208) 634-2151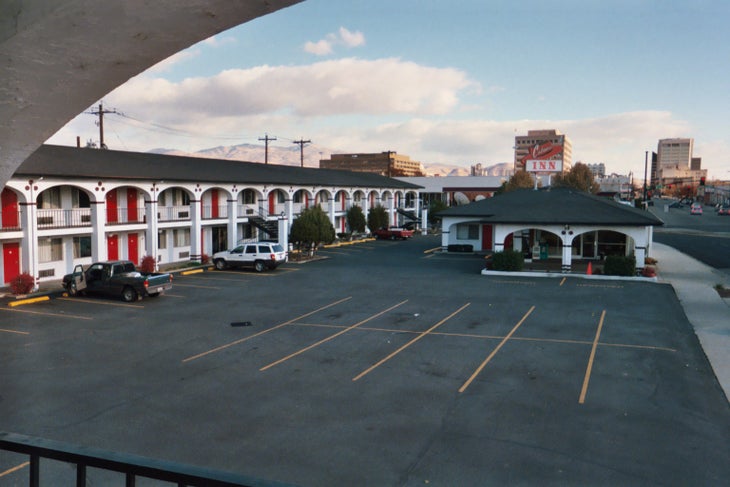 Cabana Inn
For as little as $40 a night, the Cabana Inn satisfies every basic requirement of a ski vacation crash pad: hot showers, beds, HBO, and a short walk to downtown nightlife. You won't find an on-site Swedish masseuse or seaweed wrap at the Cabana but with a plethora of bar stools only minutes away, we think you will find a cure for even the most nagging of skiing ailments. In the morning, the Cabana provides complimentary coffee to cure the most nagging of nightlife ailments, too.
(208) 343-6000
Leku Ona
For those not fluent in the Basque Language, Leku Ona means "Good Place" and the Leku Ona Hotel is just that. A room with two queen beds goes for a flat rate of $85, which, if our math is correct, equates to pretty cheap for a group of four. Native to the Pyrenees, the Basque people are very familiar with the demands of the mountain lifestyle. The in-house bar and restaurant covers the staples, serving Basque beers, liquors, and grub. You may even take home a little culture from a ski trip to Boise, home of the second largest Basque community in the United States. We find it hard to argue with boutique, Basque, and just over $20 per person.
http://www.iparagon.com/lekuona/
(208) 345-6665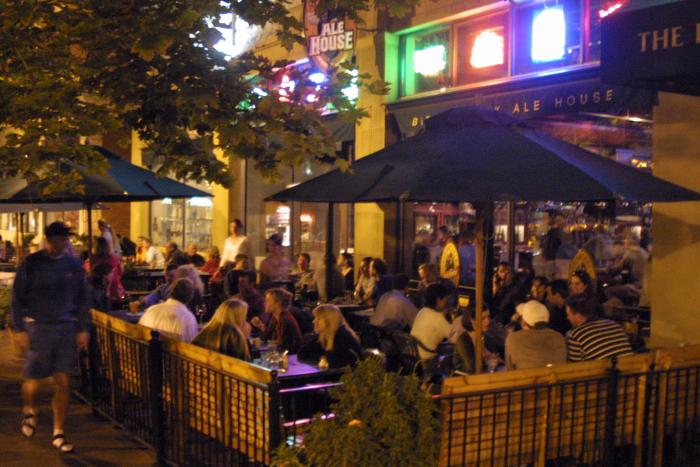 Bittercreek Alehouse
Sourcing many of the meats and veggies for their pub style menu from local farms and ranches, the Bittercreek Alehouse offers the best glimpse into the flavors of southern Idaho. Find the perfect complement to the spicy lamb burger or fried chicken and waffles entrée in one of 39 northwestern made microbrews. If you're off the mountain early, do some eco-conscious drinking during the Low-Power Happy Hour, two hours of low lighting and lower beer prices from 4-6 pm. Try the adjacent Red Feather Lounge for modern and stylish eats.
http://www.justeatlocal.com/bittercreek
(208) 345-1813
Cactus Bar
The Cactus Bar has everything needed after a long day on the mountain: cheap beer and a stiff pour. Home to regular day-drinkers and Boise State co-eds alike, the Cactus provides the perfect venue to mingle with the local wildlife. Centrally located on Main Street, it offers a great jump off point for exploring the diverse downtown Boise bar scene that includes cowboy bars, Irish pubs, and bottle service nightclubs.
517 W. Main St.
(208) 342-9732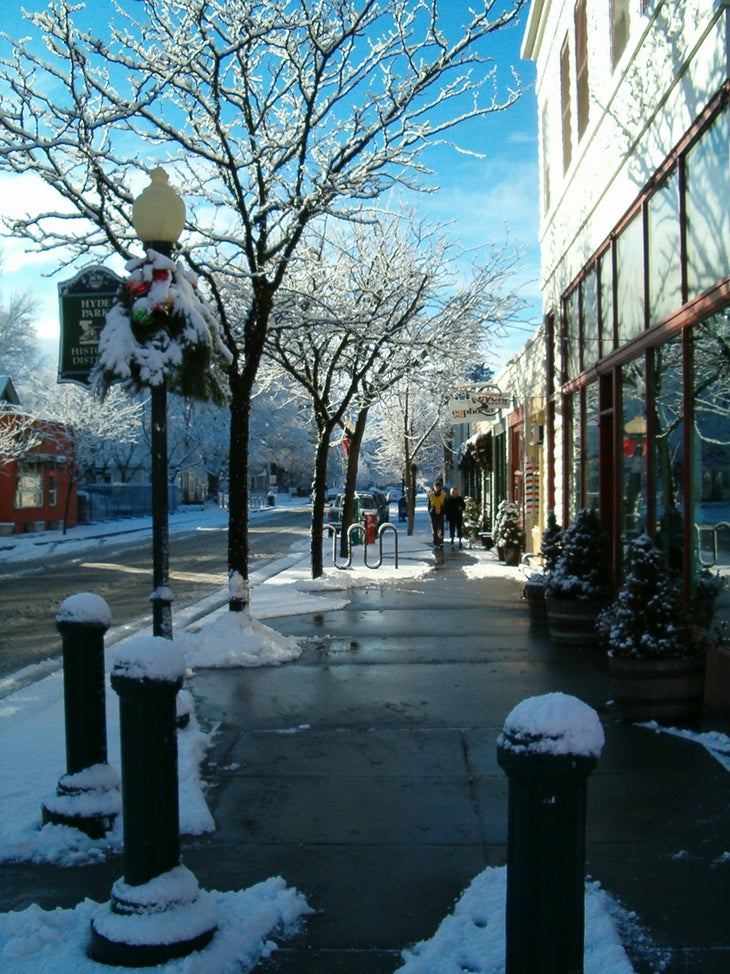 Hyde Park Neighborhood
Indecisive diners will find a variety of local treasures in this trendy neighborhood north of downtown on 13th and Eastman. Try the Parilla Grill for dollar tacos or the Sun Ray Café for fresh fare in a funky atmosphere. After dinner, check out off-the-beaten-path nightlife courtesy of the Hyde Park or 13th Street pubs. Keep your ear to the ground as the neighborhood regularly hosts cool events and concerts offering a great way to feel like a Boisean.