We Found Where All the World Cup Phenoms and Big Mountain Legends Ski in August
Welcome to Portillo, Chile, where gringos trade flip-flops for ski boots, racers and freeriders mingle, and pisco flows like carménère.
Heading out the door? Read this article on the new Outside+ app available now on iOS devices for members! Download the app.
This is a preview of a feature that originally appeared in the Spring 2014 issue of SKI. To read the full story and get access to more premium content than your eyeballs can handle, join Outside+ today. 
From our vantage point at the top of Portillo, Chile's 4,000-foot Super C couloir, the hairpin turns in the road leading up to Hotel Portillo look like a precarious Jenga tower, ready to fall to pieces at any moment. Originally a trail etched into the Andes by indigenous tribes, it became a railroad in 1910. Now it's the main thoroughfare between Santiago, Chile, and Mendoza, Argentina, clogged with semis schlepping goods over Uspallata Pass and vans carrying skiers to the 9,450-foot-high base area of historic Ski Portillo, South America's oldest ski area.
The mirrored surface of Laguna del Inca, an alpine lake at the top of the switchbacks, reflects an amphitheater of jagged peaks and steep, rock-peppered lines, while nearby Aconcagua—the largest mountain in world outside of the Himalaya at nearly 23,000 feet—looms above all. It's a harsh landscape, especially in winter, and the hotel's bright yellow exterior walls shine like a beacon on the lake's southern shore.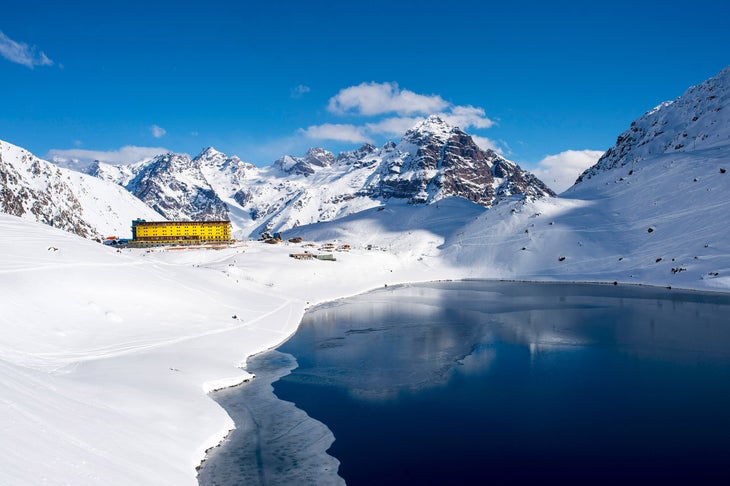 Getting to the top the Super C requires work. We started the two-hour bootpack early in the morning after sliding off the Roca Jack, Portillo's notorious, carnage-causing five-person platter lift. The crux of the climb—a puckering traverse across a no-fall closeout chute—was made that much more difficult by the fact that just yesterday we were stuffing ski gear into luggage in 80-degree Colorado. But the promise of powder in August prompted us to catch a red-eye south. If you've never tried it, falling asleep in summer and waking up in winter is quite possibly a skier's best dream.
This article is part of the SKI Magazine archive and is available to Outside+ members. Read the full story here.