American Birk Irving Wins World Cup Halfpipe at Mammoth
David Wise and Tristan Feinberg go 3-4 for the U.S. after athletes voted on whether to hold the contest due to gusting winds.
Heading out the door? Read this article on the new Outside+ app available now on iOS devices for members! Download the app.
The U.S. men nearly swept the podium at the Mammoth World Cup halfpipe event on Friday, instead going 1-3-4, led by Birk Irving who won his second 'pipe event of the season and claimed the World Cup halfpipe globe.
Also Read: How to Watch the 2023 Mammoth Halfpipe and Slopestyle Grand Prix Events
But the real story was the wind. It was so fierce that it delayed the start 75 minutes. It was so brutal the athletes themselves voted on whether to cancel the event. It was so relentless that it blinded the throng of freeskiers and snowboarders who dropped into the pipe that morning to pay tribute to Kyle Smaine, the 2015 world halfpipe champion who died in an avalanche in Japan on Sunday.
"Fortunately," said two-time Olympic gold-medalist David Wise, "Kyle's spirit came through and calmed the wind down just enough that we could have a contest."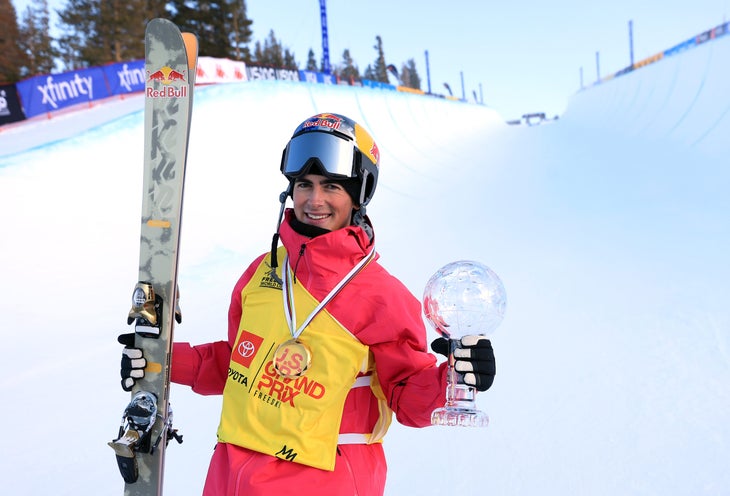 As the top qualifier for the final, Wise could have automatically won the event if it had been canceled. But the 32-year-old father of two held his own in the 10-man final. He led after two rounds until Irving stomped his final run sporting a hot-pink outfit to score 94.00 points and vault himself out of third place into first.
Canada's Brendan Mackay had one chance to top Irving, but remained the runner-up despite improving his score to 93.00 points. Wise placed third, 6.25 points ahead of 19-year-old American rookie Tristan Feinberg, whose back-to-back dub 12s in the first run had briefly put him in podium position.
Afterward, Irving acknowledged the crazy week. "At X Games we found out our good friend Kyle Smaine passed away," he said. "It's heartbreaking, but we're all probably skiing the best we ever have because we're all skiing with Kyle in our hearts. He's up there looking down on us, watching over us. We miss you, Kyle. We love you. Thanks for keeping us all safe today."
Wise agreed, saying "the most enjoyable part of the day was the Kyle Smaine memorial lap. I've never seen that many people ski and snowboard through the halfpipe at once. It was just a really healthy way for us all to remember him."
Watch: Podium Runs from the Men's Freeski Halfpipe Finals
As for the decision to compete in such high winds, Wise said, "I still voted to have the contest because I think it's worth putting on a show if we can. I'm just proud of Birk and Brendan—I mean, everybody came out and gave it their all. I think we had a good showing for the sport of freeskiing out there."
On the women's side, Olympic bronze medalist Rachael Karker of Canada placed third in Friday's final but still captured the World Cup halfpipe title. The winner, China's Kexin Zhang, 20, could have won the event with either of her scores from run one (92.75) or run two (93.50), but the runner-up, Zoe Atkin of Great Britain, saved her best for last to overtake Karker and take silver with 92.75 points. Atkin also nabbed gold in halfpipe at last week's 2023 X Games.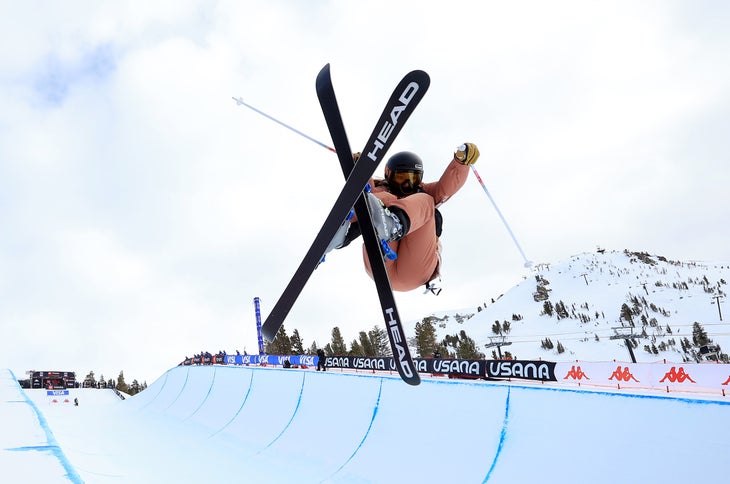 Atkin grew up skiing at Park City, Utah, and was pumped to make the podium. "I'm really stoked," she said, "especially because I took some time off to go to school this fall." She admitted, however, that training in the winds was nerve-racking. When it came time to vote whether to hold the event, Atkin said, "I qualified third, so I was like, 'Yeah, don't run the competition. I want third place!' But I'm so stoked I was able to come out, put one down and get second!"
Watch: Highlights from the Women's Freeski Halfpipe Finals
American finalists Hannah Faulhaber and Svea Irving, Birk's younger sister, finished fifth and seventh, respectively.
Freeskiing continues on Saturday with a doubleheader,  as America's 2022 Olympic champion Alex Hall leads a stacked U.S. field in the Mammoth World Cup slopestyle final and, later in the day, Jaelin Kauf and the rest of the U.S. freestyle team hit the bumps in Deer Valley, Utah, at the World Cup dual moguls event. Stream the events live for free on Outside Watch.