Athlete Highlight | Forrest Jillson
The king of the transitions, this guy makes a mogul field look like twelve inches of fresh.
Heading out the door? Read this article on the new Outside+ app available now on iOS devices for members! Download the app.
Forrest Jillson has been ninja'ing around Jackson Hole Mountain Resort since about the time he could walk. In the last few years he has started making a name for himself on a larger level in the ski industry by winning competitions, joining the ranks of Jess McMillan, Griffin Post and Lynsey Dyer on the Jackson Hole Mountain Resort athlete roster and making even the worst run outs look smooth as butter.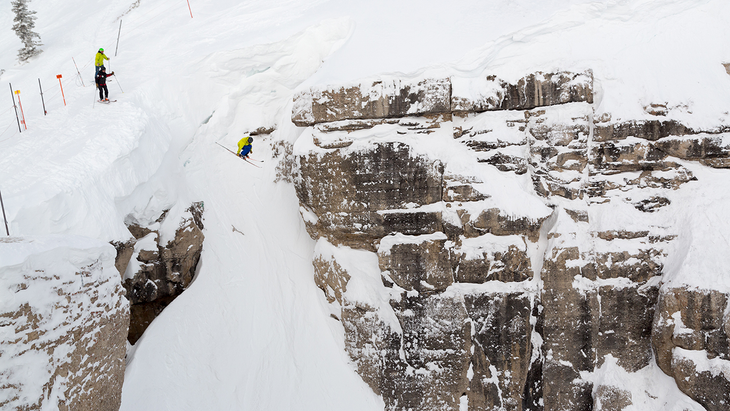 I had a chance to catch up with him and talk about where it all began for him and his future plans.
Oh and have you seen his edit released by Jackson Hole Mountain Resort? We're not kidding when we say this kid rips!
MP: Where did your passion for skiing come from and where did it start for you?
FJ: The passion was already ingrained from an early age. My dad would bring me to work [he is a ski patroller at Jackson Hole Mountain Resort] with him, whether I liked it or not, which of course I liked. When I could rip around on my own at about seven years old and actually learned to carve a ski and ski powder, I got the feeling that wow this is fun.
At the time I didn't realize who I was riding the tram with, Doug Coombs and Tom Bartlett, and then later on realized these people were my idols. I realized how they were able to make a living from skiing and I wanted to do that.
Honestly, I was left with no other choice. Throughout high school I didn't pursue scholarships or school because all I wanted to do was ski. I think it is sheer stubbornness. I look back and wish I had given myself more options but I didn't enjoy doing much else.
MP: Did you ski in an organized program growing up?
FJ: I was in the Next Generations Skiers (NGS) program with the Jackson Hole Ski Club, but it was more just a latchkey program on skis. Once I was old enough the resort became my daycare and I would just ski all day. You can still see it in my skiing, that I don't have racer technique, I would say I have a much more playful style.
MP: Who was your first sponsor on your journey to becoming a pro skier?
FJ: My first year competing was 2012 and Flylow helped me out with gear, but looking back, I'm not sure they took me very seriously—it was a true starting point for me. After I won the Big Sky competition, the first time (ha!), a relationship started with Volkl, Marker and Arc'teryx. As of this year I am on the Jackson Hole Mountain Resort athlete roster as well. Volkl and Jackson Hole are my sponsors with the most power to help promote me and they helped me put together my edit for this year. I am very grateful to be working with them.
MP: Have you seen any changes in your relationship with Volkl since they got put up for sale?
FJ: I haven't heard much for details, and our relationship seems to be unchanged. They are one of my bigger sponsors and support me really well even with my heavy gear demands.
[Forrest's Edit from 2015]
MP: How did you get the opportunity to film with TGR this year?
FJ: Honestly, it was a total last minute random opportunity. Hadley [Hammer] and I are close friends and teammates at Mountain Athlete and she got ahold of me to see if I wanted to run safety and blocking while she filmed. I still got to get a few lines filmed and got some footage when Hadley would decide she didn't want to ski the line we were set up on. TGR, more or less, agreed to help me out and get the footage because of our mutual relationship with Volkl and Jackson Hole Mountain Resort.
MP: What is safety and blocking?
FJ: Keeping the jabronies out of the shots for Hadley while she was being filmed. I wasn't there to film or be the athlete, but to be there in case of an avalanche or if Hadley got injured—I was her wingman.
MP: You competed for 3 years, are you still competing?
FJ: I am, I'm just not prioritizing it. I really enjoy competing, the camaraderie of that scene and just spending time with the homies, but I am not going to chase around the tour. If Big Sky or Snowbird hold a comp I will go (because I like those venues and they are close to home). I think the tour is less of an avenue to where I want to be in the industry as far as brand partnerships and filming goes. It is a great way to get recognition and support, but there are just so many other ways to get recognized now.
Alta chutes dismantled by 10:30 from Forrest Jillson on Vimeo.
MP: What are your plans for this year?
FJ: I really need to figure that out. A lot of the things that came about last year just fell in my lap. I think it's really important to keep all the doors open and just say yes to everything that comes your way.
Although, I think you need to be smart about those decisions too and be cautious about saying yes too easily, especially in the backcountry. It's easy to let photographers push you in dangerous situations and it's good to be aware of that and make your own decisions.
I'd also really like to get more into mountaineering. I'm not a huge endurance athlete and I get my ass handed to me every time I go mountaineering but I would definitely like to explore it more.
Continue to follow Forrest this winter @forrestjillson