#BOSSLADY: Grete Eliassen
Grete Eliassen is dedicated to taking down barriers for female athletes.
Heading out the door? Read this article on the new Outside+ app available now on iOS devices for members! Download the app.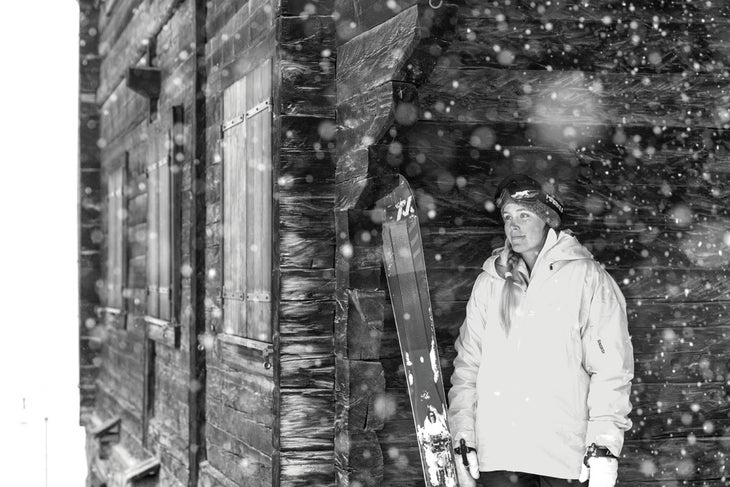 The first time I met Grete Eliassen, she was 20, wearing neon-green high-top sneakers, and skipping off a plane in Reno, Nevada, on her way to a photo shoot in Tahoe. At the time, she was a spunky, fast-talking, rap-listening college kid at the University of Utah, but her main gig was pro skier on the rise. She'd recently nabbed her third X Games medal in halfpipe and debuted a flashy segment in Poor Boyz Productions' latest ski flick. That was 2007.
Ten years later and Eliassen, now 30, still makes a living as a pro skier, but her life looks a lot different now. When I called her last spring, she was sitting in the lodge at Solitude Ski Area in Utah, trading off skiing with her husband while her infant son slept in his car seat next to her. This is the first time she's talking publicly about becoming a mother.
"I got to this point where I was just over skiing icy slopestyle courses in contests," she says. "I just wanted to be home, skiing powder. I have this baby now. That's my focus."
Eliassen was born in Minnesota but grew up partially in Norway, where her extended family is from. An elite ski racer until age 16, she switched to freestyle skiing when twin tips were a growing phenomenon. At that time, being a female pro freeskier was barely a thing—Wendy Fisher, then Ingrid Backstrom were just starting to grab screen time in ski movies and women weren't yet allowed to compete at the X Games.
"Back then, we had to ski as hard as we could just to prove a point," Eliassen says. "We had to find the right athlete manager and say, 'Hey, you should probably get a female skier on your roster.' We had to hustle."
Fellow halfpiper Sarah Burke introduced her to the Women's Sports Foundation and Eliassen became an athlete advisor for the organization, whose goal is to help give girls equal access to sports. Over the next decade, she racked up six X Games medals in slopestyle and halfpipe, four U.S. Open titles, a world-record hip jump, and she co-produced and starred in her own women's ski movie, Say My Name, which won a bunch of awards circa 2010.
She got married in 2013 to a guy who works in renewable energy and they bought a house deep in Utah's Big Cottonwood Canyon. Traveling for contests began to feel like a chore. "I can ski to my house. It's my heaven. Why would I want to leave?" she says.
But when ski slopestyle and halfpipe made their Olympic debut in Sochi, Russia, in 2014, Eliassen, then 26 and a decade older than some of the girls she was up against, wanted to give it a shot. After all, she'd helped build this sport from the rails up and she wanted to see it shine on the world stage. She tried, but she wasn't able to qualify for the highly-competitive U.S. team.
"When I didn't make the team, I was like, 'Maybe I should get a real job,'" she says. So she took a role as marketing director of a new instant messaging app called Wickr. She liked the work but she dreaded the conference calls, the screen time. "I just wanted to be outside," she says. She left a year later.
Eliassen was over competing, but she still loved filming and skiing powder. So in the winter of 2016, she traveled to Switzerland to shoot with Warren Miller Entertainment. On the trip, she felt oddly sluggish and queasy. Turns out, she was pregnant. 
She told her family and friends and her ski sponsors, but she kept the news off the internet. During her pregnancy, she only posted photos of her back so her followers couldn't see her swelling belly. "As a female athlete, when do you come out and tell people you're going to become a mom?" she says. "I just believe I don't want my kid to live on social media."
Reducing barriers for women in sports remains a priority for her, and Eliassen now serves as president of the Board of Trustees at the Women's Sports Foundation, a two-year term she took on in January 2017. "I was given so much through the ski industry, so this is my way of giving back," she says.
In her new life, her mom life, her switching-off-to-ski-while-one-parent-sits-in-the-lodge-with-the-baby life, Eliassen has found a new identity. But hints of her former self, the roof-raising renegade I first met near baggage claim, still linger. "I have that mom intuition now. I've got to be able to come home every day. I've got to play it safe," she says. "But I definitely want to be the mom who's still doing 360 grabs."
Want more #BOSSLADY? Check out Alexandra Meiners, a Heliskiing Guide who owns Alaska Rendezvous Guides.