U.S. Women Go 2-3 in Dual Moguls at Deer Valley
In the men's event, Canada's Mikael Kingsbury wins his 78th World Cup race in the new-in-2026 Winter Olympic discipline.
Heading out the door? Read this article on the new Outside+ app available now on iOS devices for members! Download the app.
The U.S. women's freestyle team lit up Deer Valley on Saturday night in a thrilling head-to-head World Cup dual moguls contest at the Intermountain Healthcare Freestyle International Ski World Cup. Seven Americans made the round of 16, so U.S. flags flew in nearly every heat.
The grand final came down to Jaelin Kauf, the intimidating 2022 Olympic silver medalist known for her speed, against Olympic and world champion Perrine Laffont of France. Just minutes before, Kauf had beaten fellow American Hannah Soar in the semifinal.
With gold on the line, Kauf ripped and zipped through the bumps so fast that she nearly skied out in the midsection of the course. She recovered and still finished first, but dual moguls isn't strictly a race. It's judged. Unlike the individual event, turns are worth 50 percent (as opposed to 60 percent) and speed and jumps split the difference. It means that speed is worth more in the dual format, but not by much. (This is worth remembering, because dual moguls will make its Olympic debut in 2026 in Cortina, Italy.)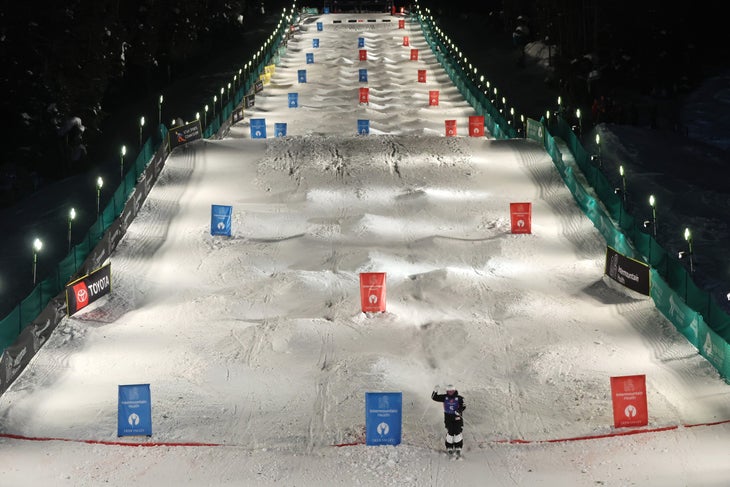 When the scores appeared, Laffont had won, 22-13. "I'm super-happy and proud of myself, but I'm tired," Laffont said. "It's been such a hard day. Duals are always so stressful. I'm gonna sit down."
Kauf agreed. "I was really hoping to take that top spot tonight…[but] after I dueled with Hannah, I was like: I am WORKED right now. I was starting to cramp heading over to the snowmobile. Then I was like: just one more, leave it all out there. But it's exhausting. It was a big day, skiing five duals [heats] and three training runs. It's a lot"—especially after Thursday's individual competition, where Kauf had also placed second.
The biggest takeaway from her double-podium performance in Deer Valley, Kauf said, "is my confidence going forward for the rest of the season, to know that I've got top level skiing for the rest of the year going into the world championships."
In the battle for third and fourth place, Hannah Soar was neck-in-neck with Rino Yanagimoto of Japan until the very end. Soar crossed the line .09 seconds faster and threw a bottom air that featured an extra grab for difficulty to win third place by one point, 19-18.
Watch: Podium Runs from the Women's Dual Moguls Final
Soar, 23, said making the podium was "super-big. There were parts of me that didn't think I had it in me anymore." But after placing sixth in Thursday night's individual competition, she was excited to build on that. "It was my first super-final in over a year," said Soar.  "I know Deer Valley is a skier's course and I'm a skier's skier so I was excited to show that off tonight. Super-big confidence booster," adding "we have a rock star team, let me tell you."
American Elizabeth Lemley, the 17-year-old who won the dual moguls World Cup opener in Sweden in December, placed seventh on Saturday after skidding out in the quarterfinal against Laffont. Columbia University student Olivia Giaccio placed ninth, losing to Yanagimoto in the round of 16.
On the same course, the men's final featured an equally thrilling finish. Triple Olympic medalist Mikael Kingsbury of Canada prevailed over Matt Graham of Australia to capture his 78th career victory and 112th podium in 132 World Cup starts. That's a 59 percent win rate, and an 84 percent chance he'll make the podium any time he buckles up his boots.
Even crazier, Kingsbury told the crowd in a post-comp interview that he injured his wrist in "a bad crash" on Thursday. He thanked the local doctors who tended to him on Friday and admitted that Saturday's victory was doubly sweet. "At the start, I was just hoping to take it round by round," he said.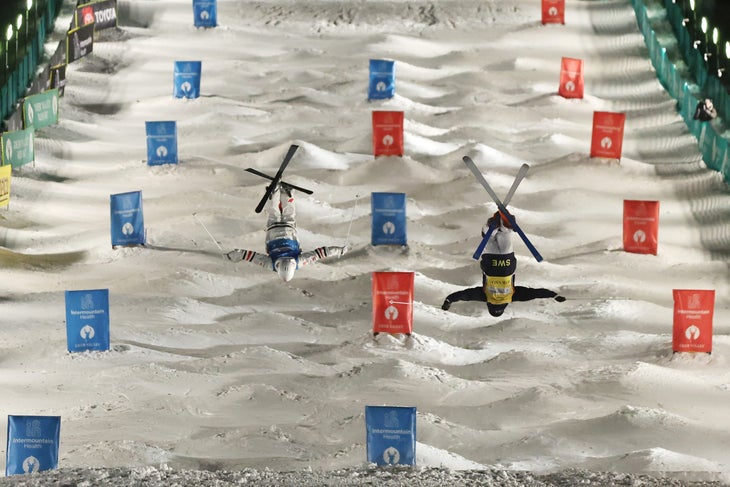 With the win, Kingsbury, 30, also reclaimed the points leader's yellow bib and seems likely to nab his 10th World Cup overall freestyle crown with only three World Cup moguls events remaining.
"It gives an extra boost," he said of his No. 1 ranking. "I'm just super happy to end the weekend well. Congrats to Matt [the runner-up] and to Walter [Wallberg of Sweden, who took third]. Matt and I split the weekend [victories here] so it's good."
The top male finisher for the U.S. was Park City Olympian Cole McDonald, but the 19-year-old lost toCanada's Elliot Vaillancourt, 19-16, in the Round of 16 and placed 10th. 
It wasn't long ago that McDonald was in the crowd of spectators, imagining a night like this. "I remember standing as close as I could to the front, trying to get a view," he said. "Now, being the only American standing up at the top looking down at the sea of people was a dream come true, finally. It's so electric. You can feel the energy from the top. I could feel the roar of the crowd. I'm so happy to finally experience this. I can't wait to celebrate with my family, and keep the season going."
Dylan Marcellini, 20, the rookie who placed fourth individually on Thursday had the next-best U.S. finish, placing 17th.
Watch: Podium Runs from the Men's Dual Moguls Final