"Interview" With @LegoSkierBro
We tried to get ahold of @LegoSkierBro on Instagram, but he didn't get back to us, so... we faked it.
Heading out the door? Read this article on the new Outside+ app available now on iOS devices for members! Download the app.
This is a work of fiction by Kimberly Beekman
If you haven't been following Lego Skier Bro on Instagram, you're missing out. His profile says it all: "I'm pretty much the best skier I know." Though we had some difficulty actually reading his captions, our editor in chief recently caught up with The Bro via Snapchat and Periscope between his #helidrops and #gnarly #spinelines.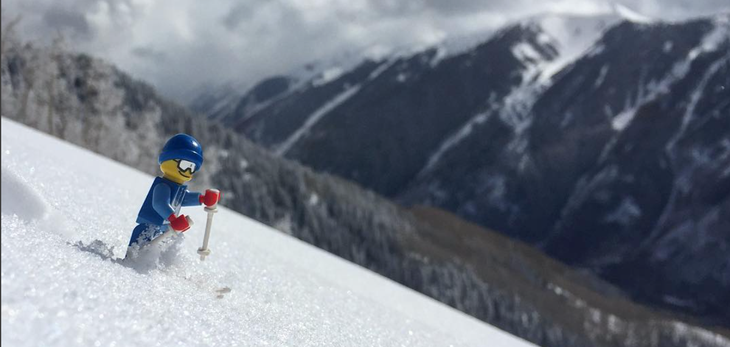 SKG: Where did you grow up skiing?
LSB: Bro, #skiingisliving, you know? I'm #alwayslocal wherever I go, bro. Like I'm a #Coloradobro (#nativebro!), but I #skiedtheEast, #shredded #Tahoe, #schralped #TheBigOne, #sentit at #BigSky, you know…the works.
SKG: Do you actually say "hashtag" when you talk?
LSB: I just use the symbol, bro. You know, like with my hands. Like #Prince. Before he was #Prince again. #RIP.
SKG: Hmm. Do you have a job?
LSB: Bro, #skiingislife. Life is circular, you know? Like the #coldsmoke gives way to #hotpow and #corncycles, and then it just comes back around to #overtheheadblower, you know, bro? I don't really believe in linear thinking, bro.
SKG: Yeah, ok, but do you actually, you know, do anything to earn money?
LSB: Bro, my sponsors take good care of me, you know? And I believe in giving back. So I put everything I have into #spreadingthestoke. #skiingisbelieving, bro.
SKG: So…technically speaking, I'm not a bro. What do you call skier girls?
LSB: Bro, the only skier girl in my life is #legoskierbabe. She totally gets me, you know, bro? She doesn't need any of these constructs or labels we create in our society to add meaning. She knows that #skiingislife.
SKG: But yet you refer to her as a hashtag?
LSB: Yeah, bro! She totally #rips.
SKG: Tell me about a recent powder day.
LSB: Bro, I punted epic on this tasty nugg in a coulie up in Revy's b.c., then donut holed and stacked it up. Needed some #idahochrome to stitch my shit up, bro. All my bros were like, "Brooooo!" And I was like, "Brooooo!" It was sick.
SKG: Uh, what?
LSB: Totally!
SKG: Do you find that you're still fighting the image of being, you know, a toy?
LSB: Totes, bro. You #nailedit. I march to the beat to my own skin track, you know, bro? I'm forging new ground, skiing the road less traveled, or whatever. I am who I am, and I don't subscribe to any of that corporate bullshit, bro. Oh, and props to #legobrand for making it happen, yo! You guys are #mybros!
SKG: Any other, um, words of wisdom that you've learned through all your experiences?
LSB: #skiingislife, bro! #sendingit!