Why Tiny Homes Could Be a Solution to the Ski-Town Housing Crisis
Can people known for hoarding gear really live in 300 square feet? Pro skier and "Tiny House Nation" host Zack Giffin says yes.
Heading out the door? Read this article on the new Outside+ app available now on iOS devices for members! Download the app.
It was March 2014, and skier Zack Giffin was camped out in an Outdoor Research-funded tiny home on wheels on Rogers Pass, outside of Revelstoke, B.C., when he got a call from some TV executive in New York City. Two months earlier, Giffin had answered a casting call for a new reality TV show about the tiny house movement, but he hadn't heard a word back. Now, suddenly, he was hired for the show and had to get himself to New York as soon as possible.
"They're like, 'You're hired. Please return this contract today,'" Giffin recalls. "I was like, 'I'm going skiing. It's going to take me a few days'." Giffin, a long-sponsored skier from Mount Baker, Wash., went on to become the host and star of "Tiny House Nation," a hit TV show that ran from 2014 until 2019 and is currently streaming on Netflix.
       Also Read: Think #VanLife Is the Ultimate Way to Ski Bum? Here's the Truth
In addition to helping popularize the tiny house movement, Giffin has also worked tirelessly to dissolve the legal prohibitions against tiny homes so they can become viable, affordable solutions to the workforce housing crisis, an issue that's plagued ski towns across the country. "I've been a ski bum a lot longer than I've been a tiny house expert," he says. "Ski bums have always lived minimally in order to survive in resort towns."
These days, Giffin, who still skis every day he can, is the program director of a national Veterans' nonprofit called Operation Tiny Home, and he serves as the vice president of the Tiny House Industry Association. We called him up to talk about how you can live large by going small.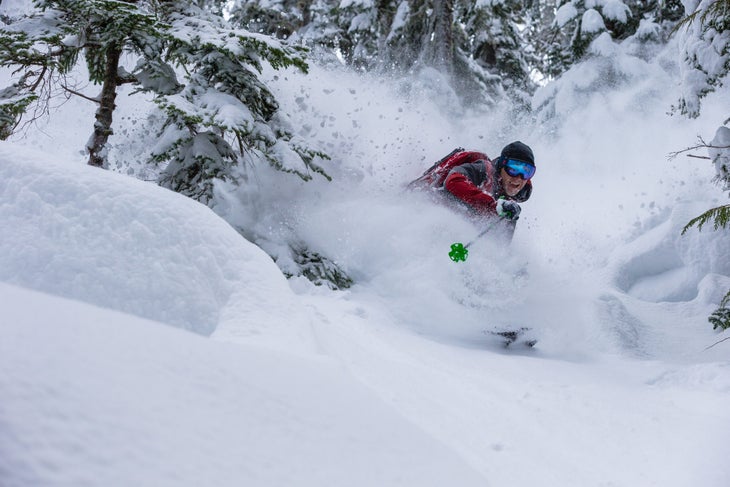 A Conversation With Zack Giffin
SKI: How did you first get into tiny homes?
Zack Giffin: When I first moved to Mount Baker from Colorado, I was 23 and I bought a dilapidated 1976 RV, because trying to find a rental house was tough. The RV was an eyesore, so I quickly moved out of the RV and into a tiny house on a foundation with my younger brother and three other people, three dogs, and a few cats. A few years later, I was traveling and skiing so much, it felt weird paying rent on a place I never lived, so my girlfriend at the time and I pitched this marketing project to Outdoor Research where we'd travel all winter and go to different ski towns to find the local heroes. I said, 'We could drive my van, an RV, or the third option, a tiny house on wheels.' OR was hip enough to recognize that the third option would be a great addition. So, I built my first tiny home that was 112-square-feet and could be towed by a truck.
SKI: What did you gain by going small and mobile?
ZG: There's an understanding that downsizing your material needs and living more minimally is oftentimes the tradeoff people make to upsize their experiences. That's a sentiment that's been well understood in ski culture since long before anyone started calling small homes tiny homes.
SKI: What's the biggest battle facing the tiny house movement right now?
ZG: There are all sorts of people who are frustrated with the housing market and are looking at tiny homes on wheels and saying, 'This is perfect, it's well built, and I actually want to live in a small space.' The problem is any structure that's not on a permanent foundation is essentially treated like a recreational vehicle and RVs are only allowed for temporary occupancy. We are working with the International Code Council (ICC) to create building standards for 'moveable' tiny homes so that they can be treated like any other housing type. Once they are defined in the building codes, it's up to zoning to dictate how they are permitted, but many cities have already allowed them as primary dwelling units, in cottage communities, and in backyards as detached ADUs.
SKI: You've called ski towns the canaries in the coal mine when it comes to housing affordability. 
ZG: In ski towns, exorbitant housing costs are nothing new and the locals who live and work in these communities are well accustomed to making sacrifices to survive. It is not uncommon for people to work multiple jobs, have roommates, or commute long distances, but recently it's gotten to the point where even these extreme measures don't seem to be enough. In my town in Washington, businesses are struggling to staff their establishments, long-term locals are moving away, and it is jeopardizing the local economy while degrading the social fabric of our community. Ski towns have been some of the first places to reach this type of tipping point and in that way, they are a harbinger of what's to come more broadly if we don't figure out some solutions to the housing crisis.
SKI: So, tiny homes can help save ski towns?
ZG: Yes. I'm not trying to pretend that tiny homes are a one-stop solution, but they do possess some distinct advantages over traditional housing types. Because of their size, they can fit into backyards, be placed in communities, or fill otherwise unusable gaps in the existing infrastructure. Also, they are not permanently fixed to the property and that means the cost of the home is not dictated by the price of the land. It's a highly flexible housing type that can be built offsite in a controlled environment with far less waste and at a lower cost. So, although it may not be an ideal solution for a family, tiny homes are a great option for single adults or couples without children since they can be utilized in myriad ways.
       Related: The Ski Town Housing Crisis Is Coming For This Beloved Montana Community
SKI: Skiers have a lot of gear. Can a skier realistically fit everything into a tiny home? 
ZG: Storage is an issue for everyone, but for skiers it can be even harder. My best recommendation is to display your equipment like an interior decorator uses tchotchkes. Hang your ice axes on the wall, put your skis over the fireplace, build racks for your boots, packs, and harnesses. If everything has a place it won't seem cluttered and everyone who steps inside your home will instantly recognize that this home is a tool designed to facilitate a radical and wondrous life. You can always incorporate systems on the outside of your house, too—like an exterior tuning bench or a storage shed for larger items like bikes and skis.
SKI: What about drying out all that wet gear after a storm day? Is there room for that?
ZG: Moisture is a huge issue in small spaces, and it should be even more of a concern for skiers who live in wet, snowy environments. The best way to take care of it is incorporating a wood-burning stove, an air exchange system, as well as a secondary electric heat source. A lot of tiny homes have a washer/dryer unit, and you can also build a good drying system, like a rack or line above the fireplace or boot driers that can also dry gloves.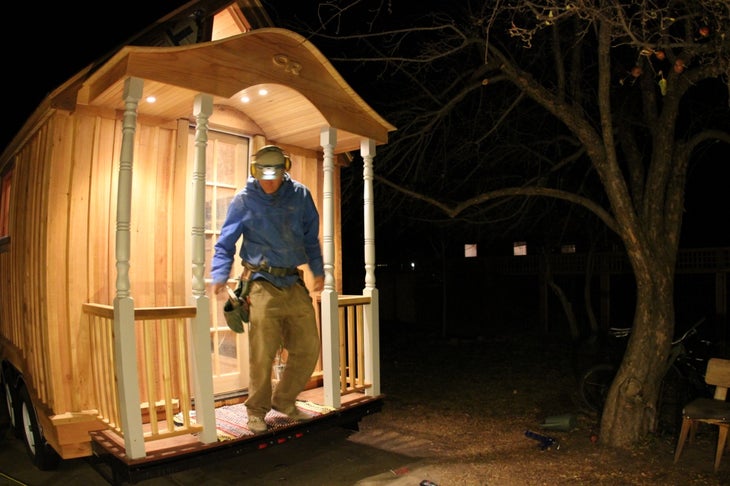 SKI: What does tiny living mean to you?
ZG: This is something that really needs to be said: It's not just about living in the smallest home possible. That's not what the spirit of the tiny home movement is about, though it often gets confused with that. What I promote is being realistic about what our actual needs are versus our wants. It's about understanding that we're moving toward a future where we're aware of the finite resources of this planet and that sustaining our quality of life will require everyone to make an effort to live in a simpler fashion. That can mean different things to different people, but all efforts need to be welcomed and encouraged.