An Oregon Adventure with Kalen Thorien
Heading out the door? Read this article on the new Outside+ app available now on iOS devices for members! Download the app.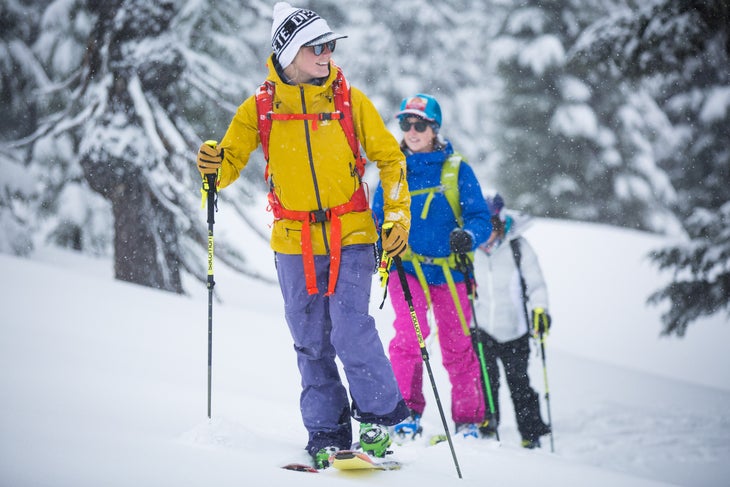 Kalen Thorien, one of Salomon's first hires as a four-season professional athlete, leads a group of skiers into the old-growth backcountry near Mount Hood, Oregon, in February. The state has had a great winter, with sophisticated satellite software showing as much as 50 feet of snow on the ground in spots. Though this was a powder day, the spring corn harvest should be epic. 
Photo by William Rochfort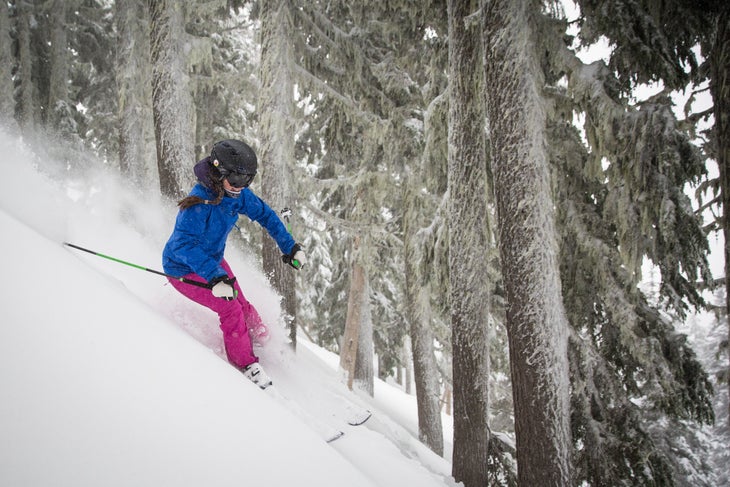 Crystal Sagan of Boulder ducks off-piste for some freshies at Mount Hood's Timberline ski area, the only lift-accessed resort with ski-in, ski-out terrain in all of Oregon. The cool part? The parking lot only holds 1,100 cars meaning untracked stashes like this are the norm, even on the weekend. You can ski all summer here, too, thanks to the miracle of this thing called a glacier. That's right, Nancy Grace! Oregon has glaciers! 
Photo by William Rochfort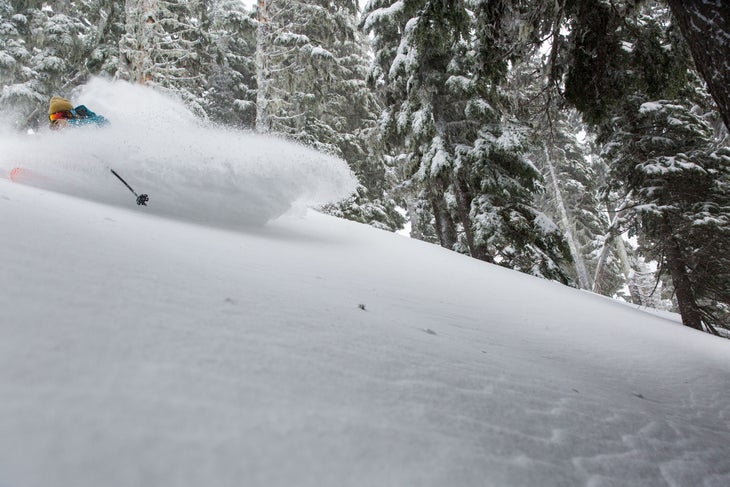 Ker-POW! Joe Johnson, who splits his time between Utah and Montana, gets a whole face full of Oregon love just off the groomers at Mount Hood's Timberline ski area. Sometimes "Cascade Cement" is just too fluffy for words.
Photo by William Rochfort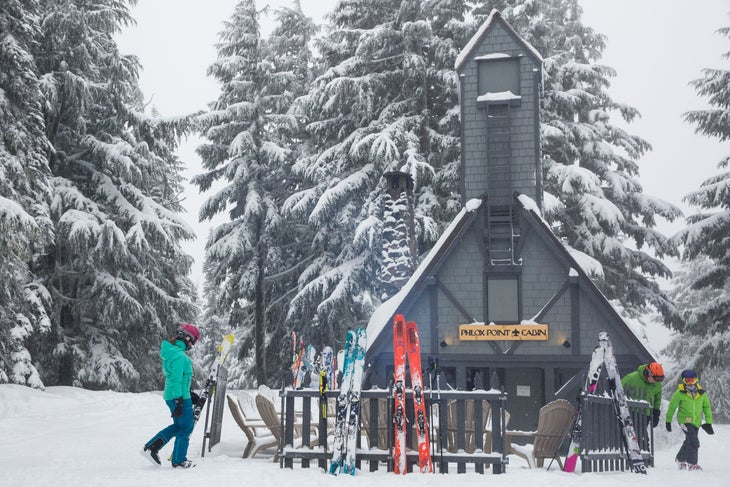 Crazy fact: The Timberline Lodge (not pictured) was on the verge of being burned down on purpose in the 1950s after it had fallen into desperate disrepair. Then the Kohnstamm family stepped in with heavy investments and turned it into the classic lodge it is today. Fast forward half a century and this cabin was about to suffer the same fate until the family saved it, too. Now known as the Phlox Point Cabin, pictured, this hideaway opened in 2016 in a quite forest mid-mountain. Duck inside for $3 tacos, hot chocolate and seat next to the fireplace. 
Photo by William Rochfort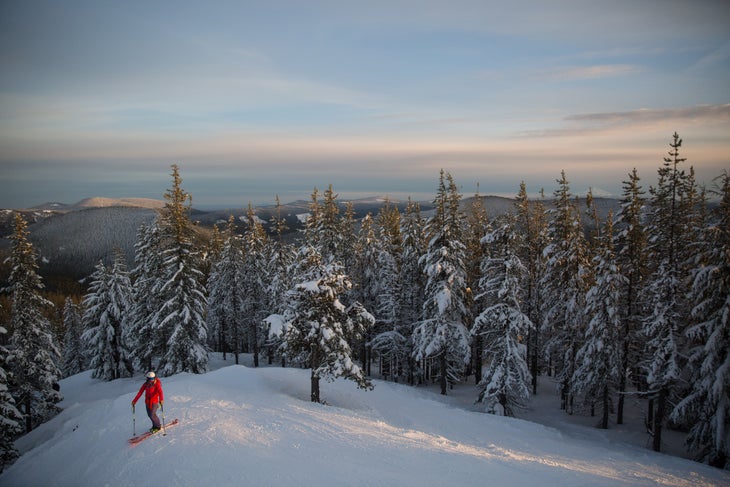 Salomon free skier Kalen Thorien would write a poem about how purdy this spot is at Mount Hood Skibowl if she weren't rocking out to the Glass Animals album pouring through the speaker she has stashed in that pack.
Photo by William Rochfort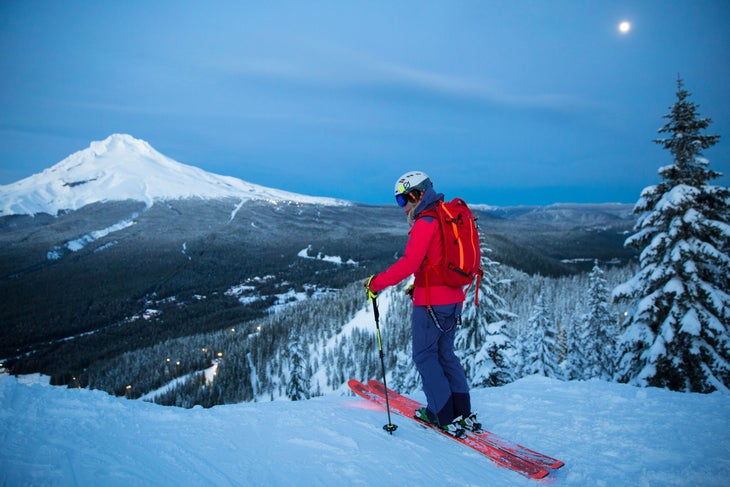 When the moon comes up, so do the lights at Mount Hood Skibowl. Here, Kalen Thorien finds a fine spot to watch the show happening across the way at Mount Hood, Oregon's highest peak at 11,250 feet. Though Skibowl is on an adjacent mountain and lower than the volcano, it has the most night-skiing, meaning your powder day doesn't end at 4pm. Plus, Thorien just has a thing for moons.
Photo by William Rochfort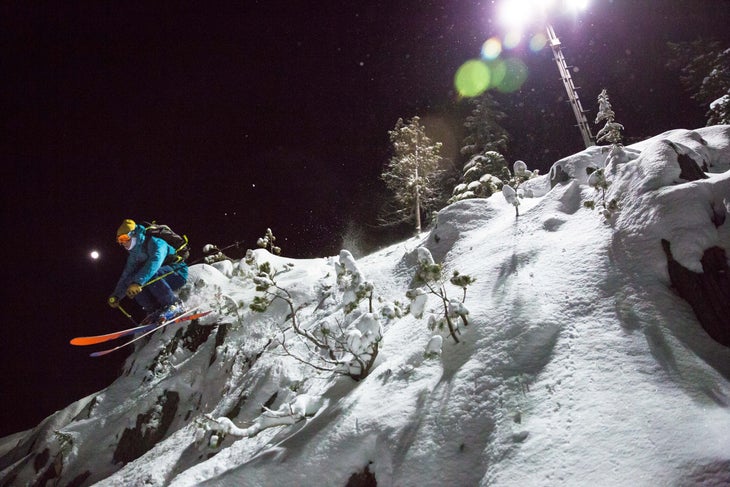 Calling Merriam Webster! Joe Johnson provides a new meaning for "nightfall" at Mount Hood Skibowl. With 34 lighted runs, the ski area across Highway 26 from Timberline boasts the largest night-skiing terrain in the US. Or maybe even the universe for all we know.
Photo by William Rochfort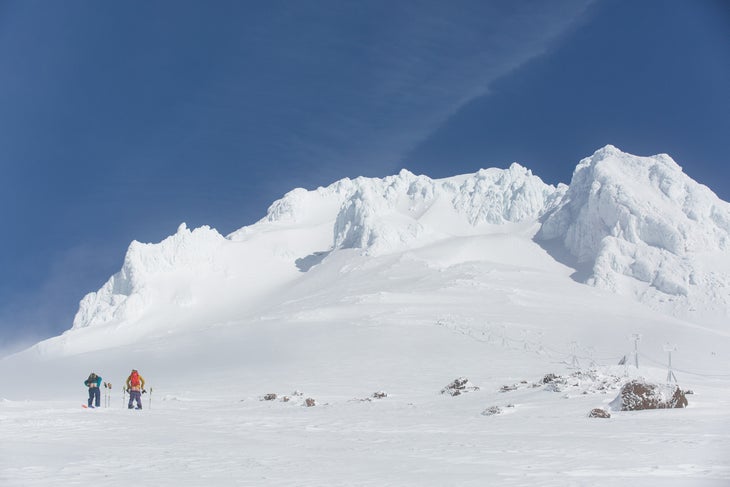 Told you so! Sometimes you just have to show the cameraman how you really feel for keeping you away from ripping fast lines above the Magic Mile at Timberline on Oregon's Mount Hood. We're not naming names here but when the grand jury convenes we're confident we can identify these hooligans by their faces, too.
Photo by William Rochfort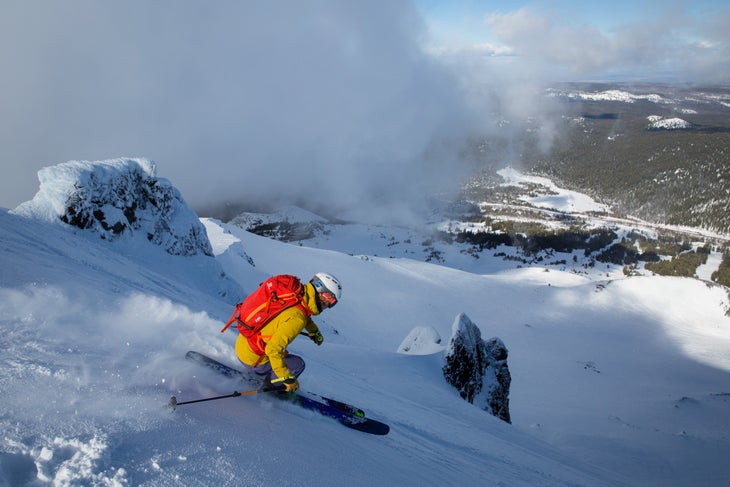 After a few days around Mount Hood, Kalen Thorien and crew cruised down to Mount Bachelor outside of Bend in time to catch a gorgeous day on the summit. Here she drops into the bowl skiers left and a short boot-pack from the Summit Chair to find some of the steeper lines on the mountain. With 365-degrees of skiing off the 9,000-foot summit, Bachelor can be as gnar or as gentle as your mood. 
Photo by William Rochfort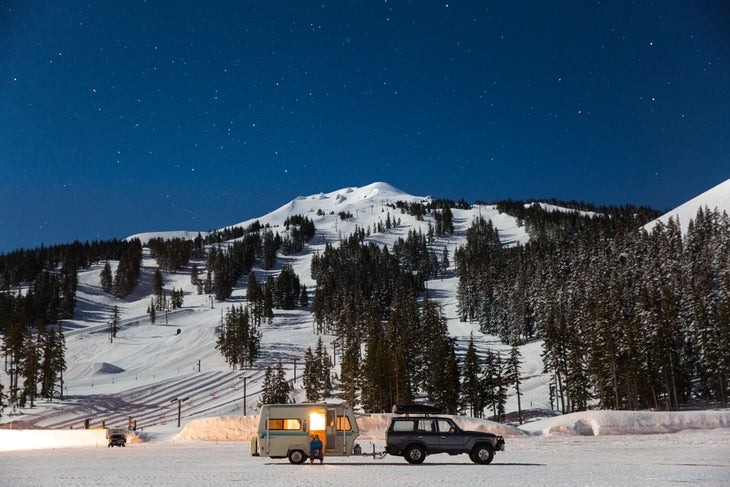 Who says Bachelor doesn't have ski-in, ski-out digs? Not Kalen Thorien. She's spent the winter making her own slope slide luxury with this 17-foot Bigfoot camper that she now calls home. You can't see it here, but inside this baby under all the Ed Abby books and ice axes is a Yeti cooler filled with cans of ales and a chalkboard detailing all the "shit to do." One item we noticed: "Hire a rope boy." Sadly, we can't think of a single person who'd want to be this pro's rope boy. Nope.
Photo by William Rochfort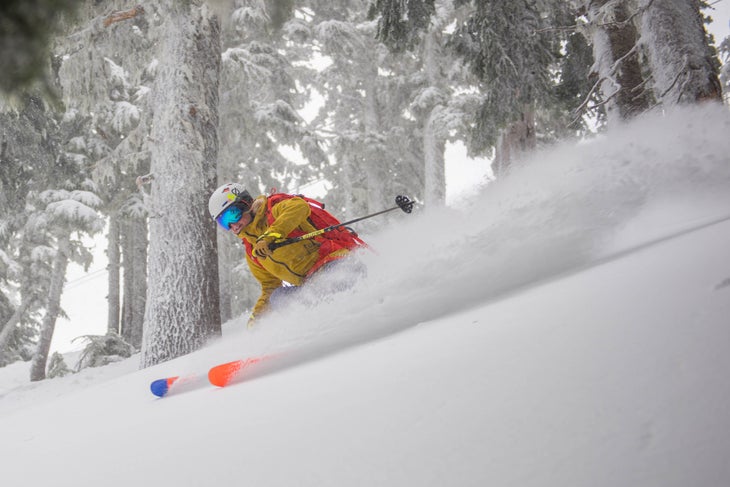 So long and thanks for all the fresh! Kalen Thorien leaving her mark…
Photo by Andrew Bydlon