How the Next Great US Downhiller Avoids Getting Beat Up—Physically and Mentally
Breezy Johnson has had her fair share of hard knocks, but she's still in it to win it.
Heading out the door? Read this article on the new Outside+ app available now on iOS devices for members! Download the app.
With her aggressive style, fearless demeanor, and propensity to take calculated risk at high speed, U.S. Ski Team athlete Breezy Johnson emerged as one of the world's elite female downhill racers during the 2021 World Cup season.
The 25-year-old from Jackson Hole, Wyo. charged to four third-place finishes in seven downhill races this winter. Johnson's performance is especially impressive considering her history of hard crashes and resulting knee injuries in recent years.
Heading into the World Cup Finals in Lenzerheide, Switzerland, Johnson was ranked fourth in the downhill standings, 150 points behind Italy's Sofia Goggia who held the lead but had been sidelined since early March with a tibia injury.
Though the Downhill Globe was now out of reach, the American nevertheless looked to prove herself once more in the final downhill of the season, especially after disappointing finishes at the 2021 World Championships in Cortina, Italy.
Related: Breezy Johnson Misses World Championship Downhill Podium After Early Mistake
But mother nature had other plans, and heavy snowfall canceled Johnson's last downhill race. While the downhill season came to an anticlimactic end, Johnson finished on a high note: a career-best World Cup downhill ranking. Besides downhill legend Lindsey Vonn and all-around phenom Mikaela Shiffrin, Johnson is the first American to crack the Top 5 in the women's World Cup downhill standings in the last five years.
We caught up with Johnson once she was back home in Jackson Hole to chat about her breakthrough season, disappointments along the way, and how she intends to find even more speed to beat her top rivals in an Olympic year next season.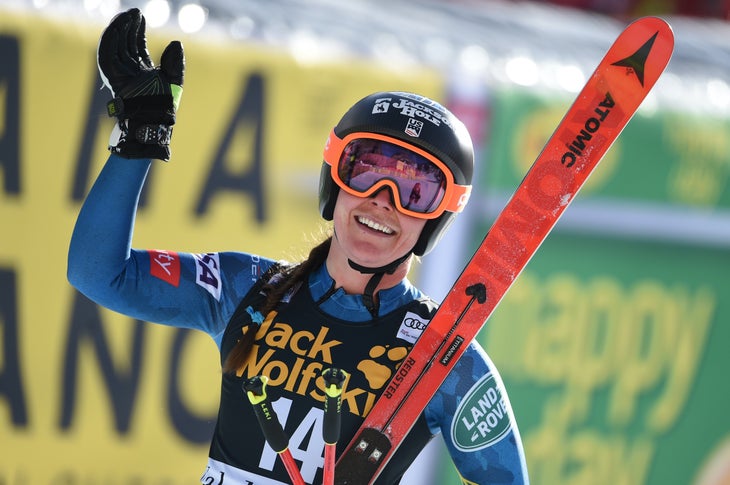 SKI: Breezy, congratulations on an excellent season. Four podium finishes, fourth in the World Cup downhill standings, and 17th in the overall standings. Did you exceed your expectations?
Johnson: I both exceeded and didn't exceed my expectations. I had big goals that I knew were achievable. I wanted to win a World Cup race and medal at the World Championships and those didn't happen.
My skiing has improved a lot, even during the season, especially in super-G. I'm in the best place as far as my skiing abilities, so that's really cool, but it's obviously hard when you feel like you're about to win two races, take over the downhill standings, and win the downhill globe. Then you have one bad day and a DNF. But I'm happy with where my skiing is, and I'm ready to work to have it pay off in an even bigger way.
Watch: Breezy Johnson Glides to Third Place in 2021 Crans Montana World Cup Downhill
You had some phenomenal training runs prior to the downhill races this season, posting the fastest or second-fastest times of the day. What will it take to convert this speed into victories next season?
Johnson: Yes, I need to do better and execute on race day, but many of the things that we did were really good. We need to tweak a few things when it comes to technique and execution.
There were times when the weather wasn't on my side or I made a small mistake and then you're two-tenths out of a win. That's a small margin in a 1:45-second downhill race.
I know the speed is there. I have to be patient, keep working and improving. I've come back from injury well and I think long-term that will pay off.
There were high expectations for the World Championships in Cortina, Italy in February considering your string of top-three results. You were ninth in the downhill and failed to finish in the Alpine Combined. What happened there?
Johnson: The results on paper weren't what I wanted, but I really stepped up my skiing in Cortina. Besides five-percent of the downhill race and another five-percent in the Alpine Combined super-G, I skied as flawlessly as I can.
You have to push, take risks, and mistakes happen. You can't attack yourself too hard for those sorts of things. I think I won three splits in Cortina and that's a testament to how good of a skier I've become.
SKI: Considering your history of crashes and knee-injuries, what's the key to staying healthy?
Johnson: You have to ski well. That's the safest skiing you can do. If you ski forward and over the outside ski, you don't fall as much. If you ski backseat and on the inside ski, bad things can happen.
My attitude has been to sort of not worry about the injuries, just seize the day. If you get injured—unfortunately, that's part of the sport. I just want to ski my best and knock on wood I guess.
Related: Breezy Johnson Gets Candid About ACL Injuries
SKI: There is obviously a lot of uncertainty, but how much are you now focusing upon the Beijing 2022 Olympics next February?
Johnson: My sights have long been set on Beijing. I'm going to be 26 at those Games and that's when Alpine [ski racing] women start to hit their peak.
I've been eyeing these Games for a long time as the place where I really want to make an impact. I know my best shot at winning gold at the Olympics is to come in as the favorite. I sometimes do well when on the first run down a new track, always trying to figure things out, so I'd like to think that will favor me a little bit.
SKI: What will it take to defeat your downhill rivals Sofia Goggia, Lara Gut-Behrami, and Corinne Suter next season?
Johnson: I think we all believe we're the hardest worker. I definitely also believe I'm the hardest worker. With that you have to compete against yourself. I want to work harder than I did last year, hopefully harder than anyone else and hopefully that will be enough.
SKI: What are your immediate plans for the off-season?
I'm on a little break, but I'll start training again and definitely have some big goals in the gym over the coming weeks. First off, we have a camp in Mammoth planned and that's usually a big speed progression because of its good terrain. Also, the season is not over here in Jackson, so I'm trying to have some fun and go freeskiing.
Meet the other stars on the U.S. Ski Team
The slalom racer you should be watching (who isn't Mikaela Shiffrin)
Mikaela Shiffrin on "pushing her limits" to keep up amidst growing competition 
Meet U.S. Ski Team underdog Bryce Bennett