With Another World Cup Win, Mikaela Shiffrin Is Now Breaking Her Own Records
The American is now within two wins of Ingemar Stenmark's overall victories, and has 11 races ahead of her this season.
Heading out the door? Read this article on the new Outside+ app available now on iOS devices for members! Download the app.
After her record-setting 83rd victory here in Kronplatz, Italy yesterday, Mikaela Shiffrin's rivals agreed there is no stopping her. There is only slowing her roll. 
Also Read: Mikaela Shiffrin Now Holds the Record For World Cups Wins By a Woman
Nobody would do that today, however, as Shiffrin claimed her 84th World Cup skiing victory. It was her 5th GS win and 10th win this season, bringing her within two races of tying Sweden's Ingemar Stenmark's record of 86 wins. This victory came just one day after breaking the female record set by Lindsey Vonn.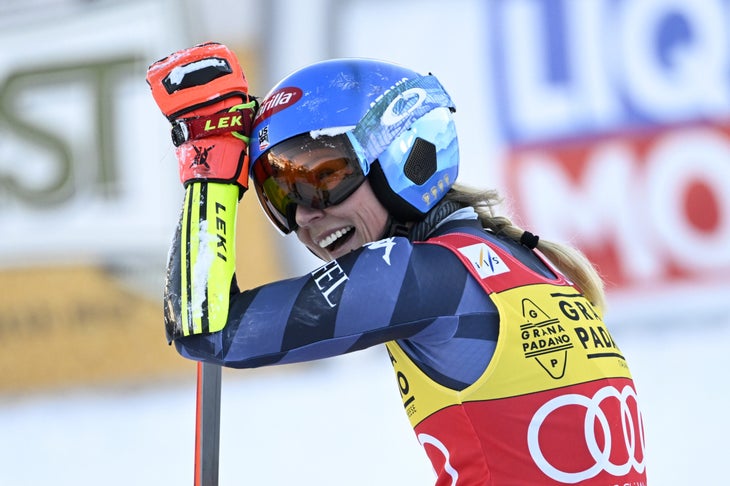 Both Vonn and Stenmark have said that they expect Shiffrin will ultimately eclipse their records and go on to claim 100 or more wins. As far as Shiffrin is concerned, however, becoming the GOAT will always be a matter of opinion. "The wonderful thing about sports is that people have the chance to be a fan of whoever they want, whichever person, whichever team, and they can always find a reason to argue that that team, that person is the greatest," says Shiffrin. 
For now, she focuses on the process, putting in the work one day at a time, doing the same things to stay on top that she did to get there. Today, that meant fighting for the top spot on the podium, this time flanked by two Scandinavians. Norway's Ragnhild Mowinckel finished second and Sweden's 2022 Olympic GS champion Sara Hector took third. 
The first run on this steep, demanding track proved challenging for many racers who struggled to hold their line on the fallaway turns down the pitch. Among them was yesterday's silver medalist Lara Gut-Behrami of Switzerland, whose mistakes kept her well off the pace at 14th. Shiffrin skied tactically smart where needed, and hit the gas where she could to finish a comfortable .52 ahead of Hector, with Italian Marta Bassino in third.
Get in the Game: Race NASTAR For Free at Ikon Pass Resorts This Winter
"I'm a bit dead mentally, just so tired," Shiffrin said after the first run. "But when you ski like that then it keeps your energy going so it's just an incredible feeling."
For run 2, the morning fog gave way to bright sun, but where sun hits on this hill still keeps the steepest, toughest turns in the dark. Slovenian Neja Dvornic, after qualifying for a second run from Bib 50, moved up 15 spots to finish in 12th. Her run was only matched by Gut-Behrami whose fastest second-run time moved her up to 5th.
Ragnhild Mowinckel, or "Ragmo," who won a Super G days ago in Cortina, took the lead by .55 and, after Bassino skied out in the final three gates, also held off Hector. That left only Shiffrin at the top. She opened up her lead to nearly a second by the midway point, took some heat off to navigate the most punishing steep turns, and crossed the line to claim victory number 84 by .82. And then, she collapsed to the ground, speechless and breathless. 
"Today I was quite tired and I am not at the best moment in my monthly cycle, so I am emotional and tired and I just want to sleep," Shiffrin explained. "(But) at the end of the day, it's really just two runs that are one minute long. You always have energy to do that."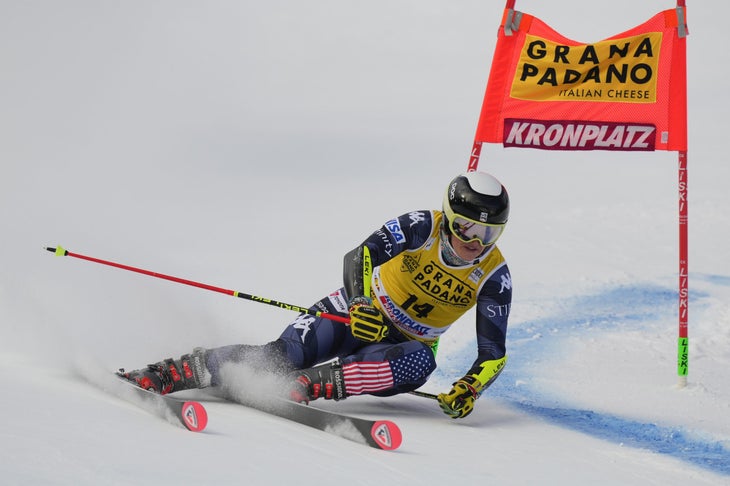 It was a good day for the American team. Paula Moltzan, now fighting for podiums, also fought to stay upright multiple times and landed in 9th after the first run. while Nina O'Brien continued to show her comeback mettle, finishing the run in 13th. Both moved up in the second run, finishing 7th and 10th respectively.
In the Overall Standings, though it is no longer any contest, Shiffrin has 1,517 to Vlhova's 906 and Gut-Behrami's 896. The women now travel to Spindleruv Mlyn in the Czech Republic for two slaloms this weekend.
What seemed impossible at the beginning of this season—matching or passing Stenmark–now seems within reach considering Shiffrin's momentum in all events, and how many events are yet to come. Of the remaining 13 World Cup races on the schedule, she plans to compete in 11.
"This season I was thinking if I could get four wins, five wins, maybe six then that was the most I could possibly get and that would be a great season," Shiffrin said. "And now it is nine this season I think. That's actually enough for me."
That said, she won't try to slow down. "I don't need more but I really like skiing this way, so I keep pushing. When I am in the start gate on the second run I am like, I don't need it, but I want it, so I am going to try my best."
Nothing But Respect From Teammates—and Rivals
After yesterday's race, Shiffrin's greatest competitors—Petra Vlhova of Slovenia, France's Tessa Worley, Gut-Behrami—all spoke of what a great honor it is to be racing alongside (though mostly a bit behind) Shiffrin.
Said Worley, "It's not a surprise, we all knew she would break this record—it was just a matter of when. It's impressive, it's inspirational. It's quite cool and it gives a good image to women's skiing and Alpine skiing." 
"It's hard to find the words because what she's doing is something amazing" Vlhova added. Skiing with her is an honor and of course, sometimes it's difficult because she's still winning. She made history and she's not finished yet."
Gut-Behrami remembers Shiffrin's first World Cup podium in a slalom race in Lienz, Austria, in December 2011, the day after both of them had failed to qualify for the second run in a GS won by Italy's Federica Brignone. The three shared the podium yesterday.
"It's unbelievable what she's doing," said Gut-Behrami.  "She's so solid and she's skiing so great. She's an amazing athlete."
Her teammates, Moltzan and O'Brien, both of whom are finding their own success this season, are similarly inspired by Shiffrin.  "I just feel so lucky to be her teammate in this era and watch her write history every day," said O'Brien. "It's a lot of fun and she's been really supportive as well."
"It's just an honor to be her teammate at this time in her life," Moltzan said.