UK Cuts Funding to Olympic Alpine Skiing, Shifts Focus to Freestyle
British athletes are devastated by the shocking decision and vow to appeal, but it might be too late for the 2026 Cortina games.
Photo: Photo by Nikola Krstic/MB Media/Getty Images
Heading out the door? Read this article on the new Outside+ app available now on iOS devices for members! Download the app.
Olympic downhill skiing is one of three sports going under the knife as UK Sport, the governing body that invests in Olympic and Paralympic athletes, cut its funding in advance of the 2026 Winter Games in Cortina, Italy. Nordic and para-Nordic skiing shared the same fate, which was announced late last month.
We received some devastating news over the last week. Our record breaking GB Alpine team lost almost all of our funding.
🙏 please share and if anyone can help, the DMs are open 📩@mrdanwalker@mikebreakfast@sallynugent@BBCBreakfast@BBCScotlandhttps://t.co/9BWvuXzxb0

— Charlie Guest (@Charlie_Guest1) August 9, 2022
While British alpine skiers have never won an Olympic medal, the program has seen significant success in recent years. In January 2022, 35-year-old Dave Ryding stood atop the Slalom podium at Kitzbühel, and 28-year-old Charlie Guest notched her best World Cup finish, placing 13th in Schladming, Austria a couple days later.
Now Ryding, Guest, and the rest of the team have to raise 800,000 Euro (a little over $800K) over the next two months to preserve their chance of getting to Cortina.
""I'm in skiing, I'm very used to raising money, to finding money, to finding sponsors," Guest told UK-based Eurosport, "but to have to find hundreds of thousands was something that was … I was just like, 'I don't know how I can do that.'"
The athletes will still be supported by national squad level money, but the slashed funds, known as the World Class Programme, allowed the squad to compete at the Olympic level. The current funding means the team might have to train without coaches and support staff.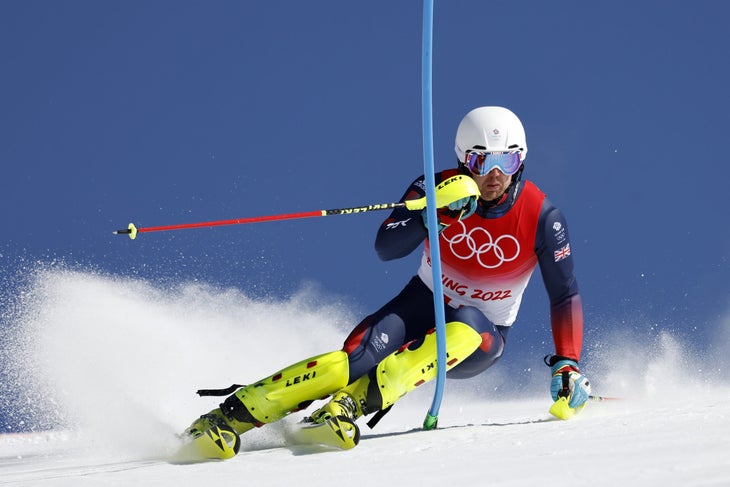 "We recognise GB Snowsport and some of their athletes will be disappointed by our recent investment decisions," read a statement released by UK Sport on July 25, "but our investment going forward for snowsport is now more targeted, with a focus on the freestyle ski and snowboard disciplines, albeit not exclusively."
Other on-snow disciplines, including Slopestyle and Big Air, did not get their respective funding cut.
"We fully support and share the disappointment of our Alpine team and all other GB Snowsport athletes impacted by UK Sport's funding decision for the Milan-Cortina Olympic and Paralympic cycle," said GB Snowsport chief executive Vicky Gosling in regards to the controversial and disappointing decision. GB Snowsport is the UK equivalent of the U.S. Ski Team, supporting skiers through programming, fundraising, coaching, and growing the ski and snowboard disciplines in the UK.
"As an organization, we are actively exploring all avenues to help make sure British athletes are able to compete to the best of their abilities in world-class competition, as they have done so successfully over the past few years."
GB Snowsport has filed an appeal and expects a decision in October.