Breezy Johnson and Mikaela Shiffrin Just Off the Podium in St. Moritz Downhill
Mikaela Shiffrin gains bigger lead in World Cup overall standings as U.S. puts four skiers in the top 30.
Heading out the door? Read this article on the new Outside+ app available now on iOS devices for members! Download the app.
The clouds hung low over a bumpy downhill course in St. Moritz on Dec. 16. But the sun is starting to peak out for the U.S. women's speed skiers.
In only her fourth World Cup race since wrecking her right knee last January, Breezy Johnson climbed closer to her first World Cup podium in a year. With snow lightly falling in the Swiss Alps, the 26-year-old downhiller crossed the line in fifth place, just 0.96 of a second behind winner Elena Curtoni from Italy.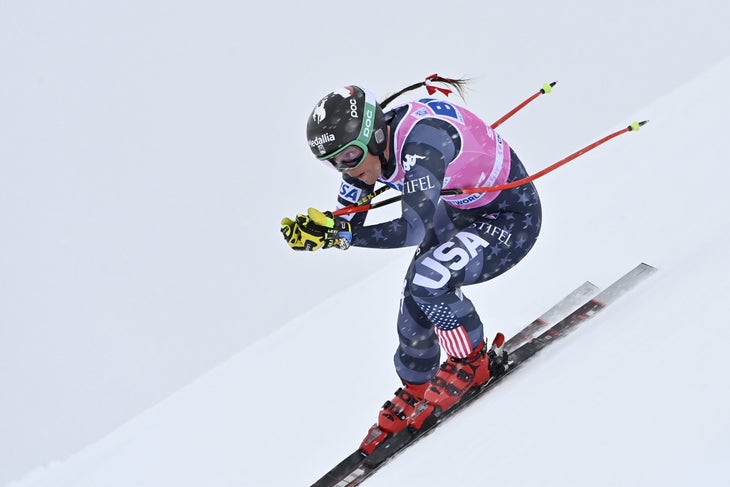 "I feel like I got a little bit lucky with the weather," said Johnson, who had a run clear of fog that descended intermittently onto the course. "But I also feel like after the last nine months I've had, maybe I deserved a little bit of luck. I'm going to take it."
Sofia Goggia, who broke two fingers on the third gate, finished runner-up to her Italian teammate but gained a stronger hold on the World Cup downhill title. Reigning Olympic downhill champion Corinne Suter from Switzerland—second in the downhill standings behind Goggia—rounded out the podium.
Her first time on downhill skis since training last spring, Mikaela Shiffrin came in sixth. It was enough to help her climb farther ahead in the overall World Cup standings, gaining 40 points on Wendy Holdener who's number-two in the overall standings.
Shiffrin loves the St. Moritz super-G, so after finishing sixth in the Sestriere giant slalom last week, then second in the slalom, the 27-year-old decided to try the downhill races at St. Moritz as well. It would be a chance to ski the hill before the super-G on Sunday. (The women will run a second downhill in St. Moritz tomorrow, Dec. 17).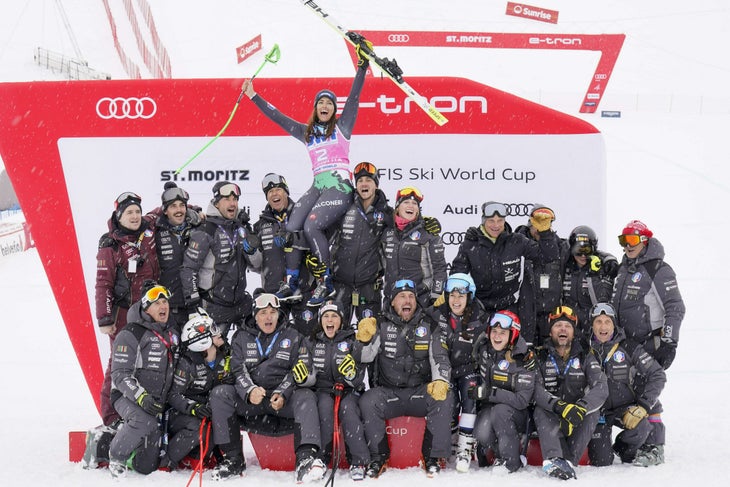 "After Sestriere last week, I just thought we should come here and try the training runs, see how everything feels, and if I feel strong enough to push on my skis, then do the races," said Shiffrin, who has not competed in a World Cup downhill in nine months. "Yesterday was a little bit difficult though [in the training run], so I'm really quite happy with this result."
Although she has six World Cup downhill podium finishes (including three wins) on her resume, Shiffrin is not an innate speed skier. She likes to ski fast but is constantly evaluating the risk-reward ratio.
"If you know me, I would always like to be on the top step, that's for sure," she said. "But I also have to be realistic. How I ski down the hill, I'd say my limit is probably a bit lower than the women here who are really in top form. They're going to risk more, and they're going to be able to handle it better."
Further down the results sheet, two other U.S. skiers collected World Cup points. Scoring her first World Cup points in downhill, two-time Olympian Tricia Mangan started with bib 50 and landed in 17th. And Lauren Macuga garnered her first points in only her fourth World Cup, coming in 30th. The 20-year-old from Park City won a bronze medal in downhill at the 2022 world junior championships last March.
Bella Wright, who won the first downhill training run earlier this week, skied out part way down the course.
"Maybe too many mistakes here and there," Wright said after skiing down to the finish. "But overall, I'm happy with my attack and definitely didn't hold back in these conditions. So we're going to just try and bring that skiing into tomorrow and hopefully make it to the finish."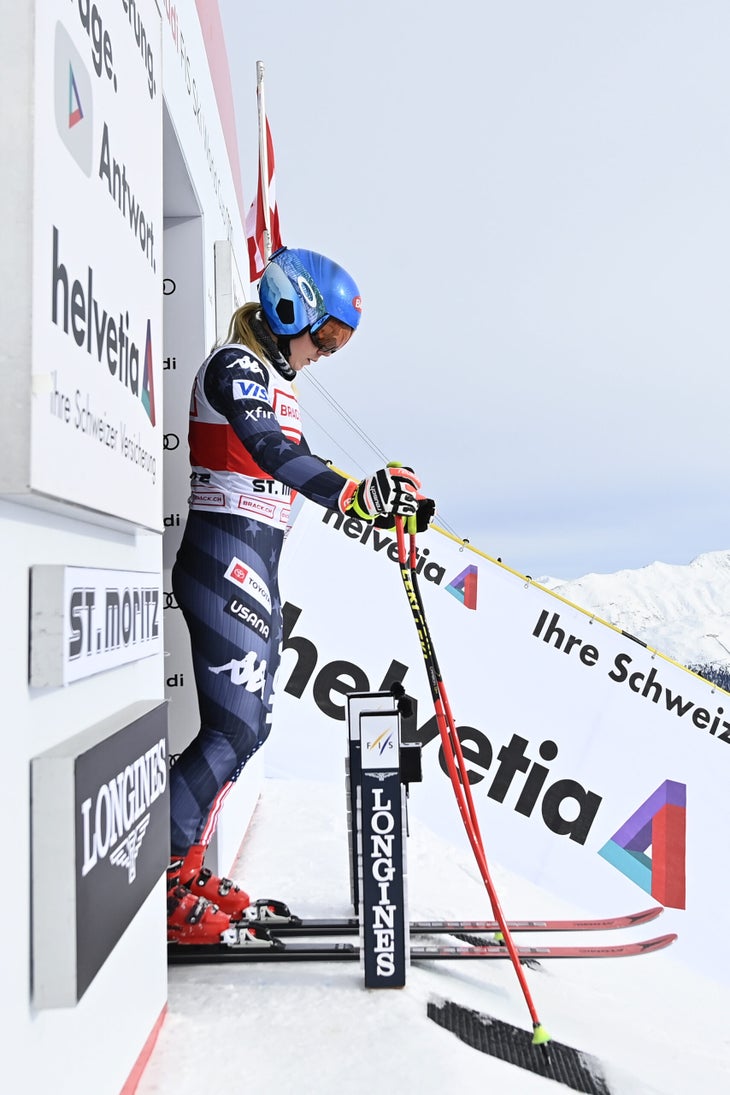 Johnson hopes to build on her good result in tomorrow's downhill. But Shiffrin is again realistic. With the weather forecast to clear, Saturday's downhill will likely be a faster race
"When the sun comes out and with workers preparing the hill all day today and tomorrow, it's going to be faster, which for me, it's very fun, but it's maybe more of an advantage to [have] speeds like today, it's a little bit slower," explained Shiffrin. "For me, that makes it easier to get forward, to look for more speed. When it's higher speed, sometimes I get a little bit frozen.
"So my tactic tomorrow, I have to imagine the speeds are higher and that I'm still being aggressive. And that's it. We'll see what happens."