Skiing Concrete
JF Houle discusses his new film, Houligan: a Ski Story.
Heading out the door? Read this article on the new Outside+ app available now on iOS devices for members! Download the app.
JF Houle is known among his peers as one of the hardest working skiers in the industry. His latest film, which he independently produced with his friend Paul Bergeron, takes a very personal, reflective look at his skiing career. Through his own narrative, Houle shows the struggles and triumphs of skiing at his level, and exactly what it takes to get there. He graciously got up early after celebrating his win at the Red Bull Redirect competition and talked with me about the release of Houligan: A Ski Story.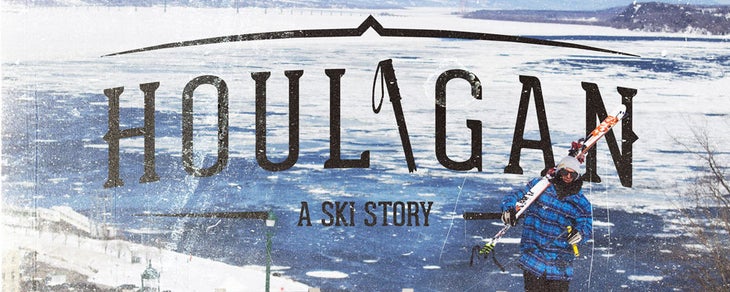 KW: You've been keeping pretty busy between X-Games Real Ski, Red Bull redirect, and the release of Houligan.
JH: It's been so intense. Seriously, the past two months I've had no life. But definitely stoked on how everything is turning out.
KW: What has been the response to Houligan?
JH: Everyone is really hyped on the movie. The comments people leave are like "this is the best ski movie I've ever seen," because I guess people like the story factor behind it. It's pretty cool to see the reactions from the people that haven't ever seen a ski movie like it before.
KW: You decided to make the movie free for the public; did you know all along that's what you wanted to do?
JH: Well, at first, we got into the project and didn't really know what we wanted to do. I just wanted to make something different and bring a story into it. But it was difficult because I was at a point in my career where I quit competitions and the sponsors didn't really follow me. It was frustrating not to have the support from them, so I supported the movie myself with the money I made from skiing. I just wanted to touch people, and I wanted the movie to be seen. I didn't feel that putting it on iTunes to get $3,000 back was a good idea. In a way, it's like your movie is only legit if it's on iTunes, but we came up with the site and donations idea for people if they liked it.
KW: You talked about walking away from competition skiing. Was that due to more than just injuries?
JH: It was more than that, for sure. It was just mentally exhausting and I was always so frustrated. I felt like I was ready to give up on competition skiing in 2012 and focus more on filming. Like, I enjoyed that more than learning a new triple. I quit competitions and just started filming again. It was not an easy call but I had to do it, and I am so glad I did. I wanted to do my own thing. I just tried to do the best I could.
KW: You put yourself through some crazy things in the movie. When it comes to urban skiing, why do you do it?
JH: Yeah, well, I ask myself that sometimes. It doesn't always make sense. Like, this year I spent four days trying to get this rail and by the fourth day I was so exhausted and thought it wasn't possible. It's definitely a mental battle. But, at the end, it really is all worth it when you get the shot. I know it's something that I'm going to struggle with one day—to not have the rush of adrenaline and sense of accomplishment when you envision something and make it happen.
KW: What's next for you?
JH: Right now I'm hoping to start a new kind of urban event with Red Bull. That would be my dream, to bring an urban comp to an international level and have a few stops in different cities. That's a goal I have in mind and I know Red Bull is really open to it. I really just want to keep skiing.
Watch the full movie for free or donate here.