Truth: Michelle Parker
On growing up in Lake Tahoe, working with Matchstick Productions, and staying a step ahead of the boys.
Heading out the door? Read this article on the new Outside+ app available now on iOS devices for members! Download the app.
Michelle Parker's segment in Superheroes of Stoke, Matchstick Productions' 2012 film, showcases some of the most impressive female skiing since Ingrid Backstrom's groundbreaking performance in MSP's Yearbook (2004). From entering the first X Games women's halfpipe competition at 17 to shooting award-winning film segments despite serious injuries and enduring sponsor troubles in between, the 26-year-old Tahoe native is now getting the big-mountain opportunities she's craved for a decade.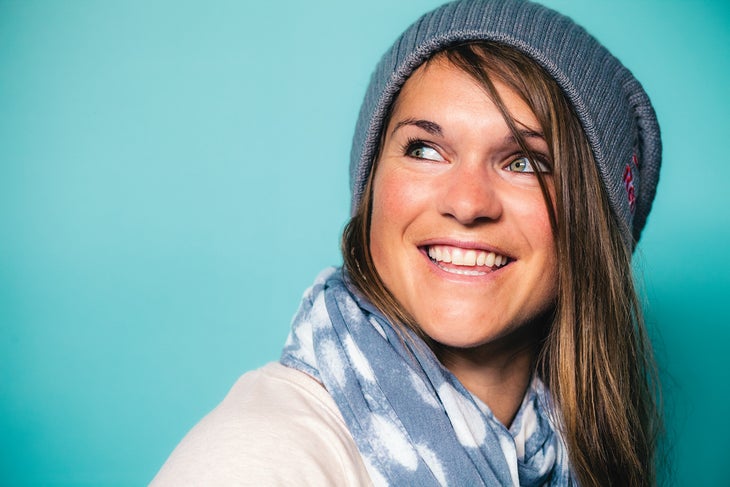 It's always been my goal to produce a real segment and to do it with Matchstick Productions. They've always had women in their films, and I was conscious of that growing up. It all started from one call to Steve [MSP's Steve Reska]. I said, "My knee is ready to go. I'm ready to go. I'd love to film again."
There are girls who say, "You're so lucky," but it was a long evolution for sure. Every step of my career was working toward making a name for myself. It took from when I was 15 until I was 25 to convince my sponsors.
I had fun focusing on park at one point, but I realized I wasn't learning what I needed to learn. When I was 20, I took matters into my own hands, spent my own money, and went to guide school in Haines. I feel like I'm still new to it. I'm still learning how to read lines that are good for filming, and working on that confidence that's only instilled through experience.
I learned the most in Haines filming for Superheroes two years ago. Everything seemed bigger and more serious and higher-consequence. It made me concentrate on every aspect of skiing a line. Applying that to skiing more manageable terrain in Whistler this year felt good. I skied a lot more by sled and had some interesting situations—like driving a sled into a crevasse.
Last season, I went to Greenland with Mark Abma, Ted Ligety, and Tom and Danny Day for Warren Miller. We went there for just over two weeks. We stayed on a boat anchored at different fjords and we'd Zodiac to shore and heli from there. It was their worst winter in a long time and snow conditions weren't good, but it was amazing to see the culture. Greenland is a harsh climate—it's 80 percent ice and really cold. I think I saw one bush and some moss but that's it. To see how people live in this climate was humbling.
Growing up in Tahoe, I was always surrounded by my heroes. I was chasing them around the mountain as soon as I could. I skied some park at Squaw, but the park isn't really where you want to be, so Squaw shaped that desire to ski the mountain. I spent something like 16 days at Squaw this year, and most of those were bell-to-bell with such a fun rat-pack of monkeys.
I didn't choose to ski with boys. I just hang out with boys all the time. I have few girlfriends—almost to a fault. Growing up, I was the biggest tomboy. So skiing with them just felt like skiing with my buds. It has pushed me and taught me a lot, but when I ski with girls we push each other too. I've never been on a trip with Ingrid. To be able to do that would be really special.