We're Closer Than Ever to The First BIPOC U.S. Olympic Ski Medalists. Here's Why.
Meet the rising stars poised to compete in future Winter Olympics thanks to the National Brotherhood of Skiers.
Heading out the door? Read this article on the new Outside+ app available now on iOS devices for members! Download the app.
Karlyn Supple is reeling from the energy emanating from thousands of BIPOC snowsports enthusiasts all in one place.
On the rare occasion that she sees another person of color on the slopes at her home hill—Loon Mountain , N.H.—she makes a point to say hello. Growing up in New Jersey and learning to ski on school trips, she would have appreciated a similar welcome.
"I don't remember seeing a single woman of color when I was growing up skiing," she says. "I don't actually remember seeing a single man of color. It wasn't until I went out West that I've even seen anyone of color."
The hope is that BIPOC representation on slopes everywhere will be, if not ubiquitous, at least not atypical. If The National Brotherhood of Skiers (NBS) continues on the trajectory it set over the last 50 years, racial diversity will indeed prevail in every corner of the sport. The NBS, founded in 1972 with the goal of growing the love of snowsports in Black communities, held its first summit in 1973 with about 350 participants from 13 clubs. Last week, more than 2,000 skiers and riders from at least 50 clubs gathered in Vail, Colo., for the NBS's 50th anniversary summit. Karlyn Supple and her son, Keagan Supple, were among them.
A competitive slopestyle and big air skier, 20-year-old Keagan Supple has been able to take his skills to the next level thanks to financial support from the NBS.
"Growing up and realizing I wanted to be a professional skier, there was no one to look to," Keagan says. "I'd like to be a role model for those young black kids. It doesn't have to be to inspire somebody to be a potential Olympic athlete, but just to get out there."
Keagan learned to ski around age 3. A kid who relished scaling playground equipment and any way he could find to become airborne, he naturally gravitated to big air and slopestyle. He was about to make his World Cup debut in Switzerland last fall when he blew up his knee on a bad landing during training. Following ACL, MCL and meniscus surgery, he's sidelined this season but plans to pick up where he left off next year. 
But the younger Supple wouldn't be able to fulfill his dream to reach the big stage if it weren't for the financial support from the NBS Olympic Scholarship Fund, which helps pay the way for competitive young BIPOC skiers and snowboarders trying to make it to the Olympics. Since its inception in 1980, the Scholarship Fund has provided funding via Team NBS for nearly 50 athletes, including Paralympians Bonnie St. John and Ralph Green and Olympians Seba Johnson and Errol Kerr. The hope is to funnel more BIPOC skiers and snowboarders into the Olympic pipeline.
Another Team NBS athlete, Kennedy Hicks, 15, learned to ski at Sugarloaf through Carrabassett Valley Academy. Dabbling first in slopestyle, she was drawn to moguls and is working her way up the ranks, hoping to make the NorAm circuit next year. In the moguls discipline, she is blazing a trail as one of few women of color.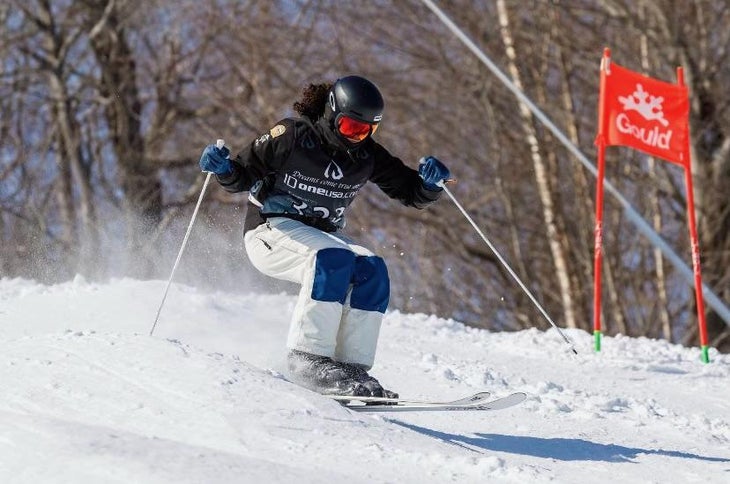 "Everywhere I travel, there are no African Americans. I want to [raise] awareness that people who are like me can do what I do," Hicks says.
While we look forward to watching Supple and Hicks compete on the global stage, most of the next generation of BIPOC skiers are not aspiring elite athletes. The NBS summits, which rotate annually through resorts across the country, also help introduce the sport to new skiers of all ages as well as seal the bond for those who have had less-than-positive previous experiences. 
New Orleans-based Jazz Ma Tazz, one of the NBS's most colorful and passionate clubs, is bringing a love of the sport to people based nowhere near the mountains. 
Alex Age, whose aunt and mother helped launch Jazz Ma Tazz, joined the club at age 8. In turn, she introduced the sport to her best friend, Chelsie Williams. In their 30s, the two recruited another friend, Janelle Martineau, whose experience at the NBS summit kindled her previously lukewarm passion as a skier.
"When they were telling me about skiing, I was like, I'm from Miami. We don't do that," Martineau says. "My very first time skiing wasn't with NBS. I took my skis off halfway down the mountain. I said yeah, I've had enough. Then it was like, 'I'm not going to let this take me out. I'm going to conquer this hill, conquer this mountain.'"
Spending a day at ski school last year at the NBS Summit in Aspen Snowmass and learning how to make solid turns, Martineau is now eager to tackle new slopes.
"You look up at the mountain and say, wow I conquered that. I didn't fall. I didn't eat any snow. My skis are still on. It is exhilarating," she says.
From their perspective, Age and Williams are just doing their small part to bring more young BIPOC people to the sport.
"Growing up in the South, you think, why would I want to go down a mountain?" Williams says. "There's just something freeing about it. I don't care how fast, how slow you go. Being on top of that mountain is just a feeling you don't get with anything else. I'm always telling people it's freeing. It's freeing and fun."
Realistically speaking, we have a while before our slopes look noticeably more diverse, but every branch of the NBS continues to sprout new buds all over the country.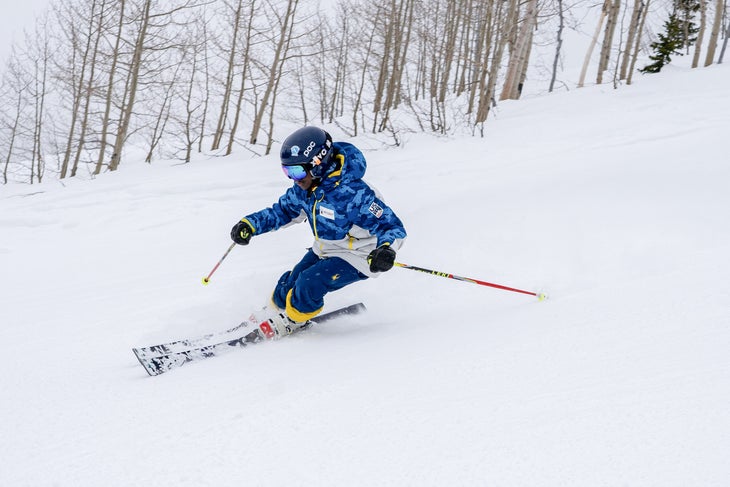 "When I got introduced to the sport, there was no social media, no instant connection with someone in Chicago or Detroit or St. Louis," says NBS President Henri Rivers. "You could say, 'I don't want to be the only person, so I'm going to stop skiing.' But Black people, if we want to move forward, we have to be the best at it. We have to be the best by two lengths. We have to really excel to be recognized. That pushes and motivates all of us."
Rivers, whose four children are Team NBS athletes moving up the ranks in alpine racing and ski cross, acknowledges that only an incredibly small percentage of skiers make it to the Olympics. However, being the best doesn't have to mean reaching that level.
"You want inclusivity in general throughout the sport," he says. "I've coached for 23 years. None of the kids I coached ever became an Olympian. But I'll tell you this; they're probably the best skiers on the mountain at whatever mountain they go to. Their confidence level and their ability is off the charts. They become great skiers and lifelong skiers. That's what we really want to see."
And if last week's NBS summit in Vail was any indication, landing more BIPOC athletes on the U.S. Ski Team is merely a matter of time.
Read More on the National Brotherhood of Skiers
Working to Send Black Skiers to the Olympics, The National Brotherhood of Skiers Does it With Style
In Warren Miller's "Winter Starts Now," Generation Next Is Bringing Diversity to Ski Racing
Kids in Detroit, Columbus, Boston and More Now Have Easier Access to Vail Resorts